Dear all,
I have this gorgeous Enicar Sherpa Guide 600 GMT Worldtimer piece of goodness for sale. No other reason for selling than making space in the watchbox to fund other pieces. I sold another 600 GMT a few months back (https://omegaforums.net/threads/enicar-sherpa-guide-600-gmt-serviced-grey-black-red.77736/) , and wanted to keep this one. I've now changed my mind, so someone else can love this beauty more than I am currently doing. I am duplicating some of my previous FS text as the watches are so similar.
I will shamelessly pillage The 'Dink and steal their descrption:
The Enicar Sherpa Guide represents a quintessential tool watch, with its large compressor case and unusual world-timer display. The Enicar Sherpa Guide is much more than a GMT watch; calling it a world-timer would be more accurate. It does have a GMT hand and a 24-hour inner rotating bezel but both are complemented by an external rotating bezel with a red ring that allows its wearer to select the city of reference. As such, all timezones can be tracked at a glance. Furthermore, the screw-back waterproof case offers reassurance for future travels, rain or shine.
It's a watch that has a LOT of presence, it's big, it's heavy, It's colorful! Think of it as the Richard Mille BonBon of the 60's... Just kidding a bit, but the watch is brash, especially for the 60's! The black Bezel is gently ghosting, the colors on the dial and the red marker on the outer World-Timer Bezel makes it a wonderful watch for those times when you wear a colorful short-sleeve piece of garment, for instance.
I had my watchmaking friend who works for one of the Holy Trinity houses service it (no receipt for reasons you can imagine). I runs very nicely now for a 50 y.o. beast. litterally within a few seconds a day now. I have not had watertightness done however, just to be clear!
It is sold both on a leather strapped with Pepsi stitching that works REALLY well with the watch, as well as with a signed Enicar BoR bracelet which can comfortably accomodate wrists up to 18cm and shows less stretch than the usual beaten-up Enicar BoR Bracelets
Specs:
Case size: 43mm
Crystal: Plexi in fantastic shape.
Crowns: Original, both signed
Lug width: 22mm
Bracelet: Original Enicar BoR + Pepsi-stitched vintage-style leather strap
I would like to get 1200EUR including shipping from Switzerland to Western Europe, paid by wire, net to me. Shipping globally at extra cost. If you are in the Lemanic area, then I'd be glad to give you a discount, meet you in person, hand it over to you, and the beer is on me . I am primarily looking for cash, no trades for now please. No Returns. No tyre-kickers please. References available on OF (amongst others).
Thanks Jeff and CT for the space :)
Paul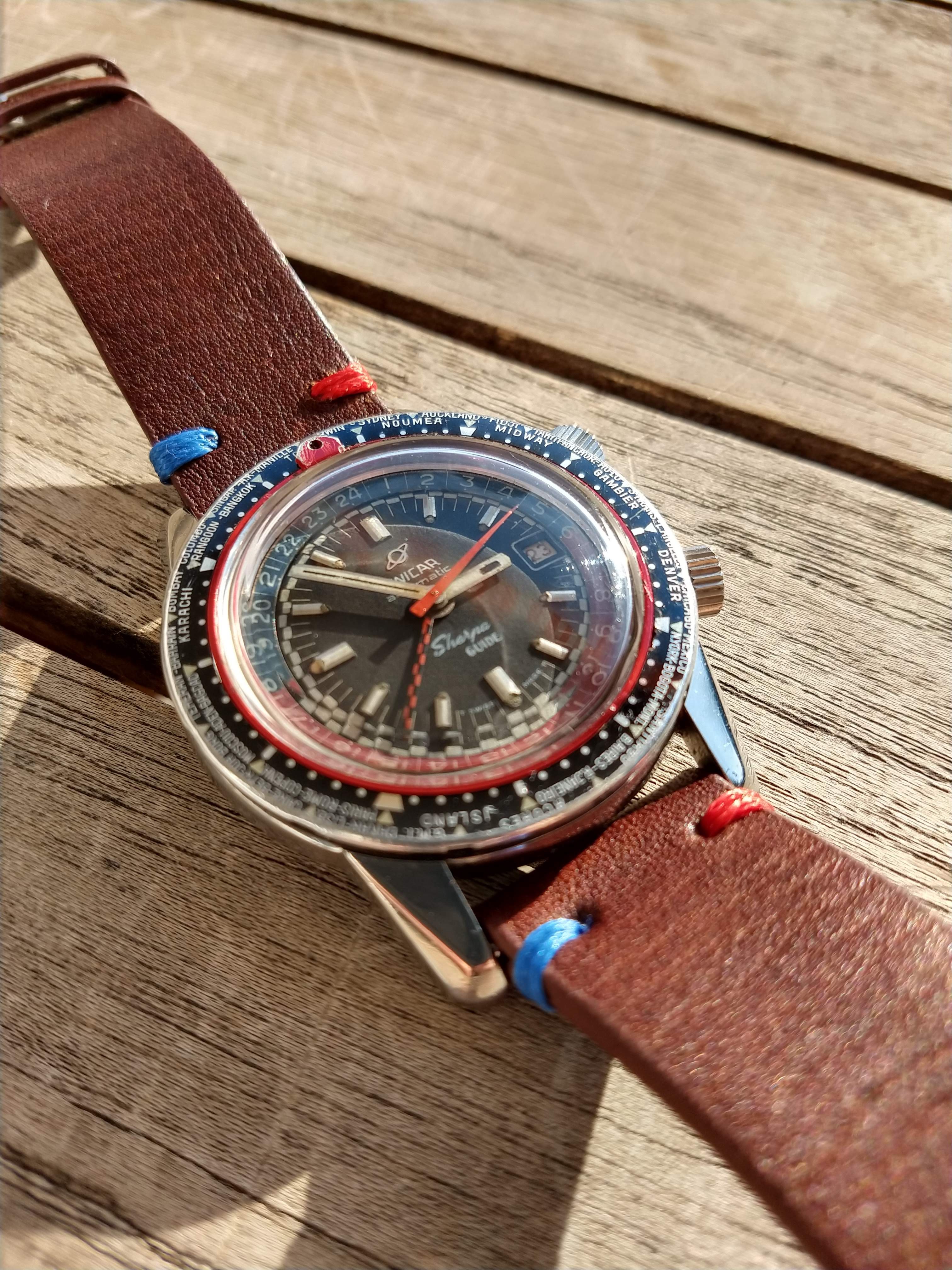 https://omegaforums.net/attachments/img_20190119_144751404_hdr-jpg.696835/" border="0" alt="">