SIGNED TROPIC SWISS 16MM CURVED ENDS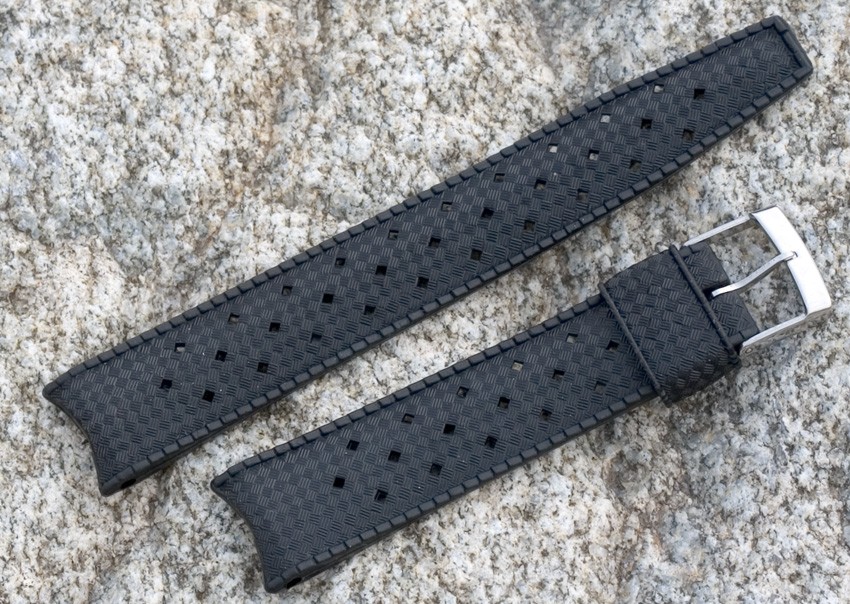 Signed genuine Tropic dive band Swiss Made with 16mm ends from the 1960s/70s. Mint condition new old stock, very supple black rubber. This is an authentic Tropic original waterproof dive band with the curved ends to match the curve of the watch. These are getting so difficult to find.
The rubber is soft and pliable, and you can wash it with soap and water to keep it clean. Tropic band in 16mm is the perfect size for many U.S. military watches such as Waltham military Hamilton military Elgin military A-11 or Bulova military watches. These Tropic watch bands have the small holes black waffle finish. Original steel buckle signed INOX on back (can come with a vintage gold-colored buckle instead).
Length is 7 1/4 inches (18.5cm) placed end to end, not including the buckle. Swiss Tropic is $29.99 each or 2 for $50.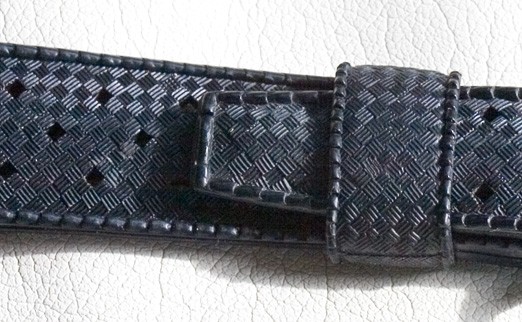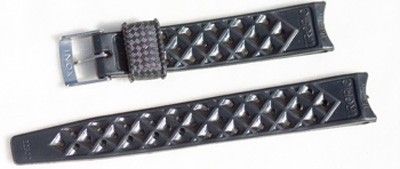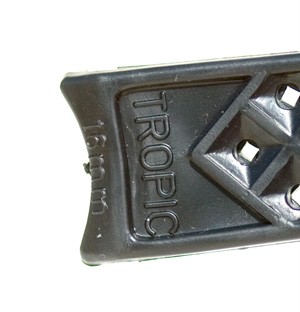 TROPIC TYPE 16MM STRAIGHT ENDS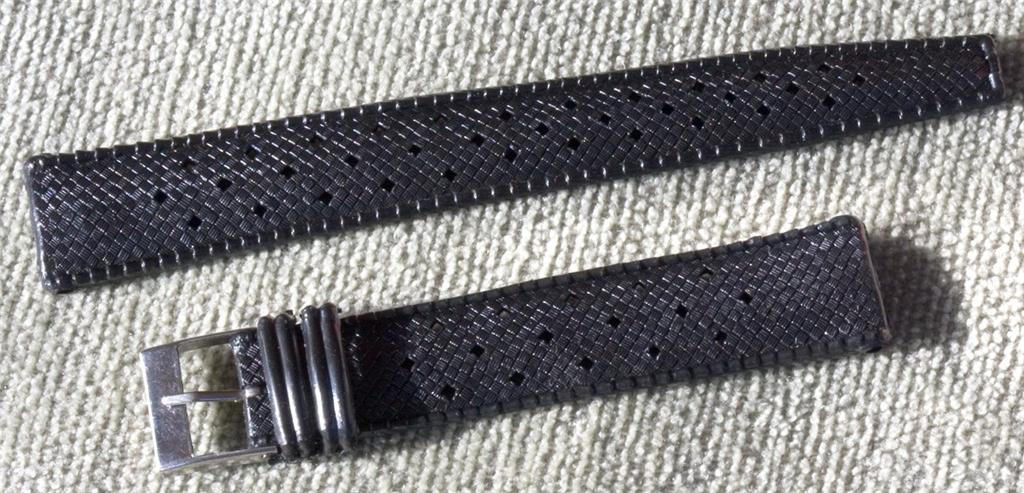 New Old Stock 16mm black rubber Tropic style straps popular with military watches dive watch styles and many others. These are the original 1960s/70s dive bands. They have the waffle finish, perforated pattern with the small holes. Straight 16mm ends. Buckles signed on back "Stainless Steel." Double sliding keepers.
Standard length measuring a generous 7 1/2 inches placed end to end (19.3cm), not counting the buckle. Metric measurements of the two pieces are 75/115. Thickness of the band is 4.5mm where it meets the watch and 2.8mm at the tail end. Buckle end is 14mm if you have a signed buckle. Would look great on any U.S. military watch with 16mm lugs such as Bulova military Elgin military Hamilton military Waltham military as well as German DH marked military watches and English ATP watches with spring bars. I can install a gold-colored buckle at no extra cost.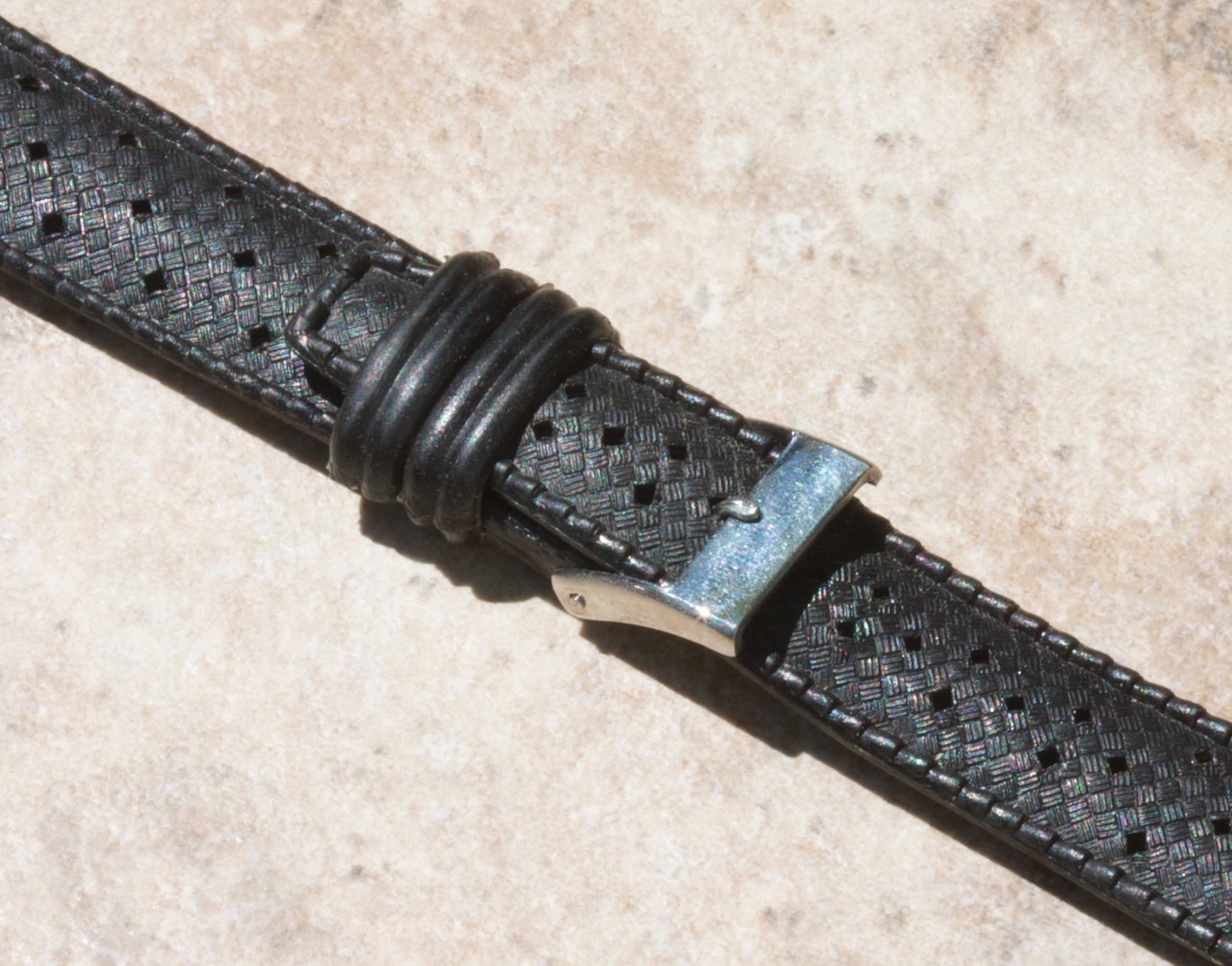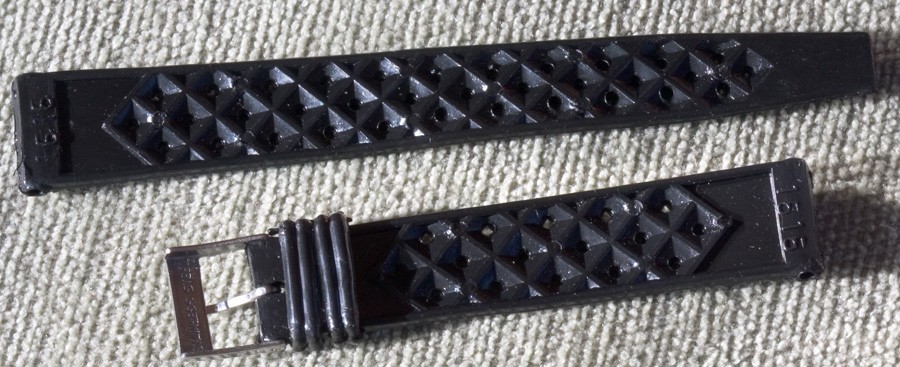 Tropic type $19.99 each or 2 for $30.
Plus shipping/tracking costs of $5.99 in the United States. International buyers pay $19.99 for First Class shipping.
QUESTIONS or PAYPAL to billmahoney@aol.com or mail payments by check or money order accepted.
I also have many other 16mm, 18mm, 19mm, 20mm styles and 22mm Tropic type bands with curved or straight ends in the Tropic Rubber Straps section at Squinky.com
Thanks - Bill Mahoney (Squinky)
Squinky.com