: A version of this watch is featured in the book....
: Cauny Twin Timer 1968
: Created in 1927 and based in La Chaux-De-Fond, Switzerland
: The quality of the watches is very good, their logo the "Fleur
: de Lys" is striking and appears to have been re registered
: in the early 70's after the late 60's demise this time in
: Madrid, Spain. Changing the logo again to be more stylish....The
: brand seems to have developed well in the Iberian Peninsula,
: Spain, Portugal, Andorra as well as South America. The watches
: are good quality and very stylish.
: This is a very pretty stark watch with a lovely silver finished
: dial that screams vintage. I don't think I have ever seen a
: more simple coloured chronograph ever, usually they need to
: create different levels so the dial can be read easily. The case
: is one of those late 60's angular cushion cases that were
: fashionable all through the 70's. The 'ebauche' valjoux
: 7733 movement is nickel plated looks almost new…The case is
: stainless steel and is of very good quality this one is in
: immaculate condition..... virtually NOS manual wind with a 45
: minute chronograph register and multi coloured tachymetre around
: the dial edge.
: High domed crystal combined with the ageing dial give it a well
: traveled look with high Solid steel screw back case… the
: raised Arabic numerals are actually quite shallow and give an
: almost cartoon like print finish but it works for me with the
: thick baton hands and big luminous strips. I like this watch a
: lot….. it comes on a vintaged leather strap that suits the
: contrast between the almost perfect watch and organic leather.
: The watch has been serviced and carries a 3 month mechanical
: warranty.
: Due to their age and the original use of these watches there are
: minor marks to be found on the cases
: which add to their vintage look without detracting from the
: quality, view the pictures for clarification.
: Price: £750 + Shipping insured WW
: Sold as seen no returns, insured shipping International.
: Shipping is Insured First class - UK £8.00 International £15
:
:

:
: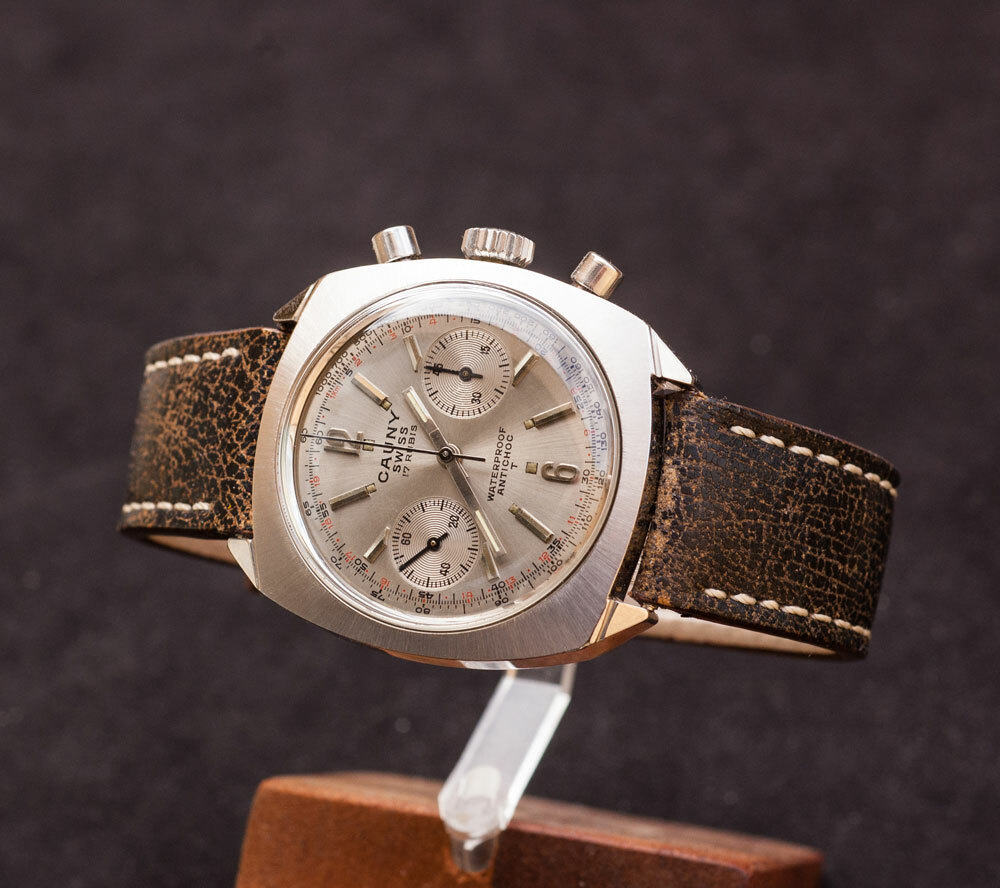 :
: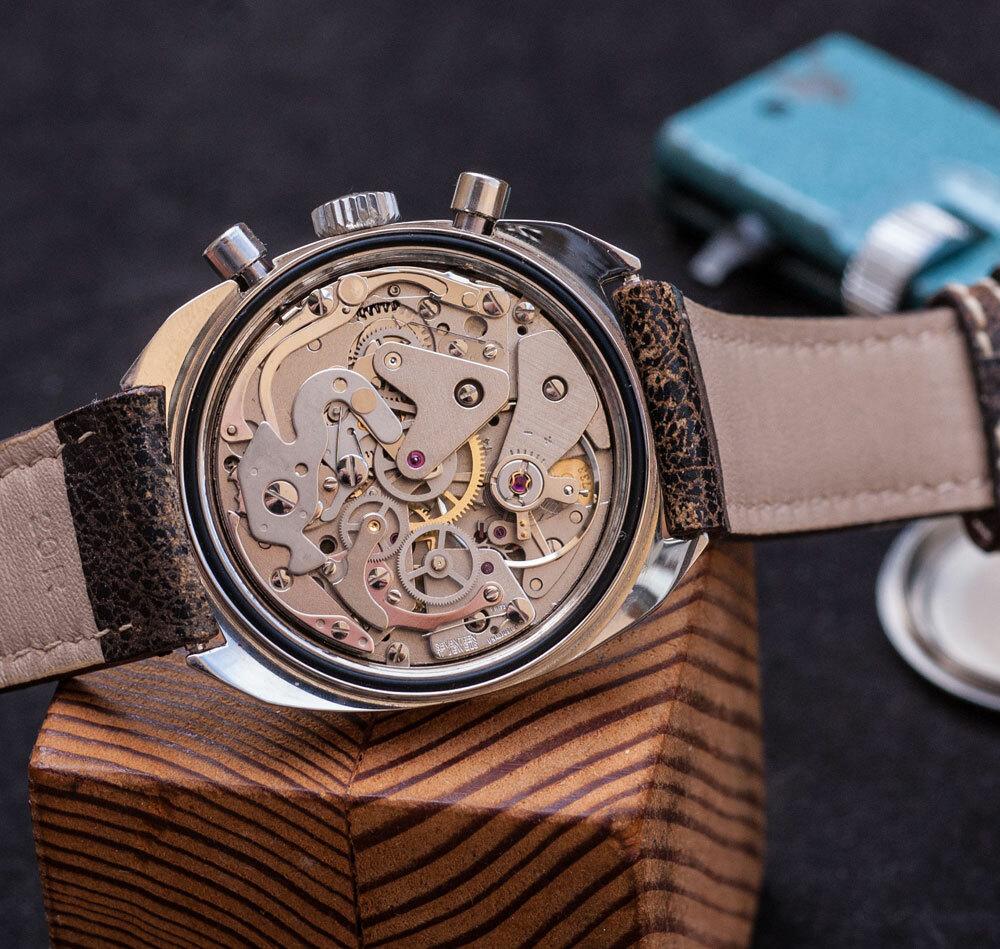 :
: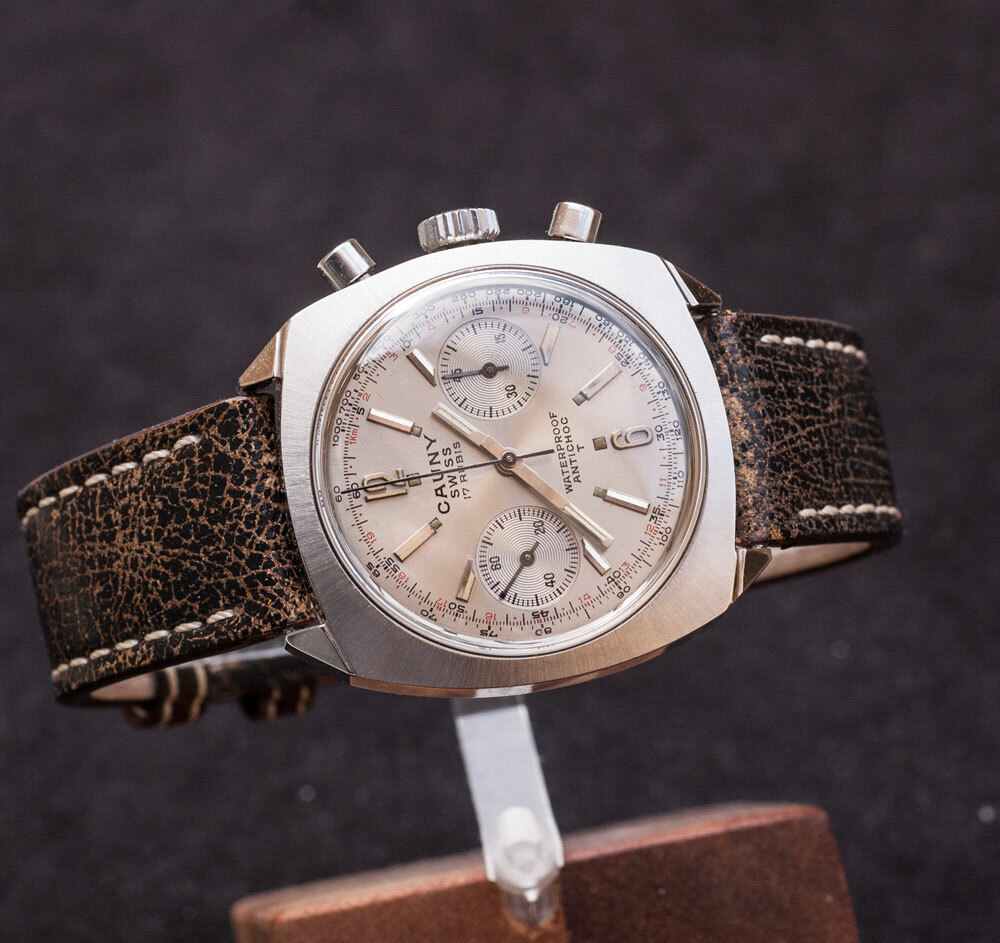 :
: