Presented for sale, this example is an early matte dial Rolex GMT-Master 1675 with US Army provenance. The watch is complete with punch papers, inner and outer boxes, and "Your Rolex Oyster" booklet.
I recently purchased this watch from a jeweler who purchased it directly from the original owner in 2000. It has sat in storage since then and now is presented for sale.
As told by the prior owner: "The owner of the watch was one of my first customers when I opened a retail location in 1993. The owner told me they were a Sergeant in Vietnam and it was purchased at a PX somewhere in Asia. They had us service the watch in the mid 1990s. They knew I wanted the watch and told me that when they were ready, I would get it. In approximately 2000, the owner called me to tell me that they were preparing their estate. The watch was hidden in an old-school striped gym sock in a sock drawer. They gathered the original box, cert, etc. from the other room which I didn't know they had. Since then, the watch has been in storage."
The Details:
Dial is excellent MK 1 "Long E" with light eggshell patina. Dial is free from chips or staining.
Hands are original and are a shade darker than dial patina.
Crisp Pepsi insert. Mint condition, blue back.
Case is thick with some original chamfers present. Has been previously polished and shows marks from wear.
Serial and reference numbers are clear and visible.
Rolex C&I Rivet bracelet. Light stretch from use. Stamped 1-74.
Caseback stamped II.67 and contains service marks.
Running in COSC spec (+4/-1 in various positions with 250+ amplitude).
Accessories:
Inner box, outer box, punch papers, Rolex booklet, jeweler service note, and hangtag
Price: Offered at $20,000 with overnight shipping and insurance included
I have experience shipping fully insured internationally.
Payment Method:
- Wire transfer preferred.
Return policy: Returns accepted after 7 day inspection period. 100% refund if not Authentic.
Please contact me via email at: swissice1@outlook.com
Thanks for looking.
[URL=http://s346.photobucket.com/user/Leobell/media/BEC418B0-04E5-462A-BAB8-4A27665D3F97_zpsrztojwuz.jpeg.html]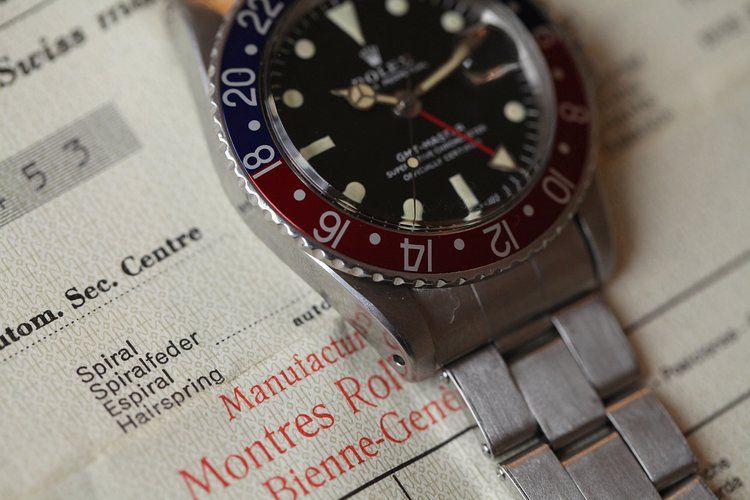 [/URL]
[URL=http://s346.photobucket.com/user/Leobell/media/74A10F68-08CF-4ADC-8ECE-8AE784AED5FF_zps5gk0ffhk.jpeg.html]
[/URL]
[URL=http://s346.photobucket.com/user/Leobell/media/603157B3-FFA1-4243-B42D-A49DF4F910D5_zpslmp3wucy.jpeg.html]
[/URL]