This is the double quickset president 18238 from 1999! Rolex Day-Date up for sale as I had just picked up a Rootbeer CHNR and it now dominates everything. Solid 18kt yellow gold with silver sunburst dial, however the dial looks more gold than silver as seen in pics. This watch is incredible and is one of the last great wearing Day Dates in my opinion due to having more brushed surfaces than its modern replacement, the 118238. It is more understated than it lets on and it goes with every outfit I've worn since getting it. Makes you feel very special wearing it and is a pleasure every time I look down and it sneaks past my shirt cuff.
The watch is in excellent condition which is rather rare for these ones, it seems to have been polished at least once in its life time but the lines are crisp and sharp on case, bezel, and bracelet. I am not sure of service history but the watch is keeping great time.
Specs: Solid yellow gold 36mm case, solid yellow gold president bracelet with barely any stretch, SILVER index dial with gold hands, double quickset movement.
My price: $11,200 Shipped.
(TNT Express/DHL Express/FedEx Priority). I will Ship Worldwide.
Payment Method Preferably by Bank Wire it's a great price for a watch in such Excellent condition. Selling price includes shipping/insurance.
Please feel free to message me if you have any questions. My email address is: Marvintyson7@gmail.com
Returns accepted after 7 day inspection period. 100% refund if not Authentic
Thank you for your interest and consideration.
[URL=http://s377.photobucket.com/user/Marvintyson7/media/F6E2438D-55B7-4E8F-B8FD-D6F0E761C996_zpsgrhzlnuh.jpeg.html]
[/URL]
[URL=http://s377.photobucket.com/user/Marvintyson7/media/AC1571BD-E779-4832-92C1-CE9A5E1EBB41_zpsjigkqxfs.jpeg.html]
[/URL]
[URL=http://s377.photobucket.com/user/Marvintyson7/media/A62B4F0F-2275-4B1B-8F55-92CE863517A2_zpsspmyhz3i.jpeg.html]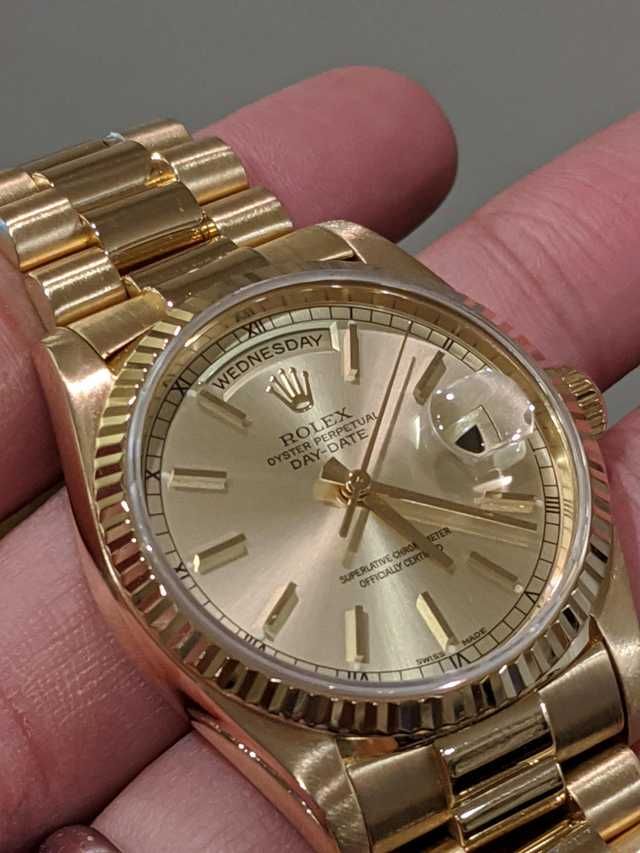 [/URL]