Up for sale is a 1988 Rolex Submariner L-series 5513
Dial:
* Original gloss dial with no spidering or visible imperfections
* White gold-surrounded tritium plots have developed a beautiful vanilla patina
* Hands are original and match the patina of the plots and bezel pearl
Bracelet:
* 93150 bracelet with 580 end links
* Service clasp stamped Z11
Movement:
* Rolex 1570 movement is a workhorse and was overhauled by a Rolex Service Center in 2012. The watch was subsequently stored and not used again until late 2017.
* Movement was tested recently and passed with flying colors.
Case:
* Case was polished at last service (2012)
* Chamfered edges still visible
* Tritium bezel pearl
* New period-correct replacement crystal purchased from Michael Young was installed in February 2018
* Passed a pressure test at 5ATM, meaning the case and crystal seal well.
This watch will ship with:
* Original Rolex Submariner presentation and outer box
* RSC service certificate from 2012
* Green RSC service pouch
* Original Rolex service crystal and timing/pressure test print out
* Watch appraisal by Jewelers On Time in Newport Beach.
Asking price: $7000 via bank wire....shipped
Please let me know if you need to see anything else or have any questions.
My email address is: leob44517@gmail.com
Returns accepted after 5 day inspection period. 100% refund.
Thanks.
[URL=https://s346.photobucket.com/user/Leobell/media/Mobile%20Uploads/6AA87493-D620-4D1A-8EC2-0B8BF1BA078B_zpsc2mkdsqf.jpeg.html]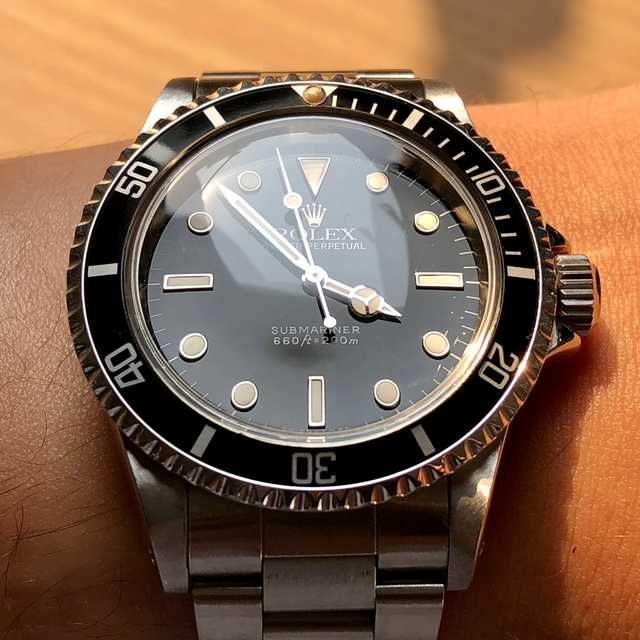 [/URL]
[URL=https://s346.photobucket.com/user/Leobell/media/Mobile%20Uploads/8B57E751-661B-49CE-8C86-234B5A043AFE_zpsnjlblcqf.jpeg.html]
[/URL]
[URL=https://s346.photobucket.com/user/Leobell/media/Mobile%20Uploads/130DA2D8-DEE1-4666-8007-85D8A10F1079_zps3k5aoxzl.jpeg.html]
[/URL]