Flat-link bracelets are all the rage with Omega collectors today, and you'll see examples on Rancheros, Constellations, Seamasters, Seamaster 120s and 600s and many others. Some great vintage Omega ads with 1950s, '60s and '70s Omegas are popping up showing these watches first advertised on flat-link bracelets. These bracelets are most popular with any era Omega Speedmaster, from the early 19mm lug models to the most common 20mm Speedies, all the way up to the FOIS new heritage piece with the 19mm lugs. We have all popular end sizes in stock: 18mm, 19mm and 20mm, with either matte finish or polished outers to match the bracelet.
The gallery here now shows these flat-link bands on all of the most coveted 19mm and 20mm Omega Speedmaster watches. Our offer is an incredible bargain compared to what you would pay for an Omega original, and this vintage bracelet is New Old Stock. Expect to pay $1,500 for a pair of #6 Omega type 19mm end pieces or $750+ for a pair of Omega 20mm #516 ends, if you can even find these rare parts.
Here you can be out the door with an NOS flat-link and 20mm ends for as little as $440. The cost of the bracelet alone is $350 without end pieces. Then you select your 18mm, 19mm or 20mm ends. You can also special order an Extra Short, Short, Standard or Long Length flat-link bracelet. If you email, we can help guide you to the length you need.
We've sold these real NOS vintage flat-links since 2018 helping 150+ customers fit these 1960s bracelets on many different watches around the world. The next photos show the most popular configuration: 20mm polished outer ends at $490 complete with band and ends: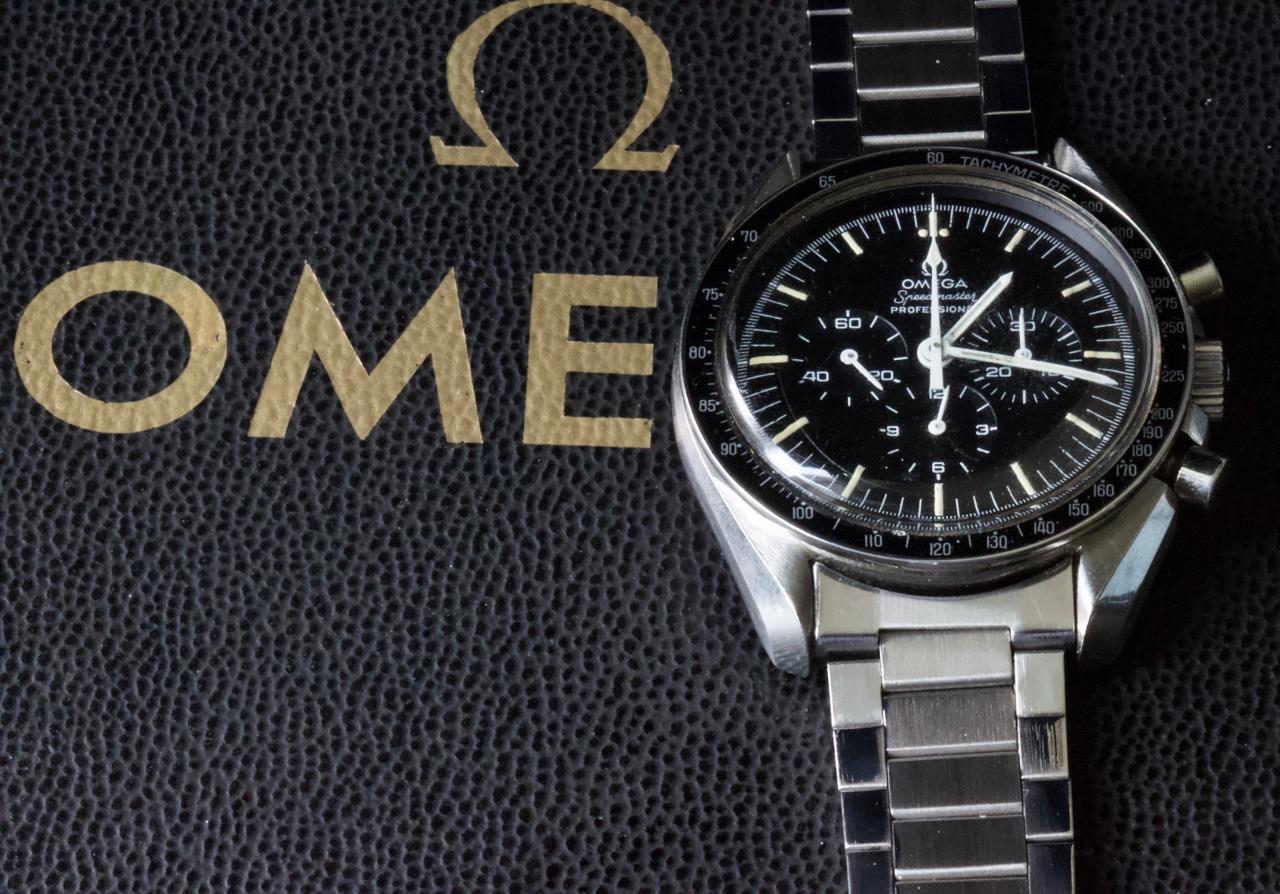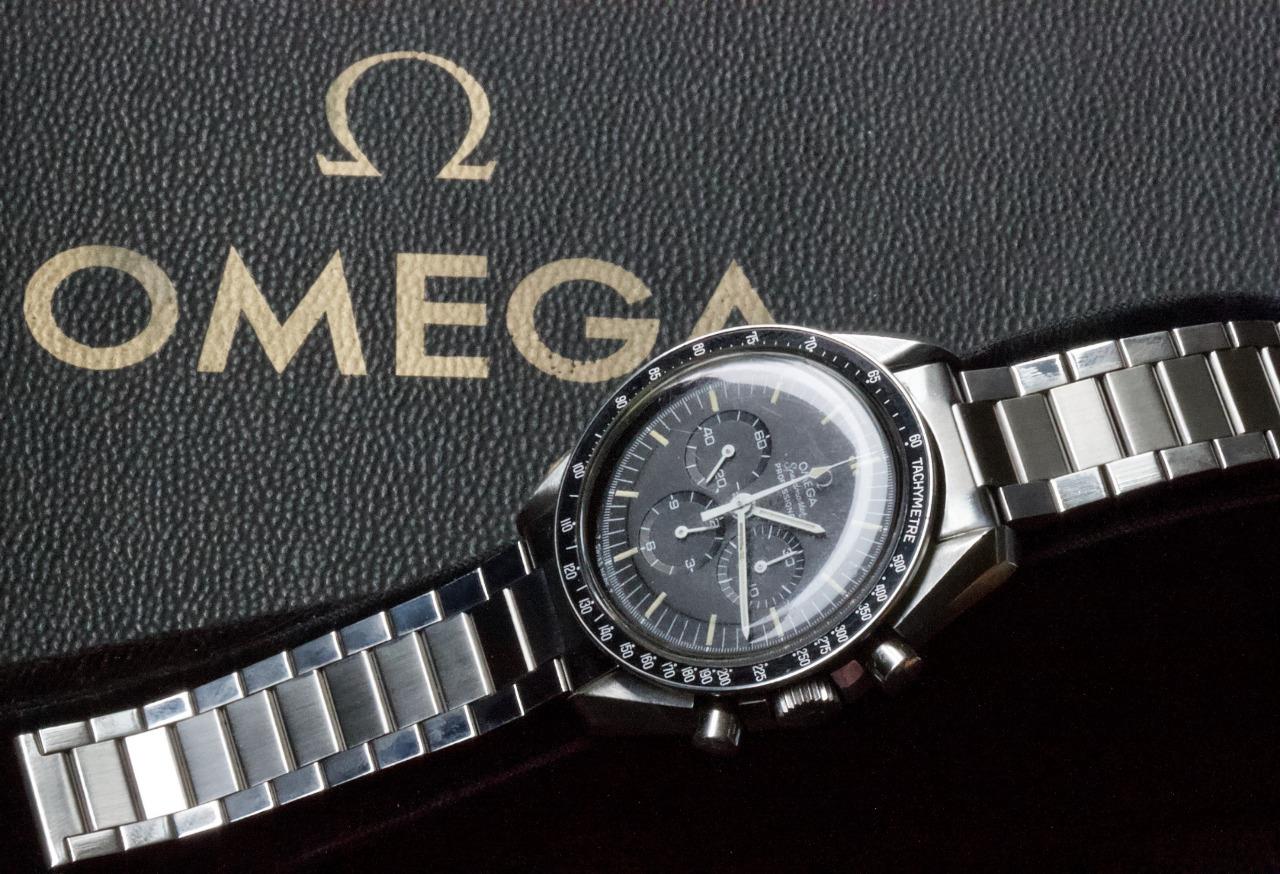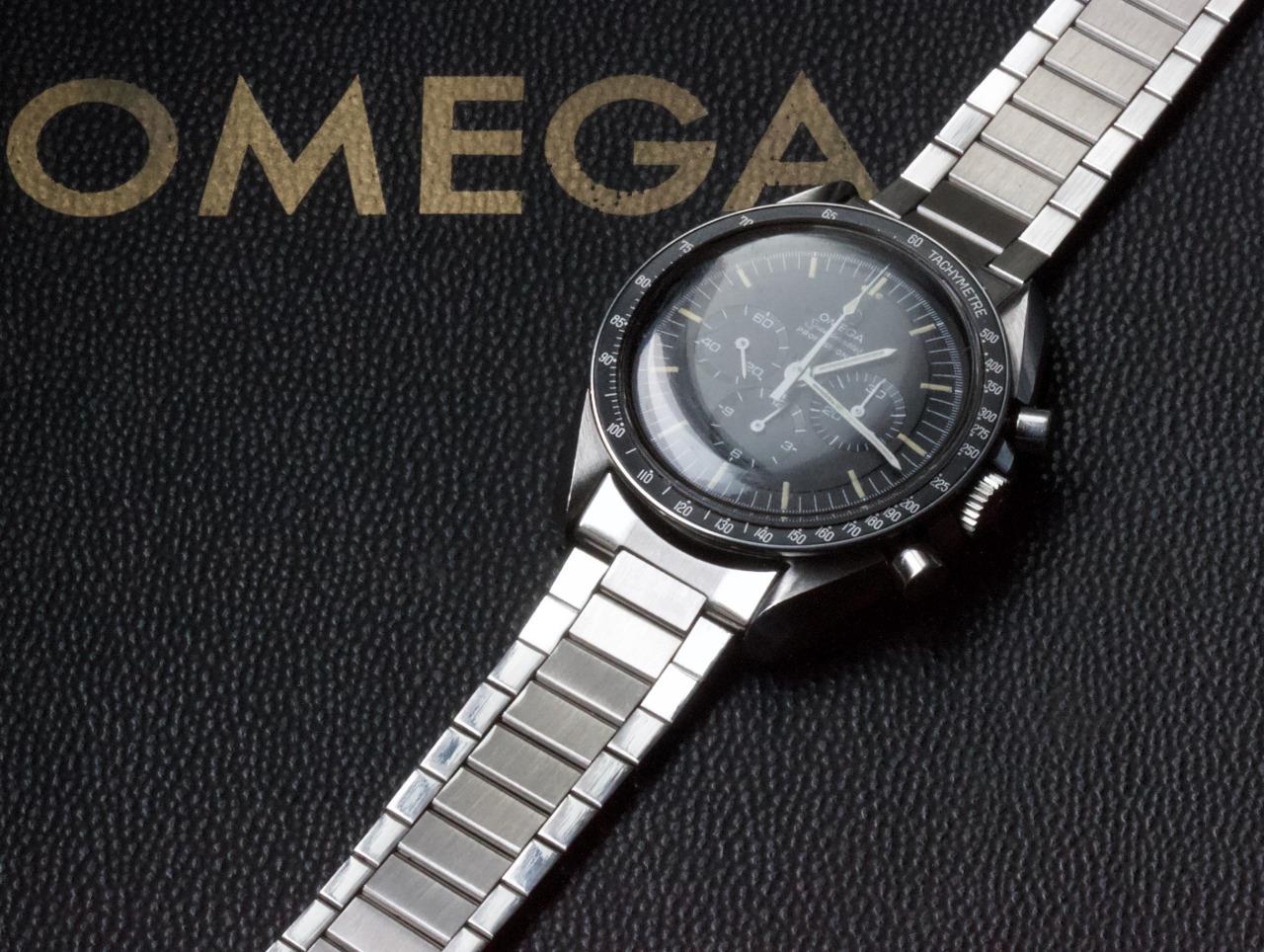 Look at the many customer's pictures here to see how Omega collectors have deployed these on many models of Omega Speedmaster, Seamaster 300, Omega Railmaster, Omega Seamaster 120 and even the Helson SM300 remake. If you don't see your watch pictured here on these flat-link bracelets, message us; we may have a customer's photo on your watch.
If you have an Ed White Speedmaster or modern FOIS Speedmaster with the 19mm lugs or vintage Seamaster 300, here's how your watch can look with the band and 19mm ends included starting at $550 (matte version shown in photos) or $590 with polished edges end pieces. Here's the Ed White (matte finish ends):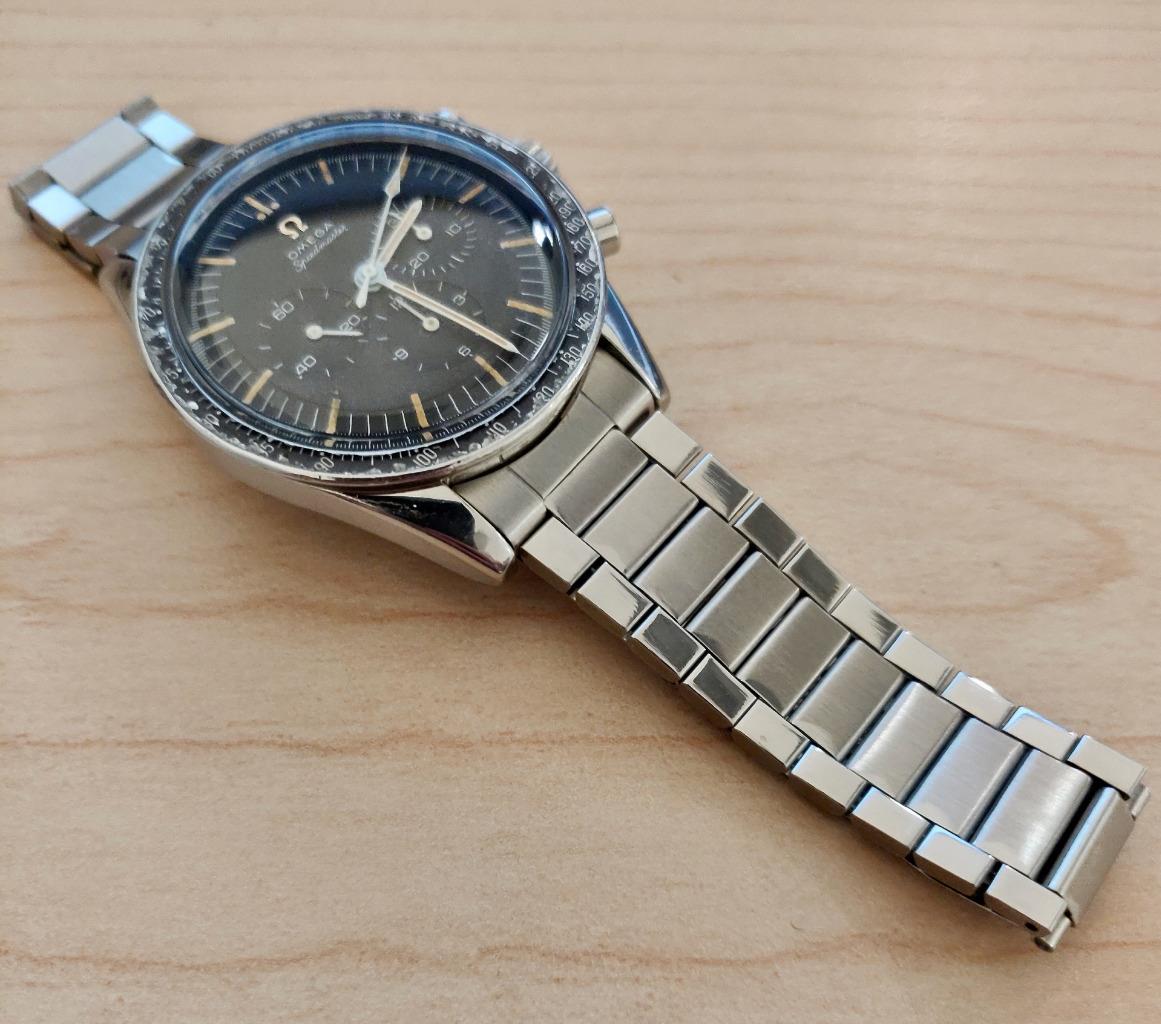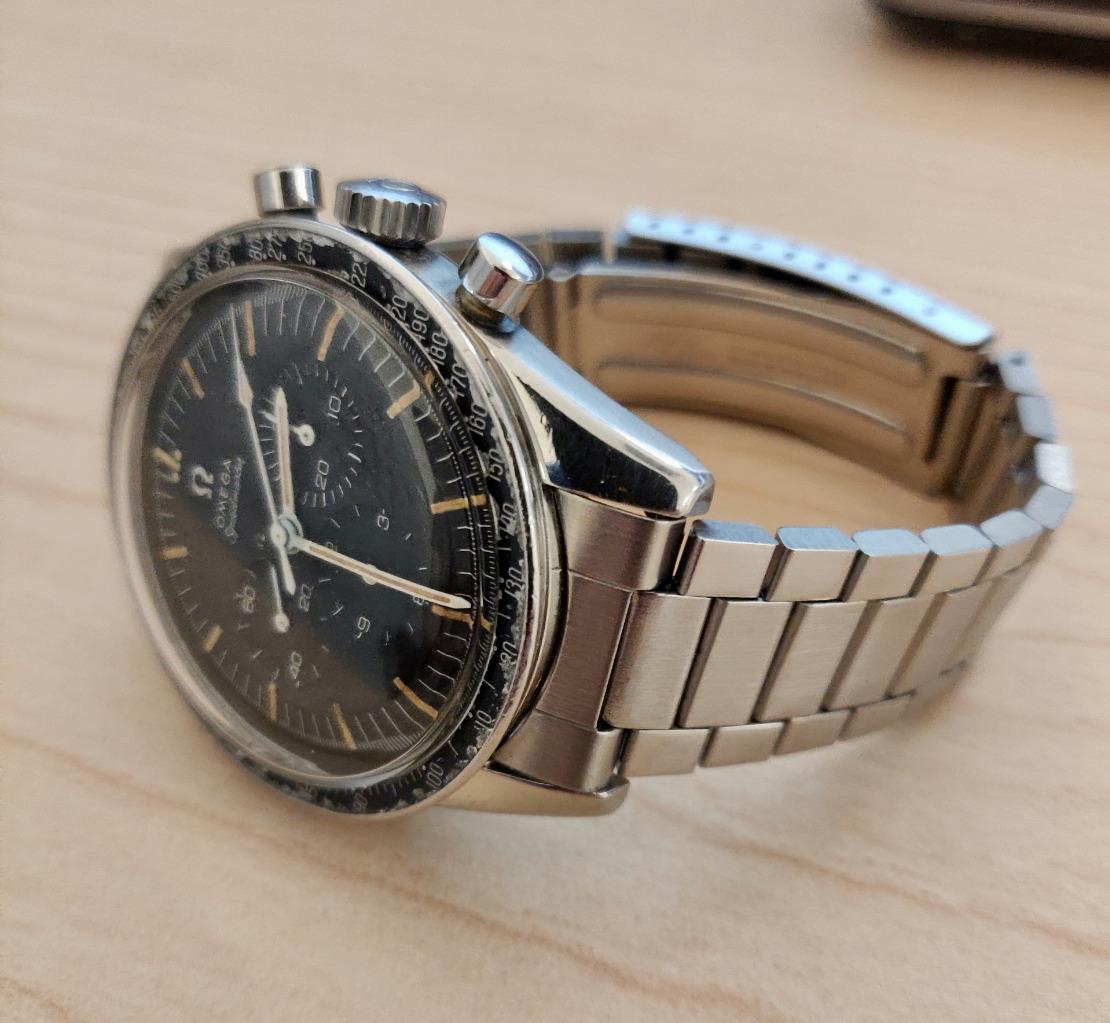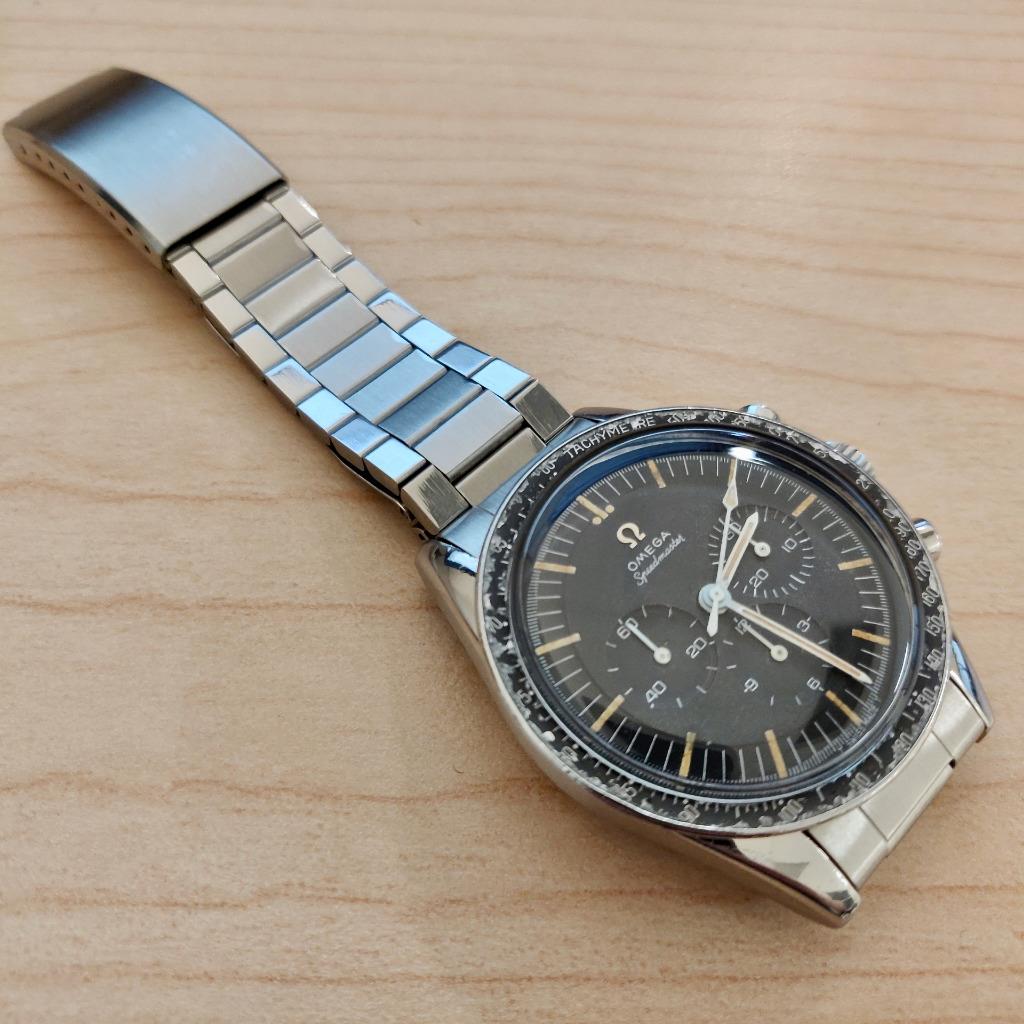 Here's the FOIS (matte finish ends):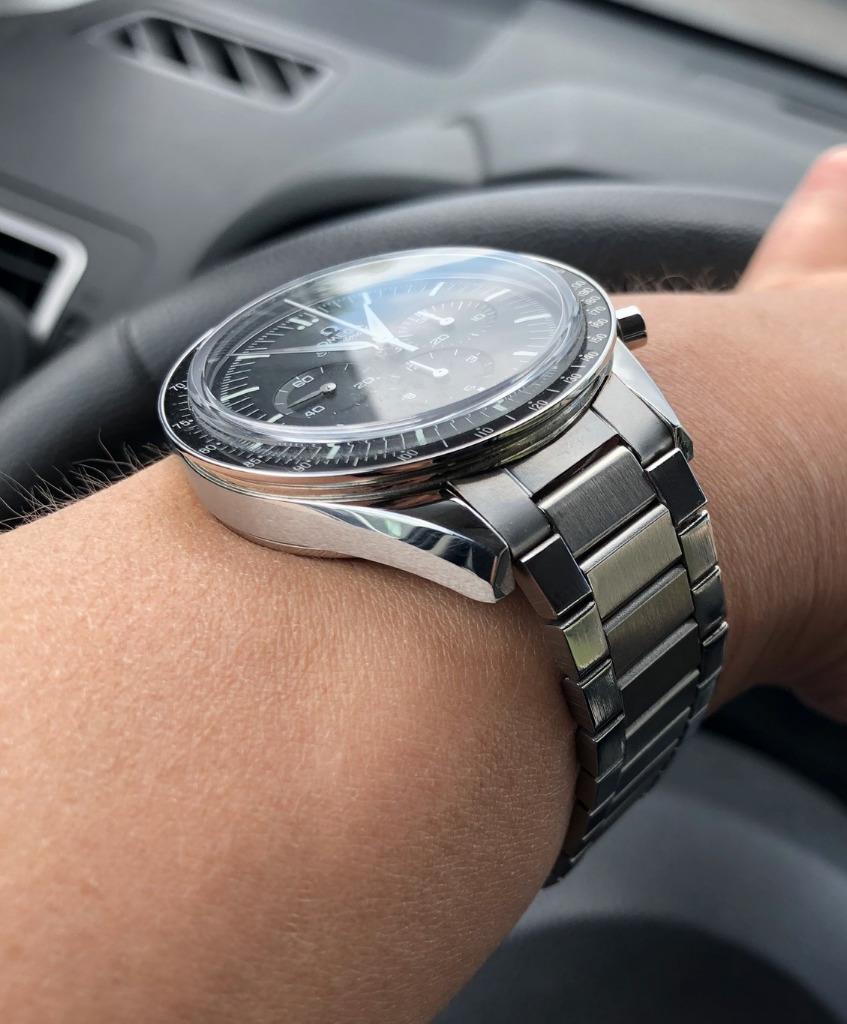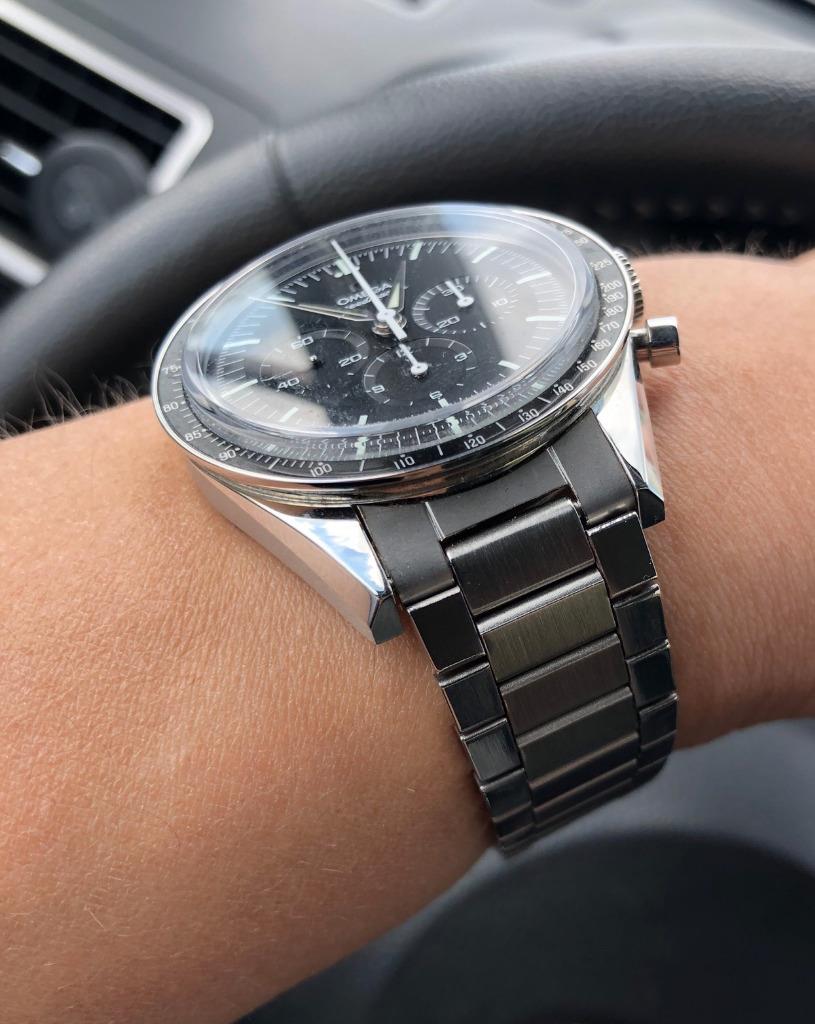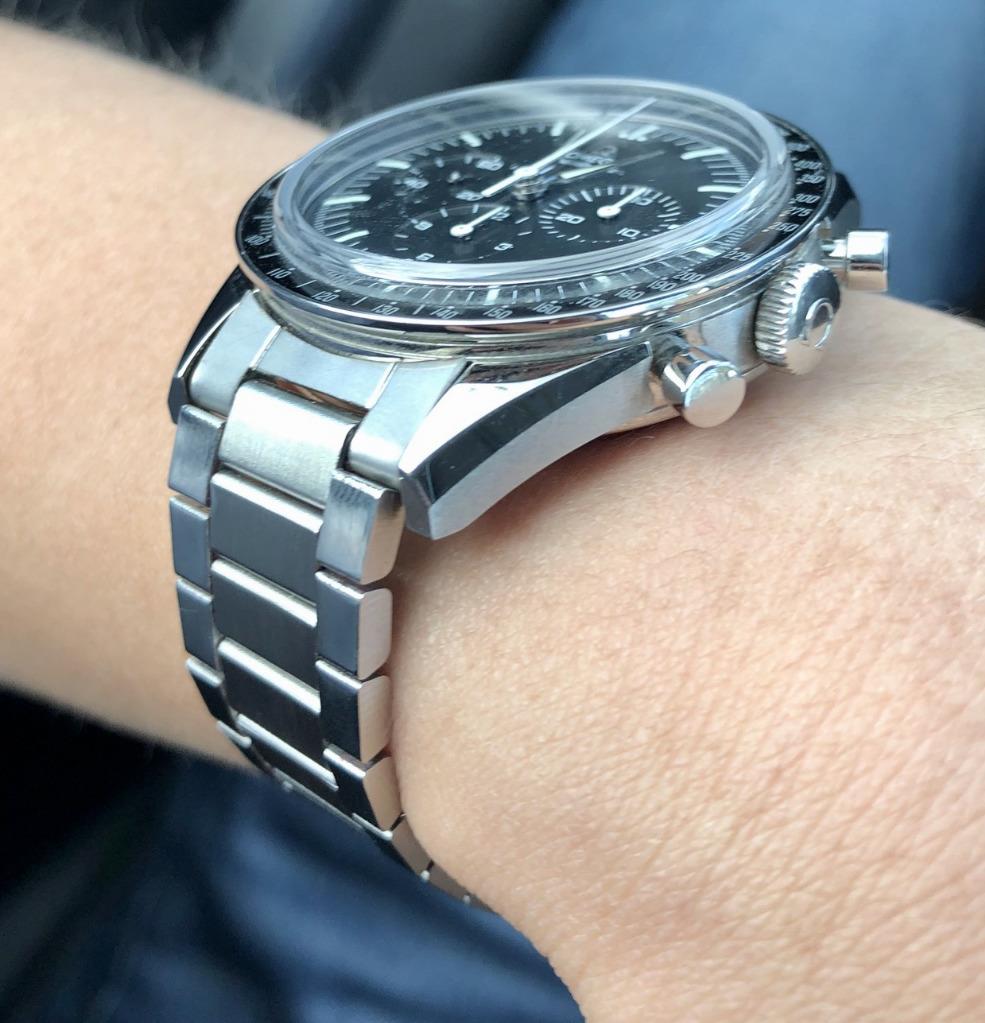 The best vintage Omega Speedmaster and Seamaster 300 flat-link 1960s bands now cost well into the thousands and the condition is often rough and stretched with links missing. This is a cost-effective, very similar vintage mint condition flat-link generic band. New Old Stock 1960s/70s bracelet with 10mm center end links that will also take original Omega end pieces.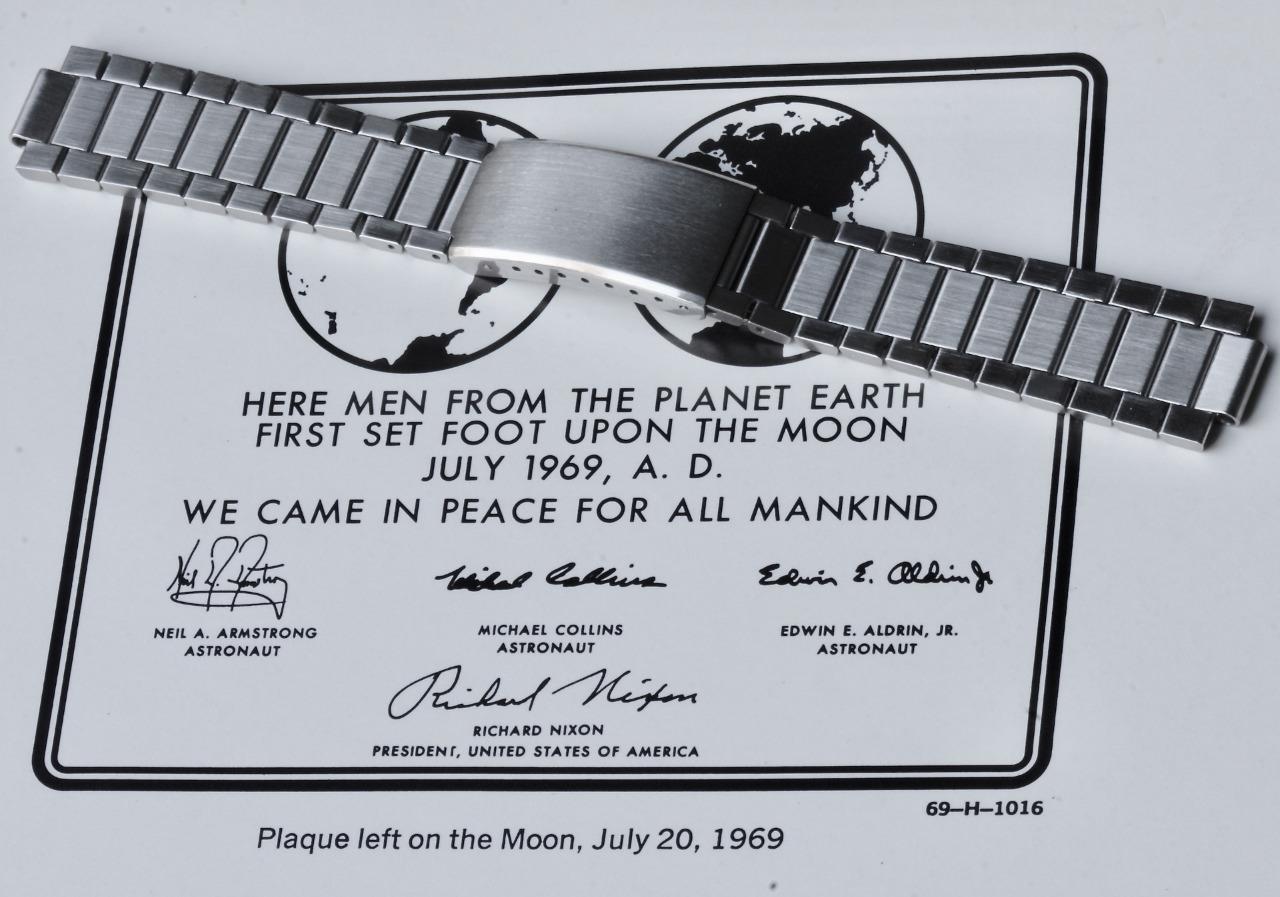 Flat-link bands are popular for a good reason: The links conform to your wrist, flexing just a bit and making these extremely comfortable to wear, while appearing sleek and stylish. The clean, simple look of one of these on a Speedmaster or Seamaster 300 just cannot be matched with modern bands. Even modern flat-link bands are chunky by comparison, you cannot beat the original 1960s classic.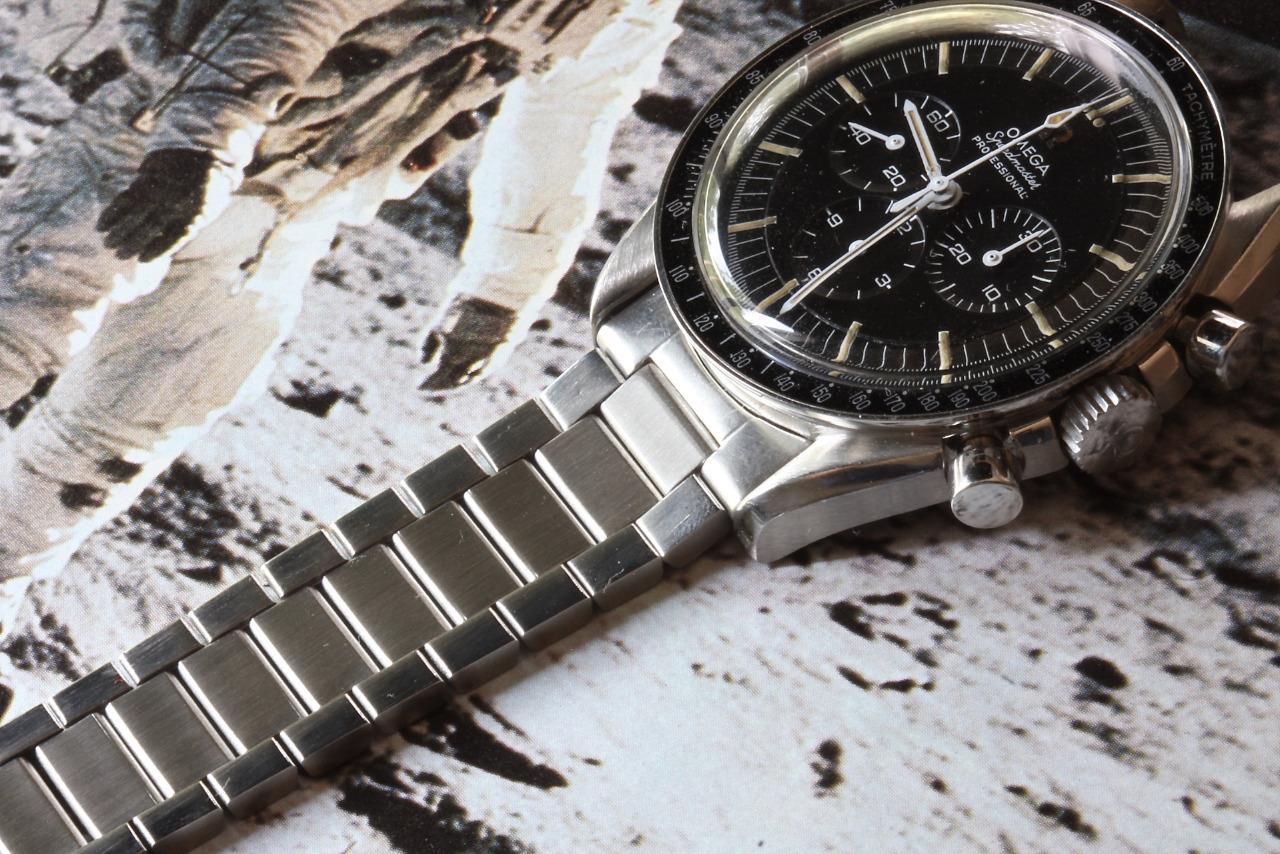 The bracelet offered here in the center is flanked by an Omega 1039 band on the left and an Omega 7912 band on the right.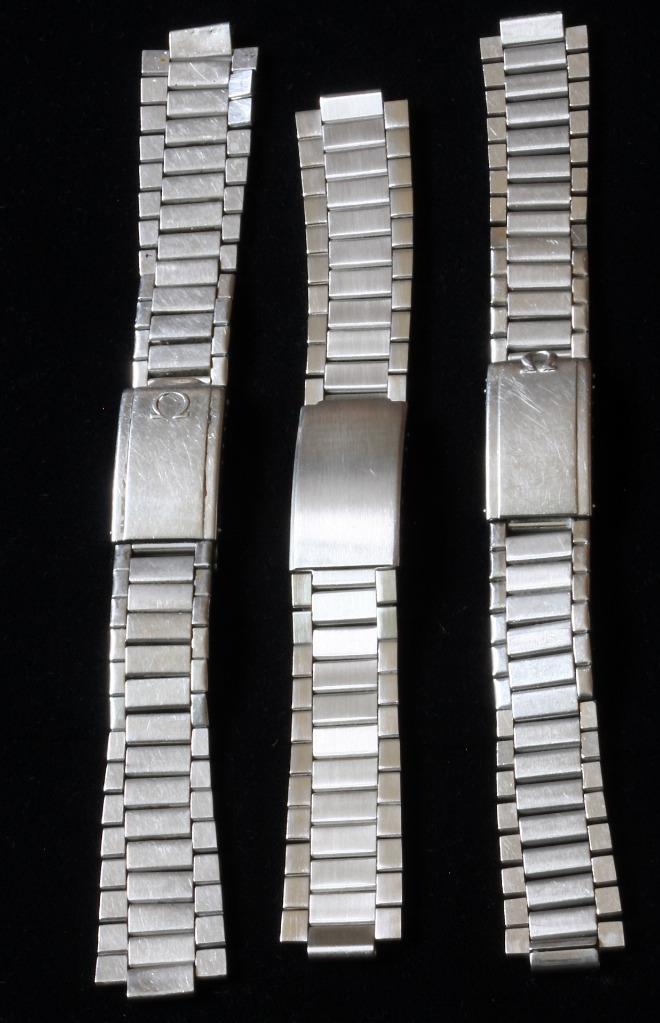 You can see from the photos that the generic band is nearly identical to both the Omega 7912 and 1039 bracelets shown alongside it. This generic band is also a close substitute for Omega 1035 and 1506 bracelets. The taper of the unsigned band is very similar, as is the top finish, with a satin center row and polished accents on the edges like the original finish of the Omega flat-link bracelets. The clasp is 17.3mm wide and the links gradually flare out to 18.3mm wide at the end. The links are 2.8mm thick. Build quality is a notch up from the Omega bands. The brick links of the generic are a bit heavier than the Omega band links. Band weighs 34 grams (vs 31 grams for the Omega bands). One feature that we actually like better about this generic band is that the center end connectors have a spring bar tube built in to accept up to a 2mm thick spring bar to securely attach the bracelet to your watch. Original Omega flat-link bands don't have that; the center connection pieces are just open links the spring bar slides through.
The 10mm end connection piece will work with many Omega end pieces of the period that fit 19mm SM300s and 19mm or 20mm lug Speedmasters. The flat-link bracelet for sale here is shown in the following pictures attached to the 1962 Seamaster 300 (ref. 14755) with the original Omega #6 ends in 19mm and connected to a 1968 Speedmaster (ref. 145022-68ST) with original Omega #516 ends. This is also a great way to give later 19mm and 20mm lugs Omega Speedmasters a vintage look, no matter what the year. The 19mm ends have been popular with the FOIS models. The 20mm ends fit the Ultraman Speedmaster series.
Shown here connected to Omega #516 end 20mm on 1968 Omega Speedmaster Professional with an original Omega 1039 band beside it.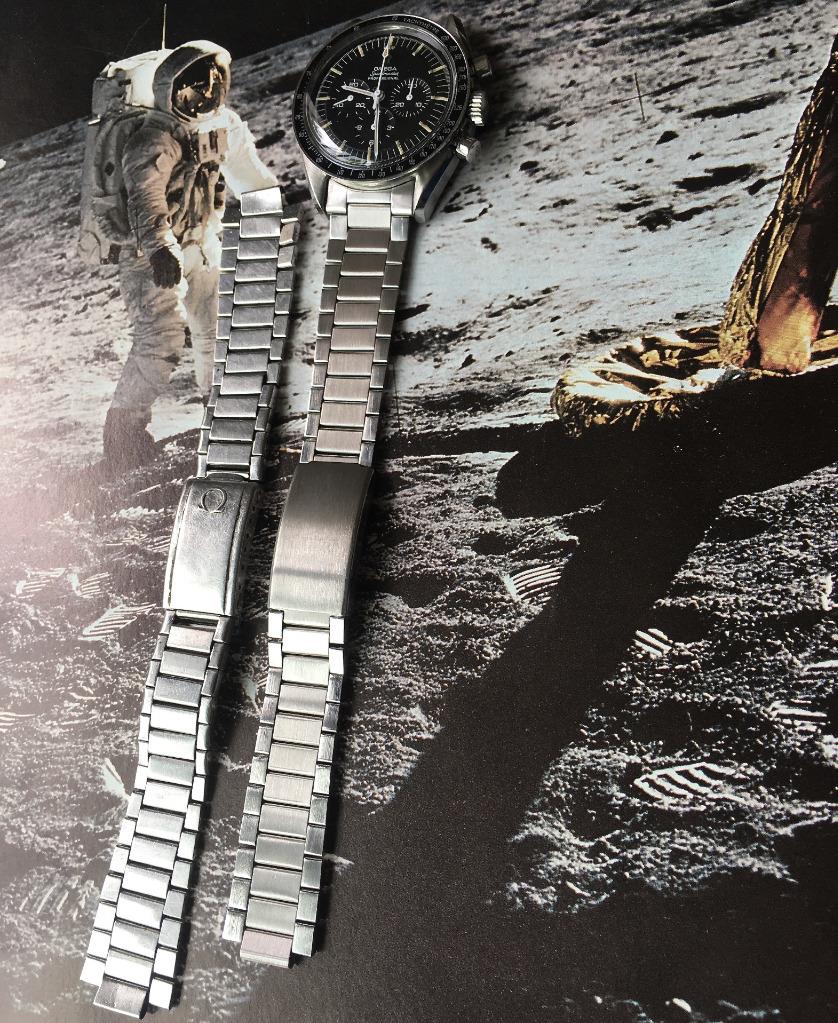 Shown here connected to Omega #516 end 20mm on 1999 Omega Speedmaster Broadarrow: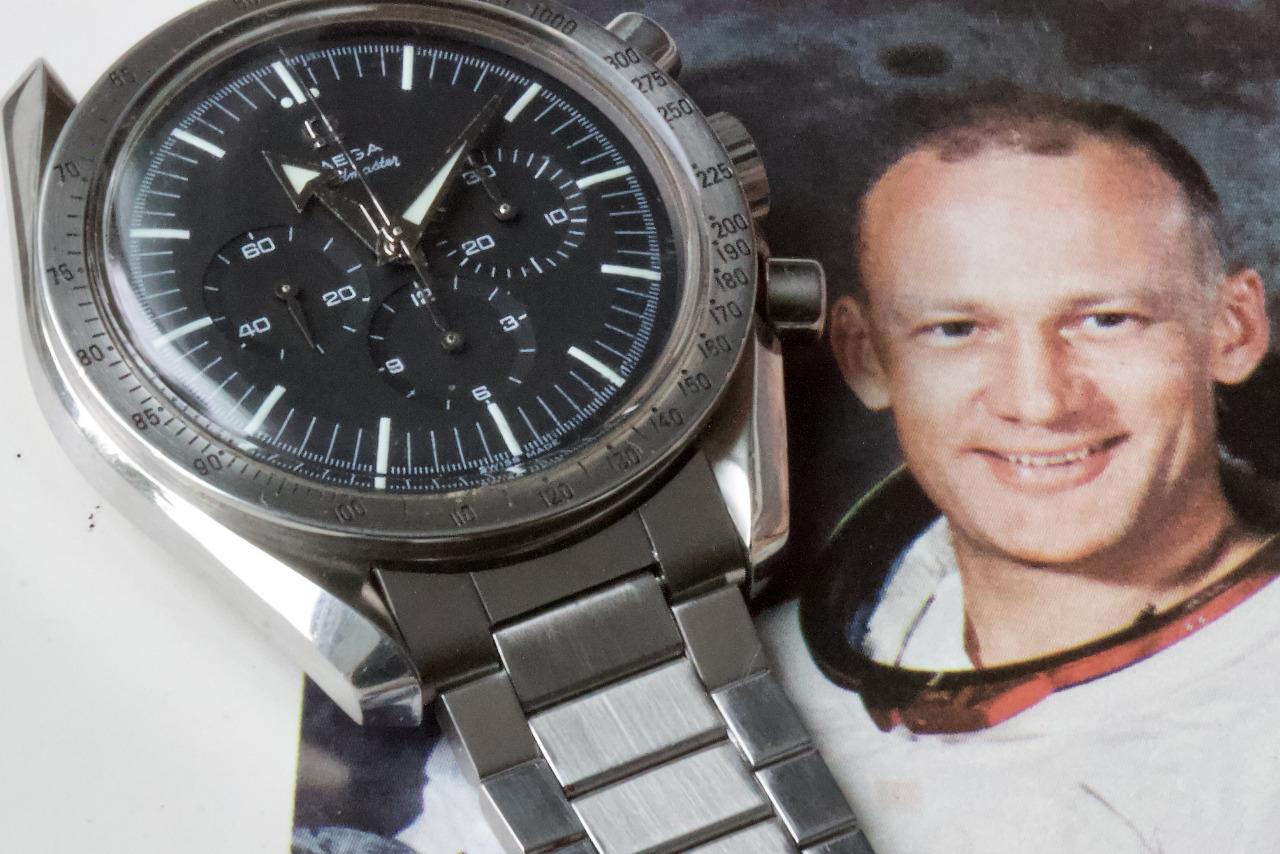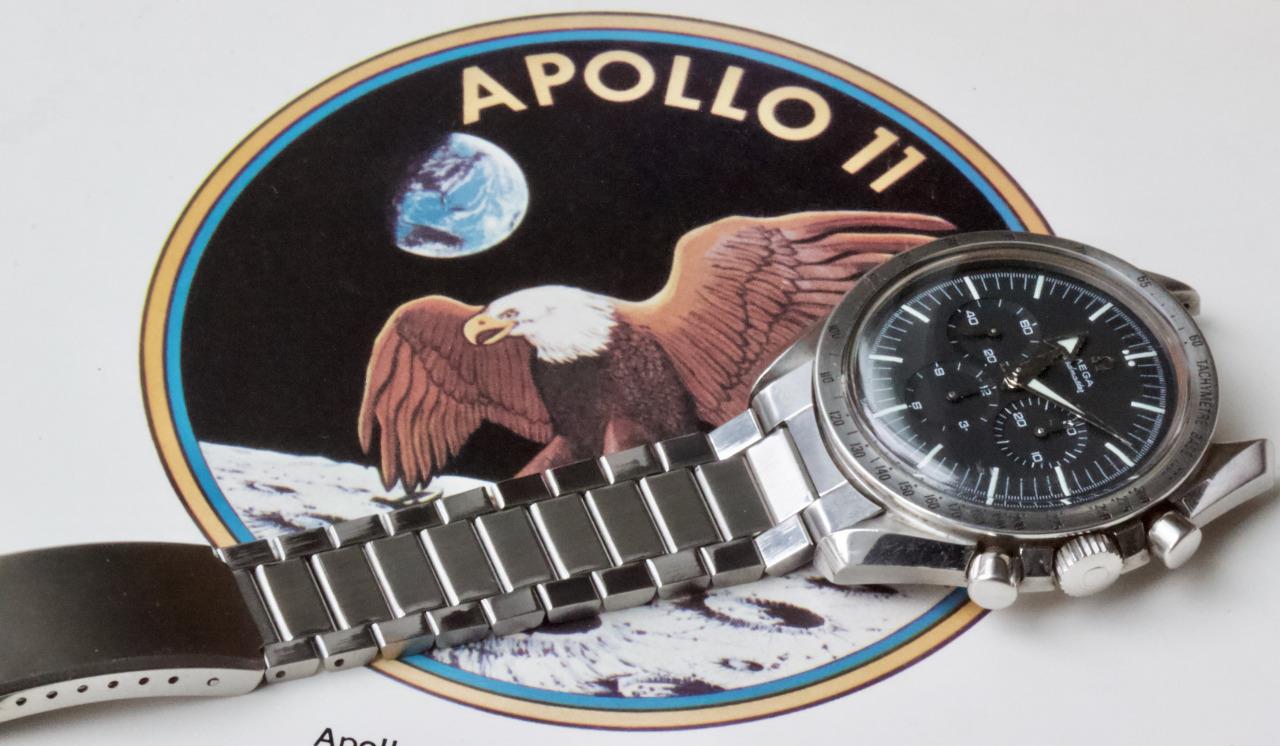 Shown here connected to Omega #6 end 19mm on 1962 Omega Seamaster 300 ref. 14755 with the original Omega 7912 band beside it.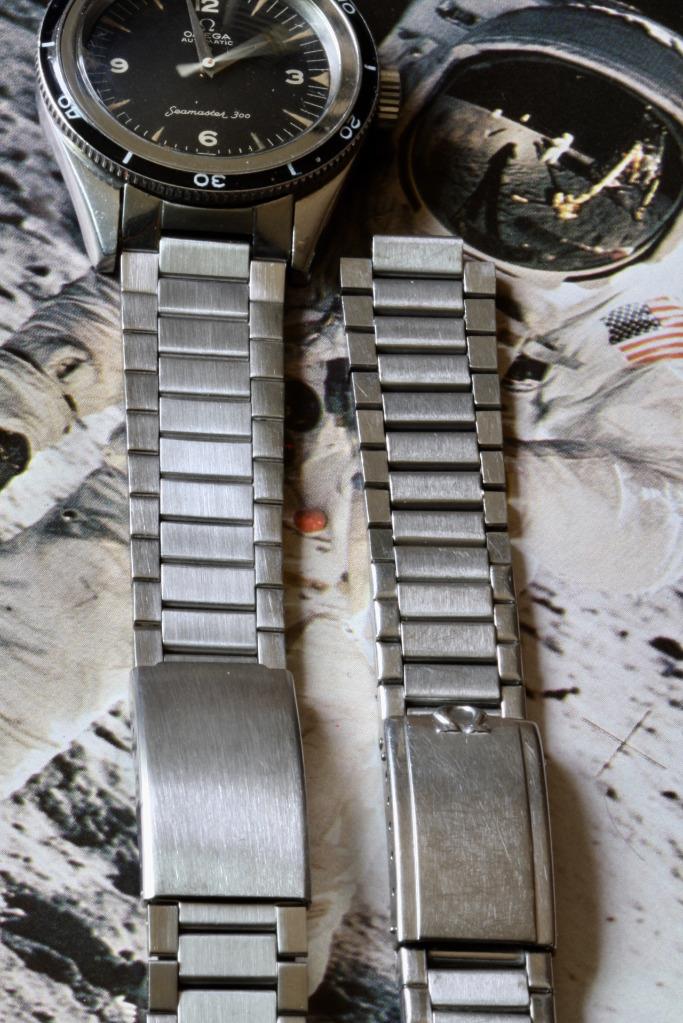 If you own a straight lugs Speedmaster or Railmaster, a FOIS Speedmaster or an early SM300, the 19mm Omega #6 style aftermarket ends we sell are an excellent fit for just $200 in all matte finish or $240 with the polished outer rows shown at the bottom of this ad. The 20mm #516 type ends we sell fit all twisted lugs Omega Speedmaster models. The 20mm ends come in all matte finish for $90 or with polished outer rows for $140. Or of course you can mate this bracelet with original Omega original ends sourced elsewhere.
This flat-link bracelet is a good length that will fit many wrist sizes. Fully extended the band measures 6 inches (15.2cm) and it sizes down to 5 1/8 inches (13cm) with 7 incremental length adjustments in the clasp. The back of the clasp is signed "Kreisler Stelux Stainless Steel Made in Hong Kong." These came stored in protective wrappers, so the condition is mint NOS. To make the band shorter, each side of the standard length band has a removable link with a easy, pop-out spring bar pin and then you can unfold additional links from the back and remove them as well. If you need an Extra Short, Short, Long or Extra Long version, they are priced below and spare links are available.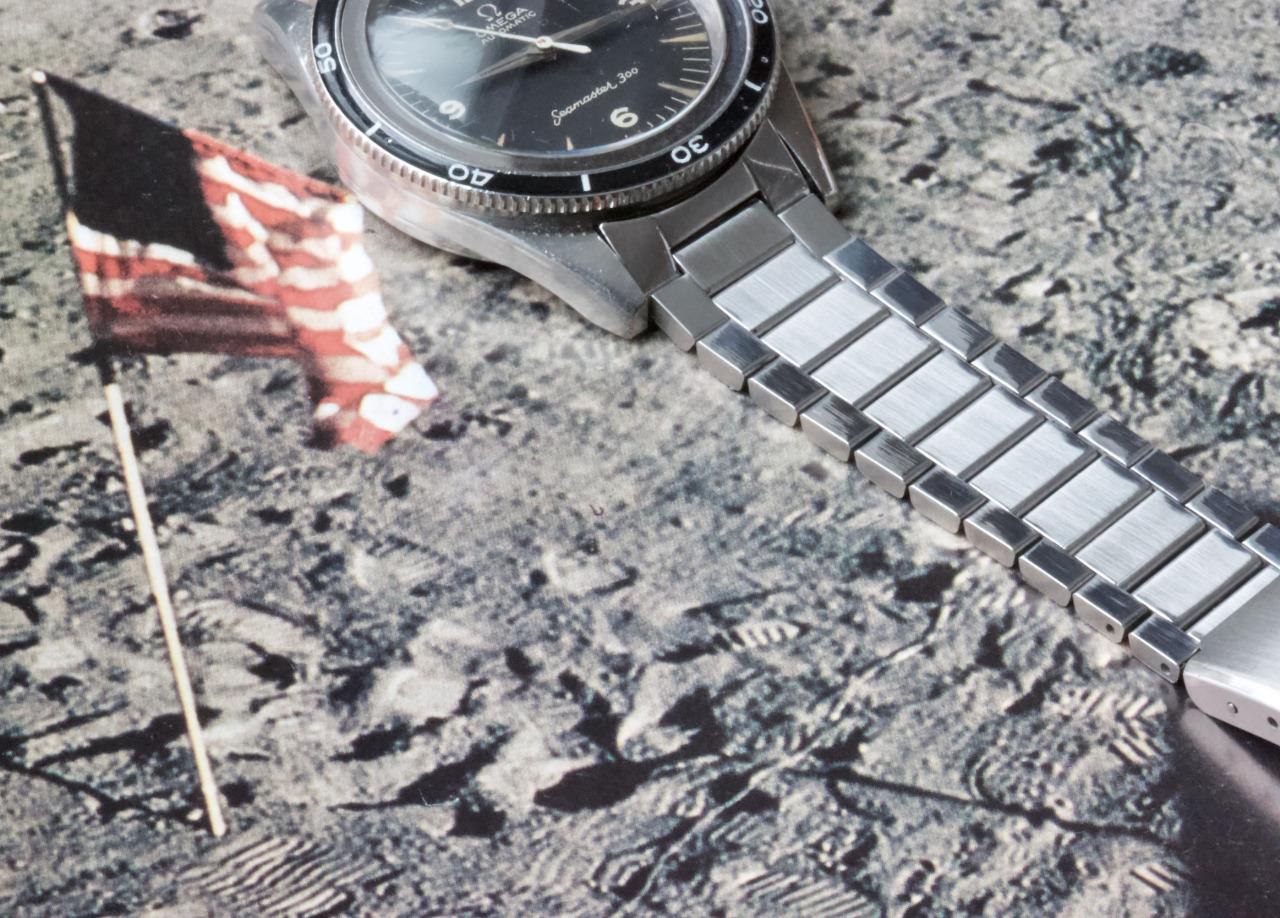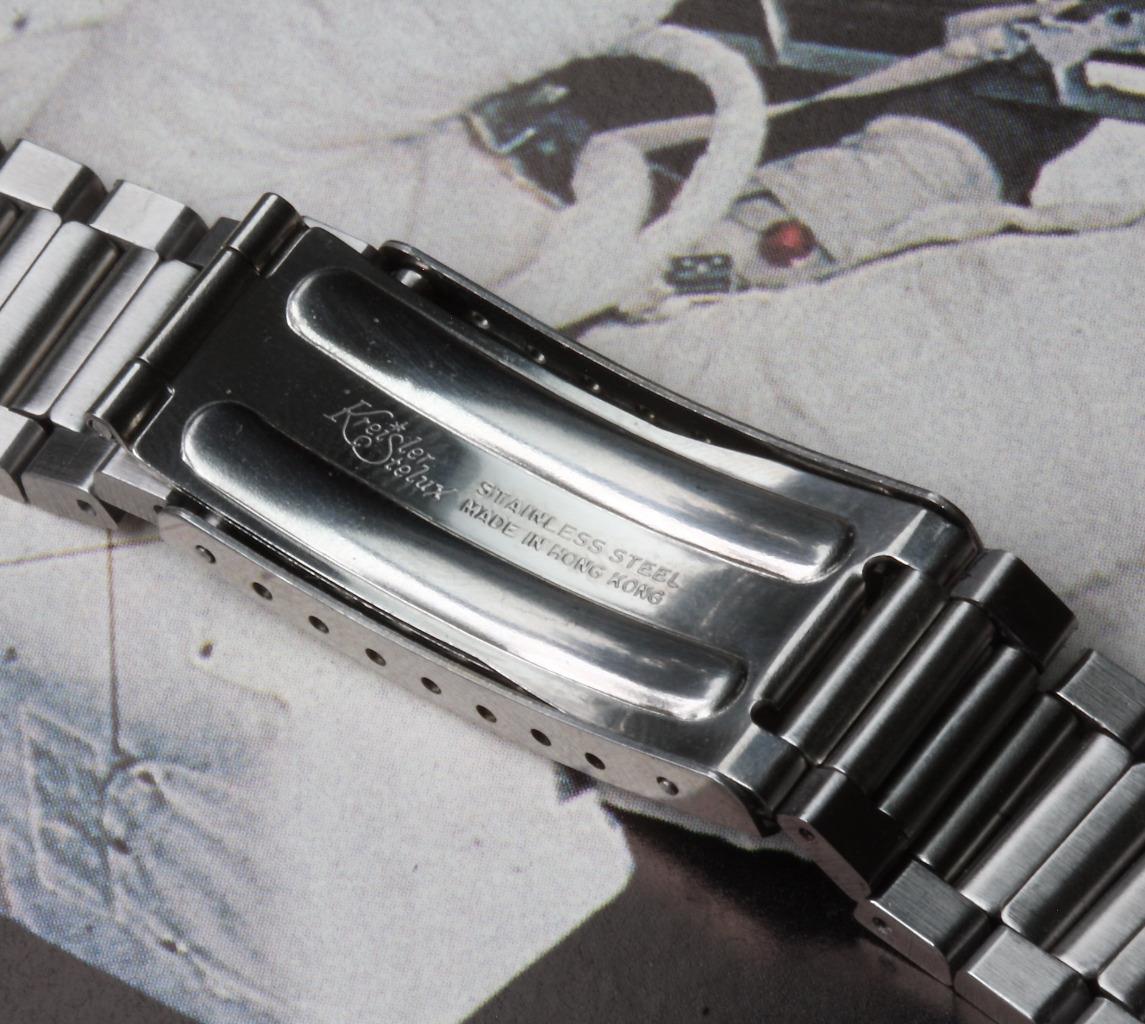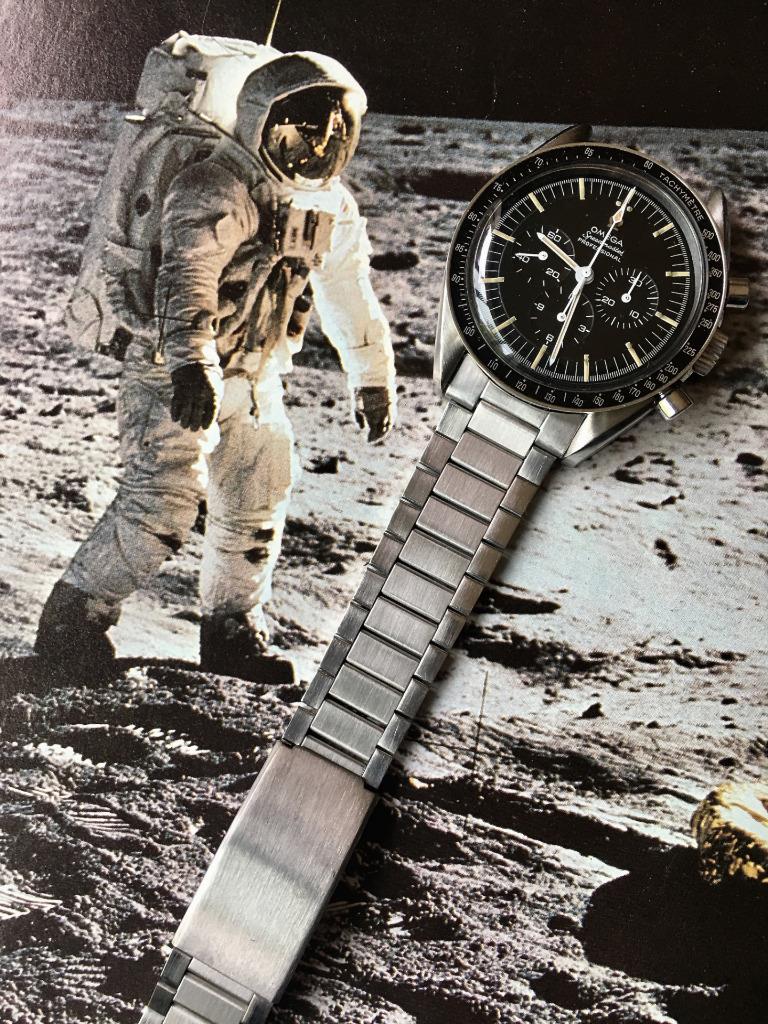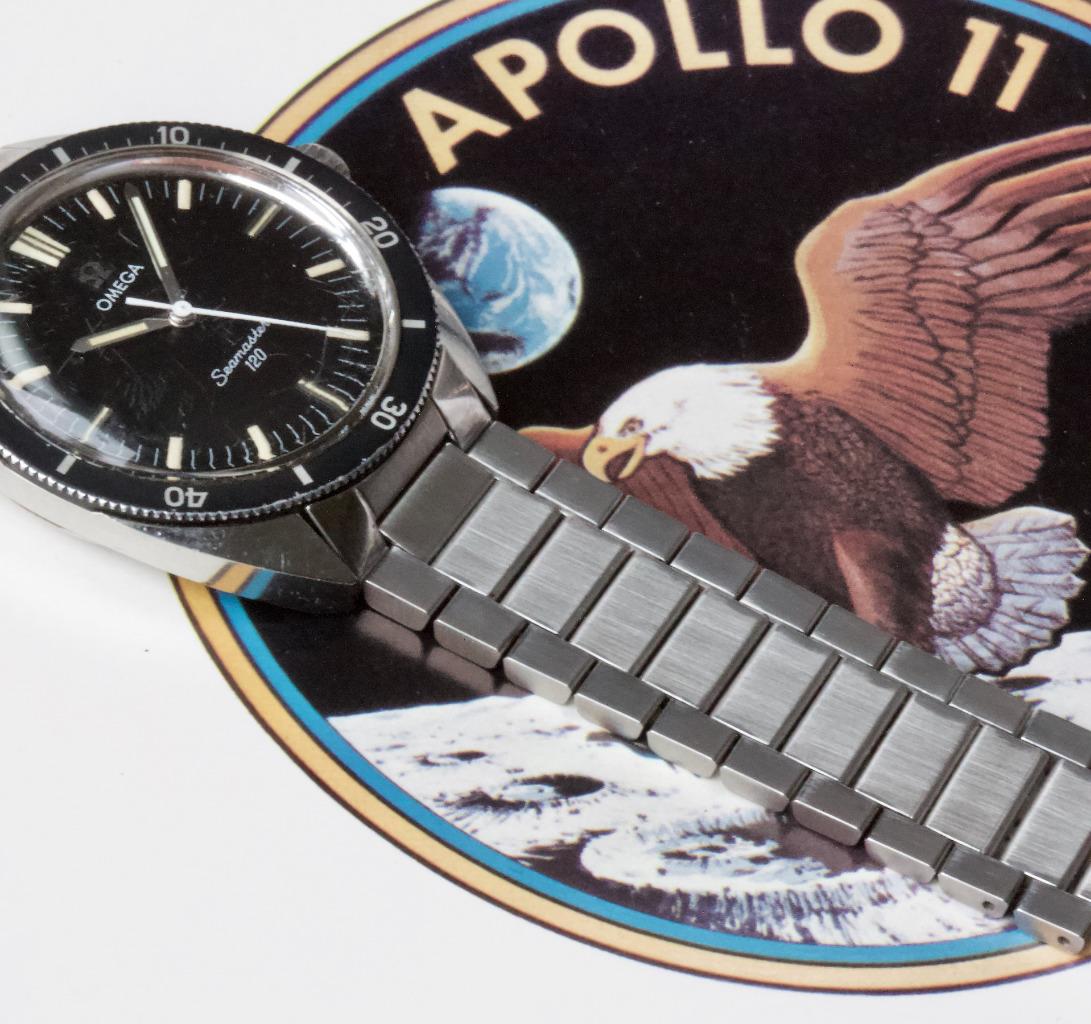 BRACELET PRICE: $350 (6 inches/15.2cm)
Short version 5 5/8 inches (14.3cm) $325
Long version 7 inches (17.7cm) $425
(Inquire about an Extra Short or Extra Long version)
END SETS (available only to buyers of our flat-link bands)
18mm ends $75 (matte finish)
18mm ends $125 (polished outers)
19mm ends $200 (matte finish)
19mm ends $240 (polished outers)
20mm ends $90 (matte finish)
20mm ends $140 (polished outers)
Here are the 19mm matte finish ends: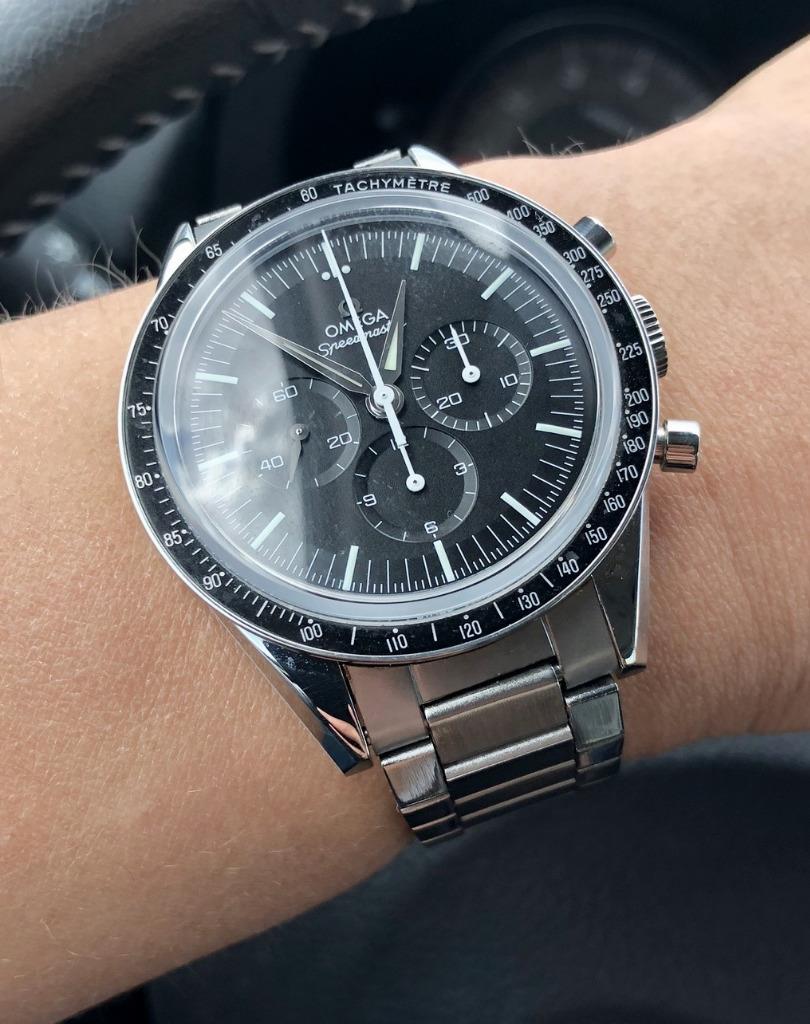 Here are the 20mm matte finish ends: