Many 1960s vintage dive and chronograph watches like the ones here are very difficult to find steel bracelets for because of the deep, extended lugs with a flat connection point. Here are four styles of bracelets with the special flat end pieces to fit the many 1960s/70s watches that take that type of band. Nothing is worse than a strap that doesn't fill out those lugs.
Any of the styles shown below can come in 17.3mm, 18mm or 19mm.
We have just started offering these two NSA Swiss bracelets popular with Aquastar Deepstar and similar flat-lug watches with the deep lugs opening. Either style is available with NSA's long clasp or two-piece clasp for $375.
This NSA beads link Option 1 bracelet has a smooth, polished finish: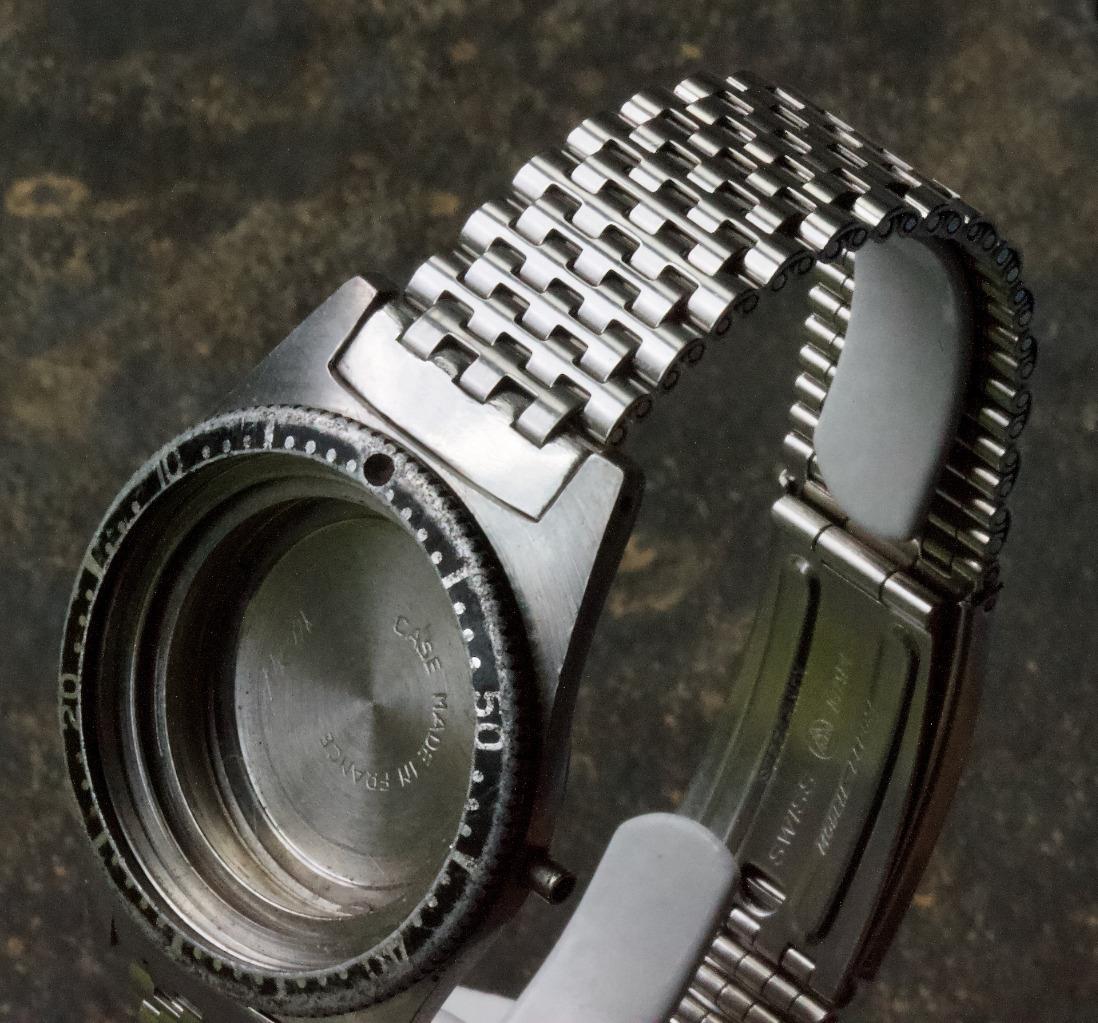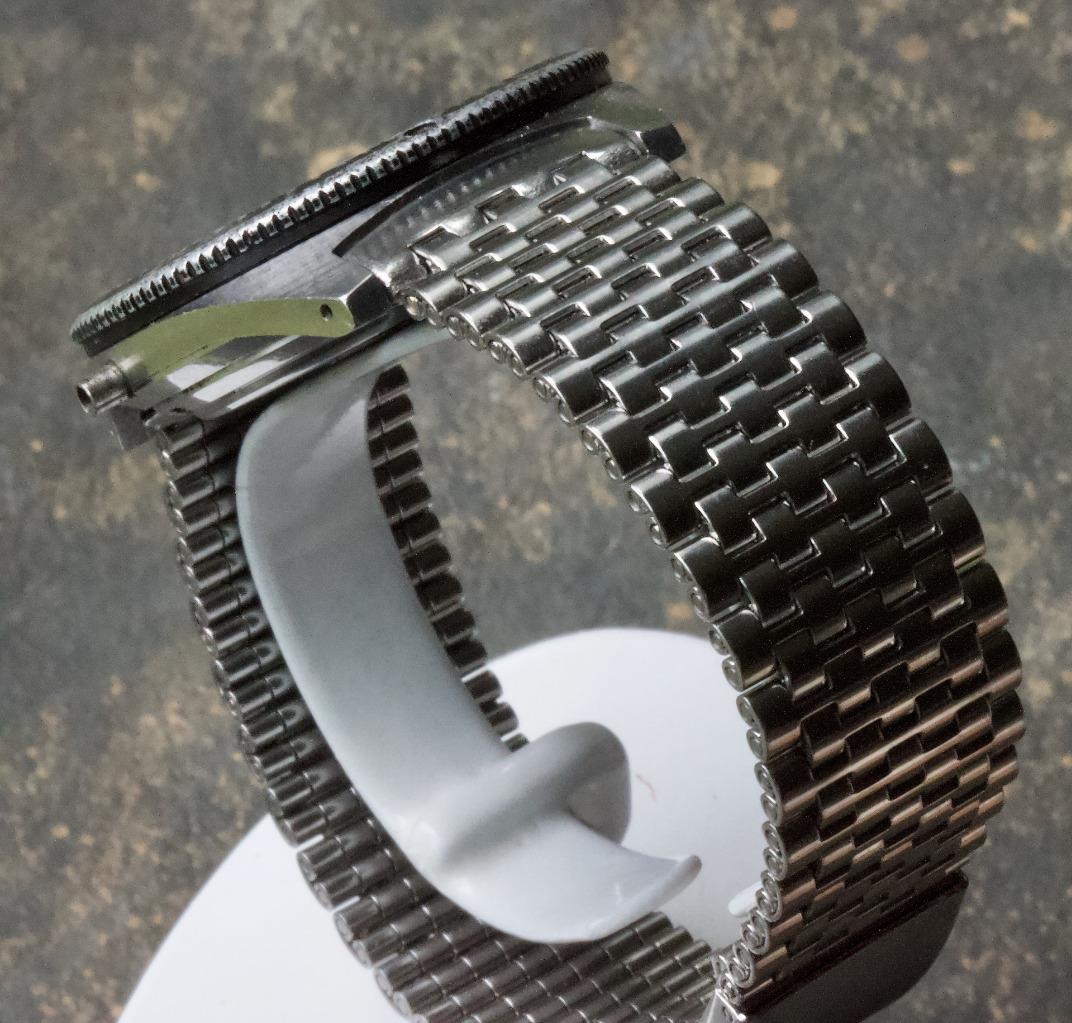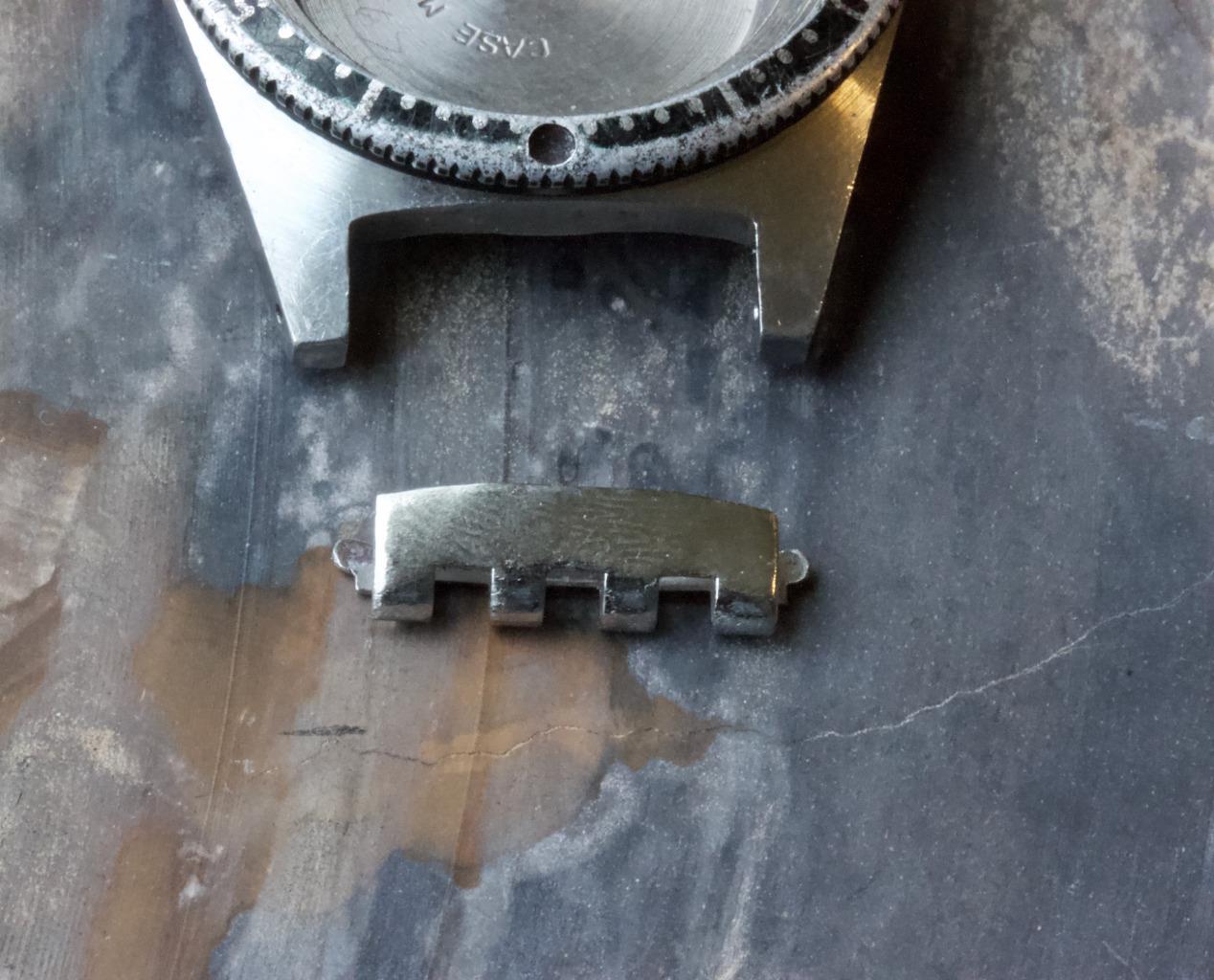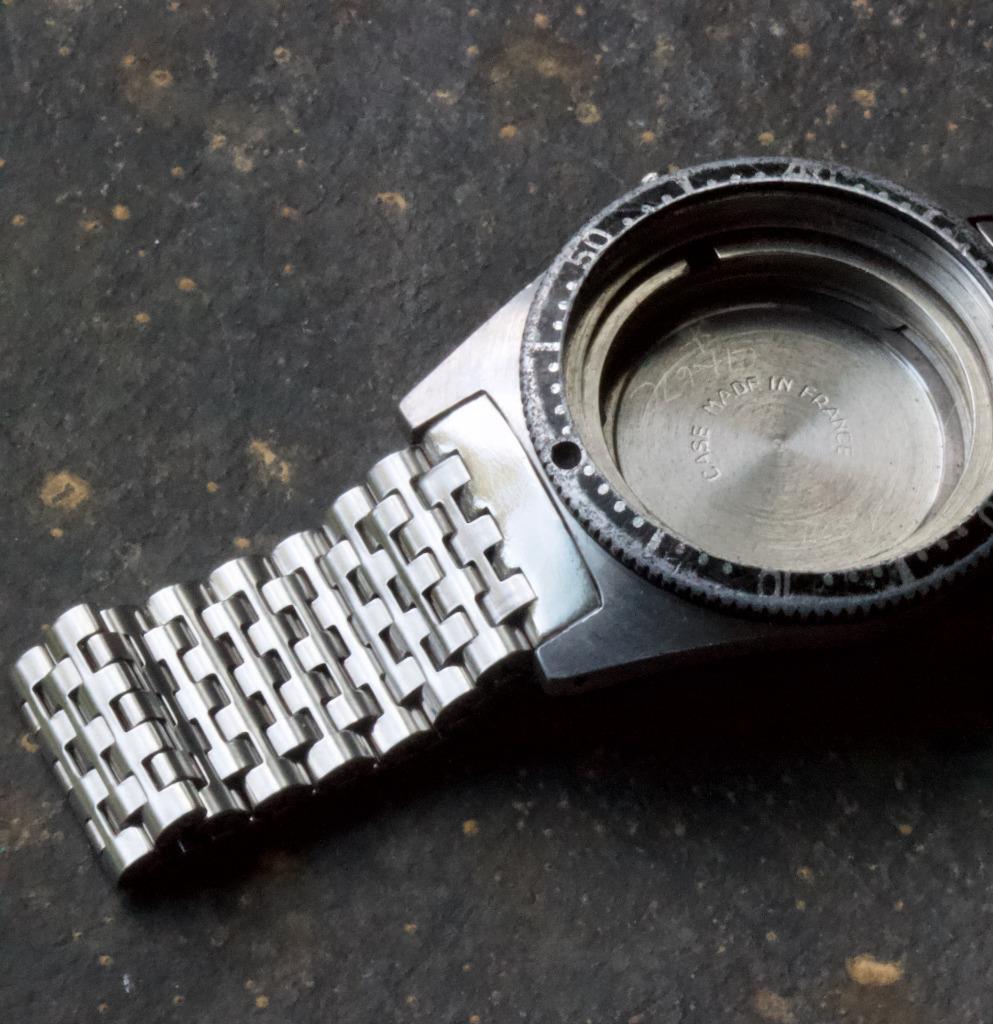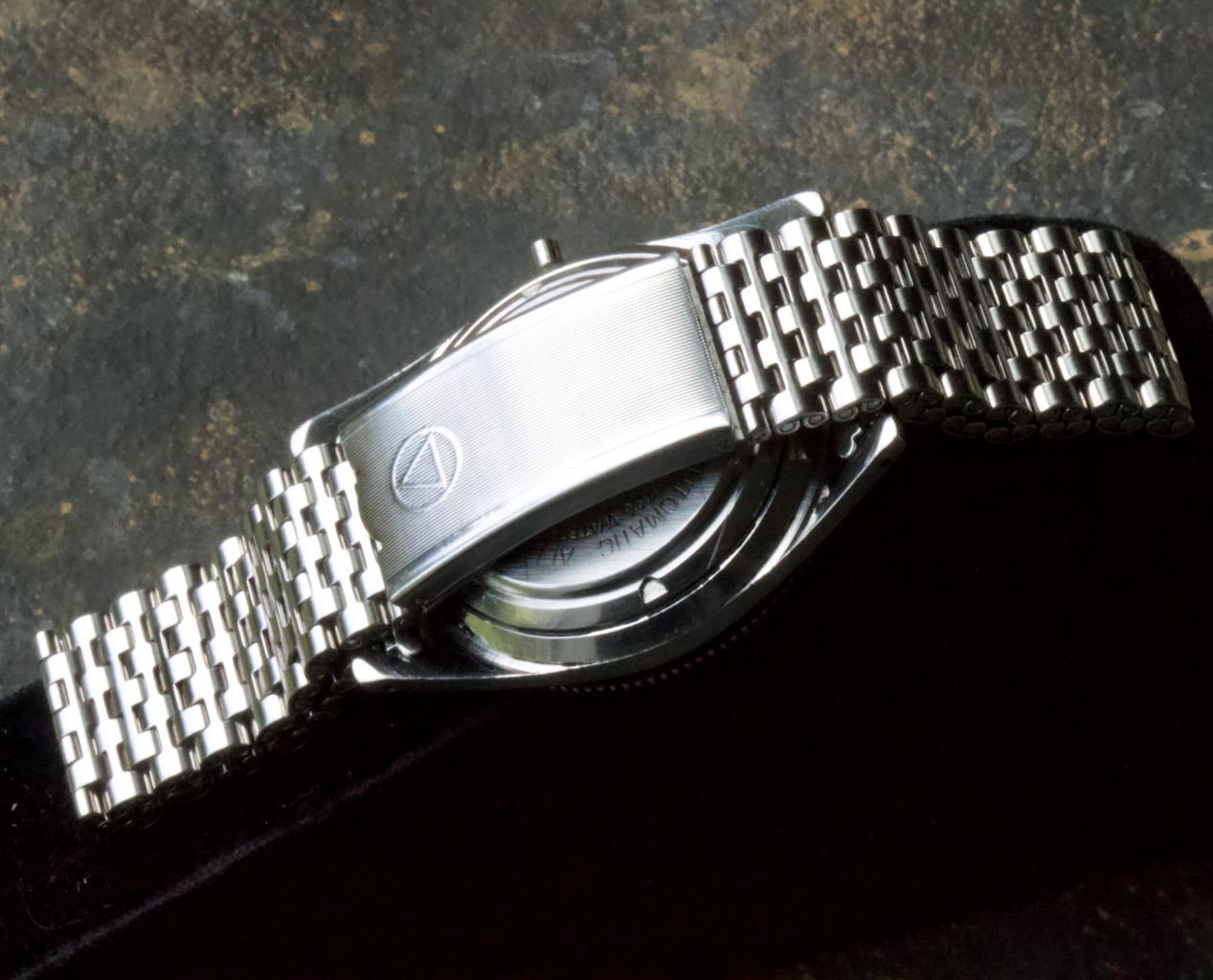 This Option 2 bracelet has textured, satin links, and was shown originally in Aquastar advertising on some watches: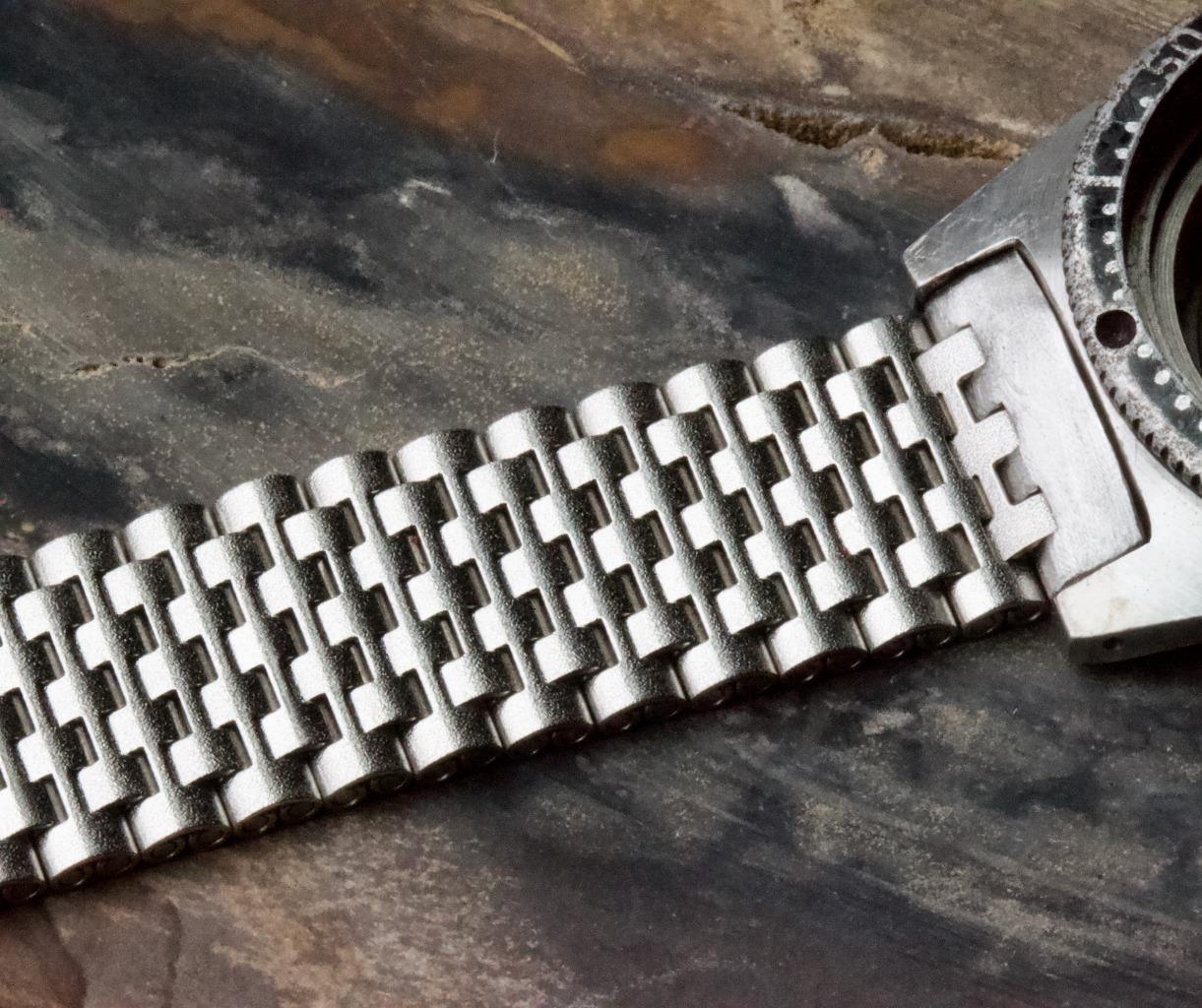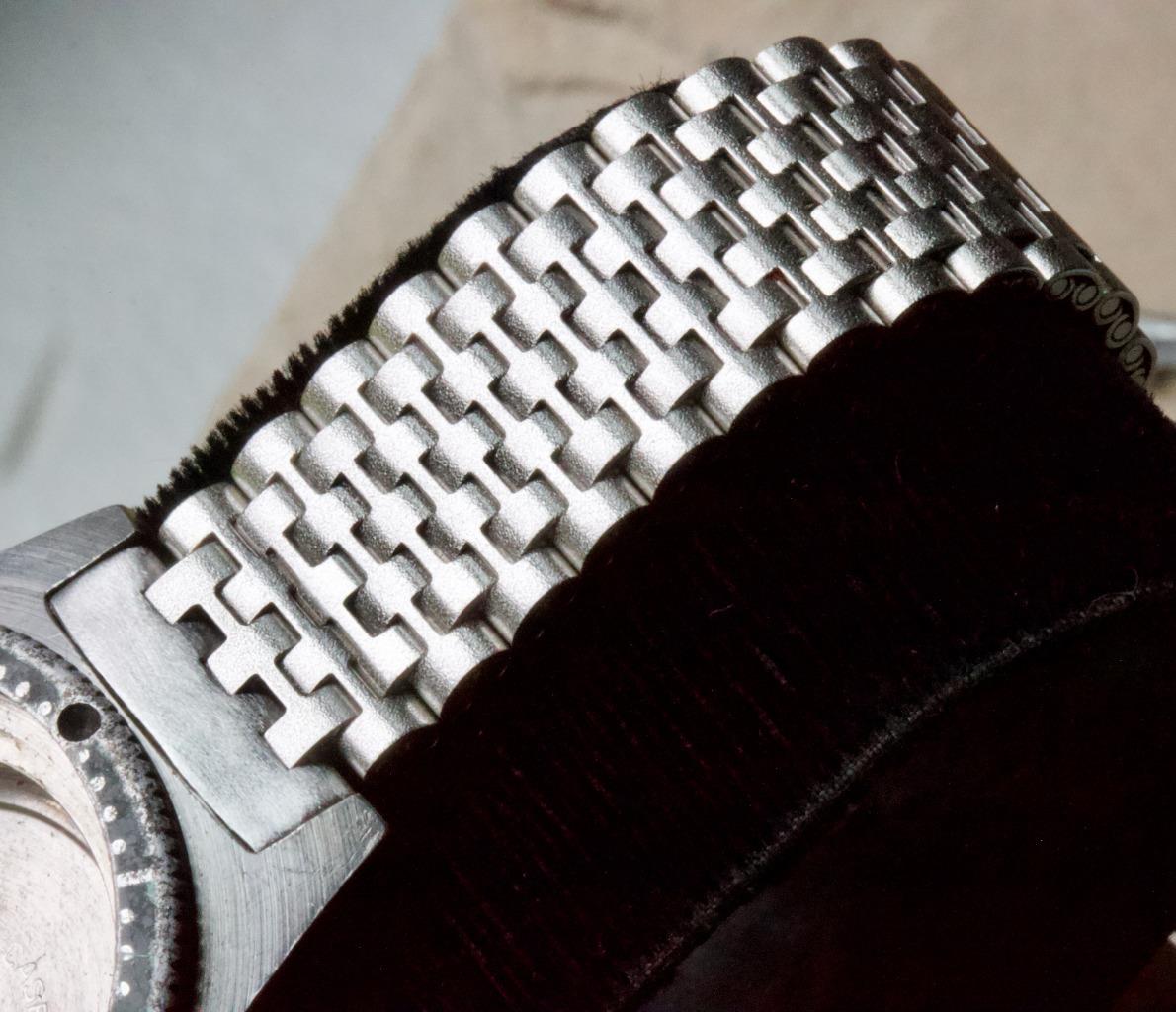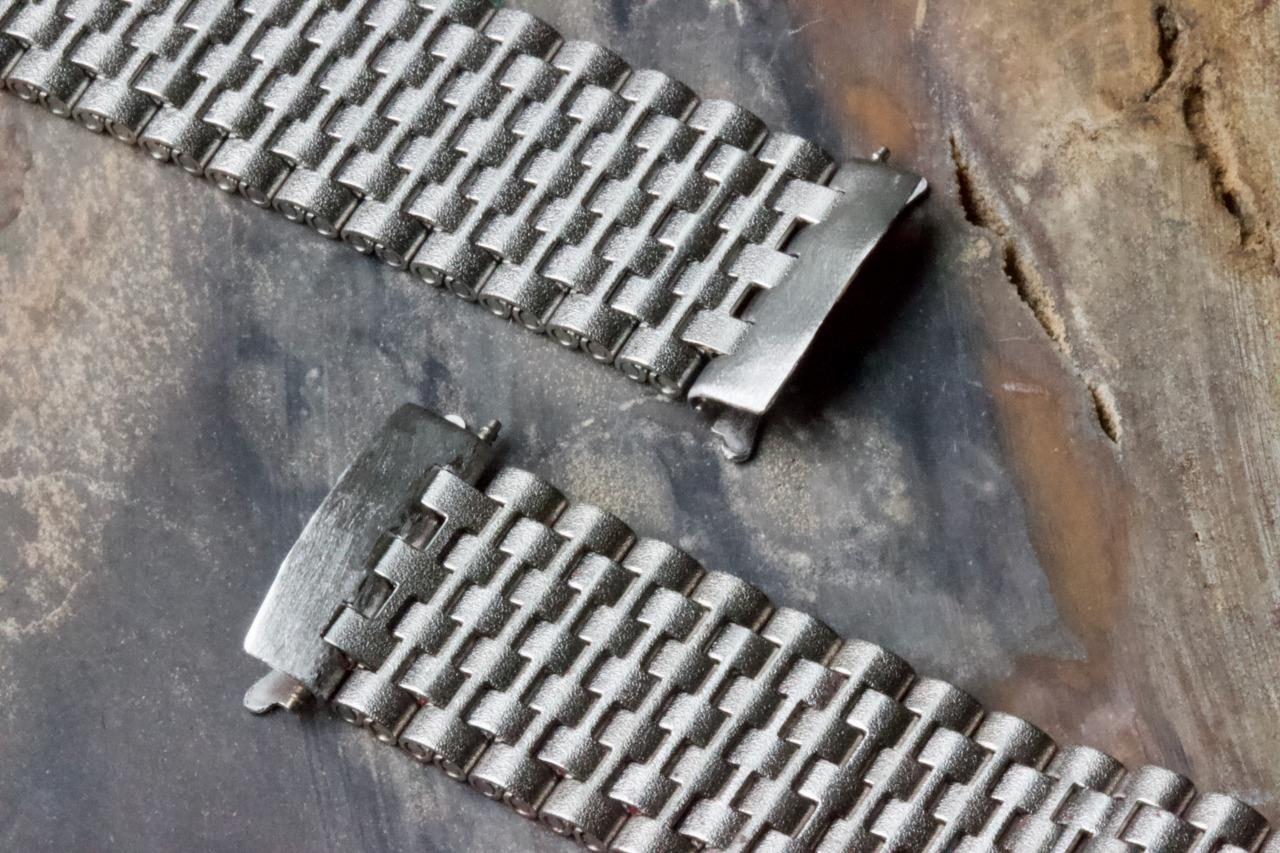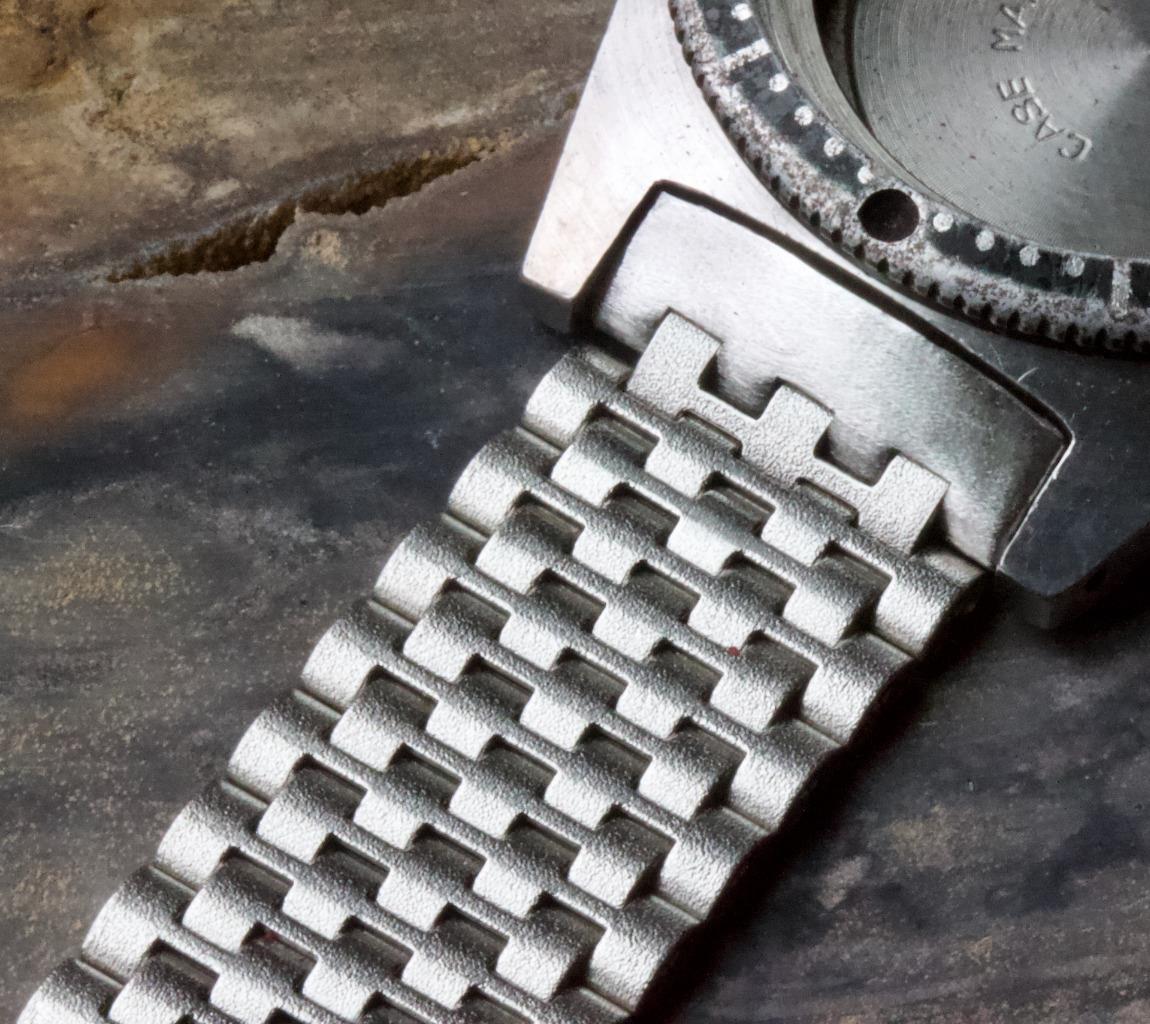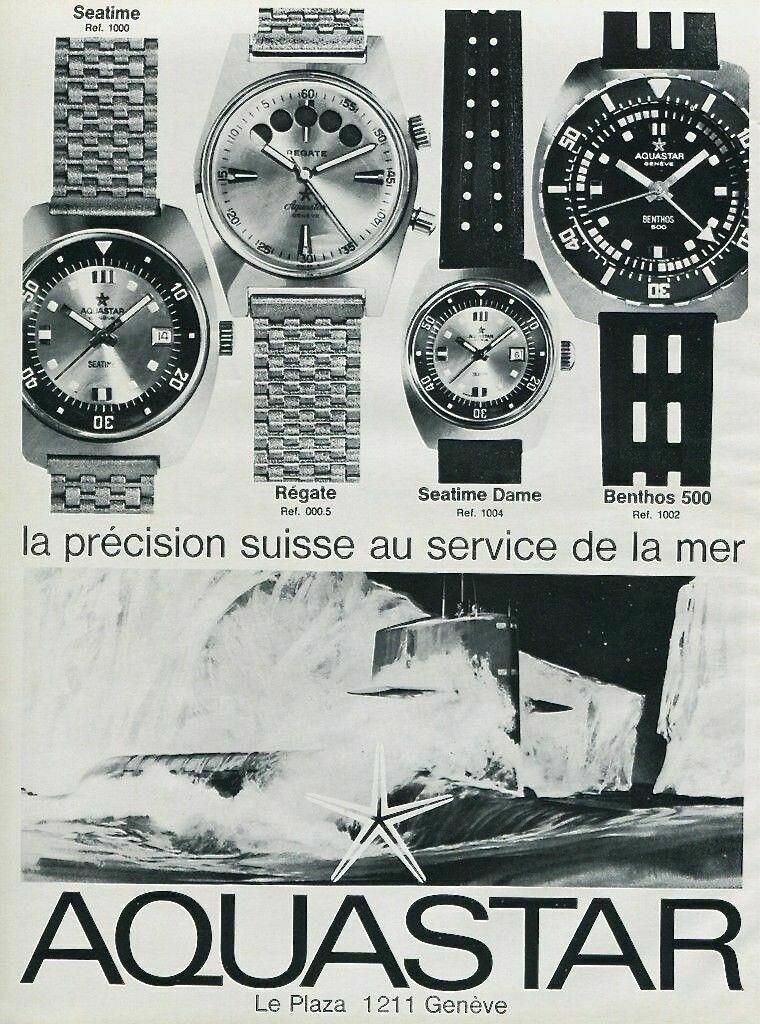 Also we have the Option 3 Kreisler band shown in the next two pictures here for $295. Email for more details or pictures on these options.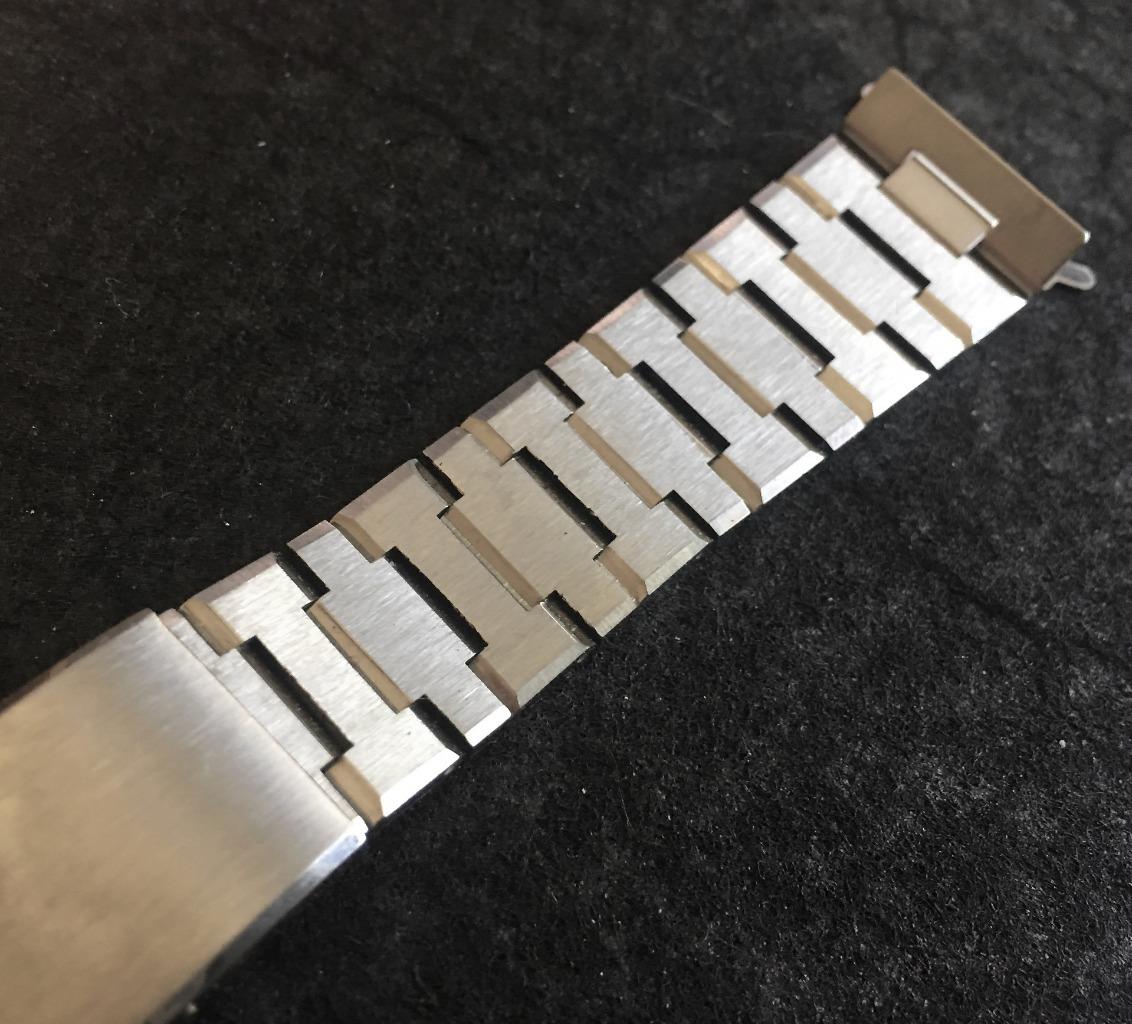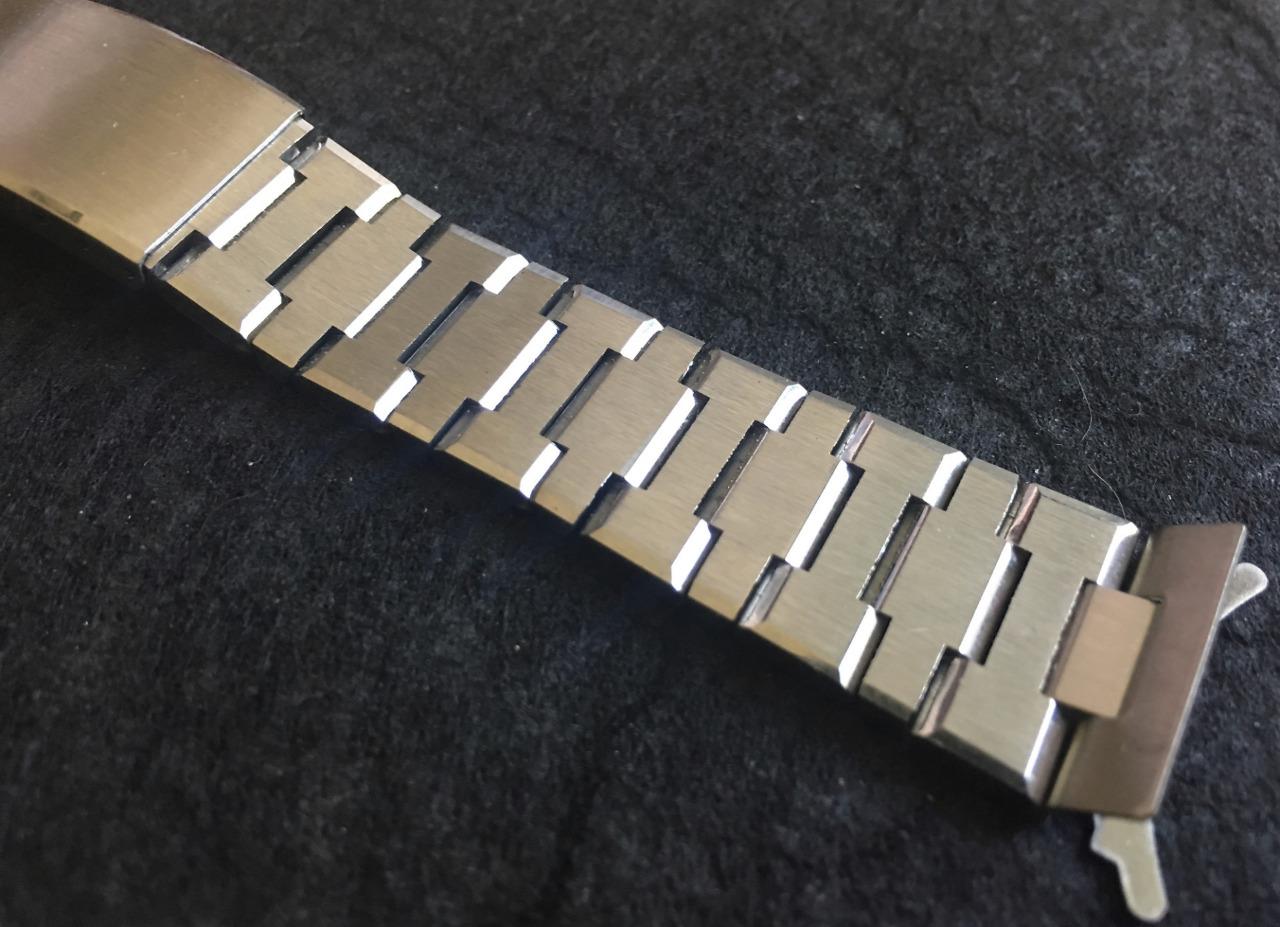 Then we have this Option 4 type, which is also $295.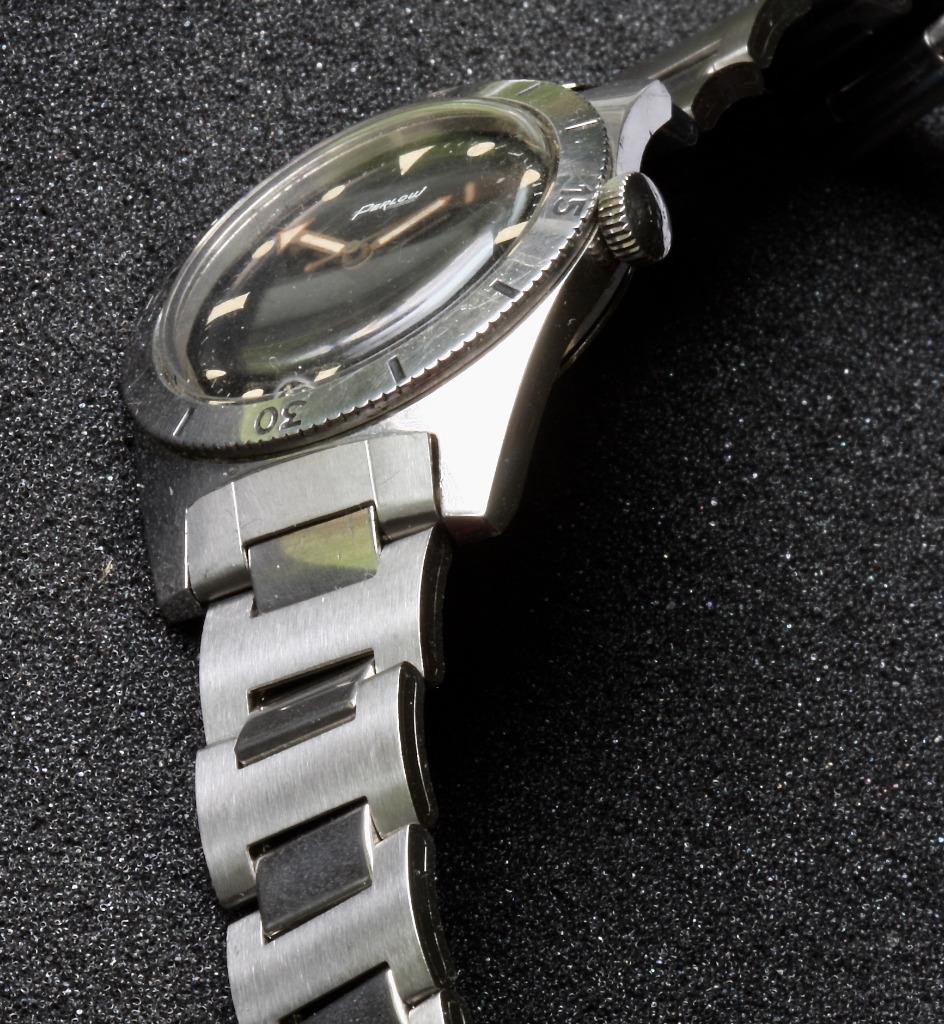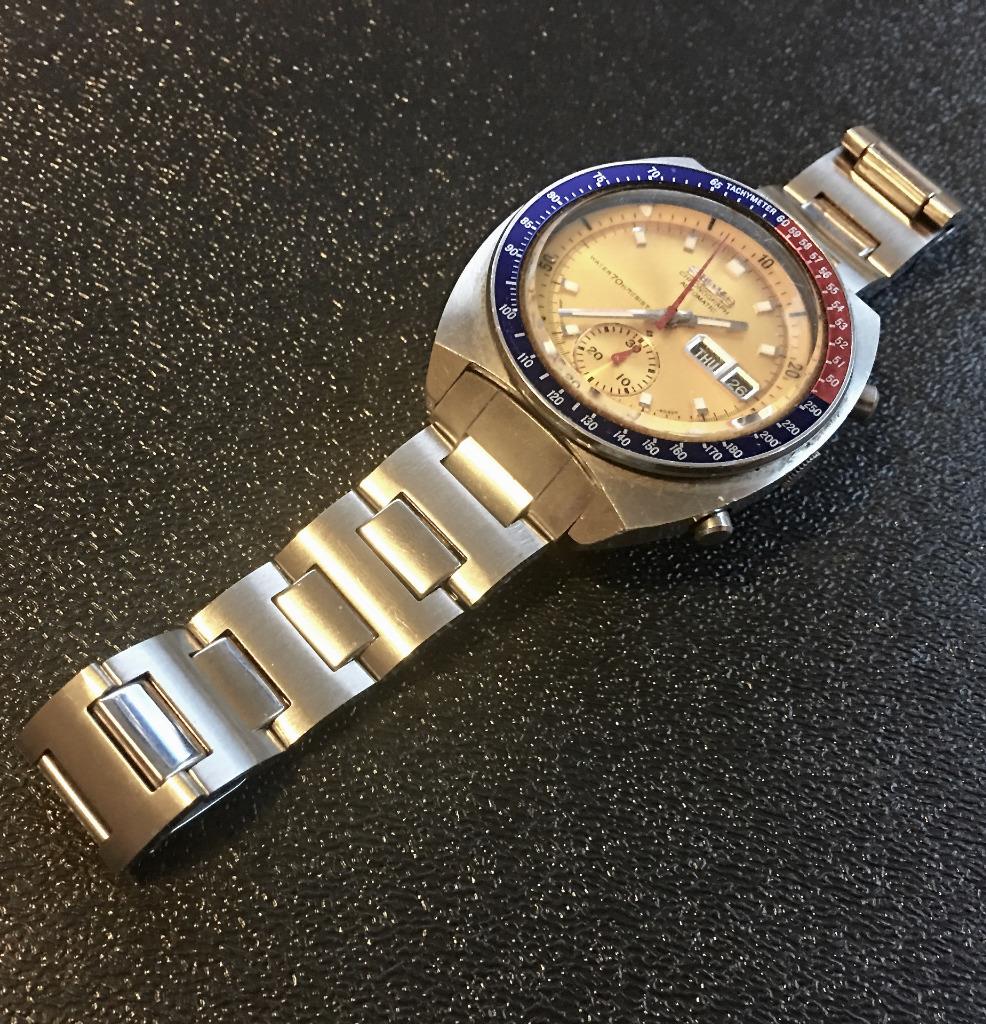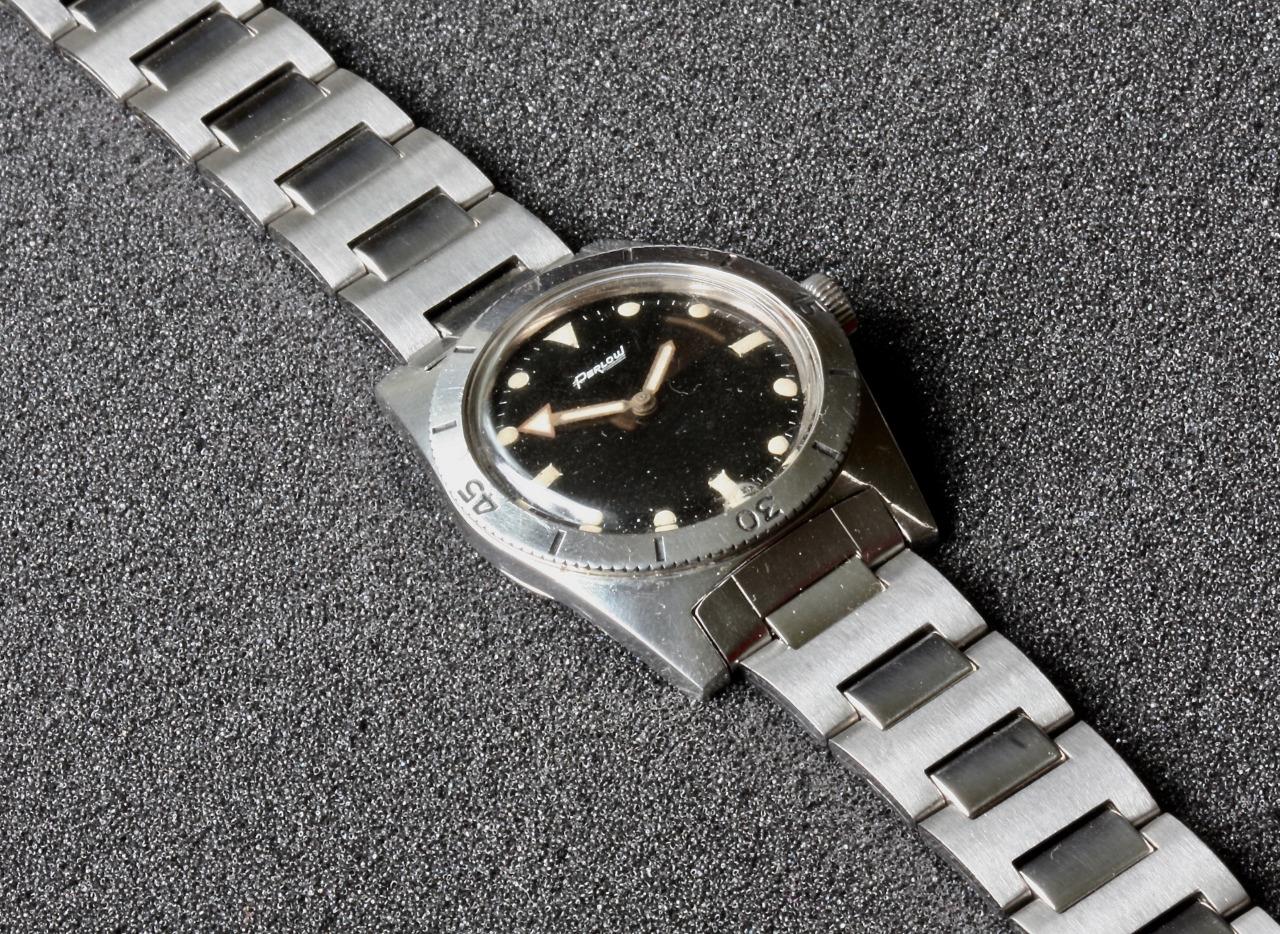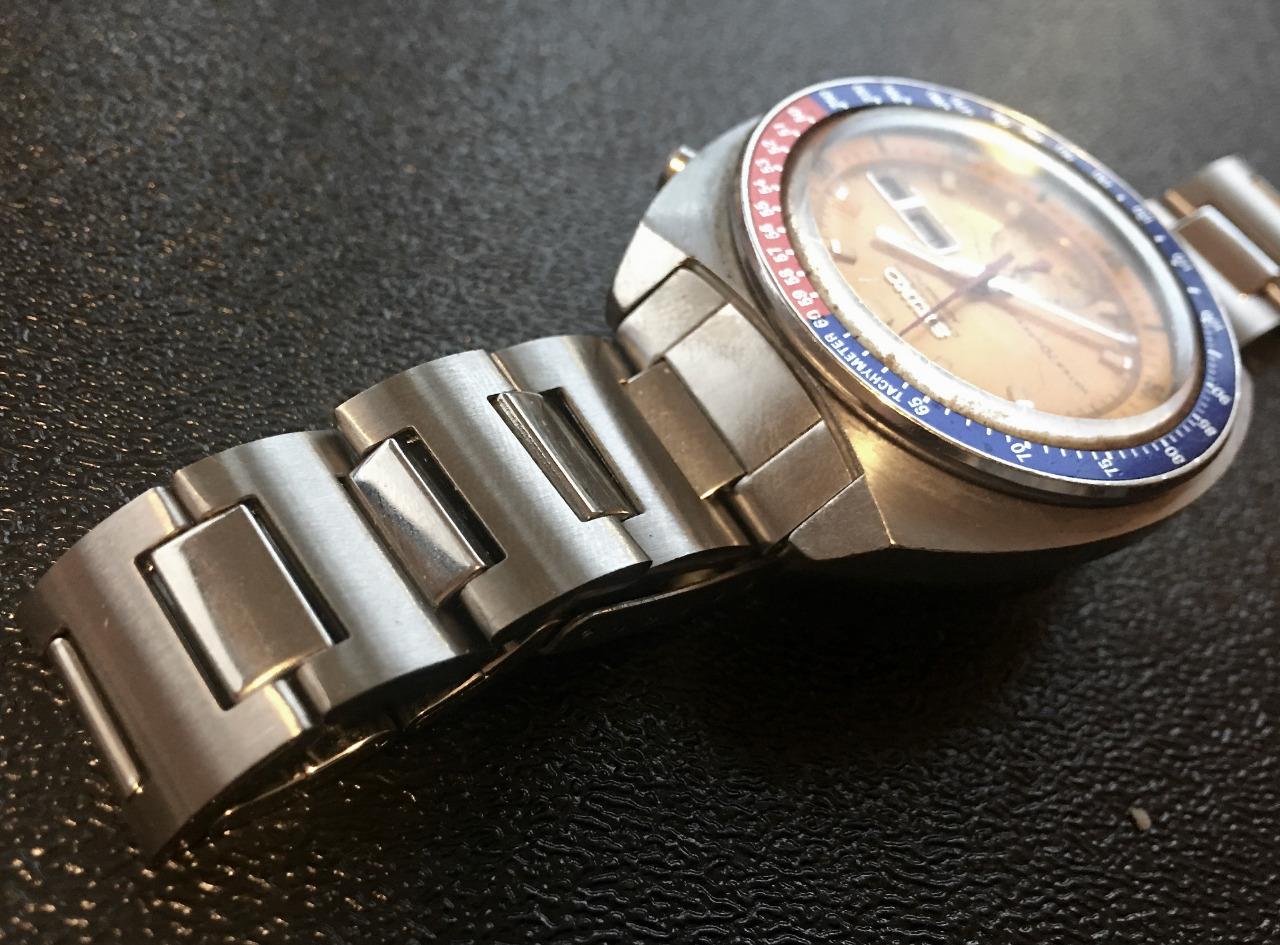 The vintage NOS Kreisler Stelux bracelet shown fits these common 1960s case styles, shared by many divers and dive chronographs. Perfect complementary finish to this folded steel bracelet with satin finish links that have polished centers. New Old Stock dive watch bracelet from the 1960s. You can let us know what watch you're fitting this bracelet on and usually we will have that case in the shop to custom-fit the ends on. The pictures show some different applications.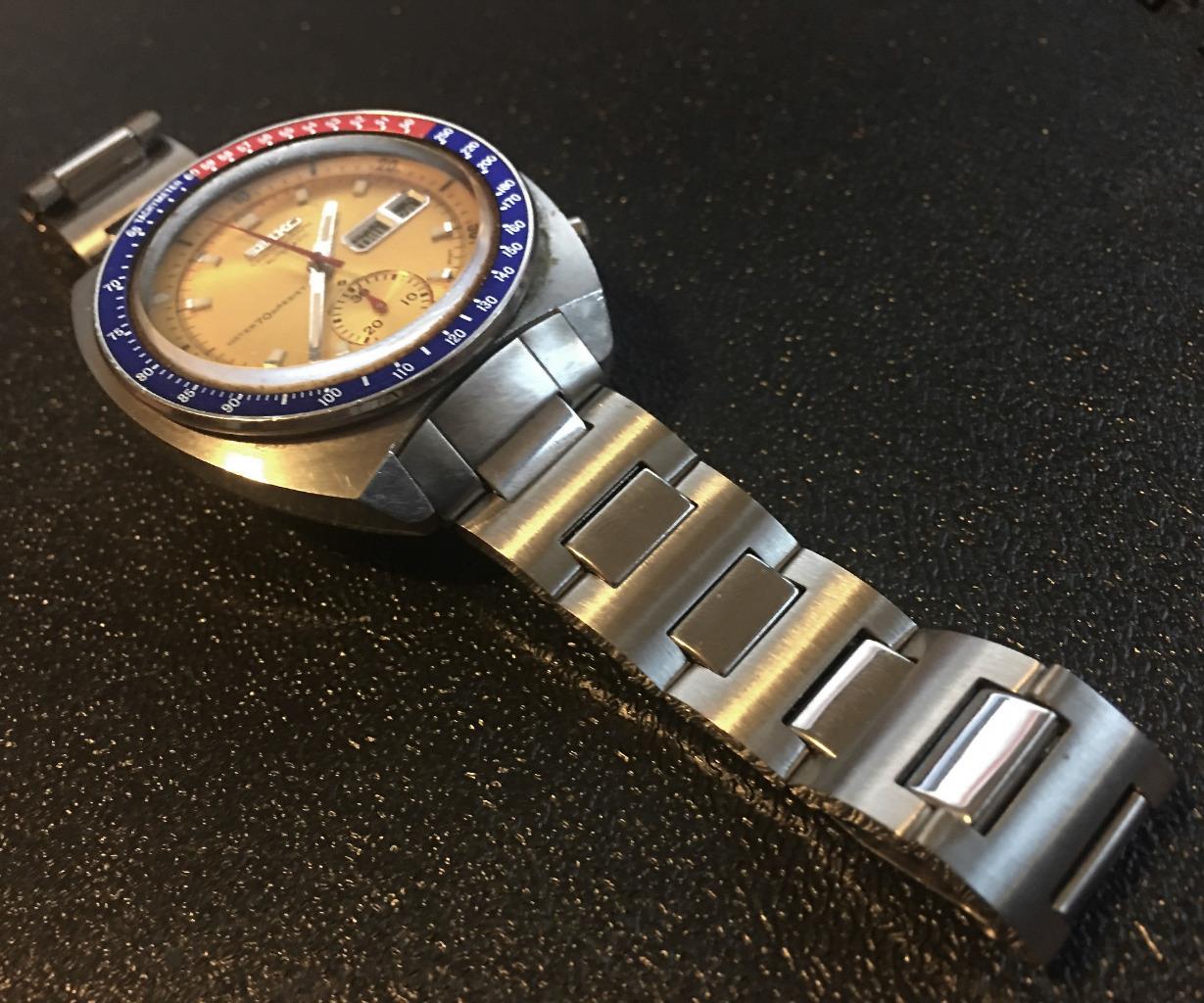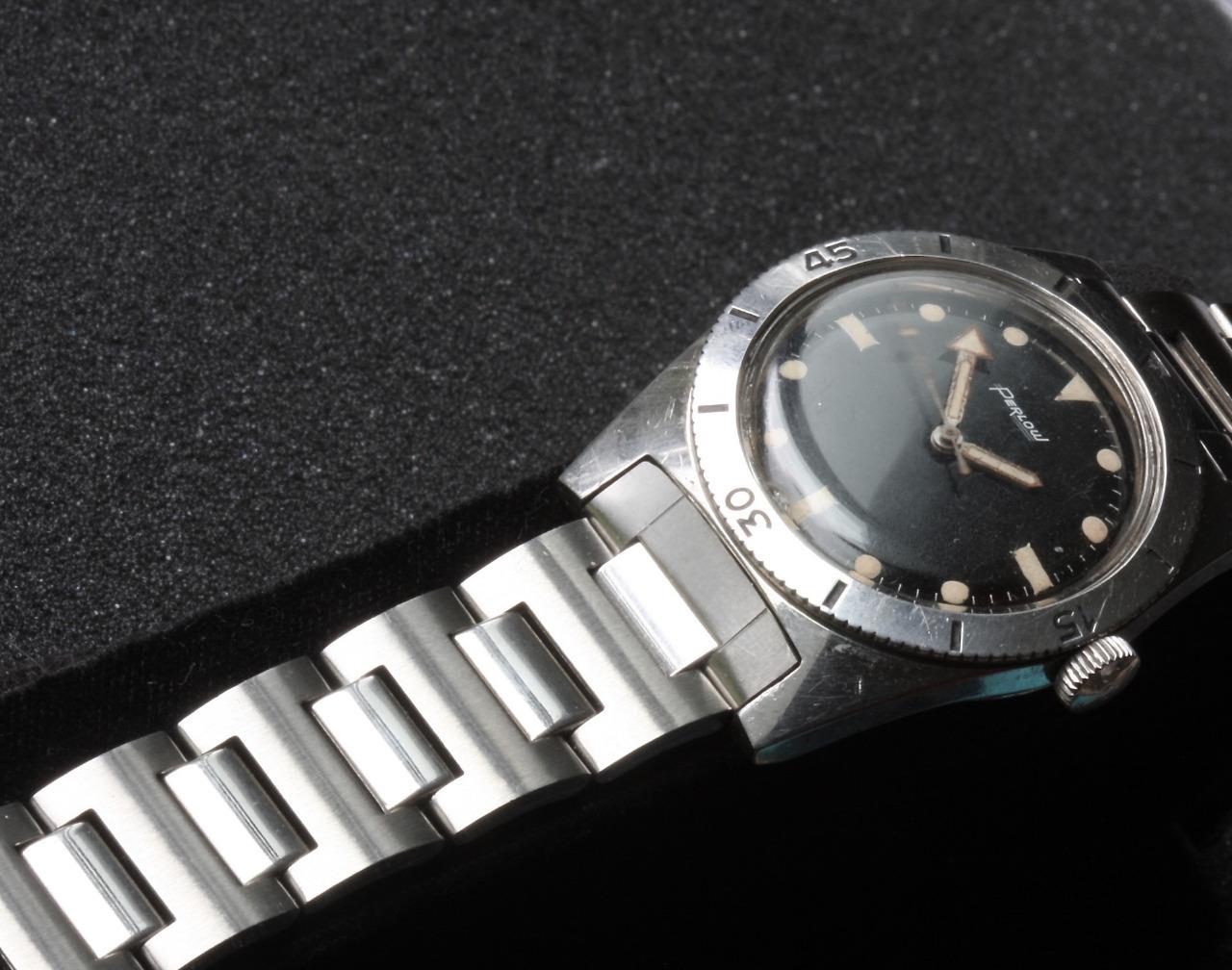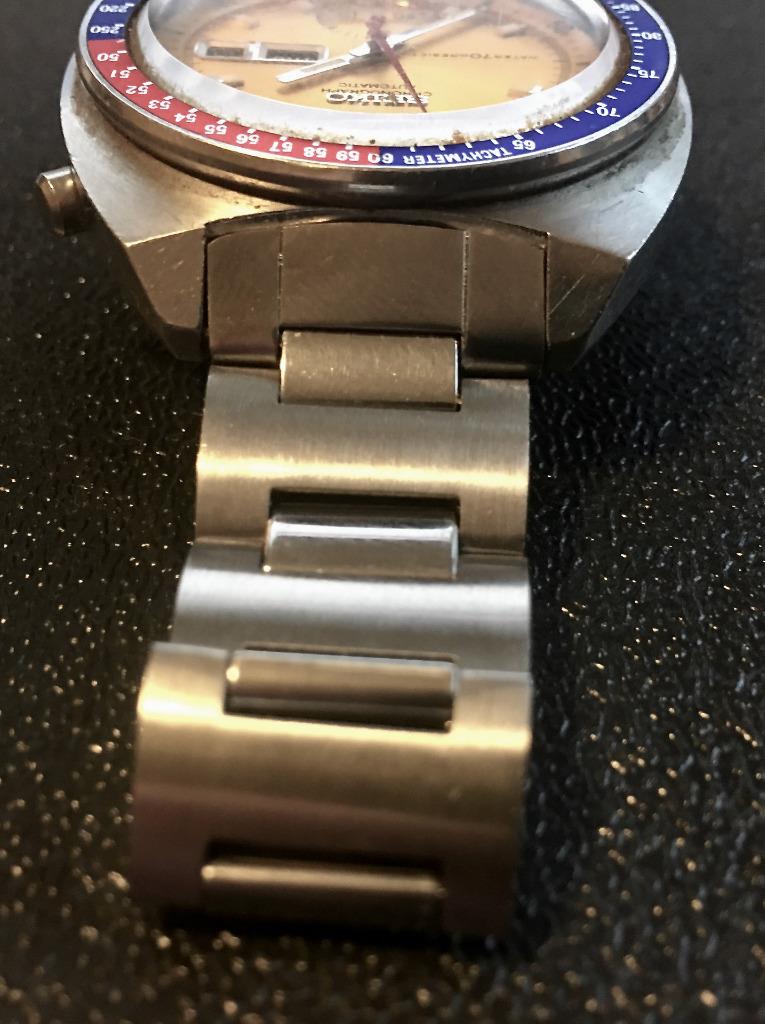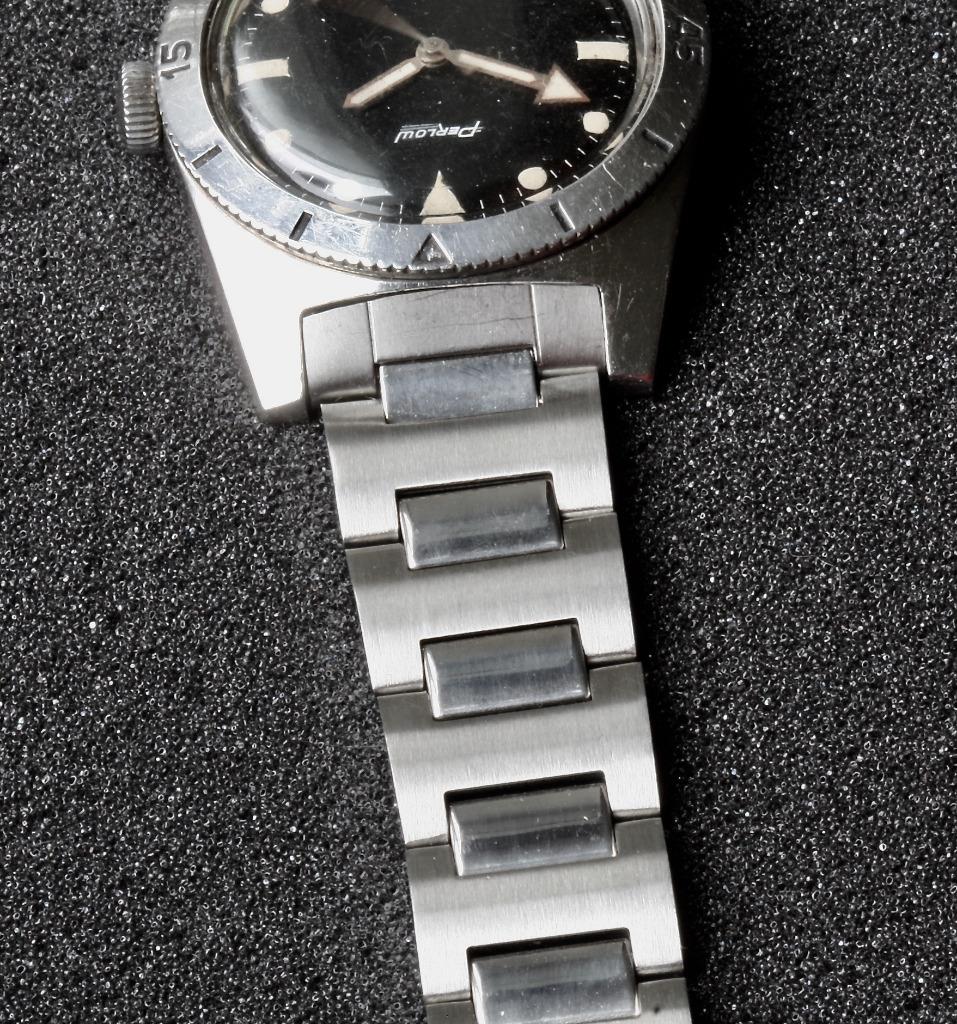 The end pieces come apart from the band and attach by sliding the spring bar through the slot at the end of the band. Good length that will fit many wrist sizes. Fully extended the band measures 6 1/4 inches (15.8cm) and it will size down in 7 incremental adjustments in the clasp to as short as 5 1/2 inches (14cm). To make it shorter, there are 5 removable links with slide out bars, shown in the picture with the Kreisler logo on the back of the clasp. The links are 2.8mm thick. The clasp is 17mm wide and the links gradually flare out to 17.8mm wide at the ends. Weighs 39 grams. Getting the end pieces to sit flush requires easy one-time adjustment of the tabs on the back of the band to set the end piece in tightly.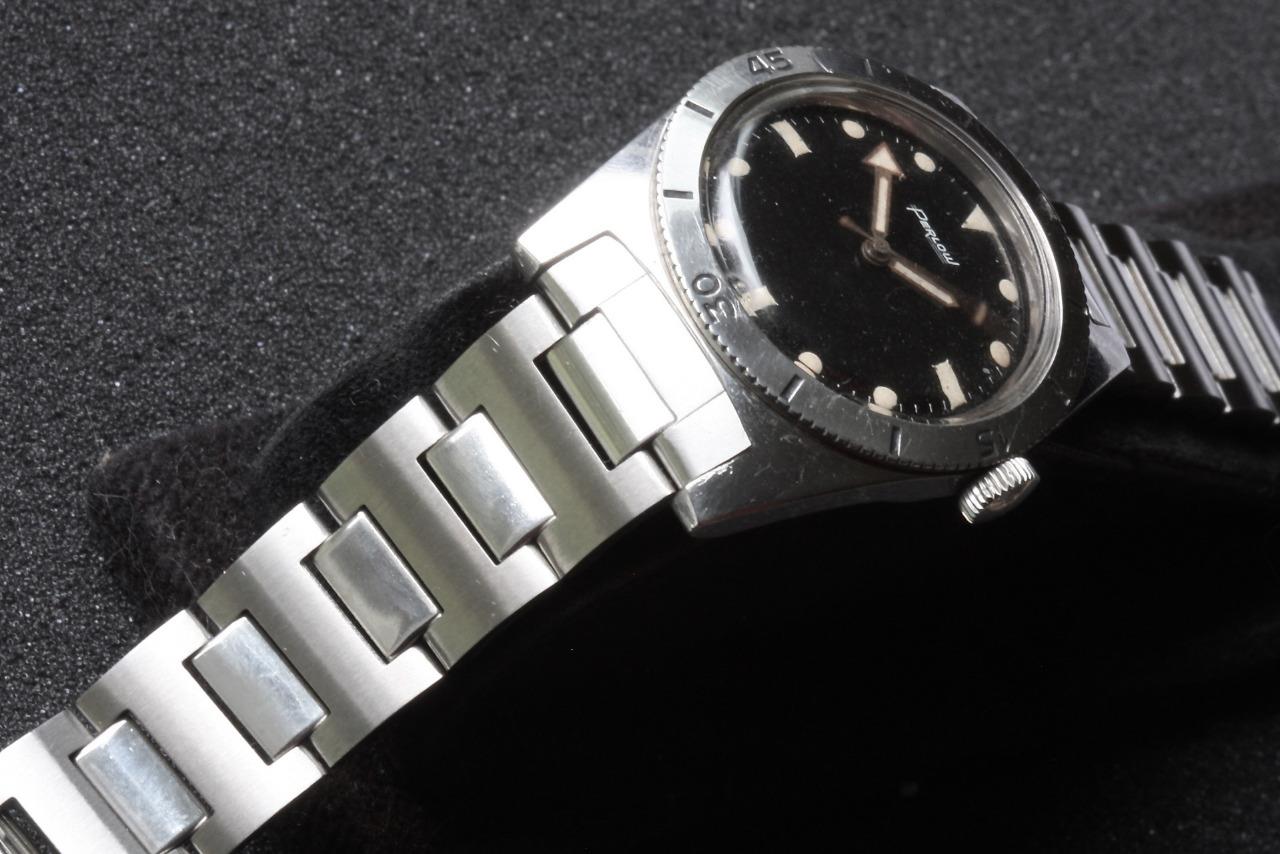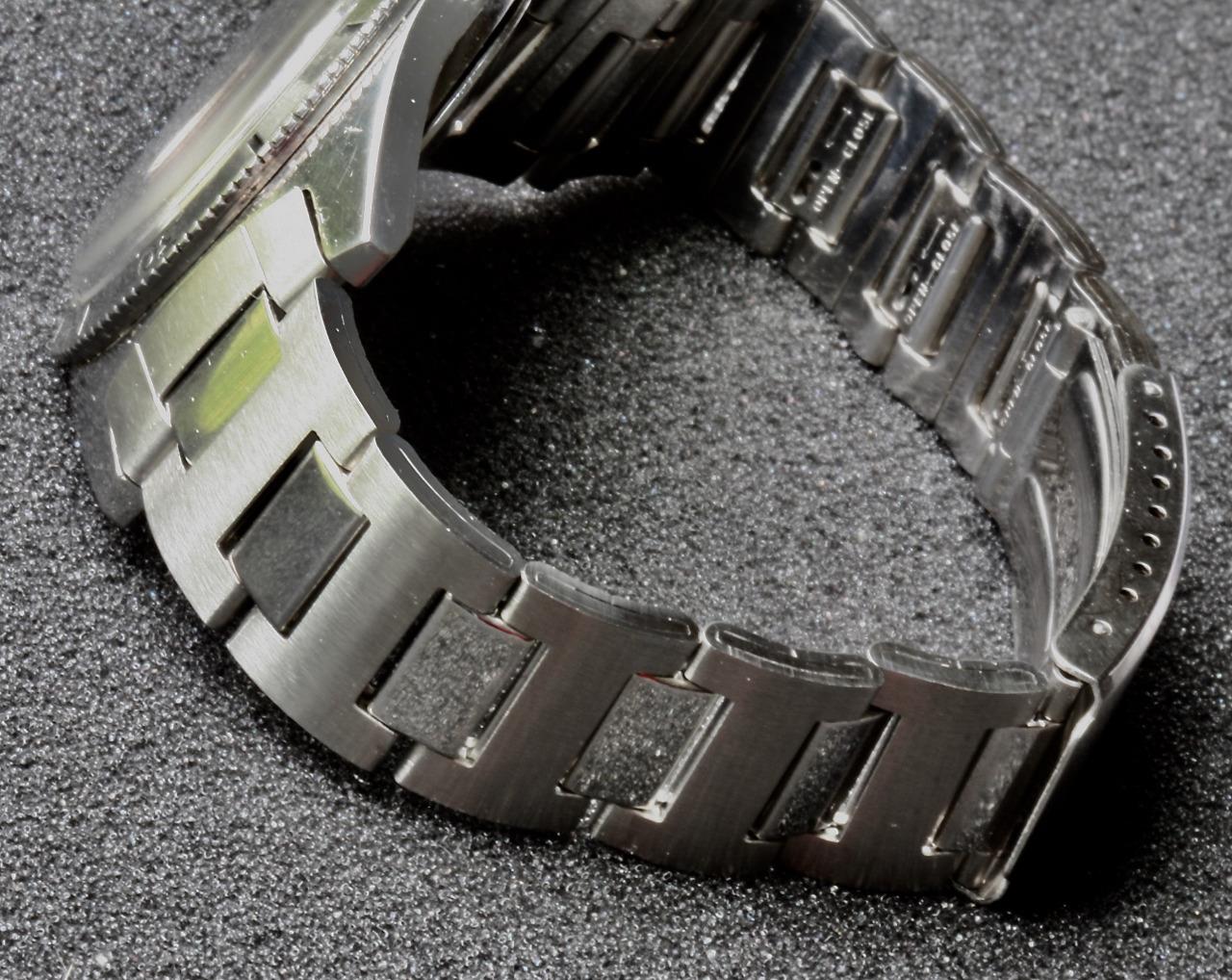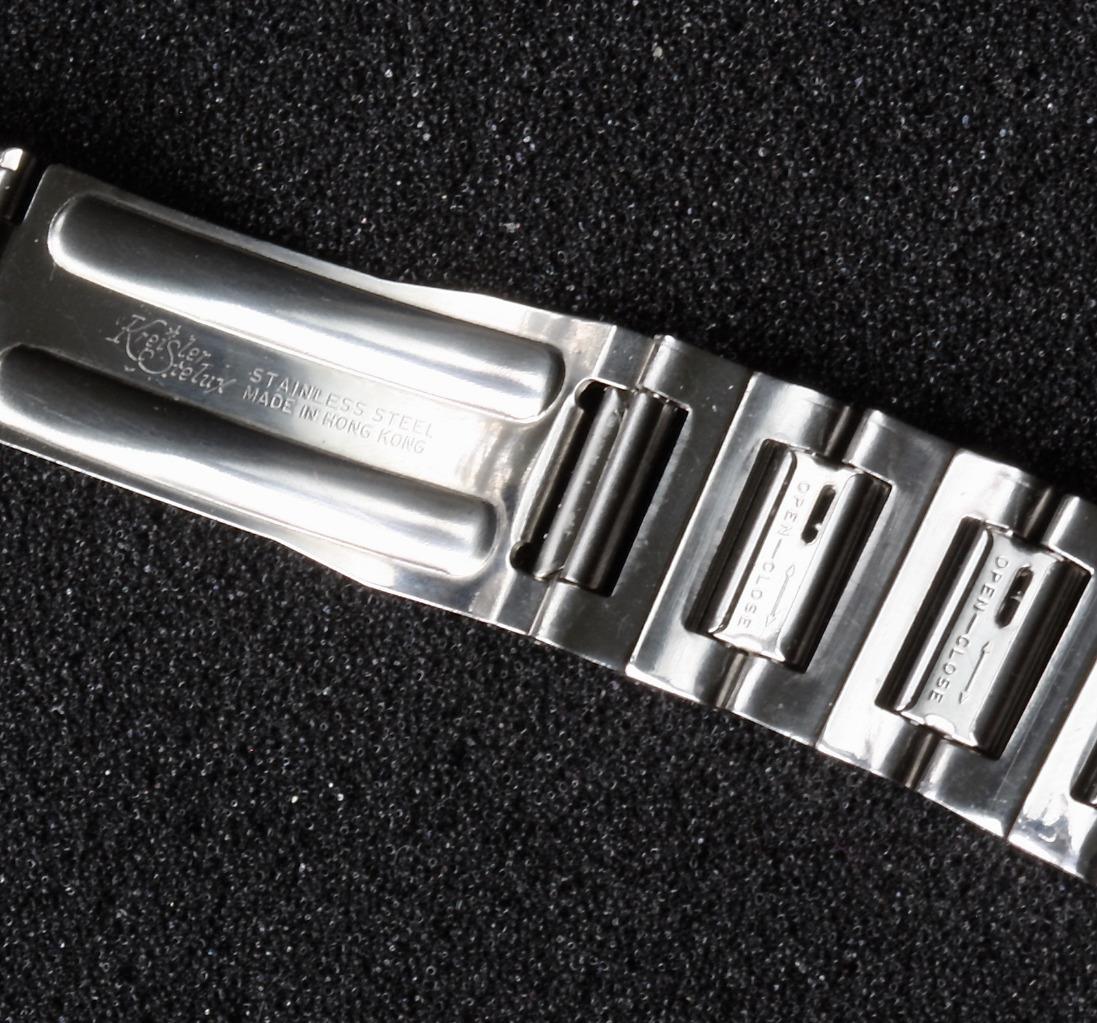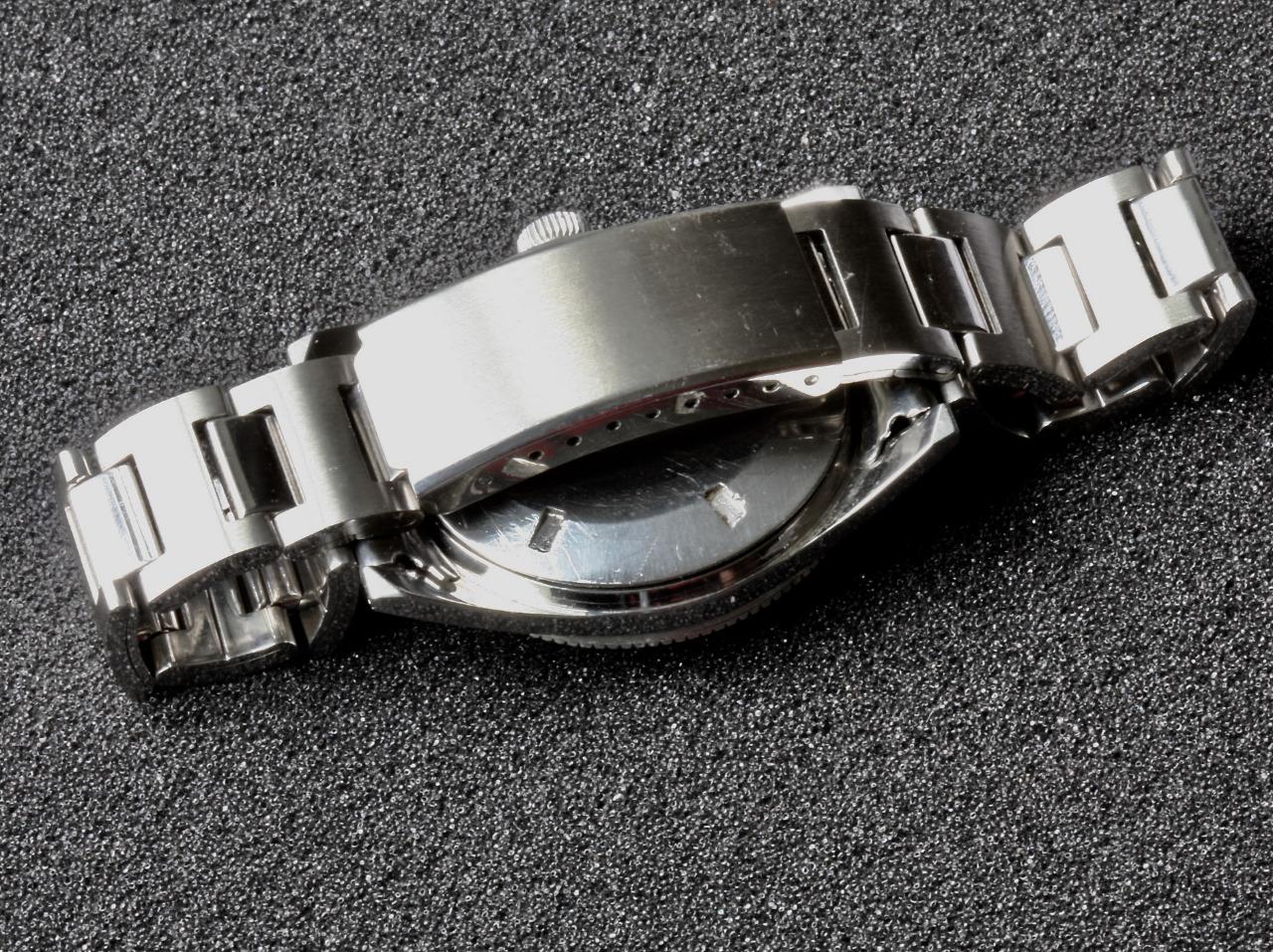 Each of these bracelets feature end pieces that we have modified. When you order, we will ask for a photo of the watch you intend to install the bracelet on, as well as digital caliper measurements. Then we select a similar watch from our vintage watches stock and custom-make the end pieces to fit. We have had many satisfied customers of these custom-end project bracelets.
U.S. buyers pay $7.99 shipping & tracking. International buyers inquire about shipping rates.
PAYPAL or QUESTIONS to billmahoney@aol.com
Thanks for looking and kind regards - Bill Mahoney
Squinky.com
Email billmahoney@aol.com if you need additional information or if you are seeking a particular style or size ends similar bracelet. We also have 100s more types of vintage watch bracelets in the Bracelets, Heuer, Omega and NSA Swiss Bracelets sections at Squinky.com
Need watch repair parts? Squinky is now one of EBAY's largest vintage watch parts suppliers with 2,000 parts and 100 watchmaker repair guides for all major vintage brands plus fast, combined shipping.