One of the Original creators of third party Panerai straps. In business since 1998, selling Panerai styled straps since early 2001 and the first to sell straps on the Internet
Straps designed for Panerai watches, but will work with other watch models with 22, 24 and 26 mm spacing or watches designed with Radiomir styled arms.
Thick spring bars available in 22 and 24 mm if needed
Key Chain
Antique copper finish
Dial on front and SLC on back. Diameter is 1 3/8"
Price is $18.00 ea. With a 10% discount on 3 or more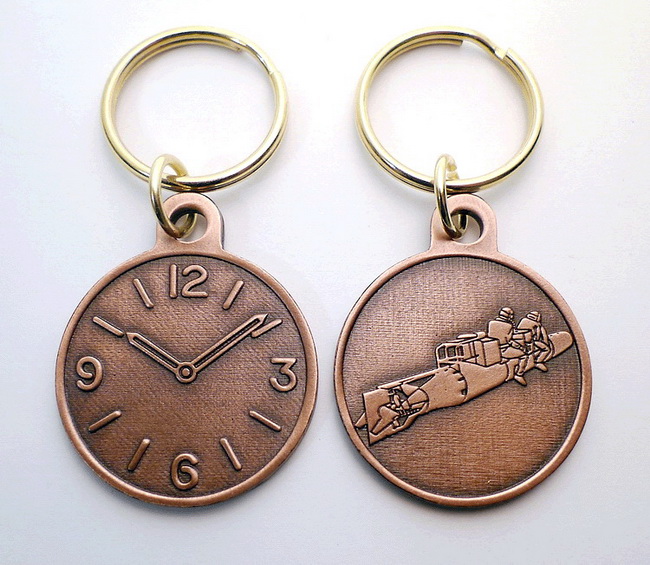 These are my hand made straps. Some turned out great. Others good. Nothing terrible and reasonably priced.
Any strap without holes will be added at time of sale
22 mm Models
Chappy - Med. brown buffalo leather - 22 x 22 mm - 75/120 mm - 4 mm thick
Price - $65.00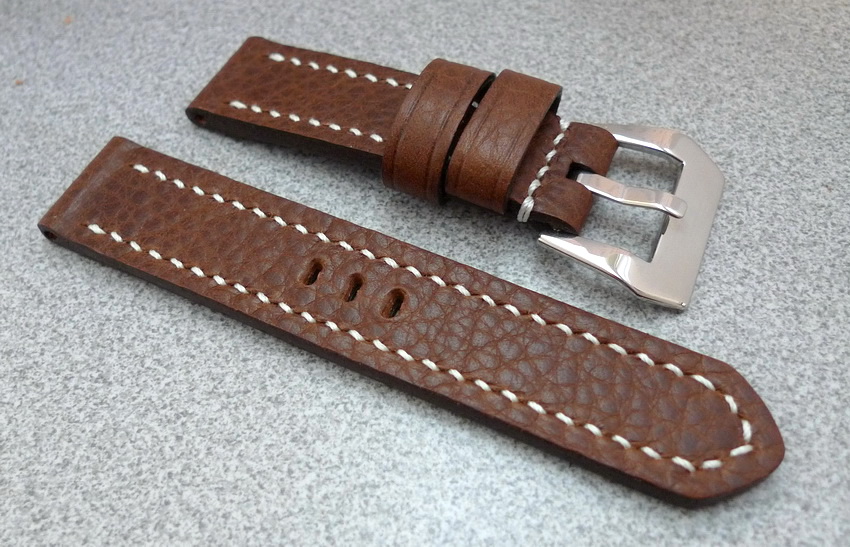 Derb - 22 x 22 mm - 75/125 mm - 4 mm thick - Spring bar buckle. Hand Glazed leather in various shades of brown
Price is $65.00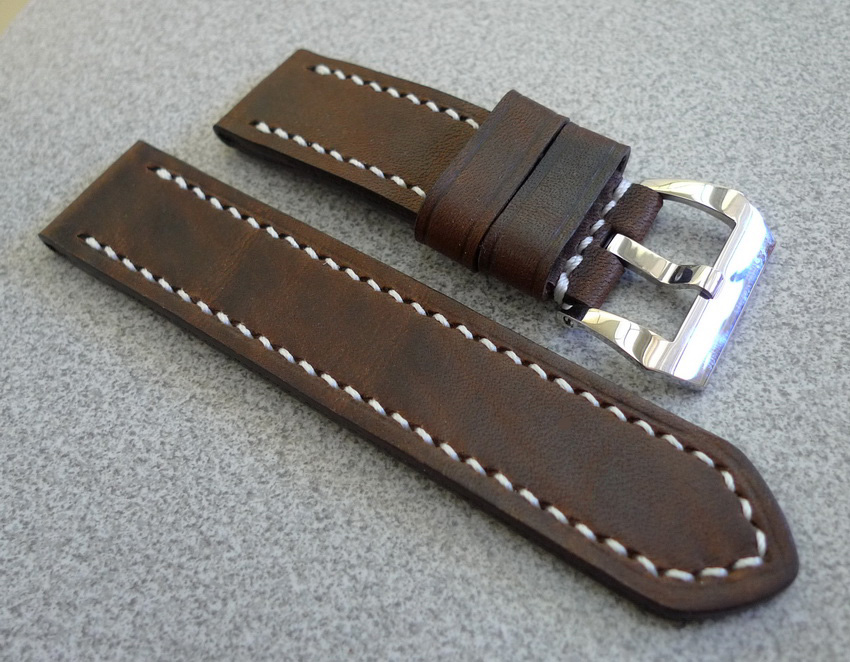 Urushi - 22 x 22 mm with s/s thumbnail buckle - 75/125 mm
Hand rubbed and finished pebble grain leather
Price is $75.00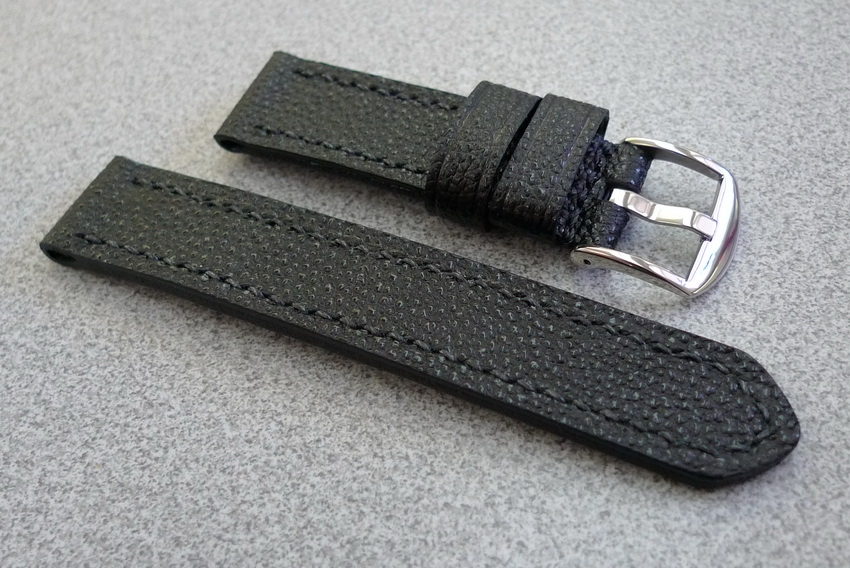 Wheat - 22 x 22 mm Nubuck suede leather - 75/125 mm - 4 mm thick
leather will age with use
Price - $60.00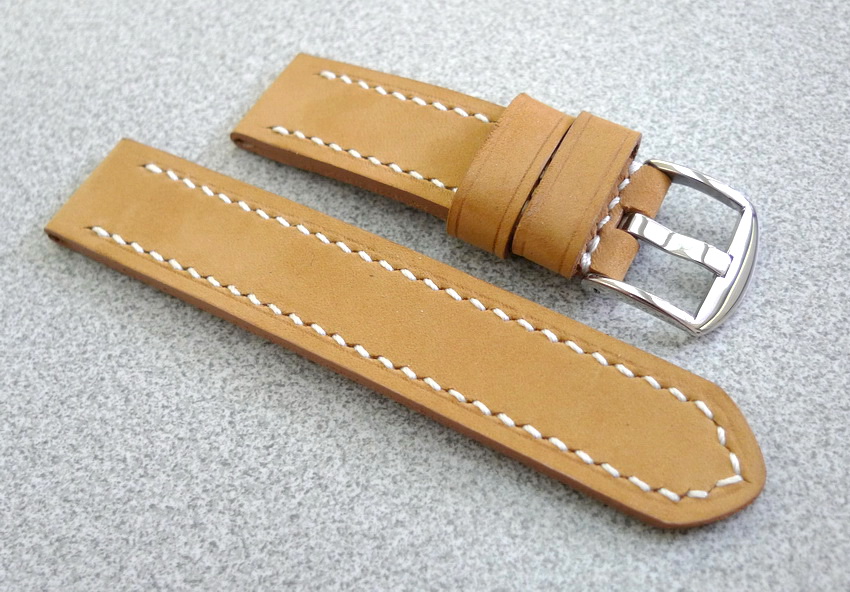 English Tan Bridle Leather - 75/123 mm - 4 mm thick - 22 x 22 mm with polished spring bar buckle
small surface mark on face and loop (touched up)
Price is $50.00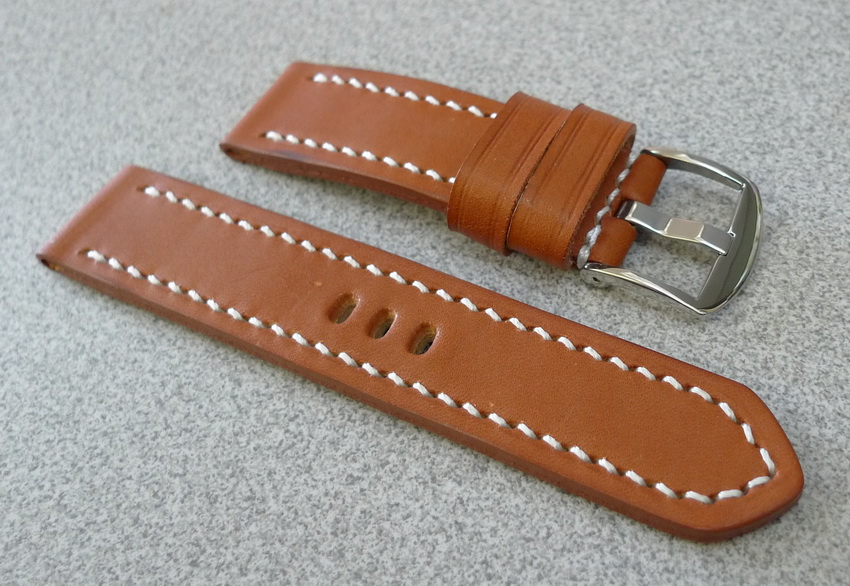 Vintage Tan color - 22 x 22 mm with spring bar thumbnail buckle - 77/125 mm
Price is $60.00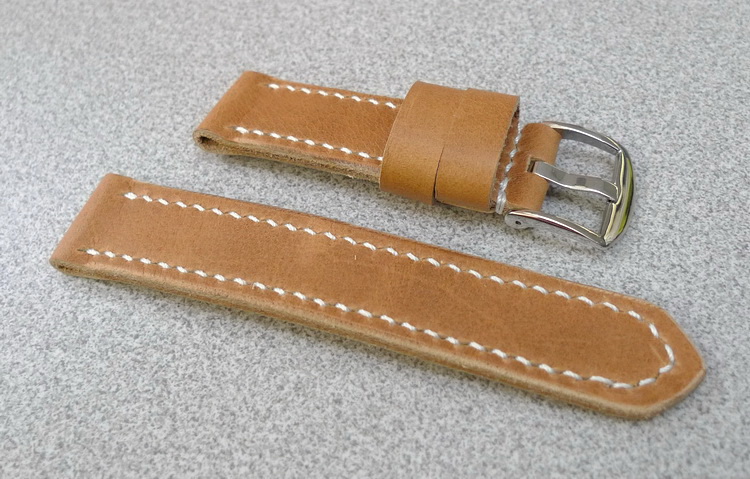 24 mm Models
Navy Blue - 24 x 22 mm - 75/120 mm - 3.5 mm - Holes add at time of sale
Edge turned loops
Price is $60.00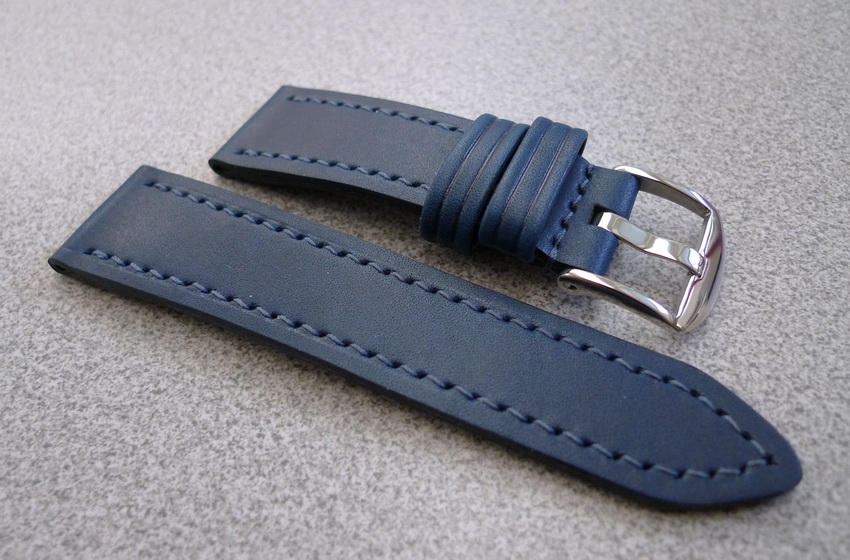 Black sharkskin - 24 x 22 mm - 75/125 mm - 4 mm thick
Price - 75.00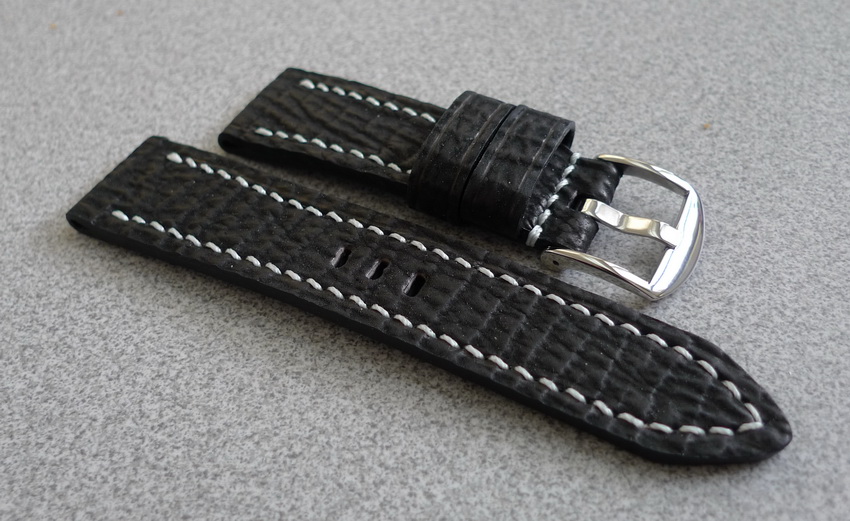 Derb - 24 x 24 mm - 75/125 mm - 4 mm thick - Spring bar buckle. Hand Glazed leather in various shades of brown
Price is $65.00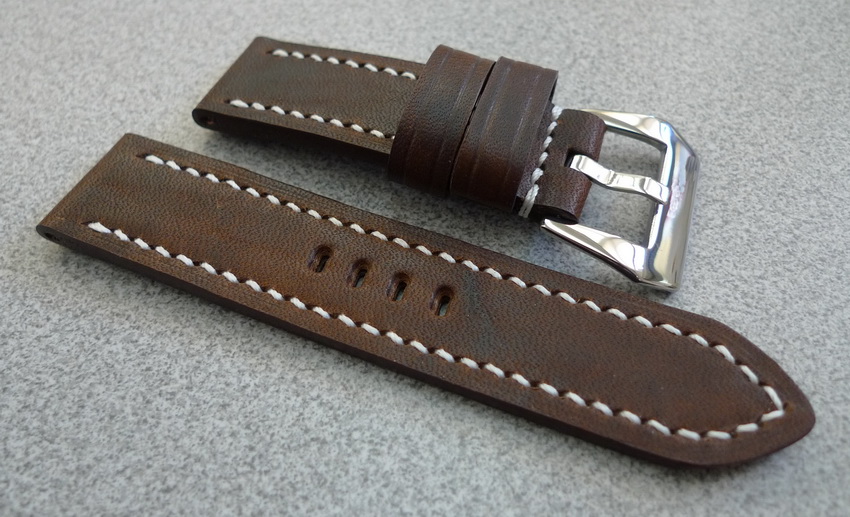 Kelly - Green with tinge or yellow - 24 x 22 mm - 75/120 mm - 4 mm thick
Price - $65.00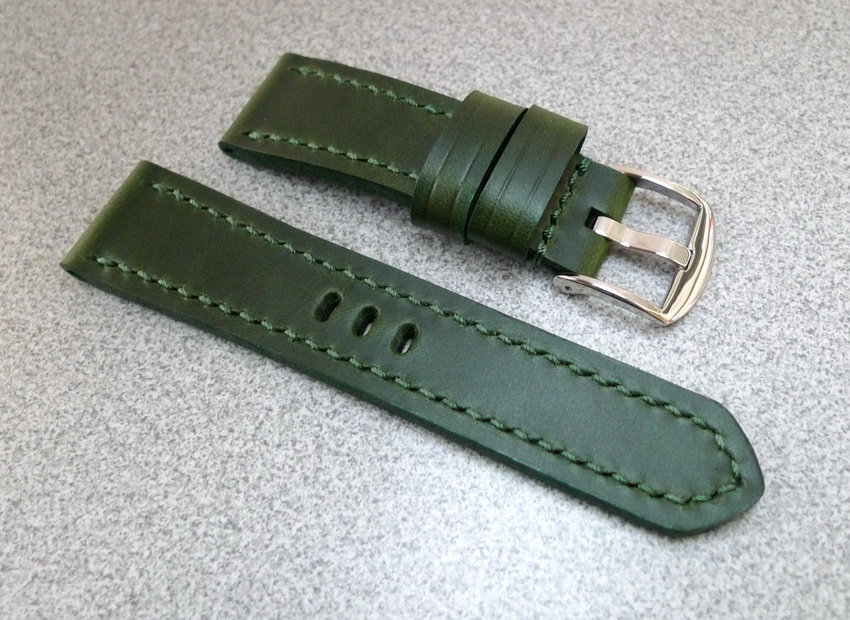 Vintage Rouille - semi gloss - 24 x 22 mm - 75/120 - 4 mm thick
Leather test model
Price - $50.00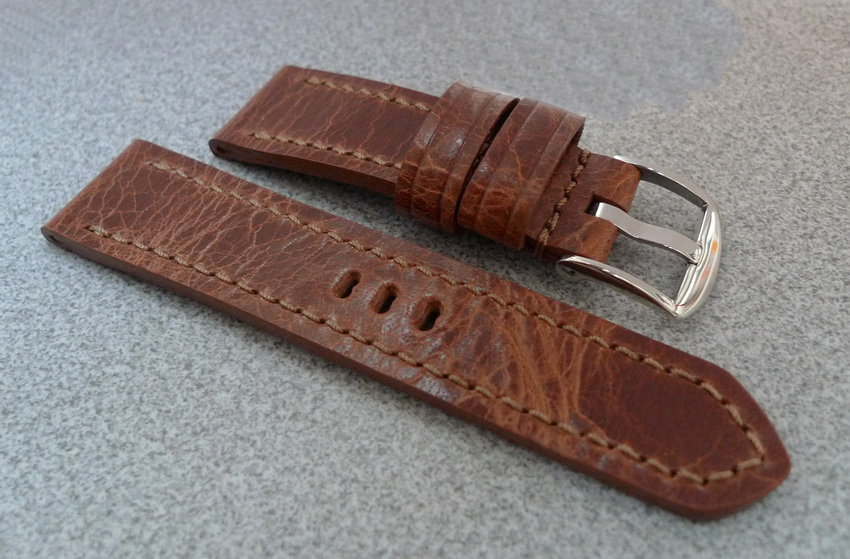 Crackle - Dk. Brown with cracked finish - semi gloss - 24 x 22 mm - 75/120 mm - 4 mm thick
Leather test model - slightly loose buckle
Price is $50.00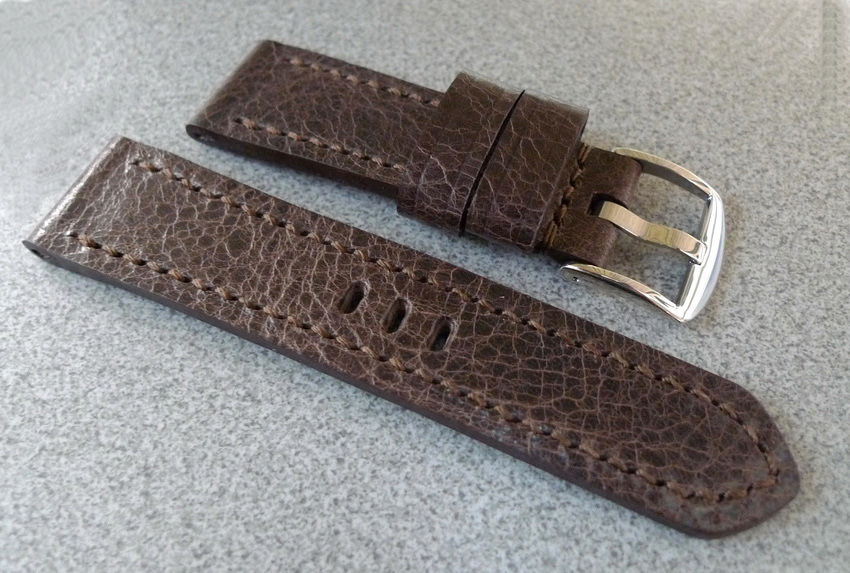 Chappy - Med. Brown buffalo leather - 24 x 24 mm - 75/120 mm - 4 mm thick
Price is $65.00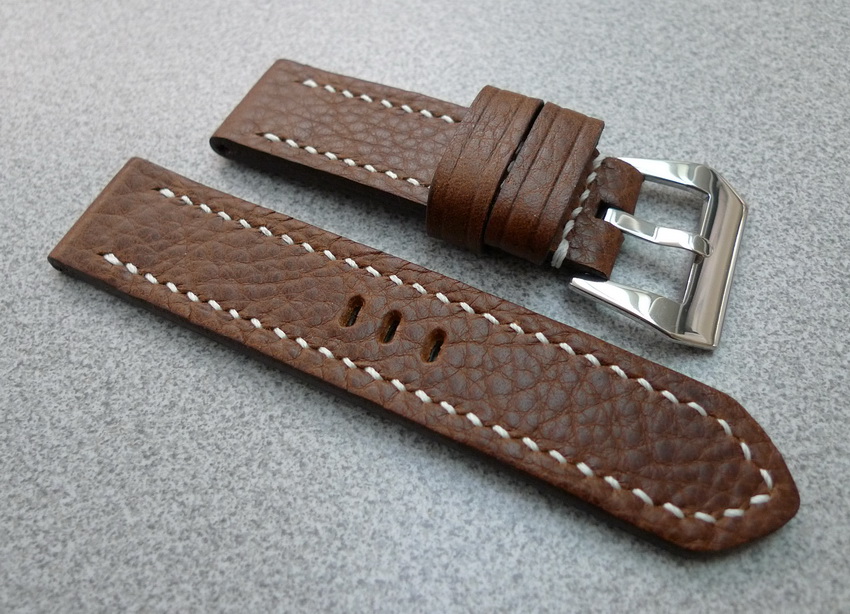 All Black - XXL - 90/145 mm - 24 x 22 mm - - 4 mm thick
Price is $70.00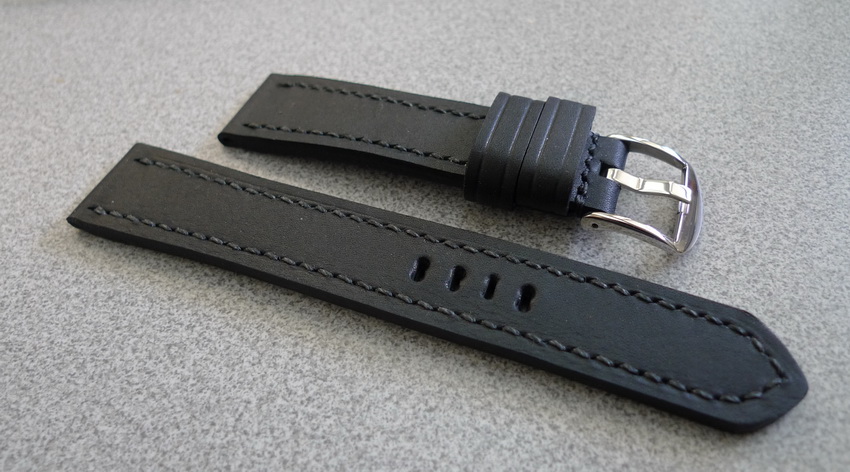 Rustic - shaded med. brown leather - 24 x 24 mm - 80/135 mm - 4 mm thick
Price - $65.00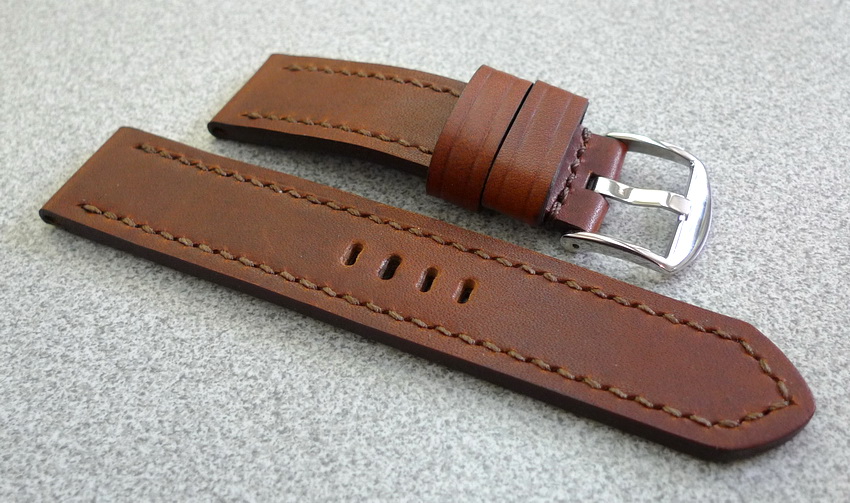 Saffiano black leather - cross-hatch finish - 24 x 24 mm - Short - 70/110 mm - 4 mm thick with thumbnail buckle
Price is $65.00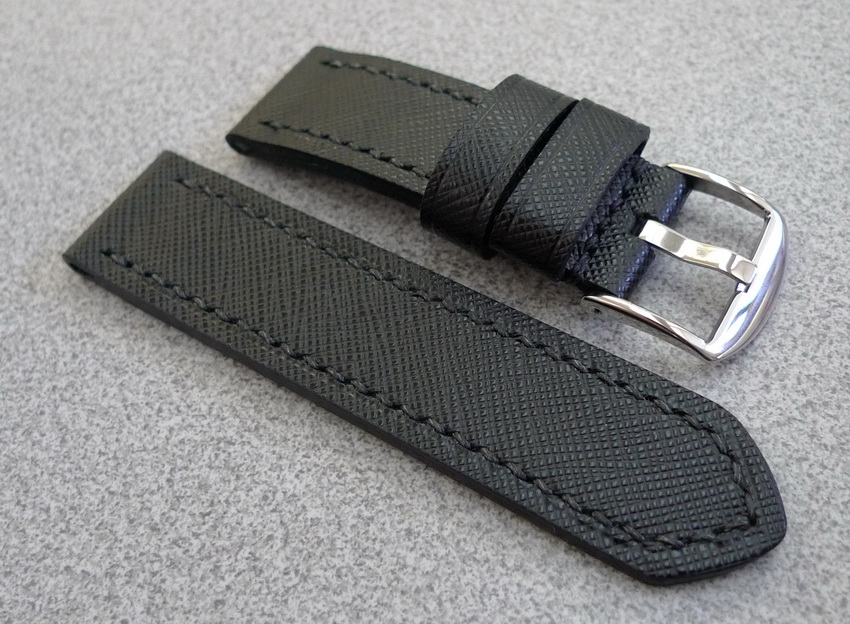 Vintage Tan color
24 x 24 mm with polished sewn in Historic buckle - 80/125 mm or 85/135 mm. Edge turned loops - shade over 4 mm thick
Price is $65.00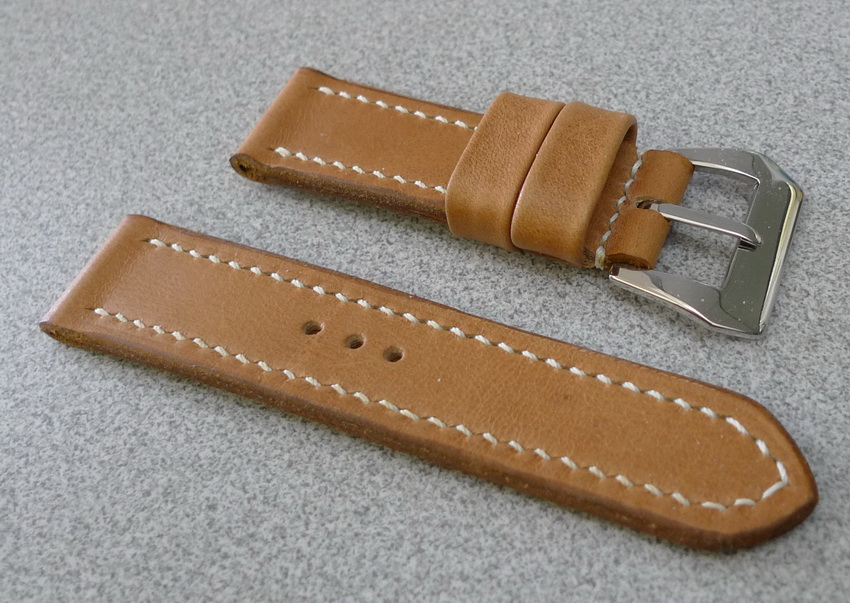 Brown Sharkskin - 24 x 24 mm - 75/125 mm - 4 mm thick with Historic spring bar buckle
Small defect
Price is $65.00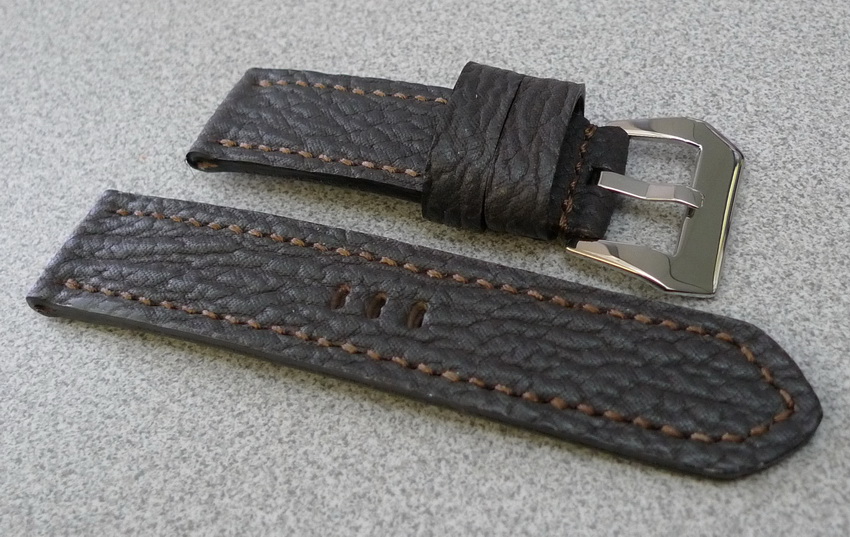 Matte black Sharkskin - 24 x 24 mm - 85/135 mm and 4 mm thick - Polished Historic spring bar buckle
Price is $75.00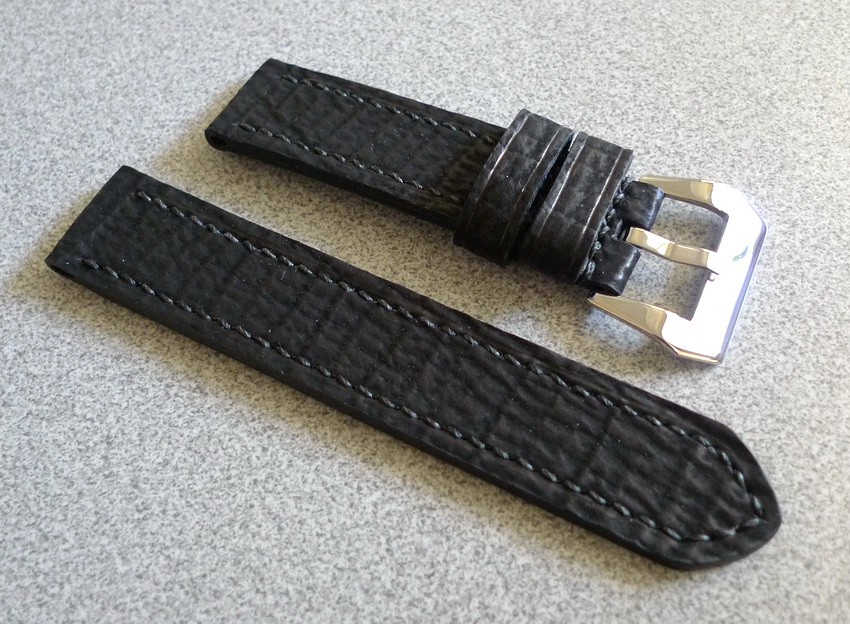 Urushi - 24 x 24 mm with s/s thumbnail buckle - 75/125 mm
Hand rubbed and finished pebble grain leather
Price is $85.00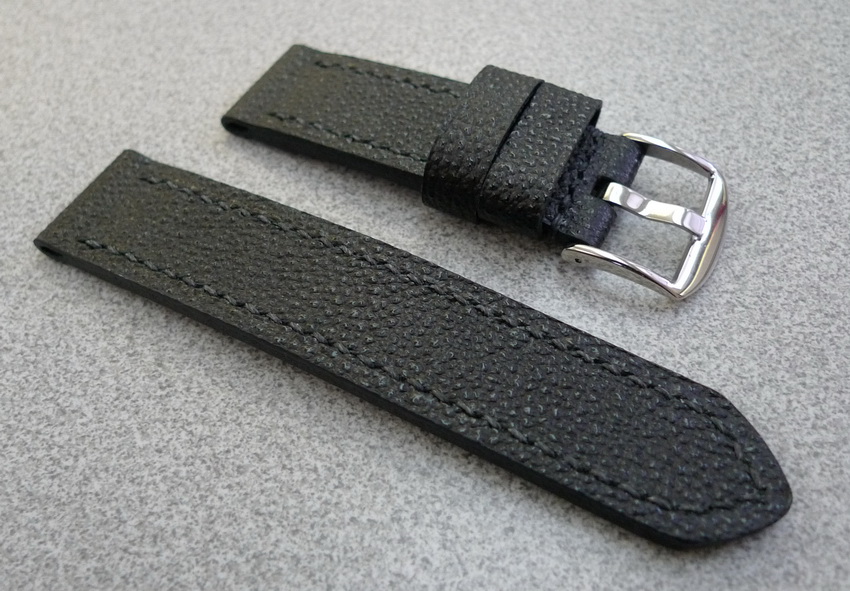 Brown Buffalo (small grain) - Short length - 72/115 mm with edge turned loops - 4 mm thick
Price is $65.00
One error model - 70/110 mm- tiny mis-cut on buckle side and 3.5 mm thick with thumbnail buckle
Price is $50.00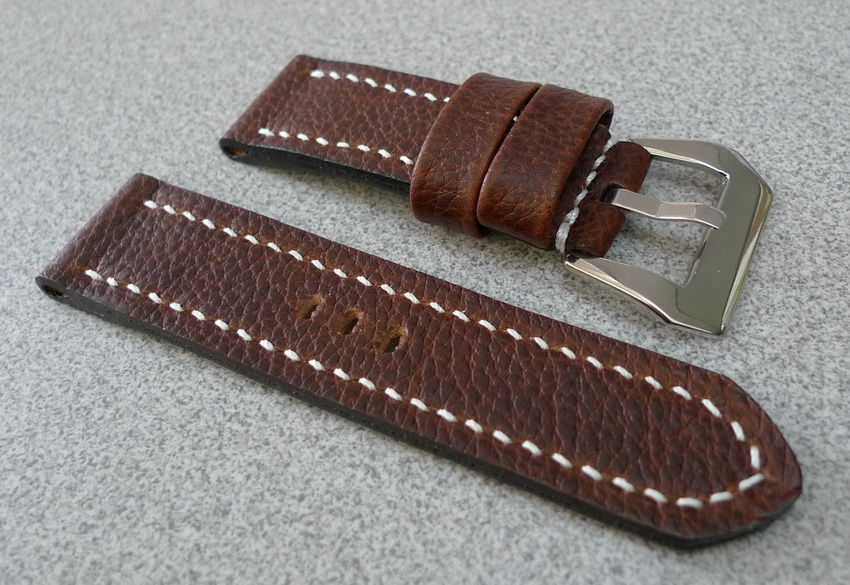 Washed leather with sanded finish
24 x 24 mm - 75/135 mm with Historic screw buckle
Price is $70.00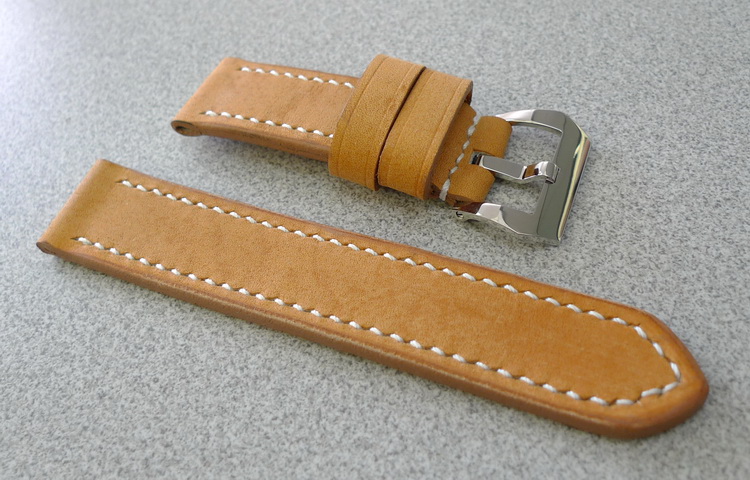 26 mm Models
Black - 26 x 26 mm - 4 mm thick - 75/125 mm
Semi matte finished leather
Price - $65.00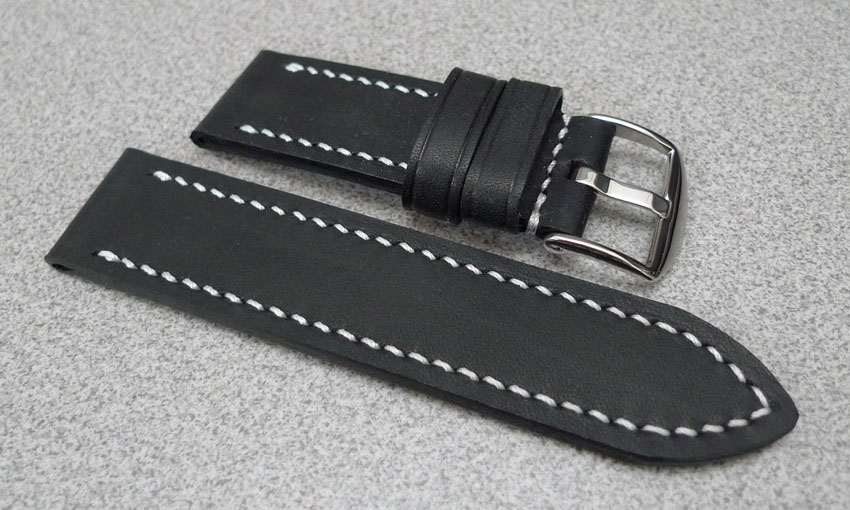 Grizz - 26 x 26 mm - 4 mm thick - 80/125 mm
Raw edges - textured tan leather
Price - $65.00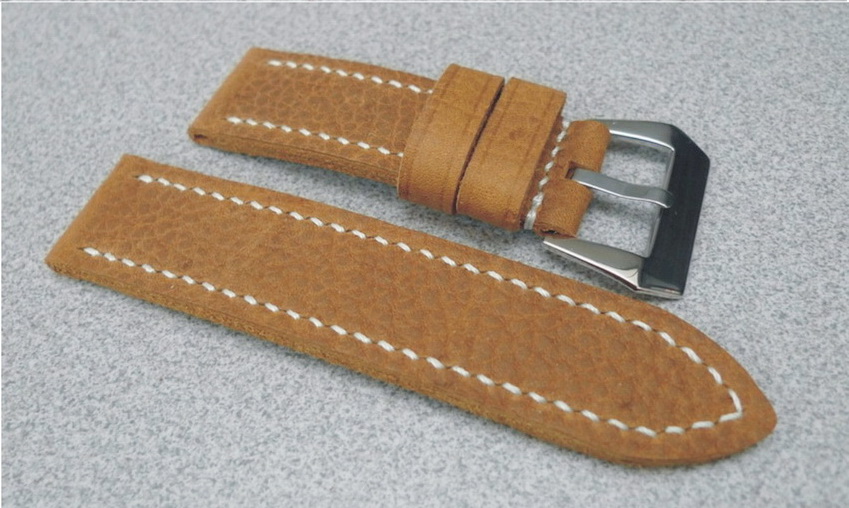 Rouille - 26 x 26 mm - 4 mm thick - 75/125 mm
Raw edges
Price - $65.00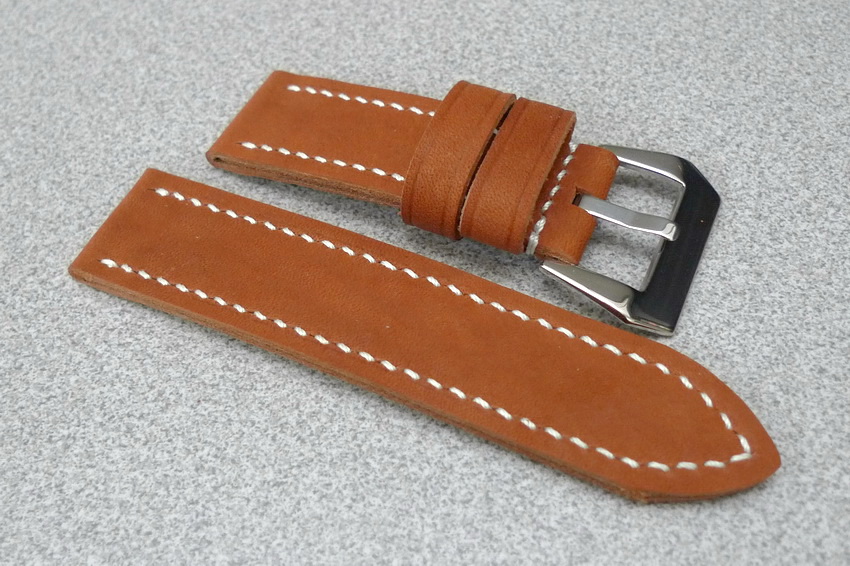 Derb - 26 x 26 mm - 85/135 mm - 4 mm thick - Spring bar buckle. Hand Glazed leather in various shades of brown
Price is $65.00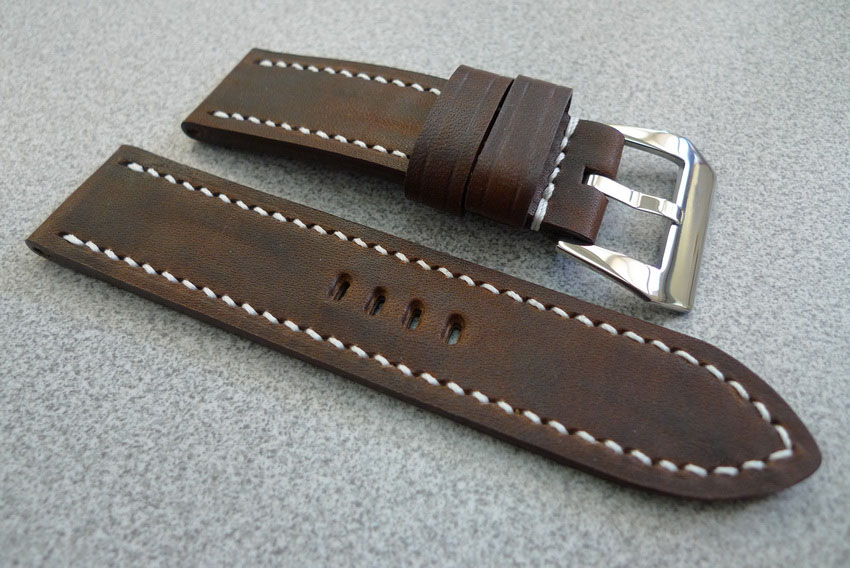 Chappy - Med. Brown Buffalo leather - 26 x 26 mm - 85/135 mm - 4 mm thick
Price - $70.00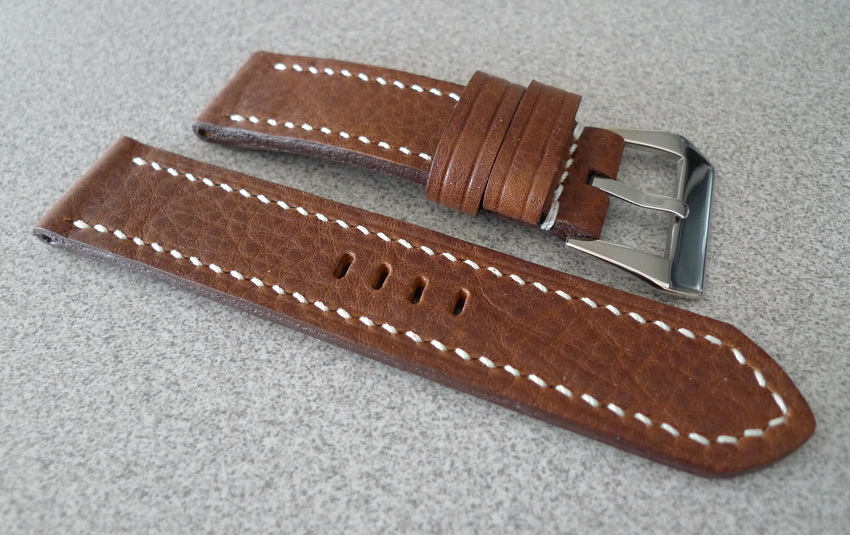 Black Sharkskin - 26 x 26 mm - 75/120 mm - 4 mm thick
Price - $75.00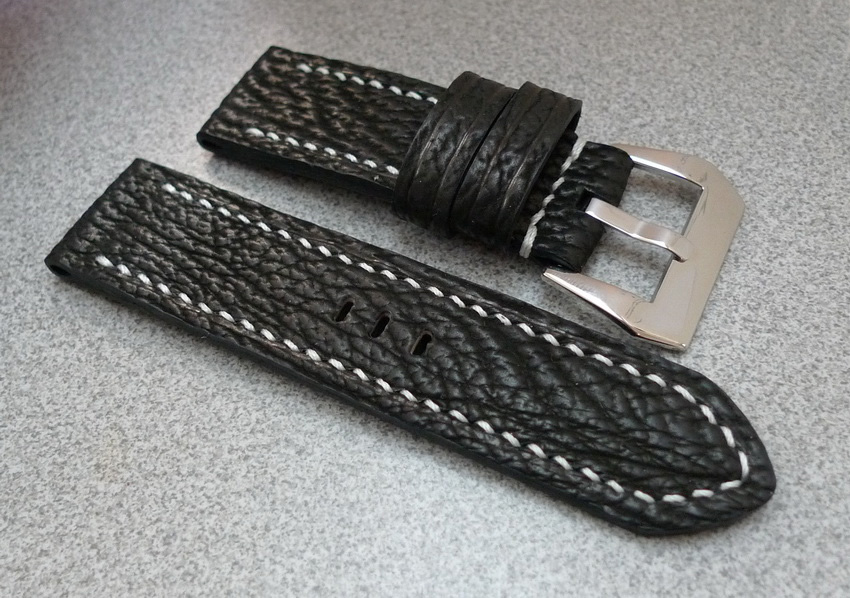 Dk. Brown Sharkskin - 26 x 24 mm - 75 x 125 mm - 4 mm thick
Design test
Price is $60.00 Sale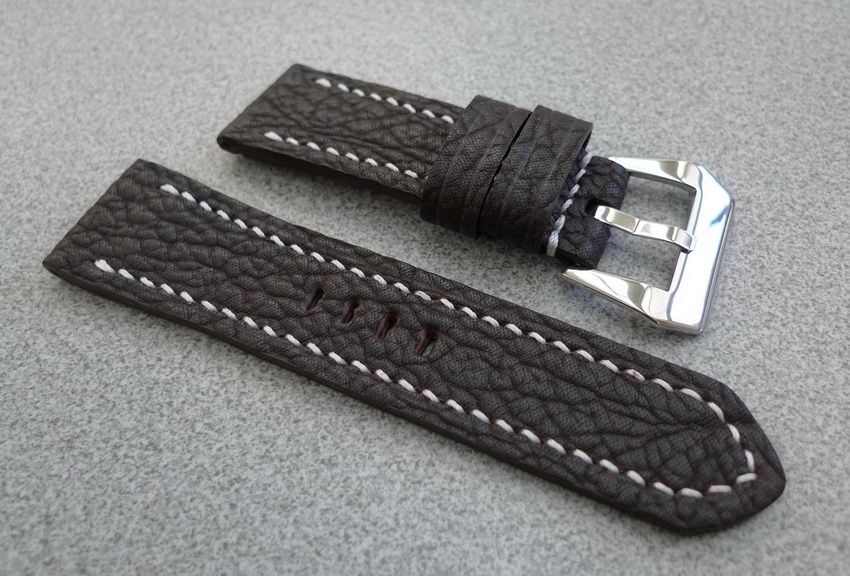 Blue Bayou - 26 x 26 mm - 75/130 - 4 mm thick with polished spring bar thumbnail buckle
Price is $70.00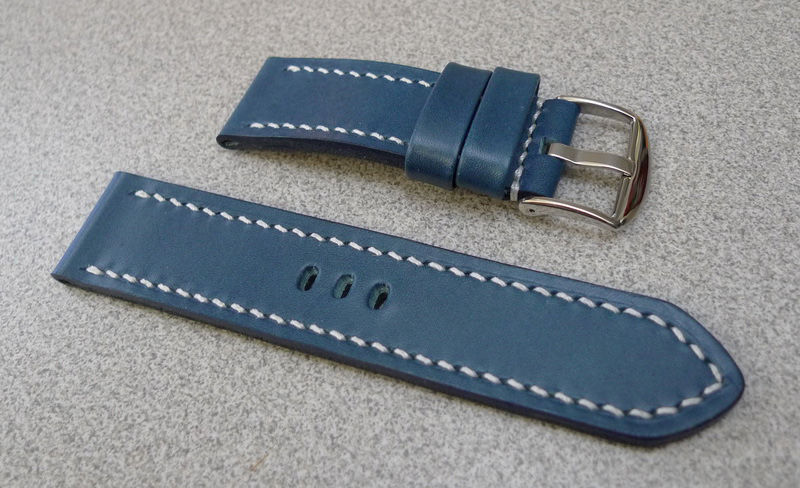 Med. Brown Buffalo - 26 x 26 mm - 80/130 mm - 4 mm thick with Historic buckle
Price is $70.00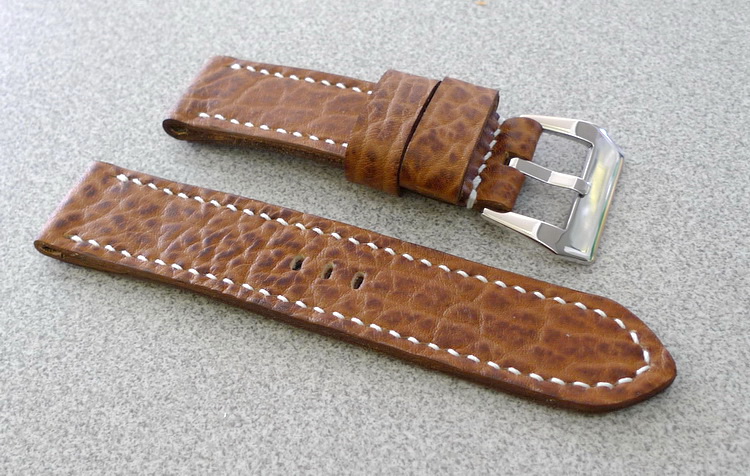 Dayton - XXL - 90/144 mm - 26 x 26 mm with spring bar buckle
Leather takes on a aged look when bent
Price - $80.00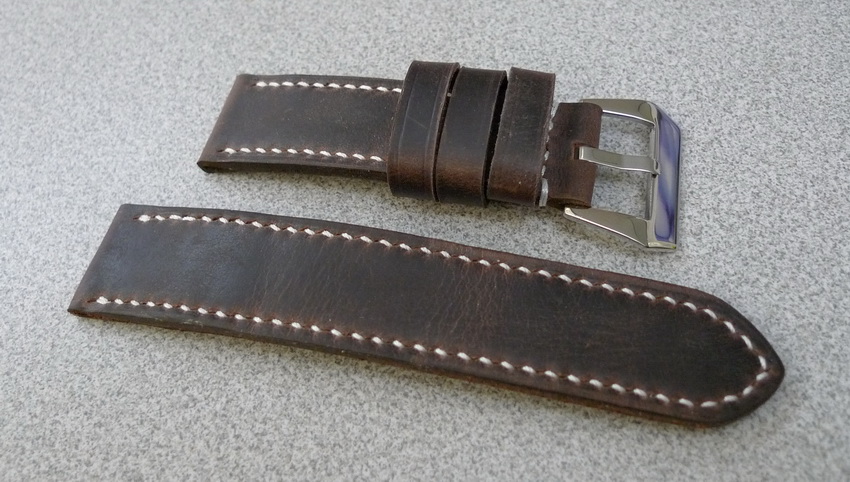 Vintage Tan Pilot Strap with screw in rivets - 26 x 26 mm with sewn in flat GPF buckle
87/150 mm - holes punched where needed - 4.25 mm thick
Vintage Tan color - $125.00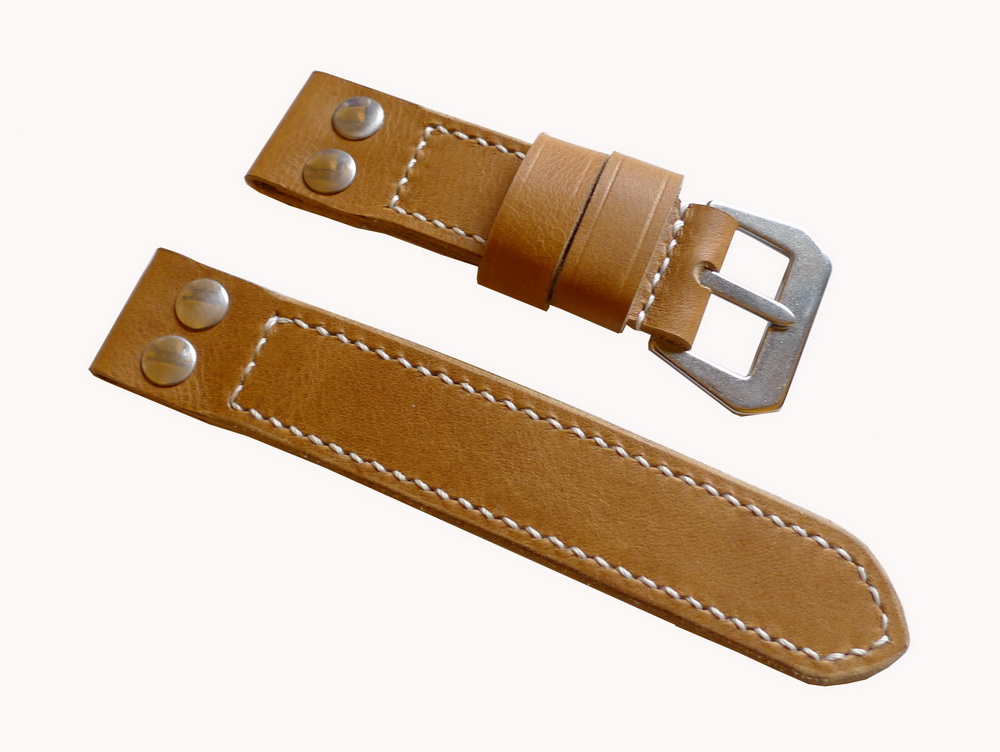 27 mm Models
Chappy - Med. Brown buffalo leather - 27 x 24 mm - 75/125 mm - 4 mm thick
Price - $70.00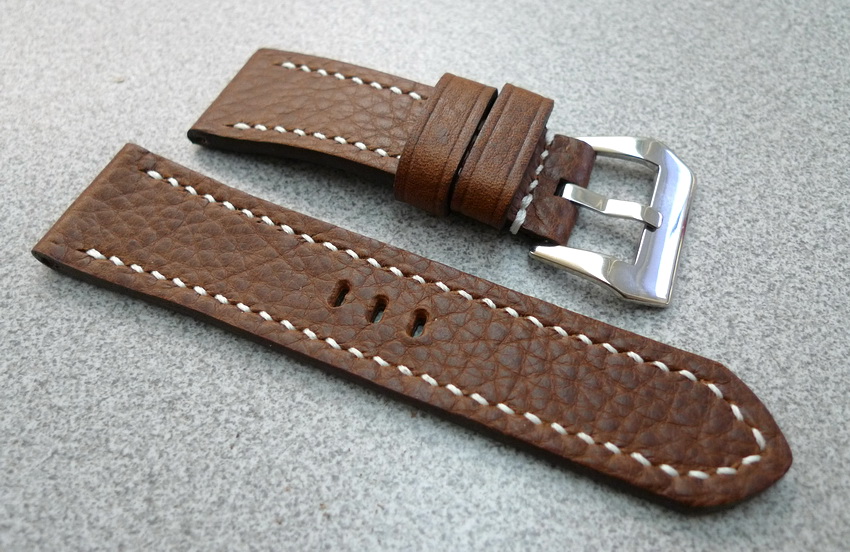 Cavallo - 27 x 24 mm - 75/122 mm - Mocha chocolate shading with tan stitching to match with the lighter shades
Price is $75.00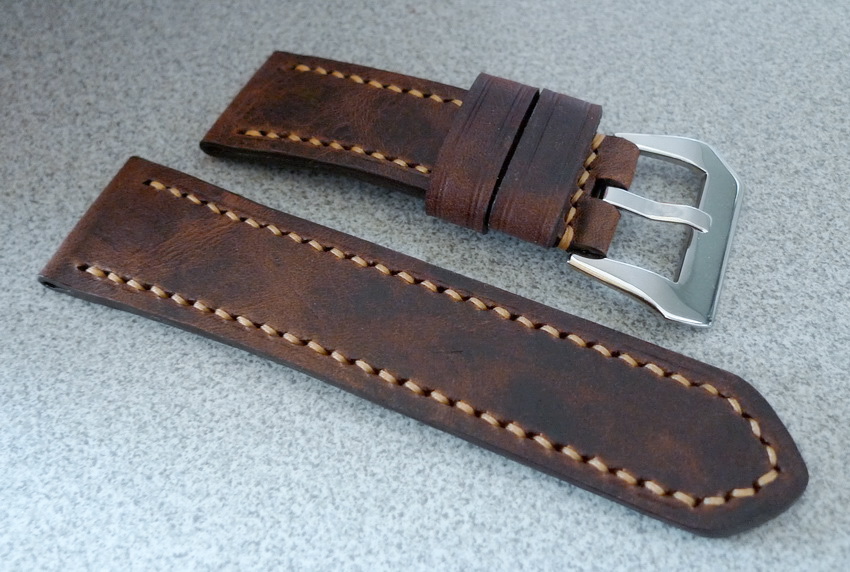 Derb - 27 x 24 mm - 75/125 mm - 4 mm thick - Spring bar buckle. Hand Glazed leather in various shades of brown
Price is $65.00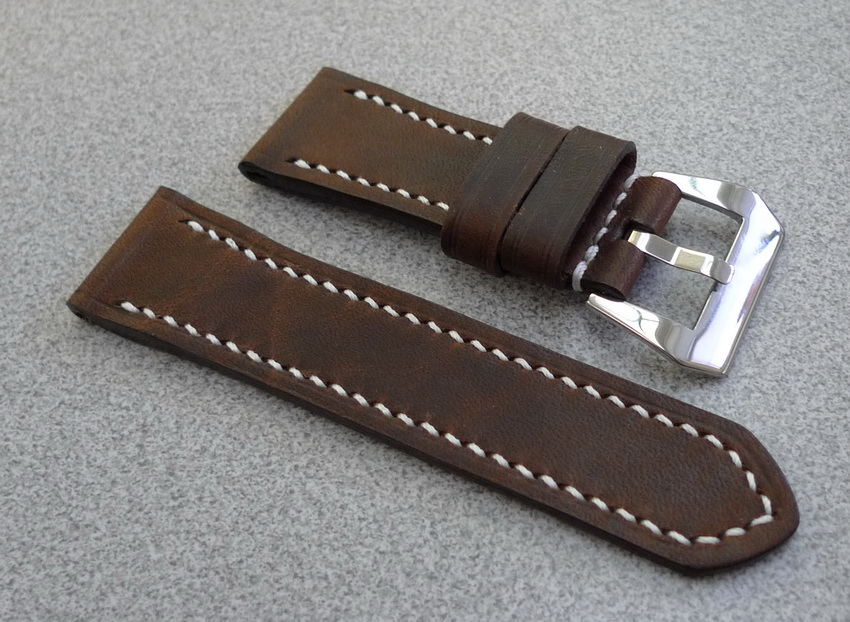 Matte black sharkskin - 27 x 22 mm - 80/125 mm - 4 mm thick
Price is 60.00 - Sale Price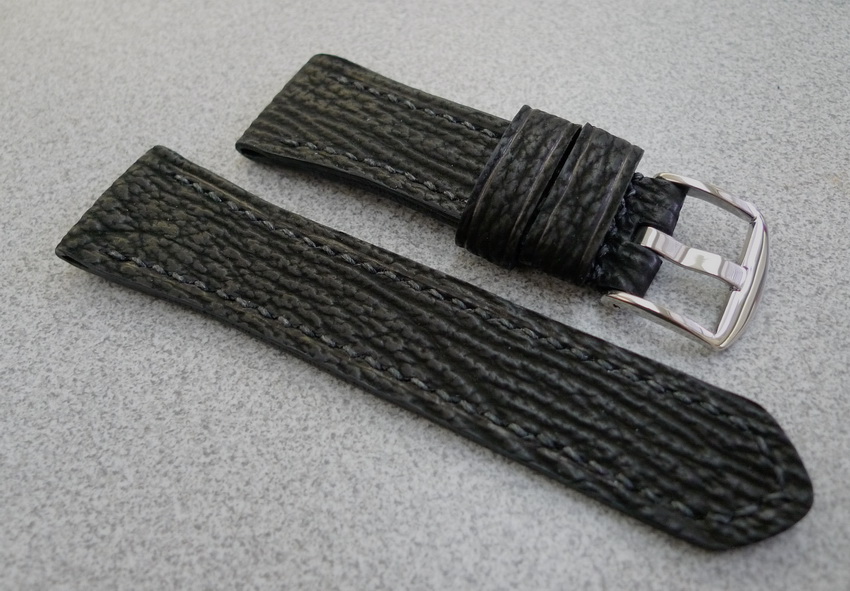 Urushi - 27 x 22 mm - 75/123 mm with s/s thumbnail buckle
Hand rubbed and finished pebble grain leather - test model
Price - $65.00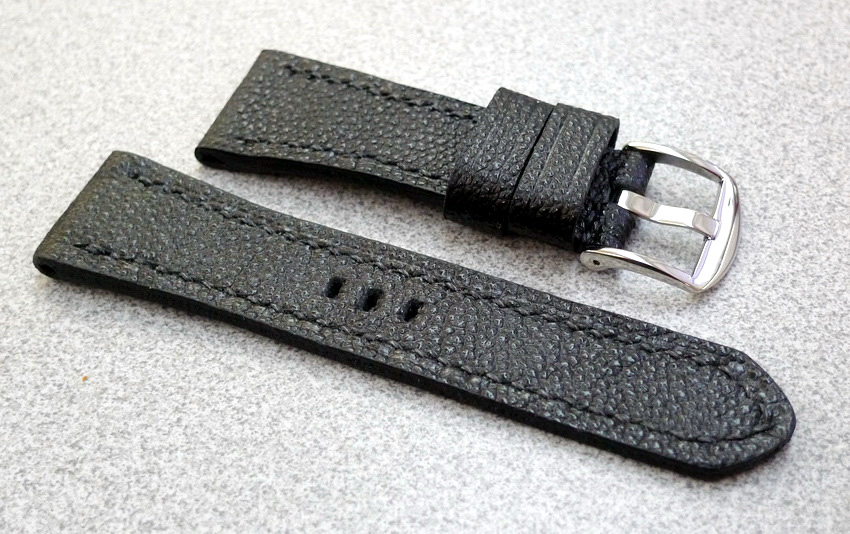 Med. Brown Buffalo - 27 x 22 mm - 75/125 mm - 3.5 mm thick with Historic buckle
Edge turned loops
Price is $60.00 – Sale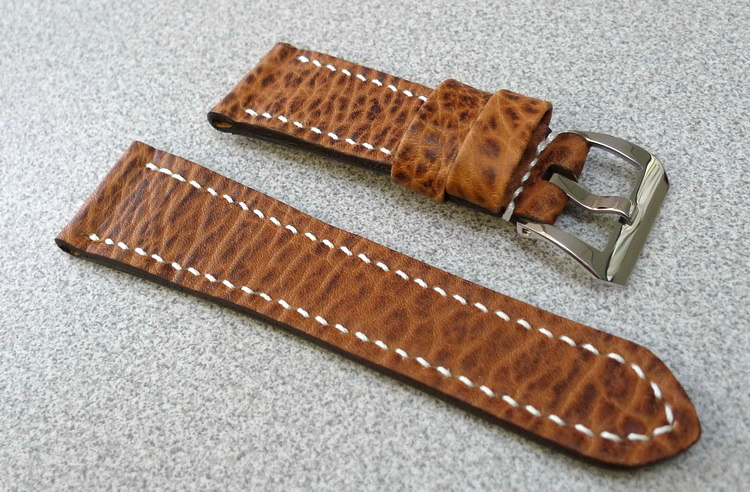 Blue Bayou - 27 x 22mm - 80/125 - Turned loops and spring bar thumbnail buckle
Price is $65.00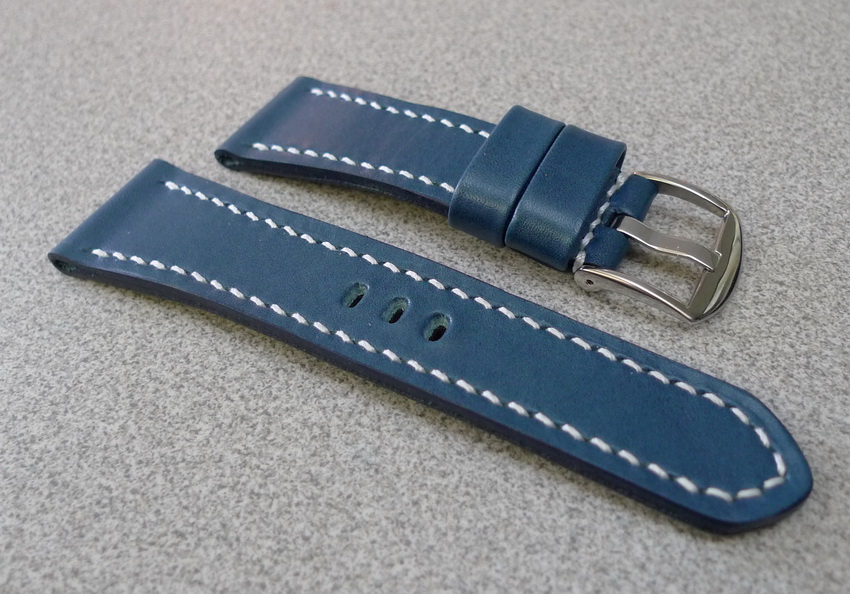 Brown Buffalo (med. grain) - 27 x 22 mm - 85/125 mm - 4 mm thick with thumbnail buckle
Edge turned loops
Price is $60.00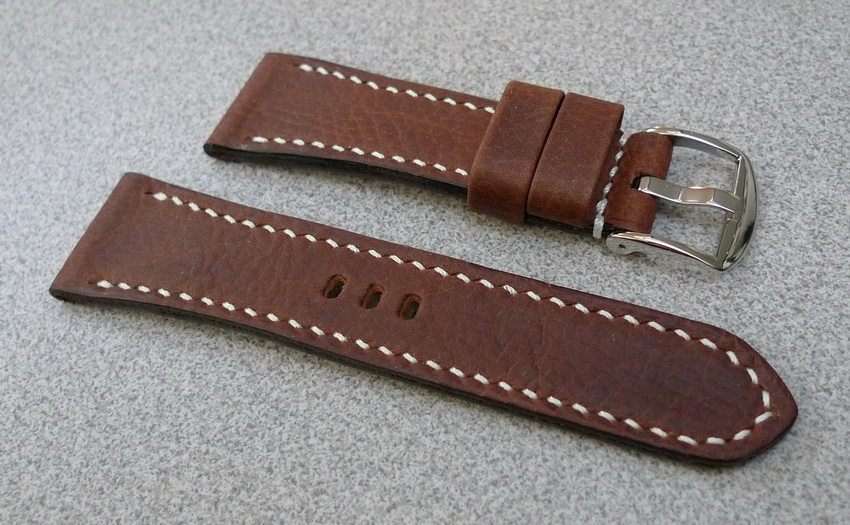 Vintage Brown - 27 x 24 mm - 85/130 mm with Historic buckle
Tan stitching - 4 mm thick
Price is $65.00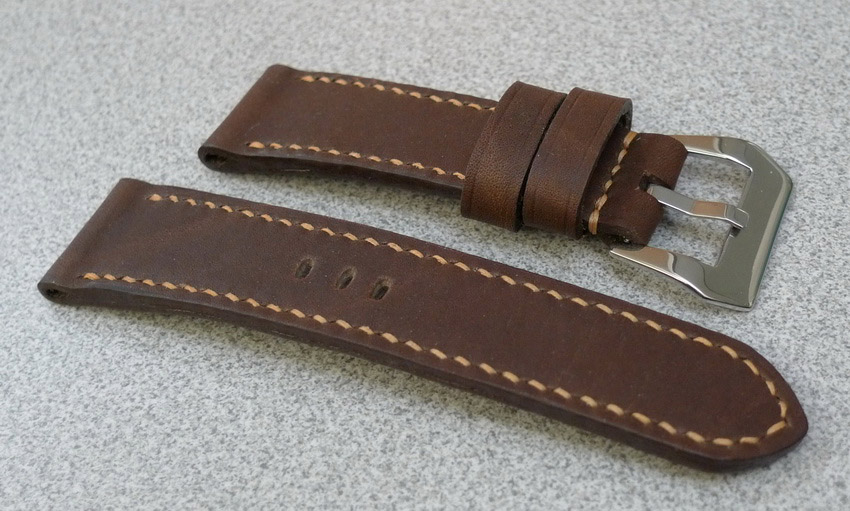 Vintage Tan - 27 x 24 mm - 75/120 mm with spring bar Historic buckle
Edge turned loops. Slim 3 mm design
Price is $65.00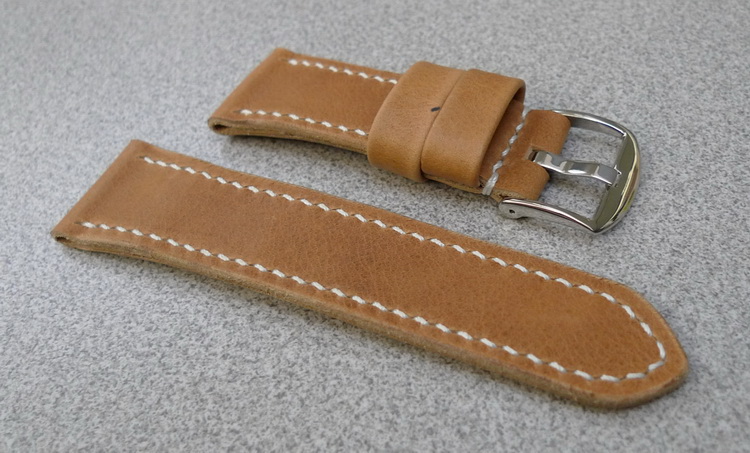 Shipping depends on total order, but average price is $3.50 - $6.50 for single straps
Please email me tickman@rogers.com
Thanks
DON