Save $70 with this OTD/Chronotrader special offer. Smooth grey leather vintage rally band, normally priced at $225, on sale for $150 today only. Very smooth leather and a color that will work with any Heuer Monaco model well.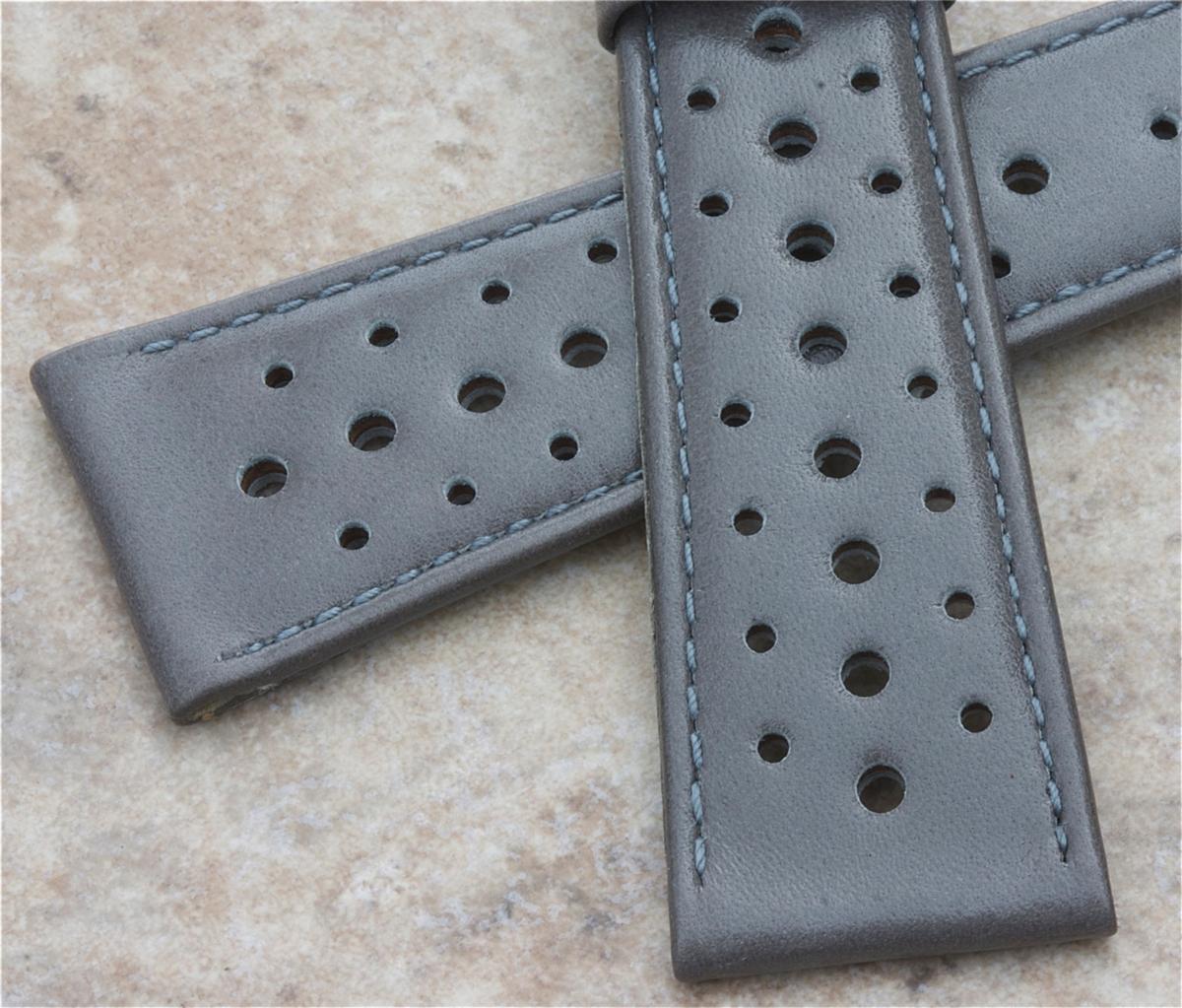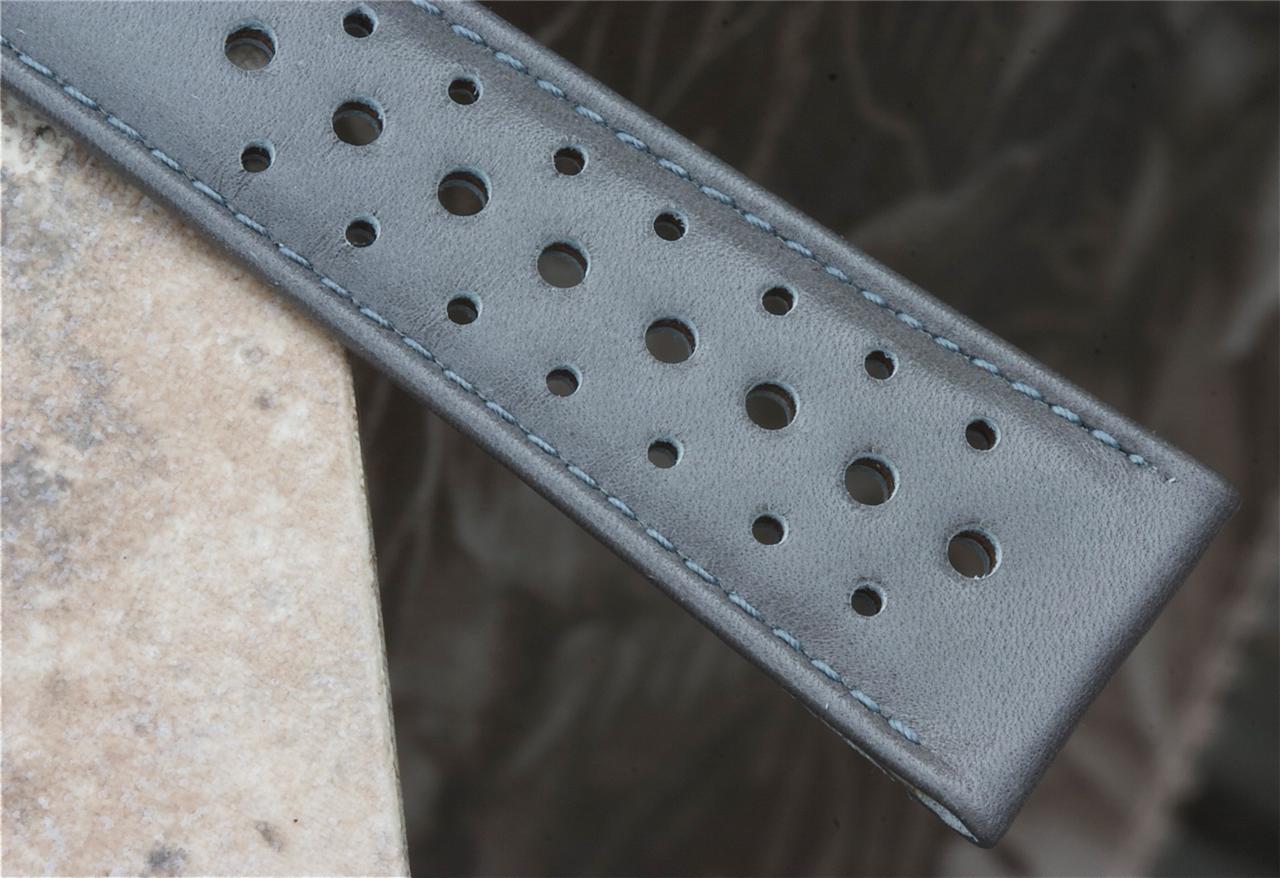 This strap comes from my selection of vintage rally bands in an exciting variety of colors and sizes, all original vintage straps from the 1960s/70s. Bands are identical to what Heuer originally supplied on some of its vintage chronograph watches. These were made in the same factory at the same time, just that the Heuers were left unsigned and these were stamped Rodania.
These straps would also nicely suit vintage chronographs by Omega, Breitling and many other vintage brands. They are fully stitched with matching color stitching. I have a limited number of these New Old Stock leather rally bands for sale in the colors shown below. They are available in sizes 18mm, 19mm, 20mm, 21mm, 22mm, 23mm and 24mm.
There are many more pictures of these bands in the Heuer section at Squinky.com as well as comments from satisfied customers. Grey band on sale is the 4th from the left here: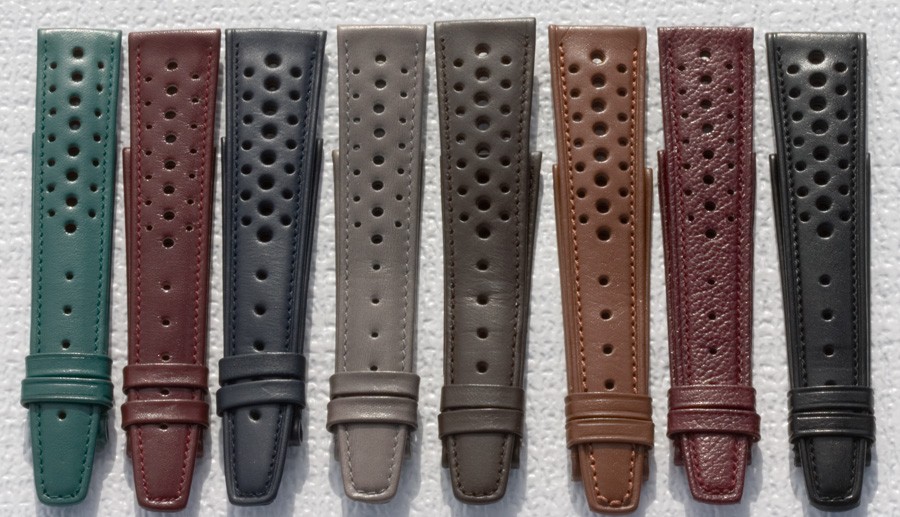 Many more pictures are shown in the Heuer section at Squinky.com and below. Standard length straps of 7 1/4 inches long (18.7cm). Metric measurement is 113/75. Any size takes a 16mm opening buckle. The thickness goes from 3mm at the tail to 3.7mm where the band meets the watch. Very limited availability on some sizes and colors.
Other colors available: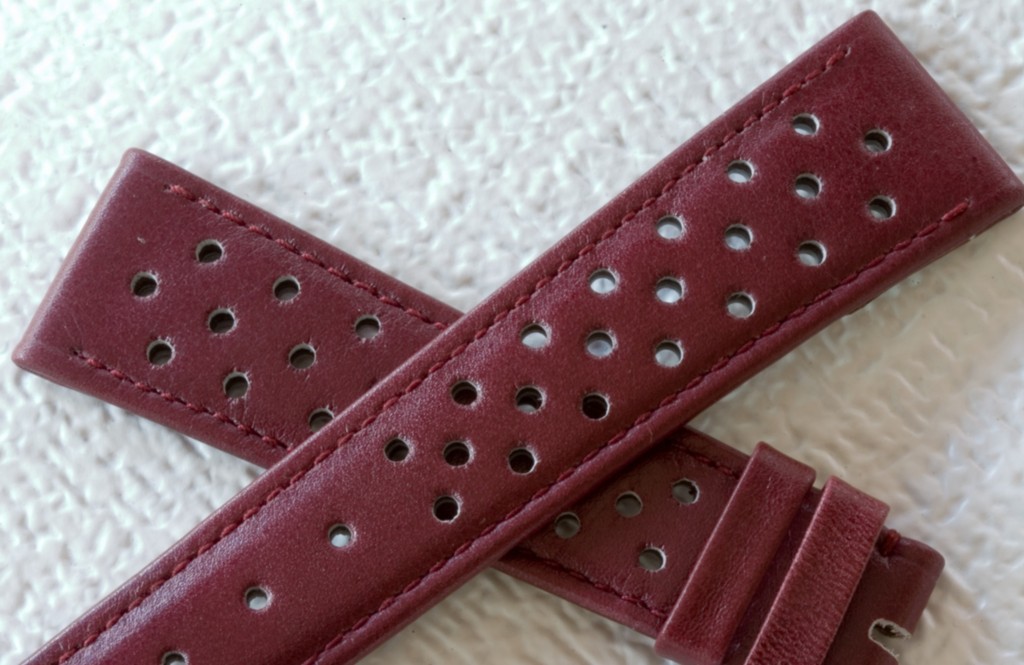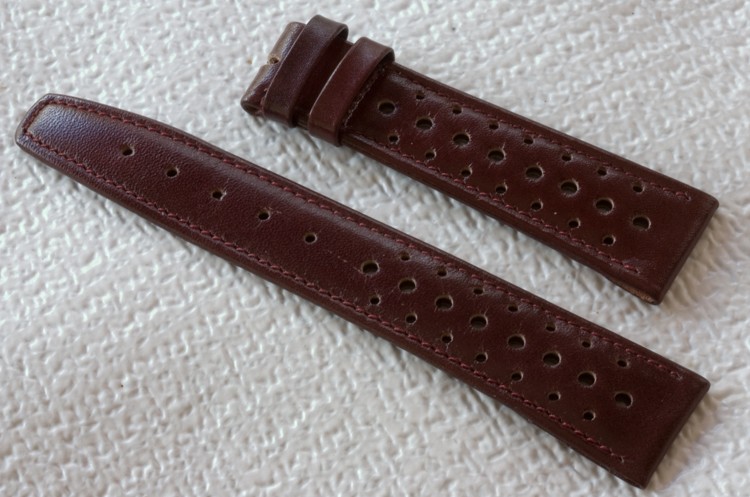 OTD REGULAR PRICES:
$225 for one band including U.S. shipping with tracking included for free for OTD/Chronotrader members (international shipping is $24.99 extra).
$395 for two bands including U.S. shipping with tracking.
COLORS & SIZES:
BLACK: 20mm, 21mm, 22mm, 23mm, 24mm
GREEN: 18mm, 19mm, 20mm, 21mm
BLUE TEXTURED: 18mm, 19mm
BLUE SMOOTH: 19mm, 20mm, 21mm, 23mm, 24mm
GREY TEXTURED: 19mm, 20mm, 21mm, 22mm
GREY SMOOTH: 18mm, 19mm, 20mm, 22mm, 24mm
TAN: 20mm, 21mm, 22mm
BROWN TEXTURED: 18mm, 19mm, 20mm, 21mm
DARK RED: 20mm, 21mm
RED TEXTURED: 20mm, 21mm
LIGHT RED: 20mm
WHITE: 19mm, 20mm
I also have original Heuer Corfam rally bands in 20mm and 22mm. Please email me at billmahoney@aol.com for more information. Thanks - Bill Mahoney
Squinky.com