Hamilton 1973 Steel British Military Issued Watch
This is a steel cushioned cased watch from 1973 that was issued to soldiers in the British Army. It is a Hamilton (of Switzerland) watch with hacking seconds.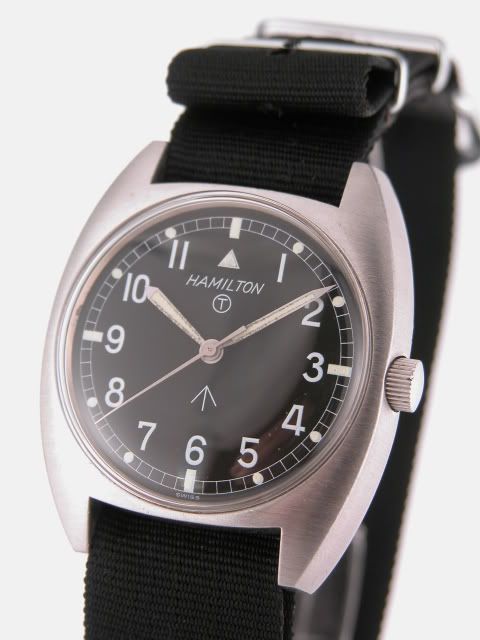 The hacking second feature means that the sweeping second hand on the watch can be stopped. The reason this is important in military watches is that it allows soldiers to coordinated their watches to the second before a sortie. Very importantly, this watch's hacking is working well!

The cases are made from one piece of steel and have military issue codes on the back representing the soldier wearing the watch and the regiment and w10 which tells us it was British Army issued.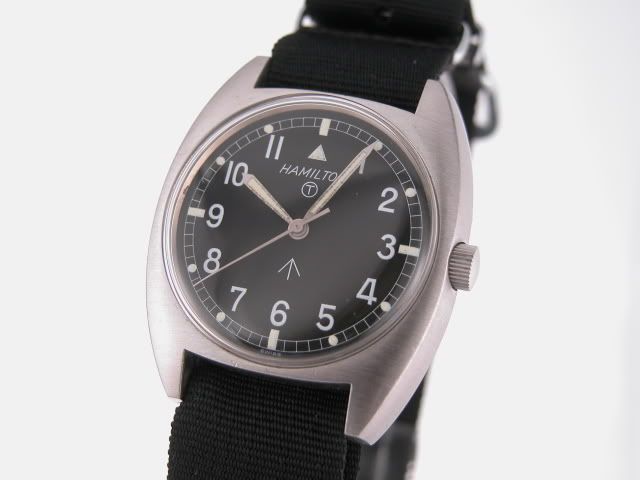 The "6645-99" indicates that it is a a "time measuring instrument" ie a watch and this code is universal through out NATO countries. The 99 bit means it is issued by the Uk member of NATO.

The "523-890" on the top line from what I understand is one of two things:
C. Contract number
D. Usage number
And finally the watch was the 8590th watch issued in 1973! These watches can tell you quite a lot.
The watch has had a light regrain to bring it back to factory specification. The case has only the lightest of marks and one wouldn't know that it was actually worn in the Army form its condition (no signs of shrapnel or mortar damage!)
The dials markings are a crow's foot (the military Broad Arrow indication this is property of King George) and a T in a circle indicatint that the luminous markers on the watch dial and the inserts in the watch hands are made from luminous material called Tritium.
The watch winds and sets smoothly and the watch keeps time. The watch is in excellent cosmetic condition and such evidence is the fact that the luminous on the dial has barely aged. The armoured glass has been replaced for a shiny unblemished one.
The watch comes on high quality Black NATO strap made in Cornwall in the UK (not a cheap far east knock-off).
The watch will be expertly packaged in bubble wrap and tones of shredded paper. International buyers are very welcome.
The price is £165 including special next day delivery (in the UK) and paypal fees. The price for a dollar transaction will be calculated on the rate shown by www.xe.com. International postage is an extra £3. I only post with fully insured postage and normally signed for and tracked. I have full references available.