1984 Rolex 16750 GMT with Gloss Dial and Accessories for sale. I also have this FS listing up on OF.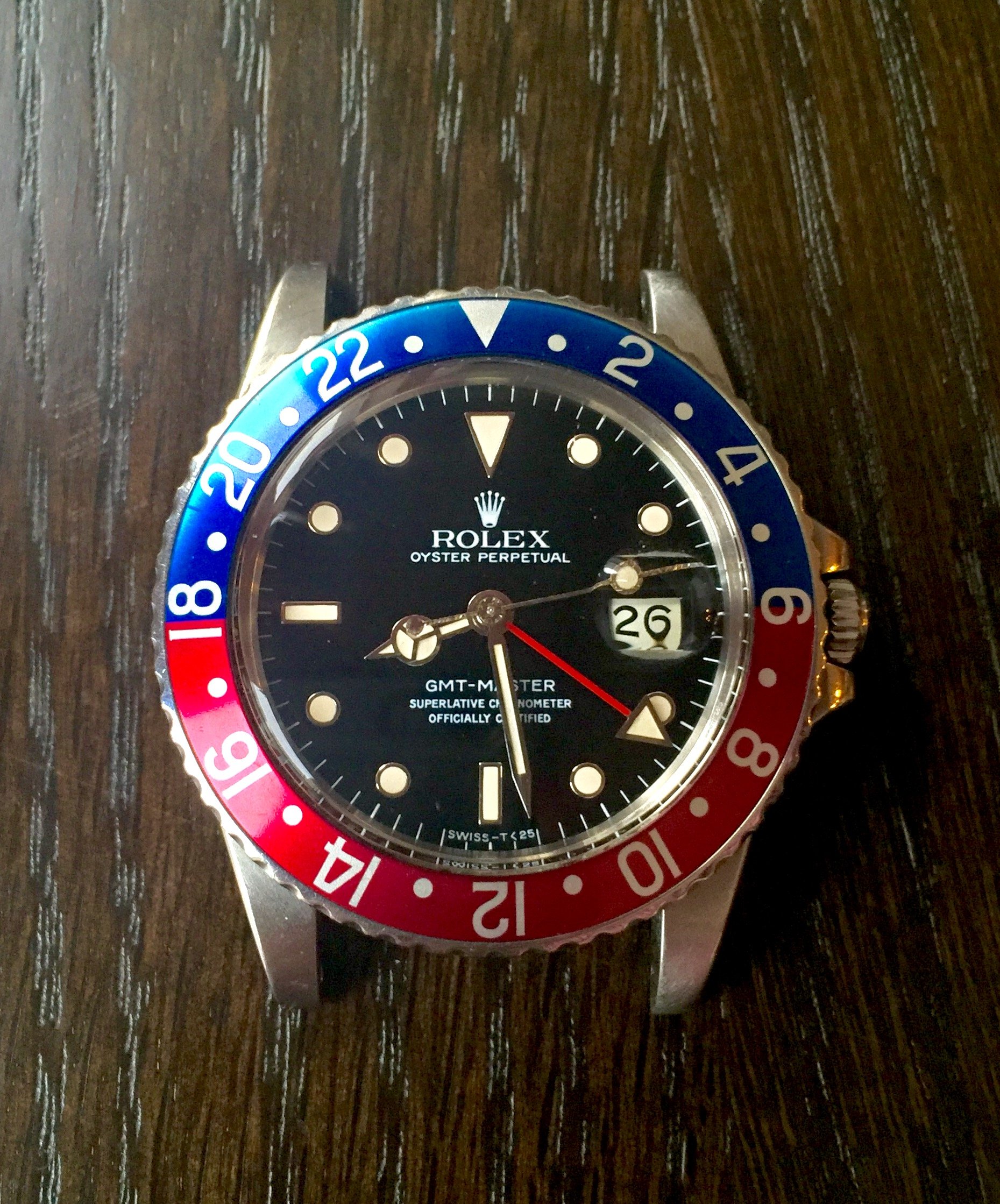 Why am I selling?
I recently bought this from the original owner. It's a full set and in very good condition so it was a no brainer to pick up. I had only bought pieces from the 1950-70s before this so I wasn't sure if it was for me or not. After wearing it for a bit it hasn't spoken to me as something I'd keep long-term, and I only like to have a small collection, so I am offering it up.
Provenance
This watch was bought for the original owner as a birthday present from his mother in 1984. It was bought at Marshall Field & Co., a well known Chicago-based retailer for many years that was bought by Macy's in the early 2000's. It has Marshall Field & Co. stamps on the certificate as can be seen in the pictures. It was bought as a gift and hence the 'purchaser' part of the certificate was not filled out at the time of purchase.
Condition
General Notes: The watch is overall in very good but used condition, as expected for a watch that was worn off and on for 30+ years. There are no replaced/non-original parts from what I could tell. The watch is running well and is accurate for regularly daily wear but I don't have a watch timer so I don't know the +/- /day . It winds and sets but as I am not keeping it I am not having it serviced before selling. It seems to wind a bit sluggishly and I am recommending a service for the new owner.
Dial: The dial is in great shape with no 'spidering' and all intact lume with a creamy hue. It is a no 'date' version, meaning that the top text says "Oyster Perpetual" and not "Oyster Perpetual Date" as is found on all but the earliest versions of the gloss 16750. Date wheel has open 6's and 9's as can be seen.
Hands: The hands are original with matching intact lume and in good condition. The seconds hand has partially oxidized, as can be seen with 16750s where one, two, three, or all hands can differentially oxidize.
Bezel: No major scratches/dings, very appealing patina to the bezel, which is original and with a red back (happy to provide a picture if needed). You can see that the watch was worn on the original owner's right/wrong wrist from the top left of the bezel having the most fade. There is a magenta hue to the red portion which is not well captured in the photos.
Case/Crown/Case Back: Case is in good but polished condition. There is a bit of the chamfer left and nice definition of the facet at the crown guards. These models don't have the large chamfers of the earlier decades even when unpolished so I think there is still plenty of lug width - but please see below to judge for yourself. Serial and model number and be read perfectly and it's virtually untouched between the lugs. Crown screws out easily, screws in and locks but seems like there's a bit of grime that would be helped by a servicing. Case back is sharp with no major scratches.
Bracelet: 78360 bracelet with small amount of stretch and normal amount of wear without any major scratches/dings. 15 links included (13 on bracelet now, 2 others included), two end links marked 580. Haven't been able to definitively find out how many links came with these but it seems like it could fit any wrist with the extra links and the clasp extended out. I took it off the bracelet for a good leather strap when I got it but seems nice for those who like them.
Accessories:
The watch comes with the inner and outer box, both in good condition, as well as the Rolex certificate stamped with Marshall Fields & Co. and matching serial and model number. He also kept the hang tag, wax seal, GMT and Rolex Oyster booklets with their paper wallet, Rolex 'Auto-Lock' bezel instruction paper, and Rolex cleaning rag. It also has a service receipt from 2012. Impressive that he kept all that.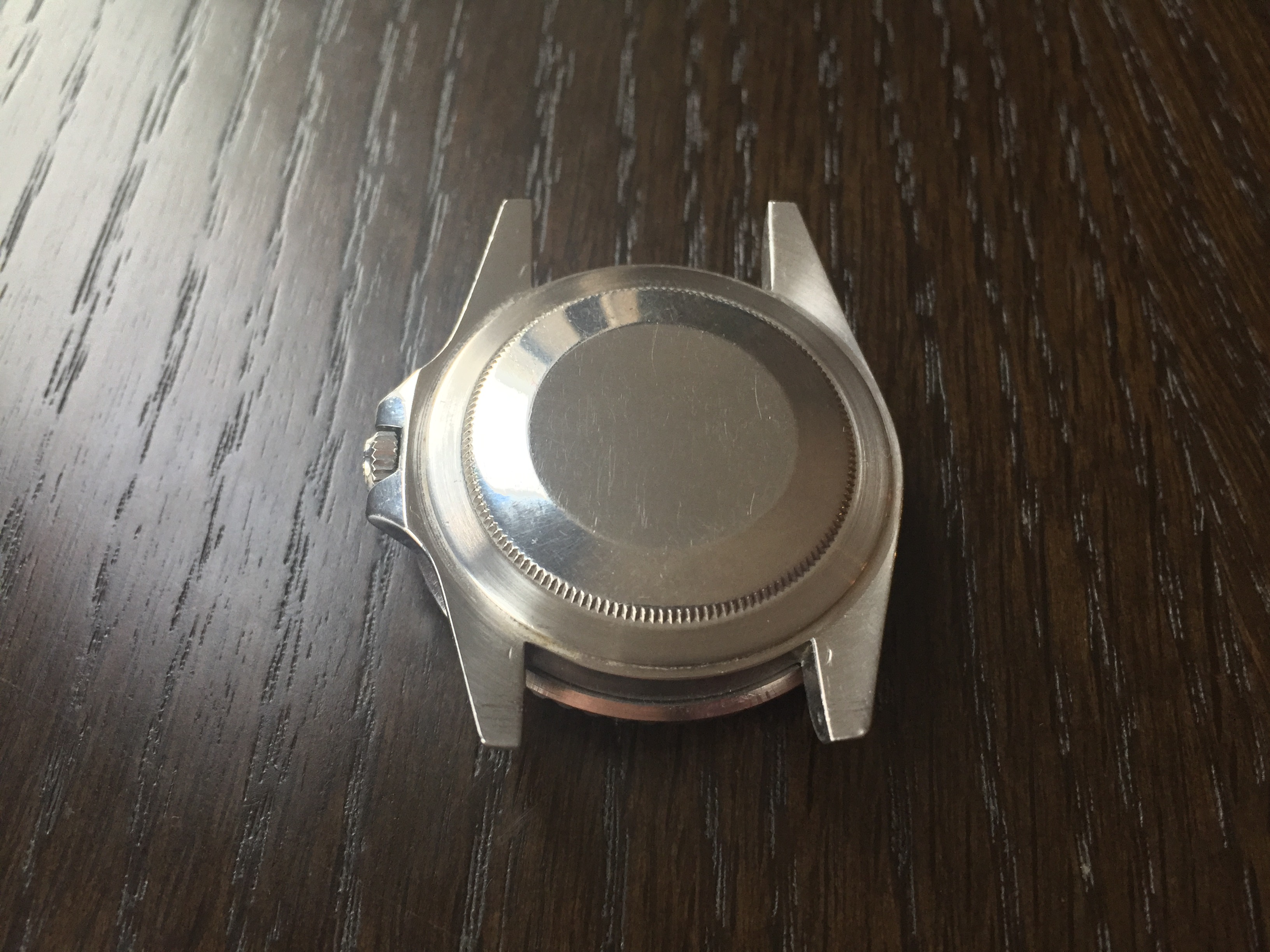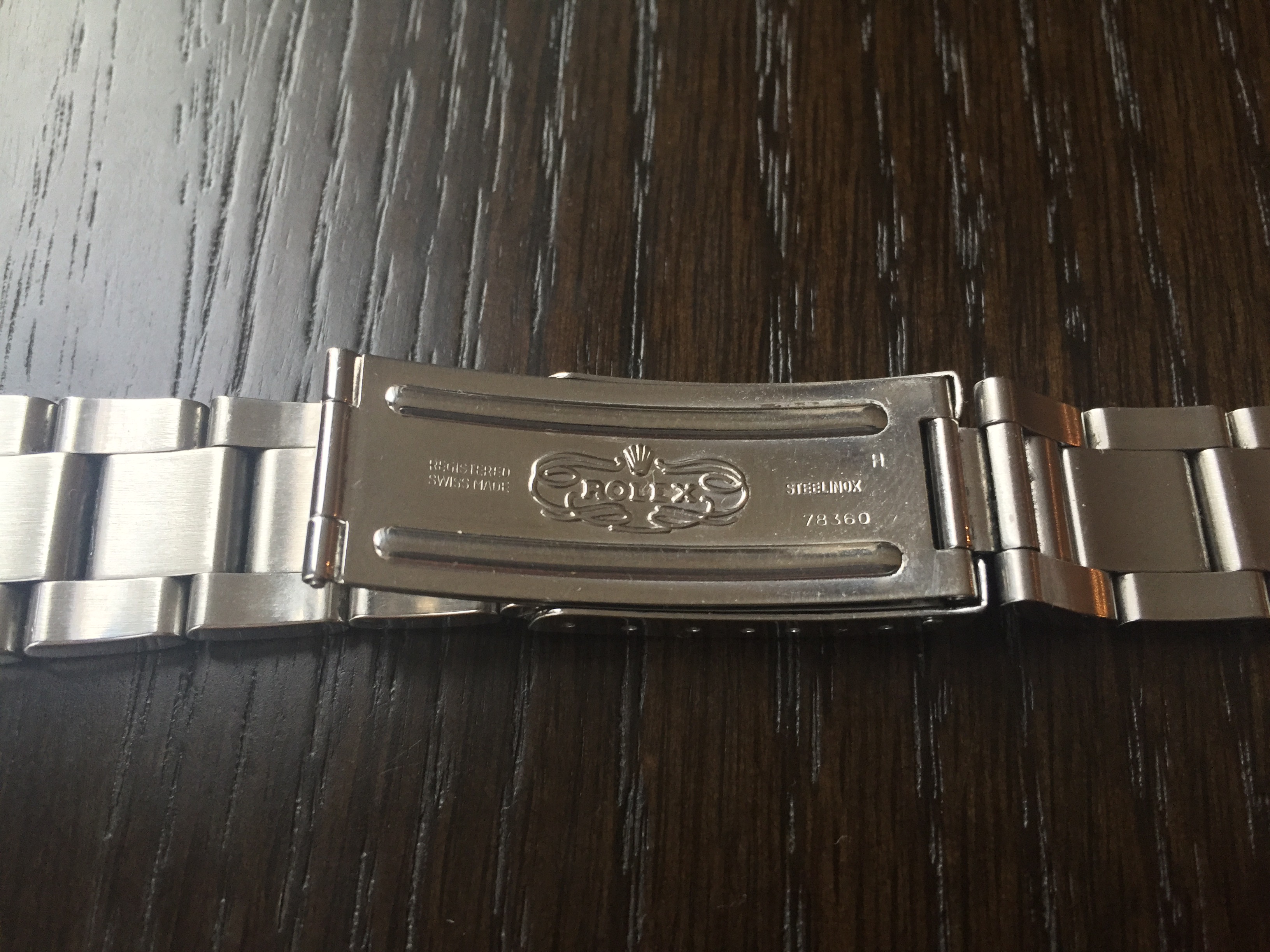 Price is $8100 by bank wire (including insured USA delivery, others by agreement).
Terms and Payments:
Payment is by bank wire to my bank in the United States, again charges for you. I will consider other means of payment on a case-by-case basis as well as subtracting the delivery charge for in-person pick up. Secure delivery within USA is included, insured via Parcel Pro. Watch is currently in Chicago, IL, USA.
An exchange of ID Documents will ensure both of us are happy with who we are. No returns for buyers remorse, only if the watch is not as described and then only within 7 days of purchase from date of delivery.
Thanks for looking and please let me know if I've made any mistakes - it's my first listing here (post 201! - which is more good timing than anything else). Thanks to Jeff and chronotrader for the space.
Andrew