Here's a watch I spent ages searching for, then bought another one as the donor of a bracelet to fit this one, only to fall for the donor in preference... see Time4aPint podcast #25 (https://www.time4apint.com/podcast/the-time-4a-pint-podcast-episode-25)
It's a Heuer Carrera with silver dial, early Cal 11 movement, reference 1153S. One of the first automatic chronograph movements, launched in mid 1969 with the Monaco and the automatic (Chrono-Matic) Autavia & Carrera.

As far as I know, it's original - though it may have been lightly polished in the past, it's in good/honest condition

- First execution dial & bezel (TACHY at 3 o'clock, scale 50-200)
- Second execution hands (original - as per here) - there are some flaws in the lume as you can see in the pics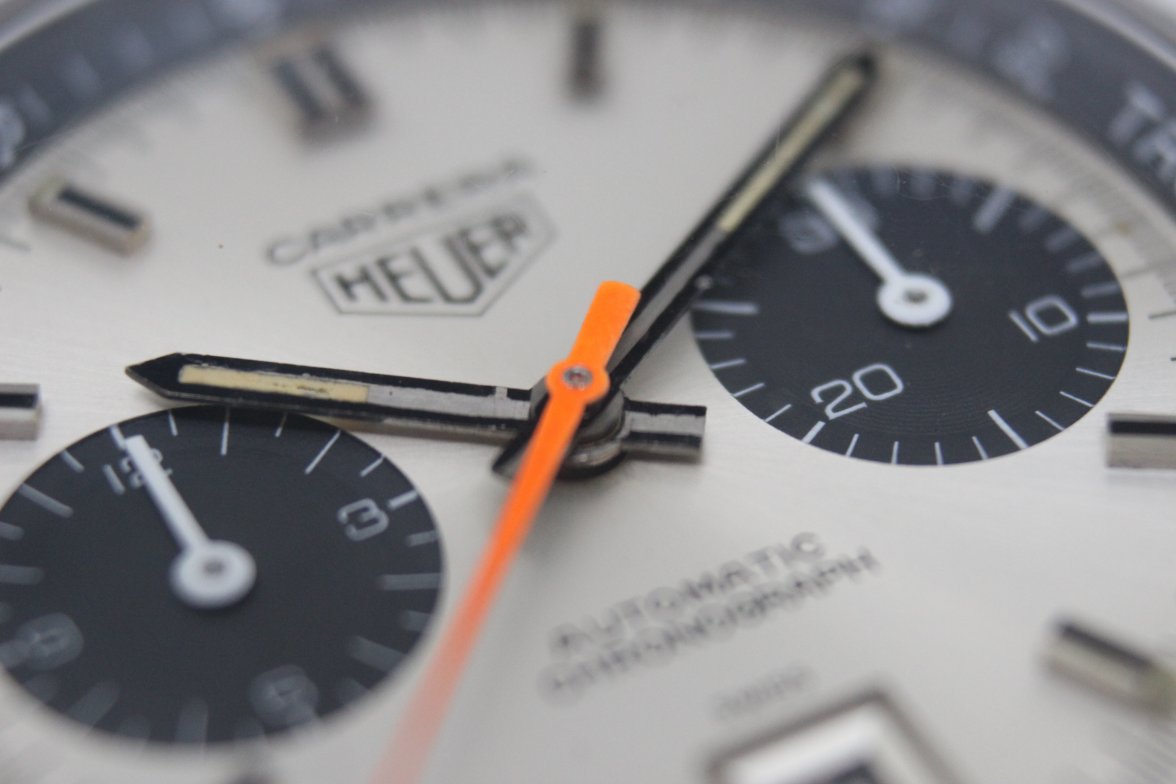 - Serial 1911xx, estimated from 1969-70
- some scuffs on the case visible under macro/loupe
- replica Corfam strap with Heuer buckle (20mm lug width)
- Recently serviced by the master Simon Freese, who rebuilt the pushers rather than replace them entirely. Runs like a charm, looks great on the wrist.
I have some selling experience on here, eBay etc. I'm more of a buyer than a seller, but now and again need to let some birds fly, and in this case, I want to keep my lovely 1153N on Gay Freres rather than harvest its bracelet for the 1153S as originally intended.
I'm open to offers but am keen to sell the watch for what it's worth to me, so the first person who offers my asking price (£3,750 net to me) gets the watch. It's in the UK, and I'm happy to do a face to face deal. I'm in London regularly and and most of the Time4aPint GTGs so if you'd like to inspect the watch, I'll bring it along.