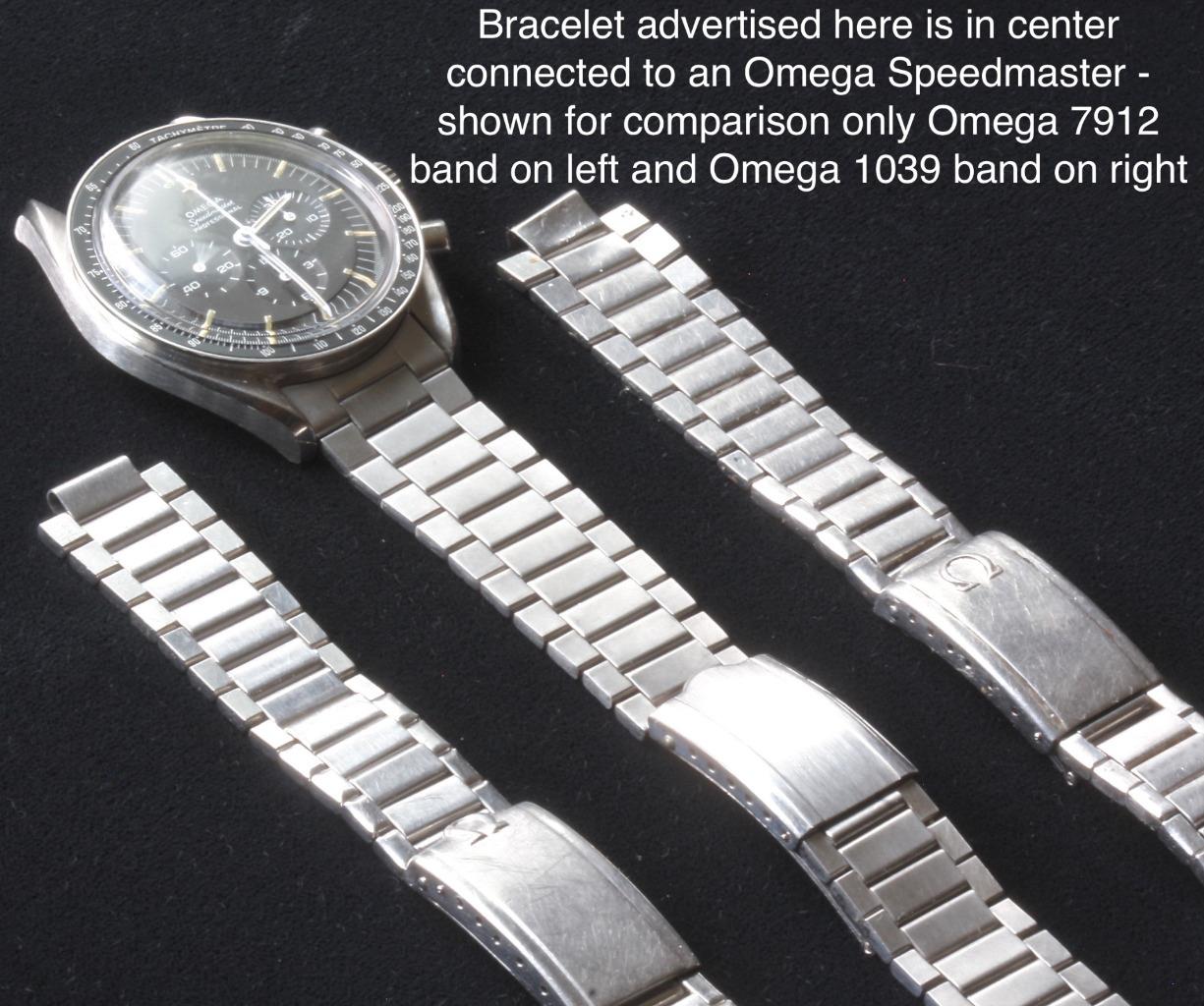 Flat-link 1960s Omega bracelets such as the 7912 (far left) and the 1039 (far right) can cost $1,500 or more without ends. For just $325 here, you can purchase an excellent generic substitute NOS vintage band from the 1960s (shown in center) to use on your 19mm or 20mm lugs Omega Speedmaster or your 1960s Seamaster 300. I've sold 6 of these on EBAY in the past 2 weeks, so the demand is outstripping my small supply. Great way to save your vintage Omega band and use this generic one to wear daily. Or give a new Omega Speedmaster that vintage look with this band and inexpensive end pieces that are widely available.
The end center connection piece is 10mm, so this bracelet will work with many original Omega end pieces you can buy on EBAY, as well as good, inexpensive after-market 10mm center ends. The brick links pattern folded steel bracelet has a satin finish to match most watches. The clasp is 17mm wide and the links gradually flare out to 19mm wide. You can see from the photos that, in some ways, the unsigned band suits my 14755 Omega Seamaster 300 better than its original Omega 7912 band beside it. The taper of the unsigned band is wider than the 7912 and makes a better transition to the watch; the unsigned band's taper is nearly identical to the Omega 1039 band on the right.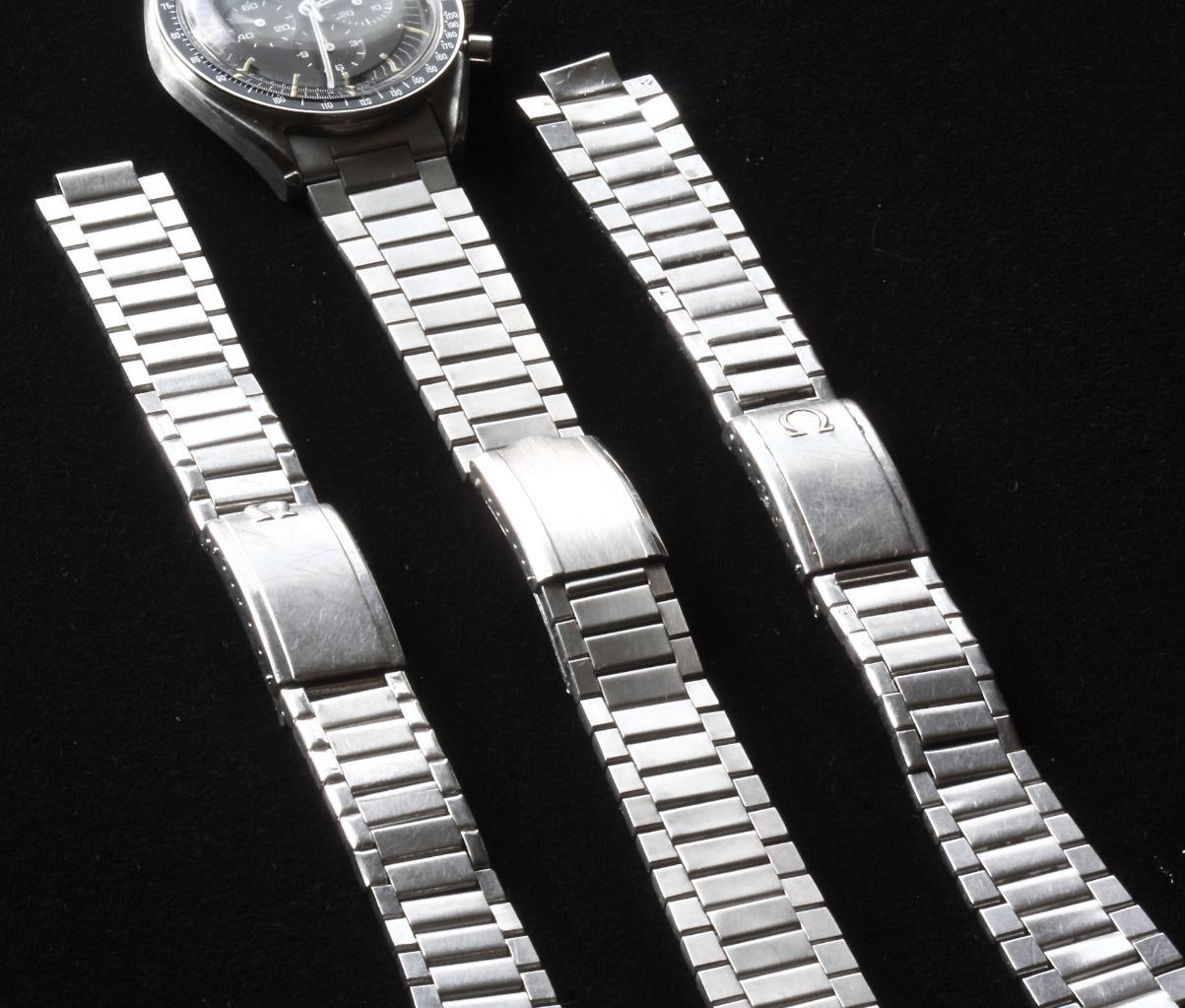 This is a great way to give a later 20mm lugs Omega Speedmaster a vintage look, no matter what the year. Shown here connected to Omega #516 end 20mm on 1968 Omega Speedmaster ref. 145.022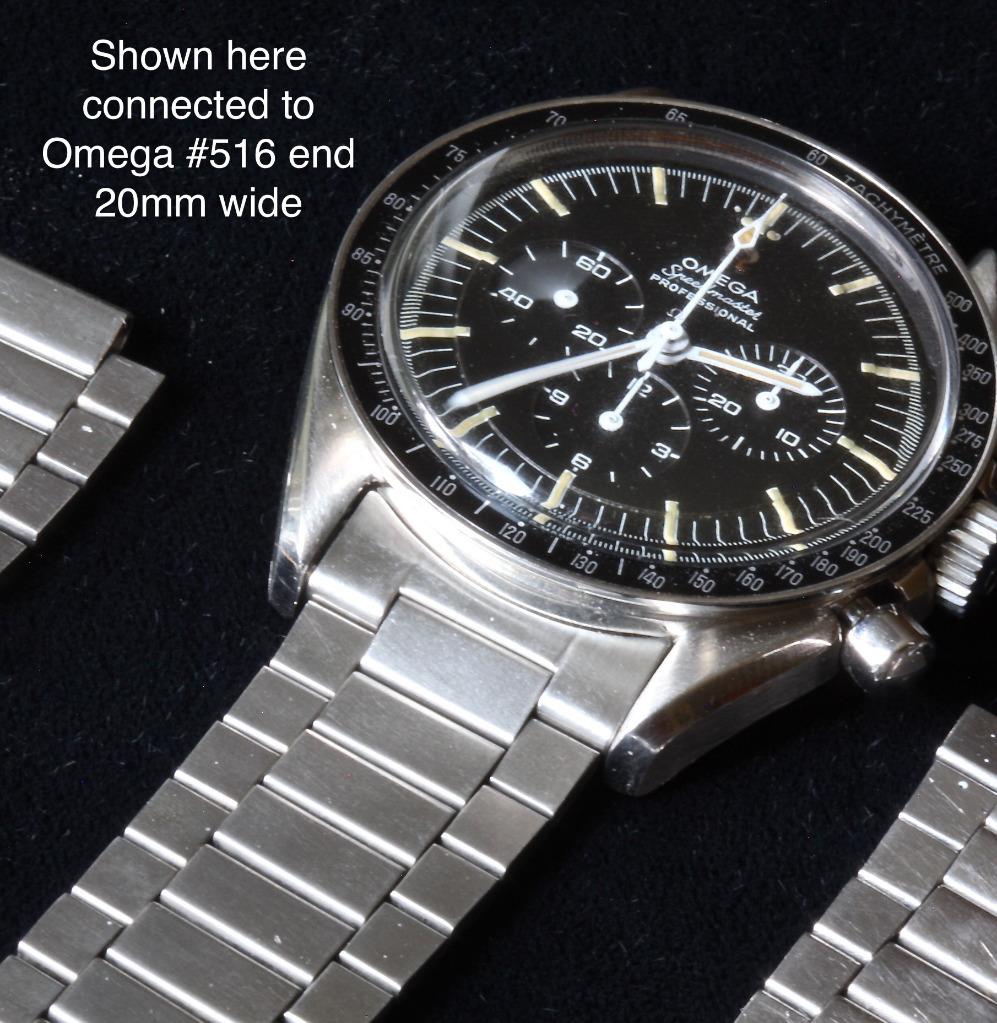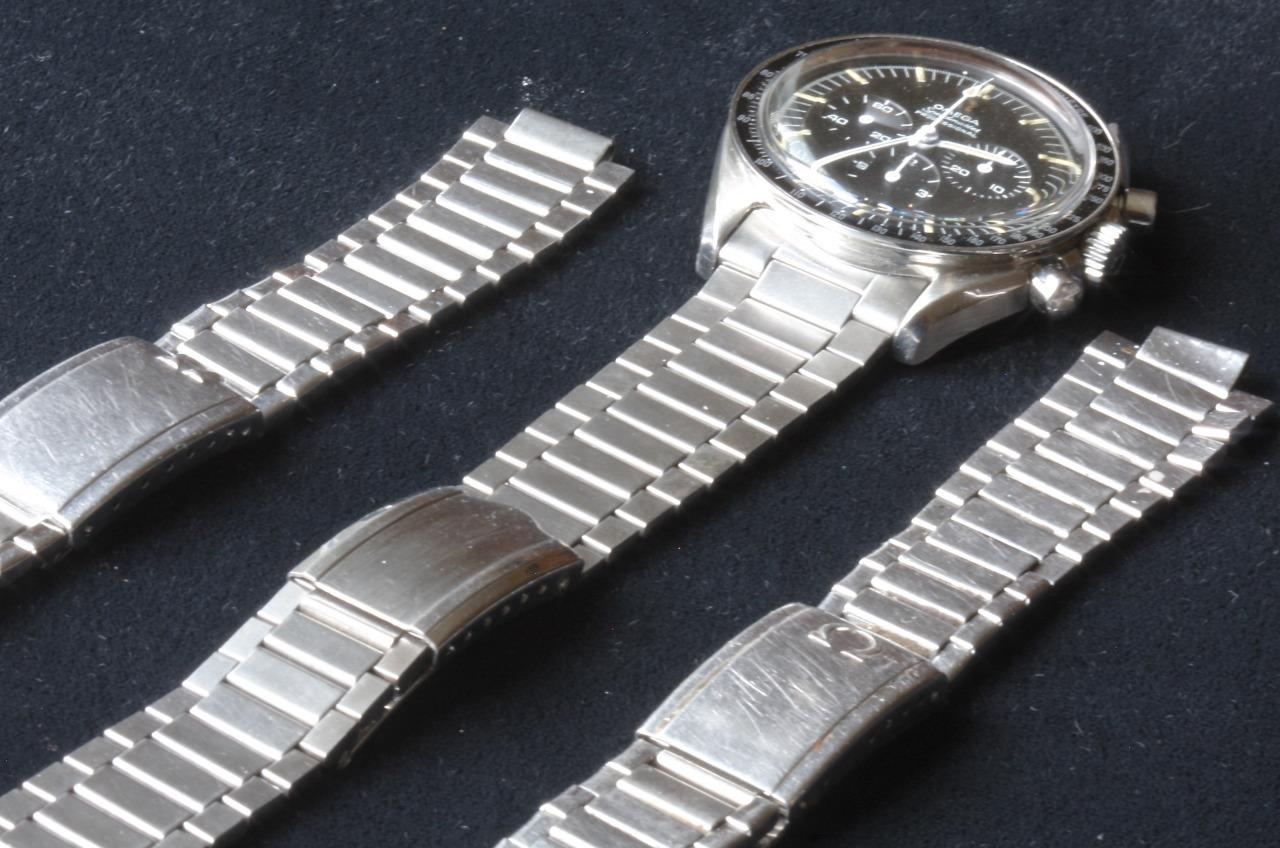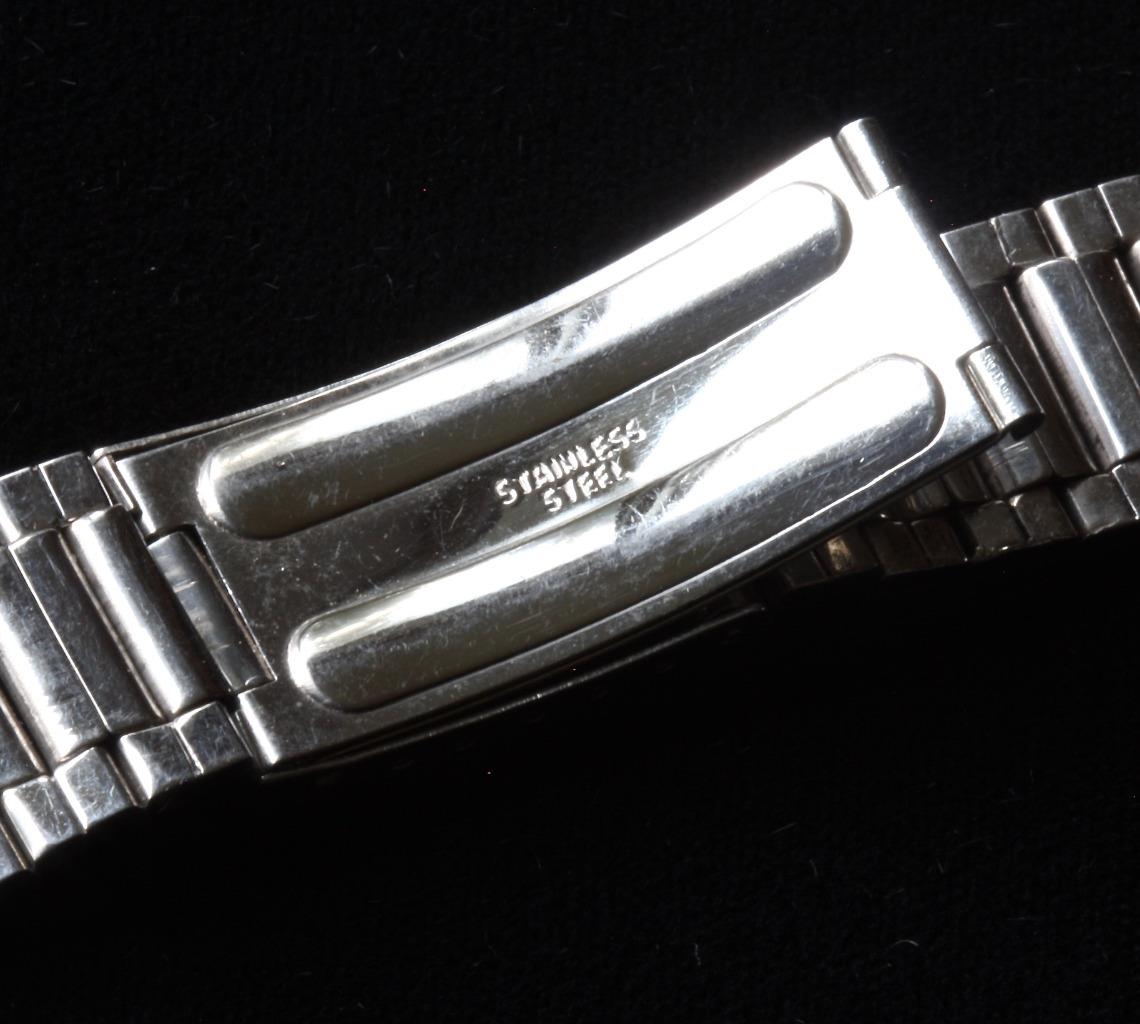 Shown here connected to Omega #6 end 19mm on 1962 Omega Seamaster 300 ref. 14755, with original Omega 7912 beside it.

One customer has married this band with the widely available and inexpensive Omega #633 ends that are 20mm. That requires slight filing of the center end connectors of this band, because the #633 piece openings are closer to 9.5mm. That combination is shown here: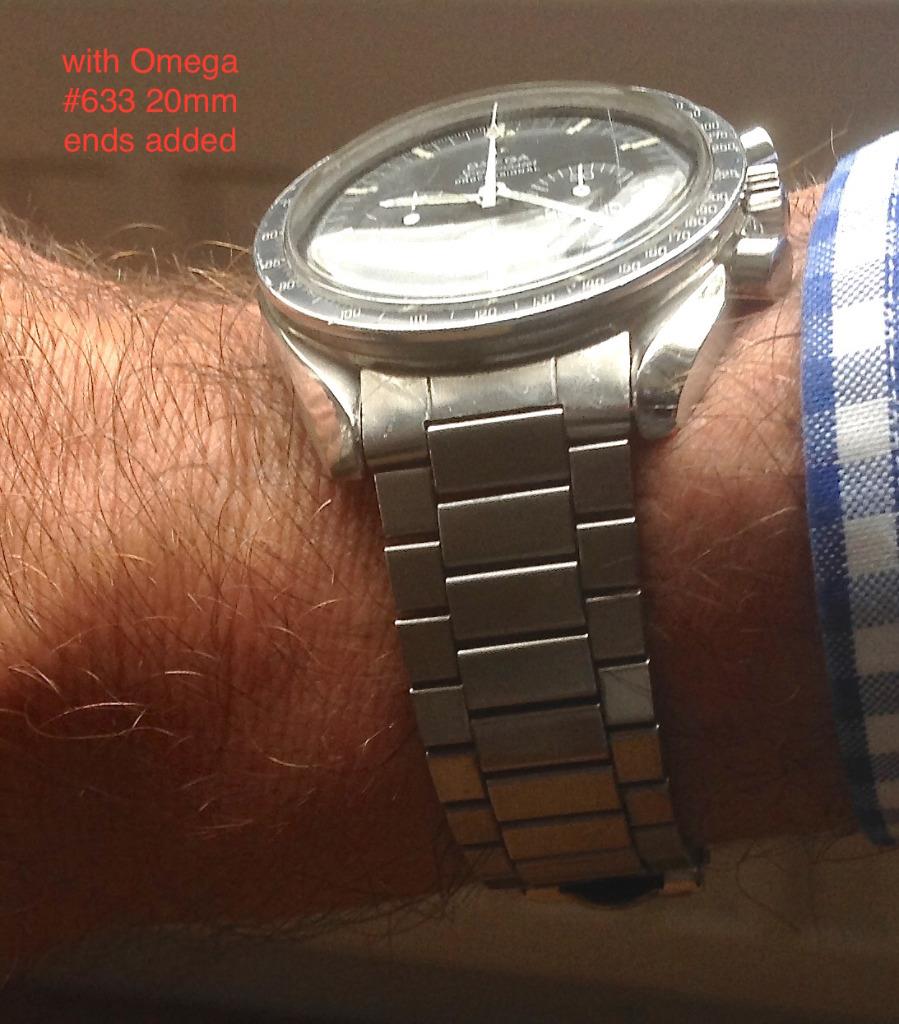 The build quality of this generic band is even a notch up from the Omega bands shown. Band weighs 35g, a bit more than the 31g for the Omega bands. The links are 2.6mm thick. Clasp is only signed Stainless Steel on the back. This bracelet is a good length that will fit many wrist sizes. Fully extended the band measures 6 inches (15.3cm) and it will size down to 5 1/2 inches (14cm) with the incremental adjustments in the clasp. To make it even shorter, you can unfold links from the back and remove them. I can make a custom long-length band for you using original extra links. I do not sell the end pieces for these bands, but I can guide you to some resources for them.
PRICE $325
U.S. buyers pay $6.99 shipping & tracking. International buyers email me for shipping cost options.
PAYPAL or QUESTIONS to billmahoney@aol.com
Thanks for looking, Bill Mahoney (Squinky)
Squinky.com