I was lucky enough to purchase this a few years back in 2015, prior to the exceptional growth and popularity experienced in this pieces over the past few years. Due to this popularity however, this piece does not get much wrist time these days. And with life changes including a wedding and future house purchase on the horizon, I thought I would look at selling this piece to someone who will get more wear out of it and appreciate it.
I'm located in Sydney Australia, and probably not that keen to be shipping overseas….. (as I'm not a regular seller so not confident in posting an item of this value) and hence would be keen to do a face to face deal if possible. I will also be in Europe (Sweden) and US (New York and Vegas) in July, so happy to discuss possible options.
In regards to price, I would be looking for around AUS $35k, which is the current equivalent of around Pound $20k, US $27k, or Euro $22k.
Heuer Autavia 2446 "Jochen Rindt," 3rd Execution
Caliber: Valjoux 72
Material: Stainless steel
Dimensions: 38.5mm diameter; 15mm thickness
Crystal: Acrylic
Serial No: 857XX clearly identified between lugs
Movement: Fully serviced in 2016. The seconds hand won't reset exactly to zero however, it's slightly off as per the photo
Dial: Dial and hands appear to be in original honest condition, with original tritium on hands and dial appearing untouched.
Bezel: Original Minutes bezel, with scruff marks / scratches as per the pictures.
Case: Appears unpolished with sharp lugs. Minor scruff marks / scratches may be evident.
Caseback: Original markers appear in tact, with slight scruff marks and a few minor scratches as seen in pictures.
Crown: Unclear whether this is original for this watch, as it seems to be a larger variant. Heuer signed however.
Pushers: Pushers have been replaced with original Heuer items, as originally this piece had been fitted with Rolex style pump pushers (unclear who did this and when). Replaced with original pushers when serviced in 2016.
Lugs: Sharp and crisp, appear unpolished.
Bracelet/Strap: Brown Suede leather strap (used, could do with replacing)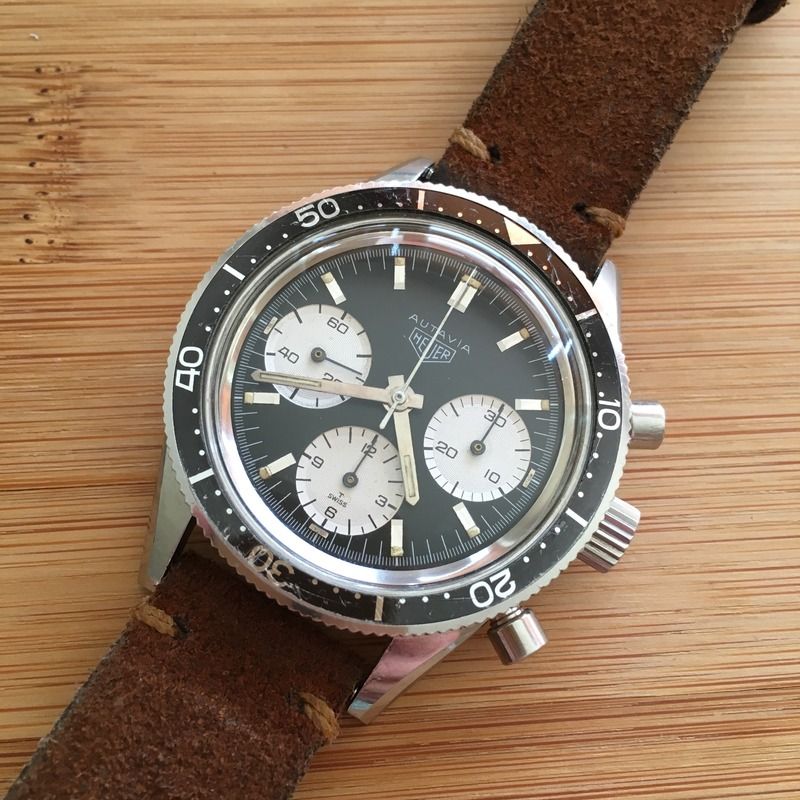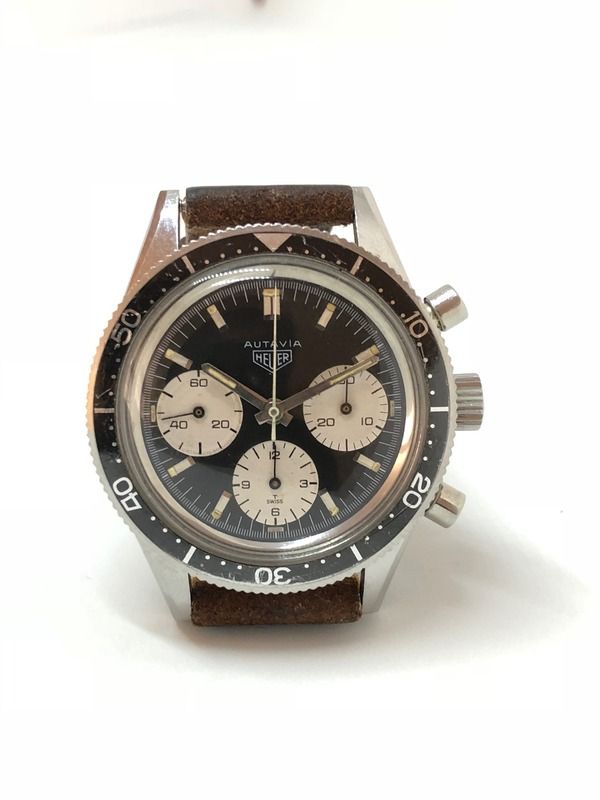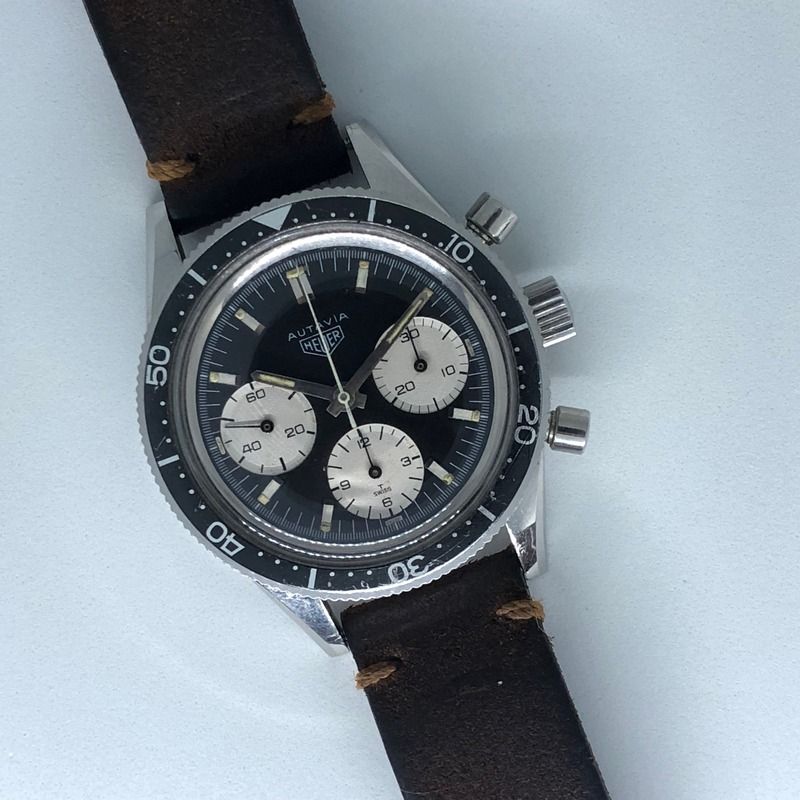 I don't have any current photos the movement itself (as I don't have the tools to open the caseback) but here are a few photos of when I originally purchased the piece. I am visiting my watchmaker in the next few weeks for another piece, so will get him to open this one so I can take a few photos.