The following watch was recently posted on a UK watch forum. At first glance it's a 1st execution Autavia 2446. Right?

Picture courtesy of Daniel Berger
Wrong.
It's actually a "new" discovery. Let me explain. The new part of the discovery is finding a 1st execution dial & dauphine hands in this particular case. The case in question is the not so "new" bit. This distinctive case, of which we have seen fewer than 20 samples, has actually been know about for some time but never really brought to the attention of the wider community. I call it the Transitional Autavia Screw Back Case.
The main distinguishing feature of this case is the lugs. They are missing the bevelled edge that is a feature of both 1st and 2nd Autavia screw back cases. In addition to that the case features the wider bezel from the 1st execution case. In all examples I have seen the bezel is the type 2 version with no lume triangle at the 12.
Here is a family portrait which identifies where this case (3rd from left) fits into the series: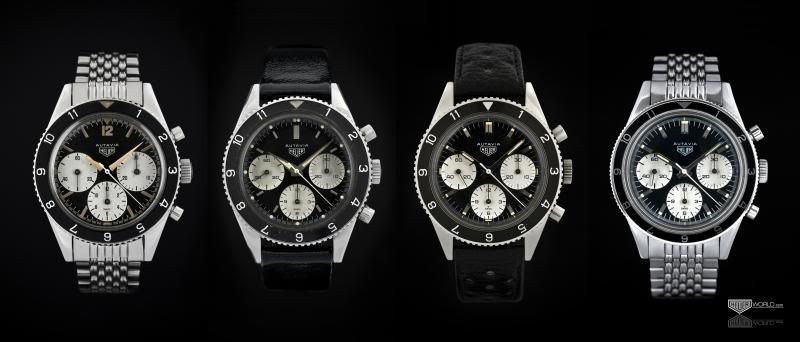 Picture by www.heuerworld.com
I learnt about this case roughly 2 years ago shortly after seeing one example come up for sale on ebay. At first I dismissed it as a fake case with correct dial, hands, bezel and movement. Soon after I realised the error of my ways when I was loaned the example in the image above by Abel Court. Abel's knowledge of vintage Heuer goes beyond the obvious and when you have dismantled, serviced and restored as many vintage Heuer watches as he has it's no surprise that he was the one (as far as I know) to discover and authenticate this unusual and rarely seen Autavia screw back case.
Of all the examples I have seen most featured the 3rd execution 2446 dial and straight steel hands. But there have been others like the one above with the 1st execution dial as well as a 3rd execution 3646 with Valjoux 92. Here is yet another unusual example of this transitional case with a 3646 tachy dial:
Below is a visual comparison between a 1st execution 3646 and the transitional screw back case with 3rd execution dial (ignore the replacement red central second hand). These cases seem to be identical in every dimension and detail except for the absence of the bevel on the transitional case:

Picture by www.heuerworld.com & Abel Court
The obvious questions arise as the where and how this case fits into the history of the Autavia range generally and the early screw back cases specifically. The best US Heuer expert (ex Heuer watchmaker) has no recollection of this case, which could be interpreted as this was a small run or design indecision when updating this model. It is clear from the images above that the lugs are thick and the lack of a bevelled edge was not due to an over polish in later life. I would go as far as to say that it left the factory this way. And I will go even further to declare that this is a transitional Autavia screw back case that came after the 1st case/2nd dial and before the 2nd case/3rd dial (the Rindt Autavia). It may be obvious from the family portrait but the proof lies in the serial numbers.
It is well know that there is no official record of Heuer serial numbers however, the watches produced certainly in the 1960's and 1970's with very few exceptions, all had serial numbers engraved on the case. Over time individual collectors including myself have built up a data base of serial numbers which paint a clear picture of when certain references and models started and finished. I have managed to compile a good sample of Autavia screw back case serial numbers and they paint a very interesting picture. Let me just say that this is not a complete record and there are and will always be some exceptions. The range of serial numbers I have are as follows:
Case 1 & dial 1
48360 - 49498
52240 - 53047
Case 1 & dial 2
53093 - 53409
59330 - 59793
Transitional case
82848 - 83122
Case 2 & dial 3
85128 - 86088
88220 - 90009
95284 - 97062
Case 2 & GMT dial
100012 - 100085
The vintage Heuer knowledge base is extensive but from time to time new discoveries come to light that change the picture ever so slightly as in this instance. The significance of this case alters the well know timeline of the screw back Autavia range. In my view it should be considered a transitional case simply because there is a small sample know and within that sample more than one dial has been found. Which brings the story right back to the beginning and the discovery of a 1st execution dial in this much later case. It was not possible to get the serial number of this example because it does not have one (or could not be found by the owner) however I can report that the movement was an early Ed Heuer signed Valjoux 72. The dauphine hands are 2nd execution Autavia so it is a real mixed bag. Sadly, the oral history of this piece is sketchy so we may never know if it was an early Autavia re-cased into this transitional model or whether Heuer (or some private watchmaker) was using up some old dials and movements during the run of transitional case. Nevertheless the sum of the parts makes for a very interesting piece that was the inspiration for this story and I look to seeing more of these that are out there shared with the community.
Here are some more images of this transitional case for you to enjoy.
Happy Easter
Regards
Paul
www.heuerworld.com

Picture courtesy of Abel Court

Picture from Meetz World of Time

Picture courtesy of Daniel Berger

Picture by www.heuerworld.com and courtesy Abel Court