I believe that this is the first Boxing chronograph that we have seen offered in a public auction.
Here's the Phillips listing (lot 40) -- https://www.phillips.com/detail/HEUER/CH080117/40
Jeff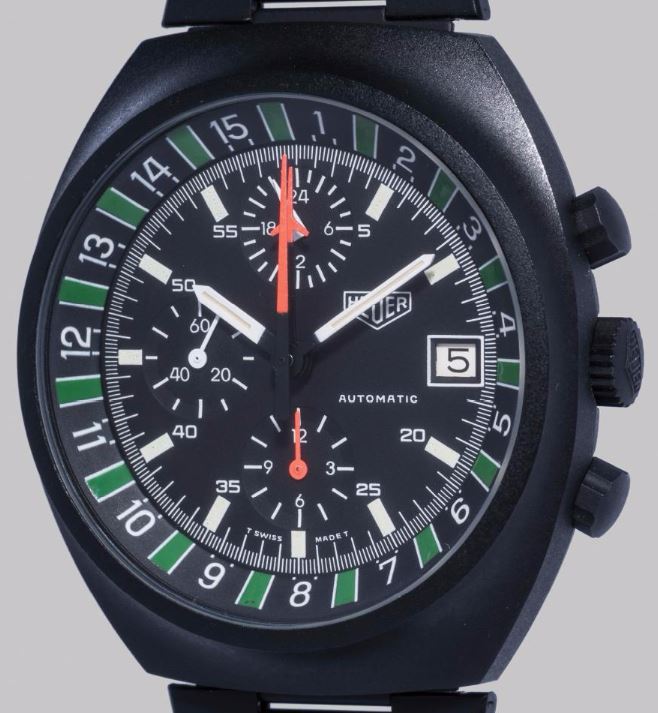 +++++++++++++++++++++++++++++++
: It's time for the Spring watch auctions in Geneva, and we will
: see 28 vintage Heuers being offered by Phillips, Sotheby's and
: Christie's over the coming weekend, May 13 through 15. With so
: many vintage Heuers being offered, we won't even try to list
: them, but here is information and links for the auctions.
: If time permits, I may add some messages and images covering some
: of the more interesting watches, or our readers can also feel
: free to raise any specific watch for discussion.
: So here's the information about the upcoming Geneva Auctions, in
: chronological order.
: It will be interesting to watch these auctions, half-way between
: the tremendous success of the Winter 2016 auctions and the
: upcoming Phillips sale of 49 vintage Heuers, in November 2017.
: +++++++++++++++++++++++++++++++++++++
: Phillips, The Geneva Watch Auction: FIVE, May 13 and 14,
: 2017
: Homepage for the auction is here --
: https://www.phillips.com/auctions/auction/CH080117
: 10 Heuers, as follows – Lots 39 to 43; Lots 119 to 124.
: See the Heuers here --
: https://www.phillips.com/auctions/auction/CH080117/filter/Artist=Heuer
: +++++++++++++++++++++++++++++++++++++
: Sotheby's, Important Watches, May 14, 2017
: Homepage for the auction is here --
: http://www.sothebys.com/en/auctions/2017/important-watches-ge1701.html
: Online catalog is here --
: http://www.sothebys.com/pdf/2017/GE1701/index.html
: One Heuer – Lot 93
: +++++++++++++++++++++++++++++++++++++++
: Christie's, Rare Watches and a Rolex Afternoon, May 15,
: 2017
: Homepage for the auction is here --
: http://www.christies.com/salelanding/index.aspx?lid=1&intsaleid=26805&saletitle
: =
: E-catalog --
: http://www.christies.com/zmags/?ZmagsPublishID=68a67a67&SaleTitle=&SaleId=26805&GUID=0
: 17 Heuers, as follows – Lots 26 through 27; Lots 29 through 42
: See the Heuers here --
: http://www.christies.com/salelanding/index.aspx?lid=1&intsaleid=26805&saletitle=&entry=Heuer
: +++++++++++++++++++++++++++++++++++++++