I just find it difficult to believe that he is actually recommending selling Heuers, at today's prices.
Seems to me that we have seen the "correction", perhaps "found the bottom", and things seem stable to slightly positive at the moment. Is this really the time to be selling?
Maybe it's my optimism / rose-colored glasses / self-delusion, but I just took it as an off-hand comment that might have been good advice a year ago, but may not be as well thought-out as of December 31, 2018.
Let's put a pin in the calendar for December 31, 2019, and see how it looks then. In the meanwhile, I'll hold on to all my $500K Pateks!!
Jeff
+++++++++++++++++++++++++++++++++++++++++
: Unfortunately, Christie's and JR are market makers...at least to a
: certain extent...so they may be right. They may be right because
: of real market forces or they may really be, at least partially,
: influencing the market.
: I guess I care about this. It is nice to think my little Heuer
: collection is worth a lot of money. That said, I like my little
: Heuer collection and I know it is only worth what I can actually
: sell it for on any given day. We all know that Rolex and Patek
: have been the kings of value retention for a long time and will
: probably continue to be. That said, I remember bidding on a Paul
: Newman Daytona ref 6262 at an estate auction in little old Fort
: Wayne, Indiana, USA back in the mid '90s. The watch was in
: beautiful shape with a nice original and fairly tight bracelet
: and a panda dial. My upper limit was $6,500 and I lost to a
: friend and famous local dealer who got the watch for $7,000. He
: had a customer for the watch and it was sold the next day for
: just under $10,000. I felt bad about not at least jacking up the
: price and felt increasingly bad over the years as the price of
: this watch went up over $25,000 then $50,000 then on up. Some
: time after the economy blew up in 2007 this watch came on the
: market again locally. The guy who bought it told his family,
: before he died, that the watch was worth $100,000. The family
: ended up getting something like $35,000. Even the market for
: Rolex can tank.
: Now to something more personal.
:
: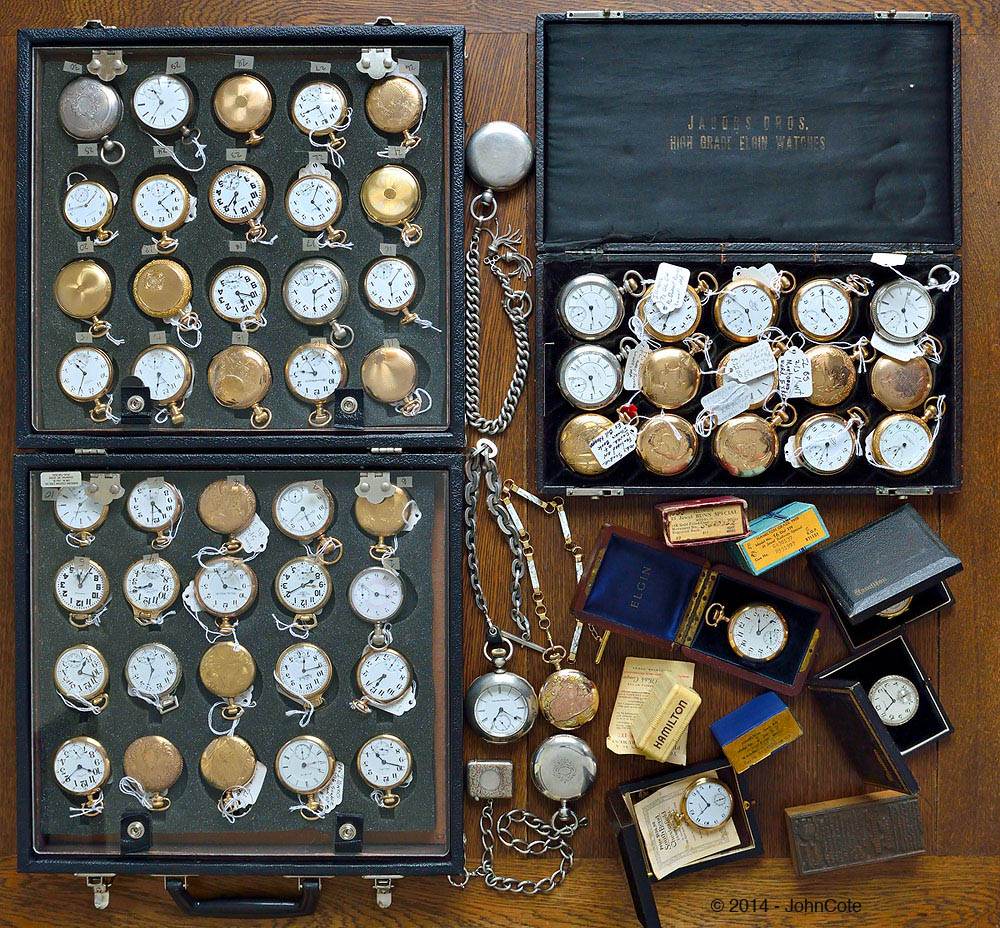 : I used to have well over 1,000 pocket watches in my collection.
: Over the last years I have pared it down. The watches in the
: picture are some fraction of my collection but it is now just a
: fraction of what it used to be. I have pared it down to watches
: which make sense in my collection...to watches I like. However,
: I am glad I like what is left because even though what is left
: is great condition and or scarce/collectable pieces, They are
: worth maybe half (maybe less) of what they were worth at the
: peak of the market in 2006. I know this quantitatively because I
: keep an excel spreadsheet with serial numbers, descriptions and
: values determined from actual sales information. I keep the
: values over the years so I know that my collection is probably
: worth about half. A guy I know bought about 100+ great pocket
: watches at an auction in 2003. He paid just under $500,000. They
: just sold at auction over the holidays for just under $250,000.
: Does all of this make me feel bad? I guess it does. I would
: certainly feel better if I thought my collection was worth
: double what it actually is. I think about value a lot when I buy
: watches. I don't buy at auctions. I don't pay retail. But that
: said, for watch I am going to keep, I don't buy chiefly as an
: investment. I buy what I like.
: I like my Heuers and I like what remains of my pocket watches.
: Having them makes me much more happy than how much they are
: worth.
: I will bet Christie's continues not to get the better Heuers for
: their sales.
: JohnCote