Hi Guys,
Someone wrote to me asking what they should look for in an original 7077.
I took some pics of mine. Here they are & here are a couple of notes... Some of these pics expand if you click on them.
Firstly the Buckle is VERY short, the Omega Symbol hangs over the end of the buckle. You can also see that the underside of the buckle is longer than the visible part of the buckle. To put it in perspective, the underside is the same length as a normal buckle underside
The next picture shows the underside. as you can ( or rather CANNOT ) see the bracelet number is NOT stamped on the underside ( it is not stamped anywhere ), however the date is on the right side. So my bracelet is from Quarter 2 1959.
So now onto the bracelet itself. Here it is in "normal" condition ie unstretched

At this stage it looks pretty much like a 1039 ( or 1035, 1506 etc etc ).
It's only when we stretch the bracelet that we see what really makes this bracelet different.
See what I mean about "double links" now ? I am not aware of any other Omega bracelet that have these. NOTE also that the outside links are double, not just the innner parts.
Finally, I wrote a small webpage on Removing/adding links to a 1039 ( or smiliar bracelet. These links are completely different. I cannot see a way of "opening" them without physically bending the metal.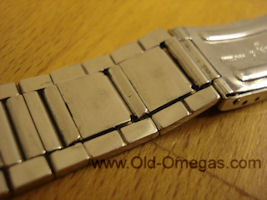 Maybe that was what the watchmakers did in 1959 ?
Has anyone noticed how many CK's are sold without their original bracelets ?