Rich:
It's fun to read your reference to the "outliers", and to review the six highest price sales of Fall 2016, to consider which have been "validated" since then and which remain as "outliers". I'll give it a go, and we can see whether others might see it differently. Of course, this is all just an estimate / guess, without actually seeing and comparing some of the watches, in the metal.
Autavia, Ref 2446 (Big Subs), for $125,000 -- of course, we saw the "all lume" version sell for cloase to $200,000; I would think that a really nice 2446 "Big Subs", with these second execution hands could sell for $125,000 in todays market, so I'll call it

"validated"

.
Autavia, Ref 2446 (Rindt), for $43,750 . . . I believe that we are seeing this kind of price for the very best Rindts, so I will say that it is "

validated

";
Carrera, Ref 2447 SN, for $40,480 . . . earlier today, Christie's sold one for almost $35,000, so I will call that "

validated

"
Orvis Solunagraph, for $50,600 . . . made no sense then, and it makes no sense now . . . definitely an "

outlier

";
Autavia, Ref 1163 (Orange Boy), for $50,000 . . . this one is difficult to classify . . . even if this one was in the best condition we have ever seen, I wonder whether this $50,000 is attainable today . . .

maybe / maybe not

. . . so let me pass on classifying this one.
Autavia Ref 113.603 (IDF-issued), for $63,614 . . . we saw two of these sell above $60,000 . . . still, I'll go out on the limb, and say that we saw two "

outliers

" / irrational prices.
How do you see it?
Jeff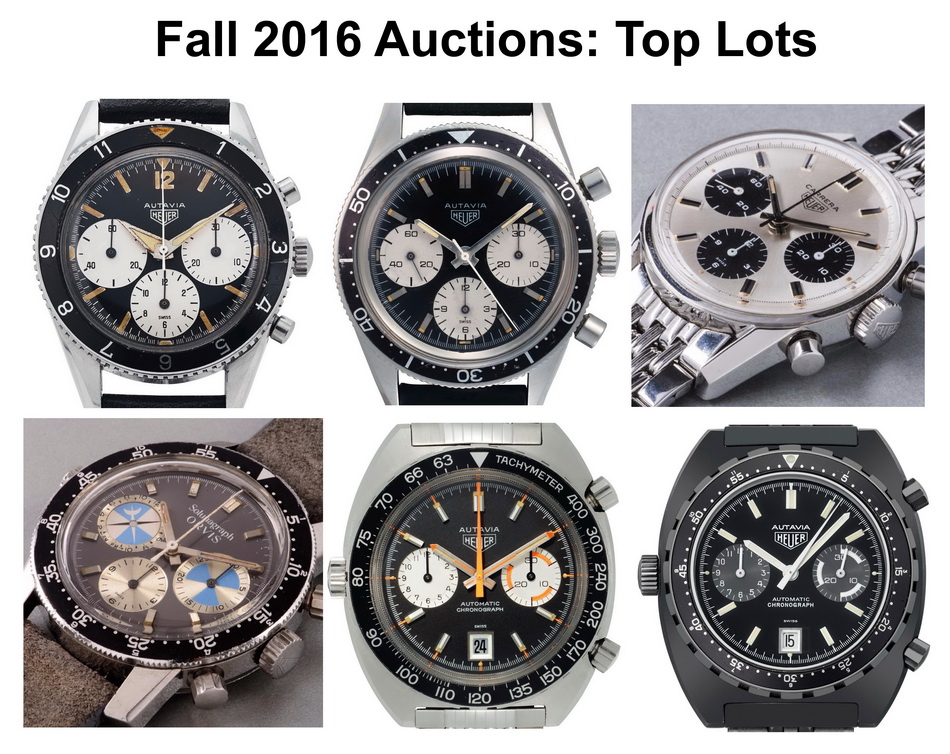 ++++++++++++++++++++++++++++++++++++++++
: Just a few thoughts..,I think a mint complete, correct Indy 3646 is
: a very valuable watch but I think a one with a badly damaged
: dial is not, and when it reappears as a complete watch it is
: worth a small % the value of a mint original one, unless you for
: some reason want to overpay for a service dept dustbin patina,
: each to their own of course! If the recent sales teach us
: anything (on all brands inc Rolex and Patek) it is that true top
: level grails which are generally unobtainable (because
: collectors generally are keeping them) in great condition will
: achieve very strong prices but watches that are not so hard to
: come by or are in average conditions or with marked or dirty
: dials, or have incomplete /wrong parts (possibly relumed) will
: rightly not have impressive values. For example there should be
: a massive difference between the best 1st exec 2446 Autavia and
: one that has been relumed, in my opinion it shouldn't be in the
: same ballpark. I suspect lots of ordinary watches are being
: pumped into auctions to take effect of the recent price
: increases and the hope that a crazy outlier value (think IDF
: Autavia or Orvis Solunar or ordinary Rindts over £25k) will
: apply to their watch...so these sales are showing a higher
: percentage of ordinary watches, certainly more than in the prior
: few years. Quality, originality, correctness and provenance will
: become ever more important especially at the top end.
: :
: :
: :