When you say your father was its original owner, did you mean he simply owned it before you or did you mean that he was its first and only owner before you i.e. that he bought it from new?
Whilst I don't disagree with any of the other comments from those far more knowledgeable than I am, they don't seem to have addressed the issue of the watch potentially being purchased by your father from new. If this was the case, then it would mean that it was your father that arranged for the dial to be transplanted into a Carrera case and, based on your post, I sense that this is something that would be surprising to you.
: Many years ago, I inherited a Heuer watch from my father who was
: its original owner. After conducting some preliminary research,
: I ascertained that the watch was a vintage 3rd Execution
: Reference 2446 Autavia with the Valjoux 72 "Heuer-Leonidas"
: signed movement, tachymeter scale on the dial, and a missing
: rotating bezel. However, more recently I've discovered that
: the all-original Autavia tachymeter dial and Valjoux 72/Hauer
: Leonidas movement are actually encased in a '60's Era, 36mm
: reference 2447 Heuer Carrera case (serial number 69926 stamped
: between the case lugs), which explains the absence of the
: characteristic rotating bezel on a typical Autavia.
: It is my understanding that when this watch was manufactured circa
: 1965, the 3rd Execution Ref. 2446 Autavia with the tachymeter
: dial was available by special-order only and was not listed in
: any of the period's Heuer sales catalogs. Consequently, I
: postulated that Heuer must have produced this watch as a
: special-order purchase with a custom configuration that
: substituted the Autavia's larger case and rotating bezel for
: the somewhat sleeker design profile of the iconic early Carreras
: while still maintaining the exclusive layout and functionality
: of the 3rd Execution Ref. 2446 tachometer-dial Autavia.
: Unhappily, this account of the of the watch was rather muddled when
: I was recently informed by a vintage Heuer watch enthusiast that
: -- while there were numerous variations of the '60's Era
: Autavias involving different cases, dials, hands, bezels,
: pushers, crowns, movements and markings -- he had never seen or
: heard of this particular grouping of components and therefore
: deduced that, in all probability, this watch was not a Heuer
: factory-produced variant. Instead, he believes it is more likely
: that the original factory Ref. 2446 Autavia tachymeter dial and
: corresponding internal movement were expertly transplanted at
: some early date into a 2447 Carrera case as an aftermarket
: conversion.
: The watch has been recently inspected by a Heuer-knowledgeable
: watchmaker who observed that the all-original Valjoux 72/Heuer
: Leonidas movement is in near-mint condition, running strong, and
: appears to be factory-perfect fitted into its case. He also
: noted that the dial, dial markers, and lume plots were original,
: unaltered, and in very good condition. Moreover, he stated that
: the dial hands, sub-registers, pushers, and stem were all
: genuine and functioning flawlessly.
: Does anyone on the forum have any additional knowledge or insight
: regarding the possible nature/origin of this Autavia-Carrera
: hybrid? Could it have been a limited production special-order
: item, or perhaps even a one-of-a-kind prototype produced by
: Heuer? Otherwise, I suppose that for some mystifying reason, my
: father had a private horologist skillfully transplant the
: Autavia dial and movement into a Carrera case, but I think that
: is unlikely.
: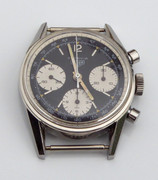 :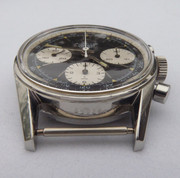 :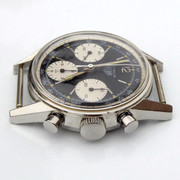 :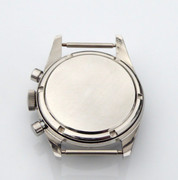 :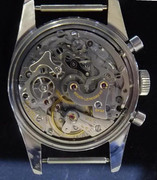 :