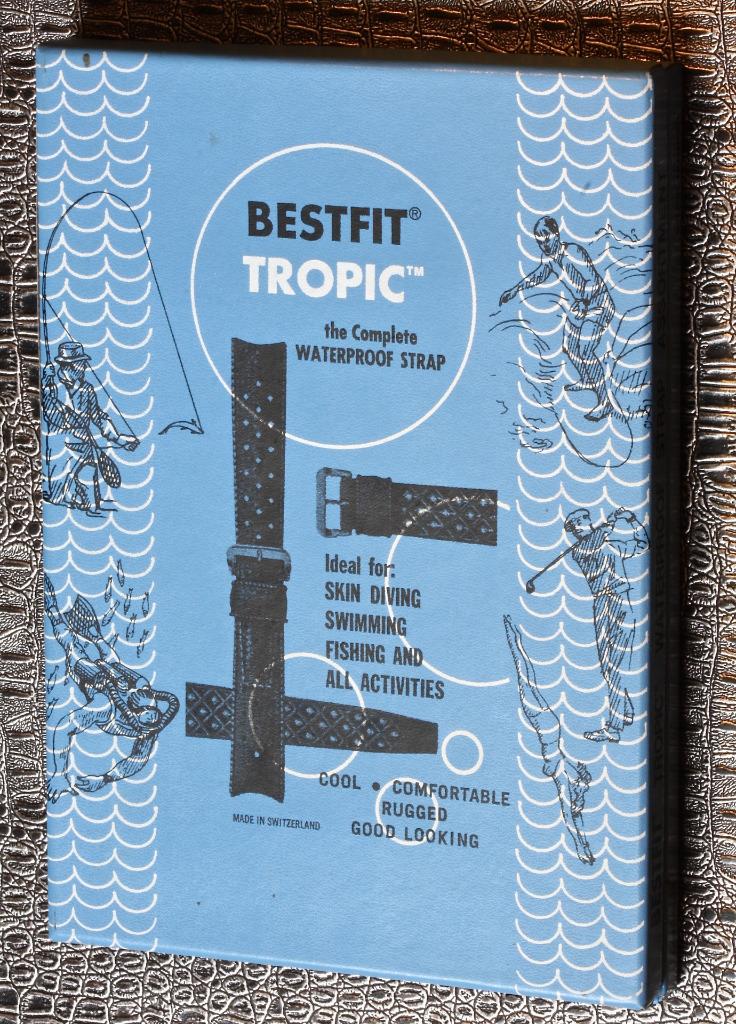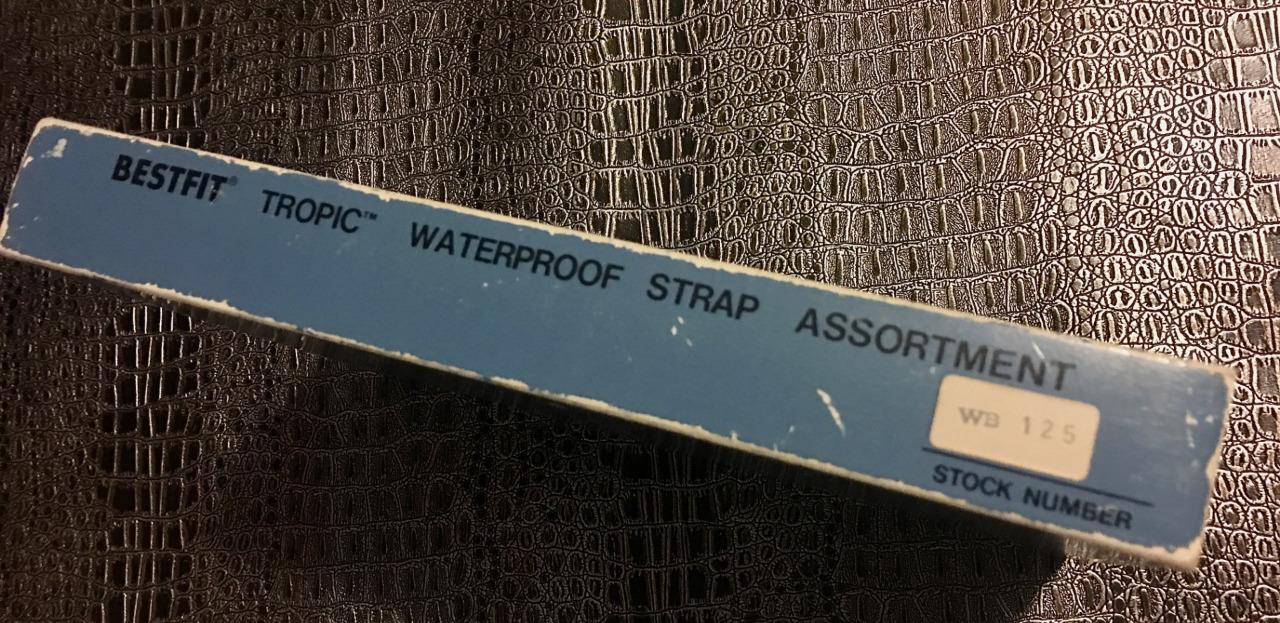 This last Swiss Tropics complete box assortment I have to offer here. Nice opportunity for a serious watch collector or a dealer with a vintage watch store. I might trade for dive or chronograph watch offers if you want to thin out some duplicates in your collection or watches that are not getting wrist time. This is an original 1960s/70s Tropic dealer's assortment of 12 of the best styles and colors of Tropic Swiss rubber waterproof straps, all New Old Stock (NOS).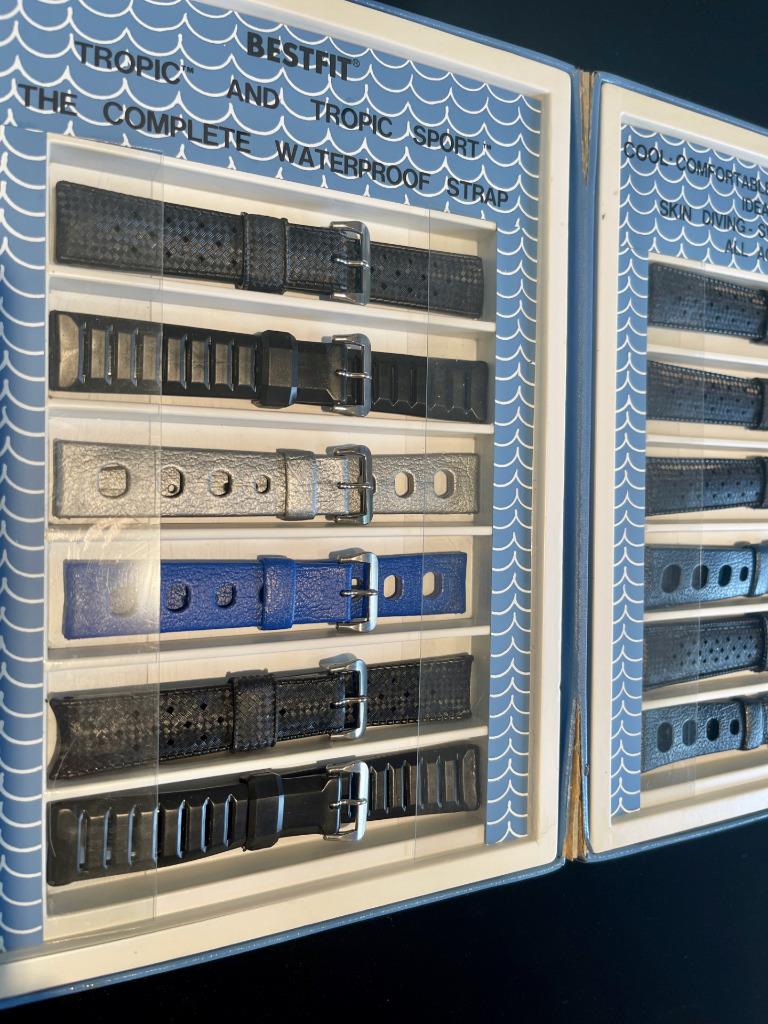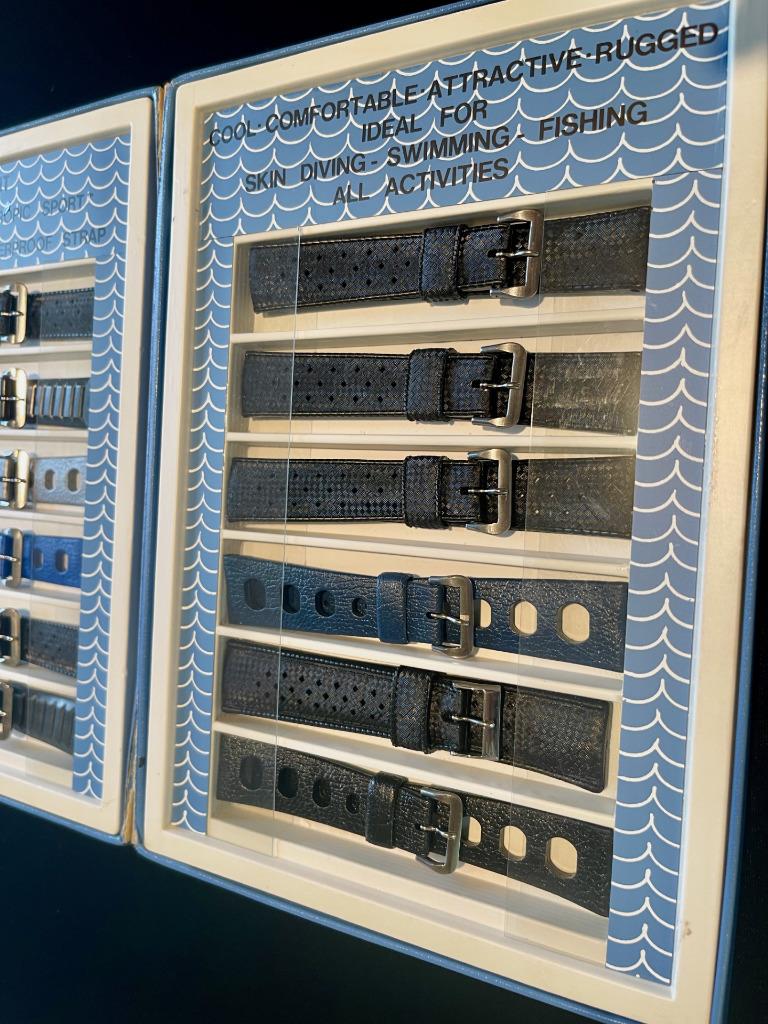 This assortment includes 3 of the 20mm black perforated Tropics most sought after for vintage Rolex Submariner Explorer GMT-Master 1016 5513 1675 watches as the original dive band. Those three are worth $1,200 alone. Also included are quite rare colors and styles in 22mm, some of the most difficult Tropics to source.
These 12 bands are all New Old Stock (NOS) in mint condition, still supple and strong. We have sold more Tropic Swiss bands than any other vintage watch seller for the past 15 years, so we know this stock well. This once-in-a-lifetime package deal for 12 Tropic bands is the kind of offering you've come to expect from Squinky. This assortment is in the original plastic counter-top display box in great shape, a nice talking piece for a vintage wristwatch shop. Also included is the box outer cardboard protective sleeve, which has aging and wear.
We've always been the biggest supplier of Tropic dive bands on EBAY. At our individual list prices, these 12 bands sell for nearly $5,000. Save big by buying 12 bands in bulk. The box includes the straps listed below, listed in order, from top left to bottom right in the box assortment:
1) 18mm black perforated straight ends
2) 18mm black Tropic 2000
3) 18mm silver/grey Tropic Sport
4) 18mm blue Tropic Sport
5) 19mm black perforated curved ends
6) 19mm black Tropic 2000
7) 20mm black perforated straight ends
8) 20mm black perforated straight ends
9) 20mm black perforated straight ends
10) 22mm blue Tropic Sport
11) 22mm black perforated straight ends
12) 22mm black Tropic Sport
Some size and style substitutions from my Tropics stock are possible. All of these bands are pictured in detail at Squinky.com
Price $3,500
I might entertain your watch trade proposals or cash+trade proposals for watches. Email me at billmahoney@aol.com with your ideas.
U.S shipping is $19.99 via Priority. International buyers pay $85 for Express delivery in a week.
Thanks - Bill Mahoney (Squinky)
Squinky.com