FS: Hadley original BoR band for Autavia 1163V w/ ends $650
[center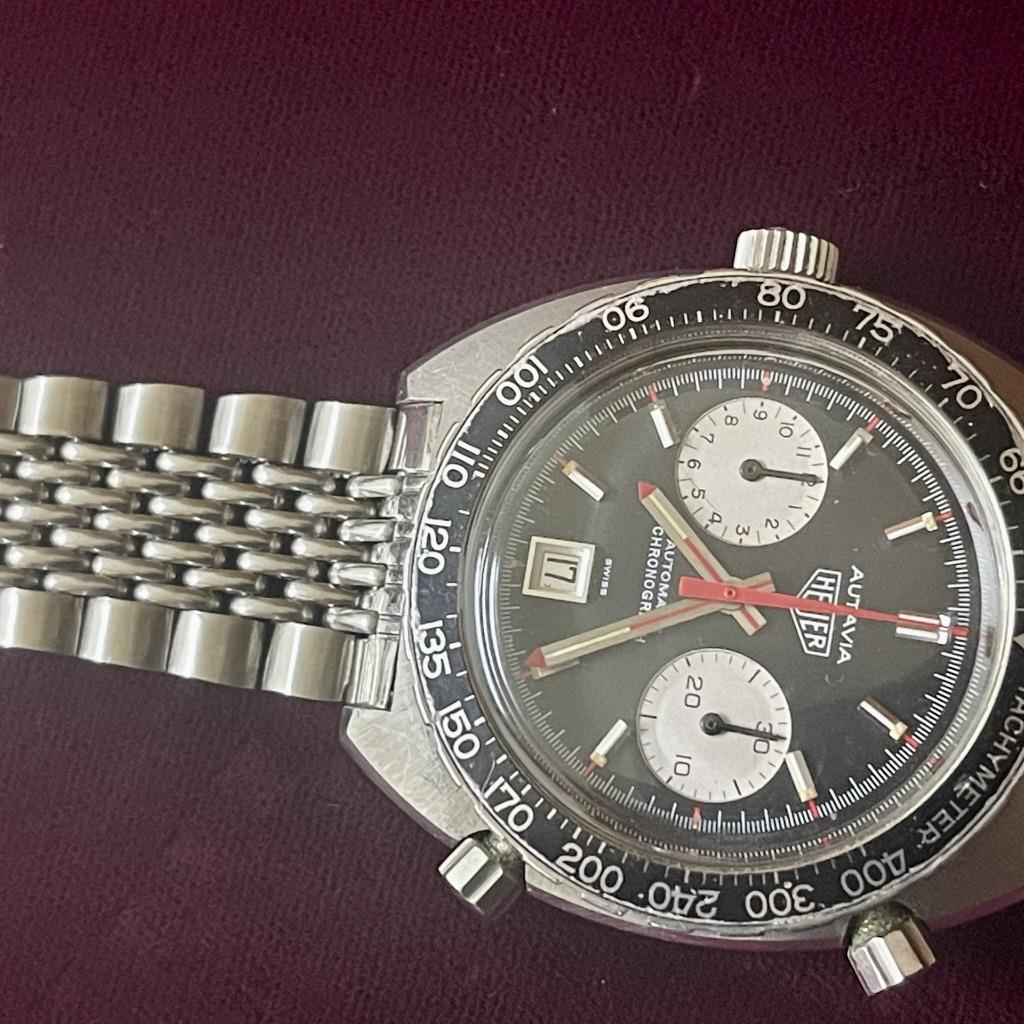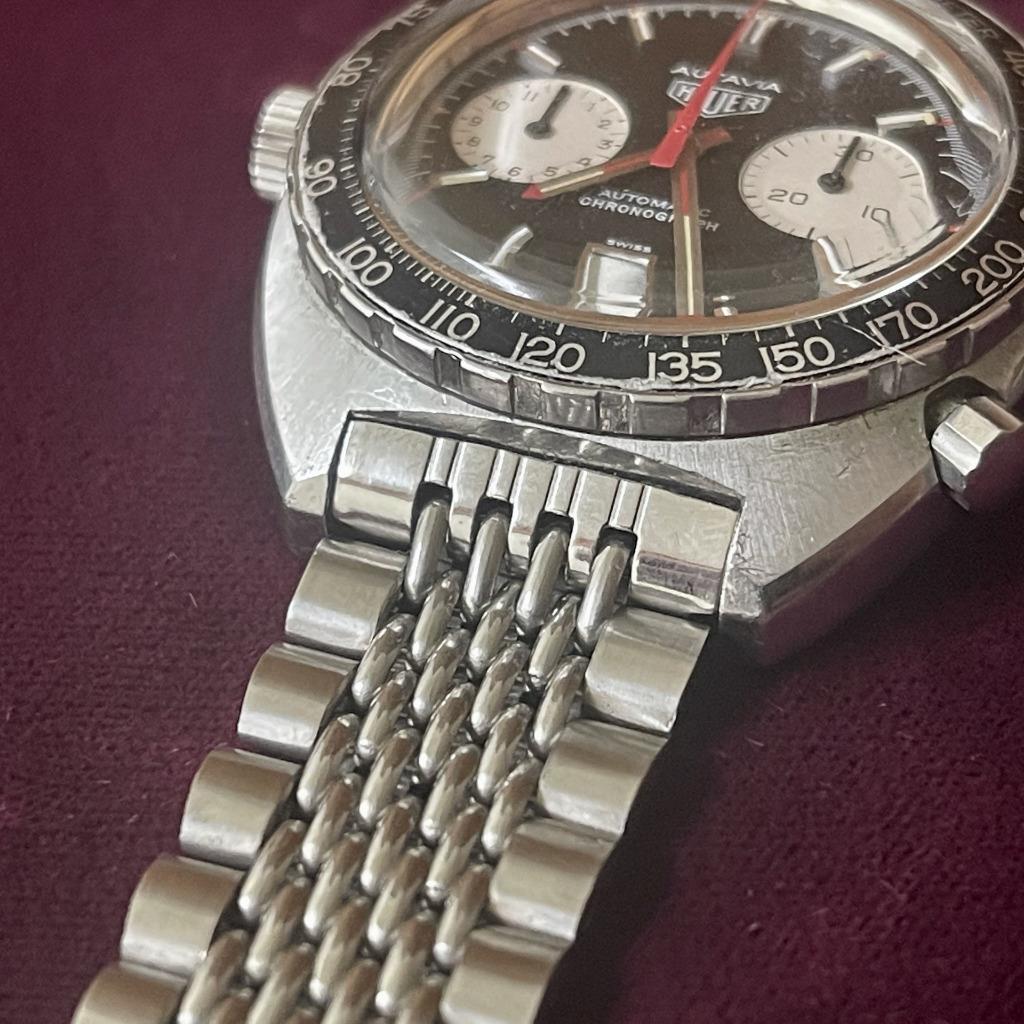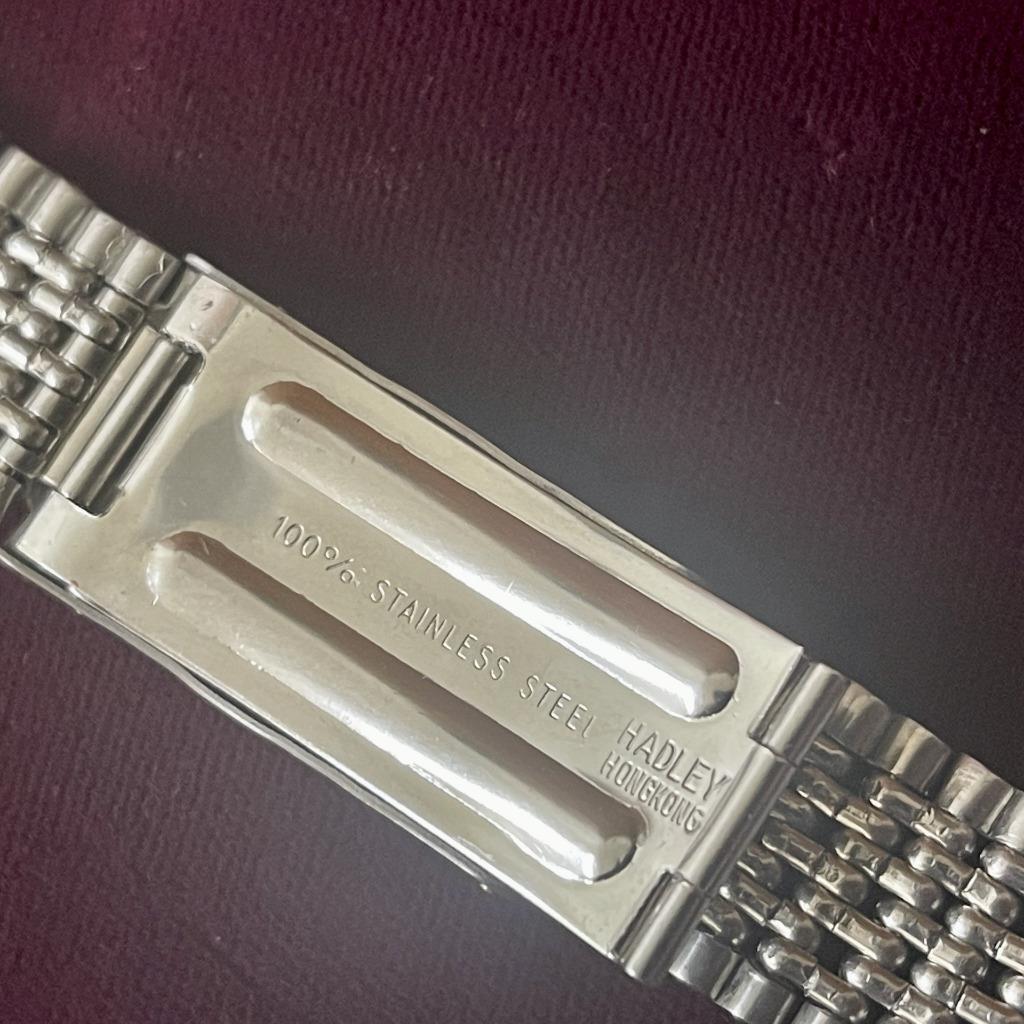 Fantastic deal to get a 1970s vintage old stock Hadley 4x3 links Beads of Rice bracelet with modified end pieces to fit your watch if you are the owner of a vintage Heuer Autavia chronograph Heuer Viceroy 1163V watch. Hadley made OEM bracelets for vintage Heuer, now referred to as the "economy" Beads of Rice bracelets that Heuer sold some chronographs with in the 1970s. This band is signed on the back of the clasp "Hadley Hong Kong 100% Stainless Steel."
At $650 including end pieces and U.S. shipping, this is a very affordable vintage option to fit the special flat lugs of your Heuer Autavia old chronograph watch model with a real NOS vintage bracelet. The look is nearly the same as the 1970s originals, at a fraction of the cost. Collectors will like that the links of this bracelet gradually flare out from the clasp to the ends to perfectly match the 20mm ends at the watch connection point. They will also like that this bracelet will fill fit nearly any size wrist.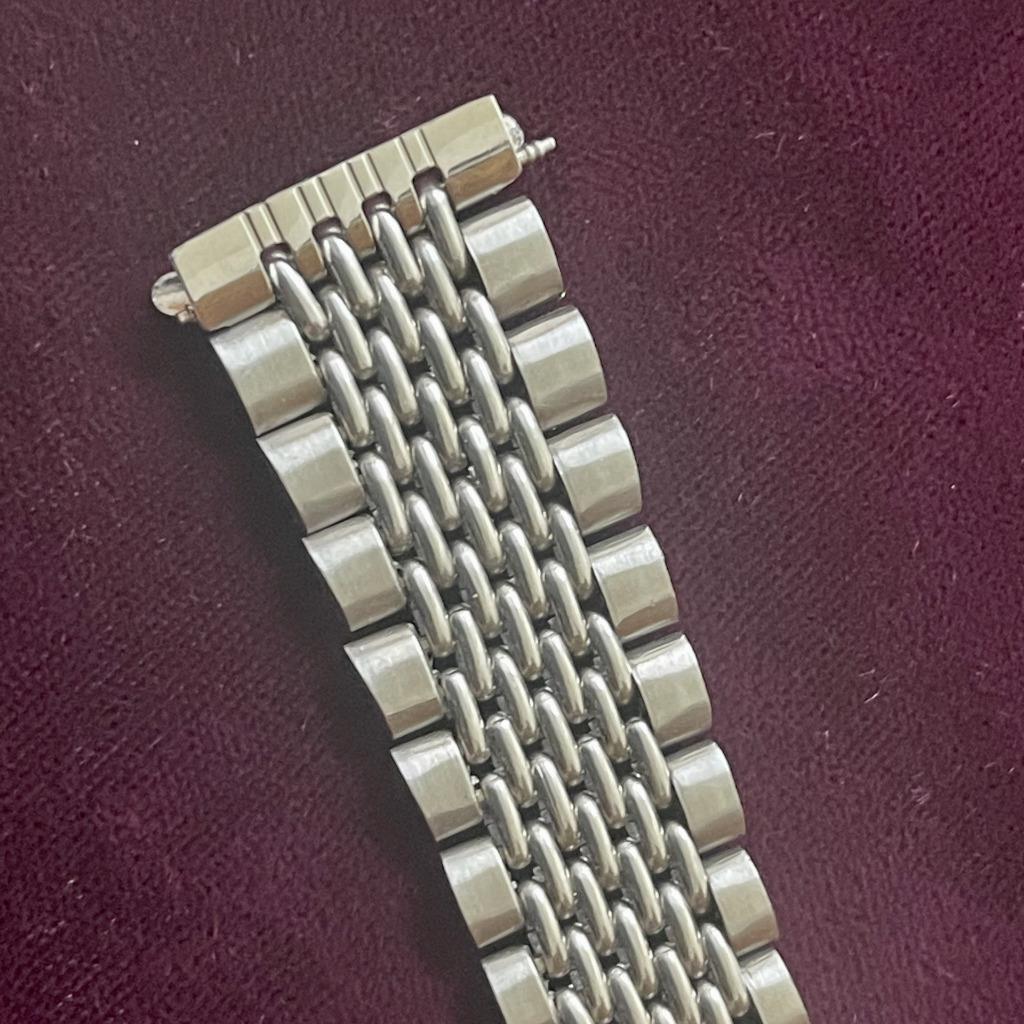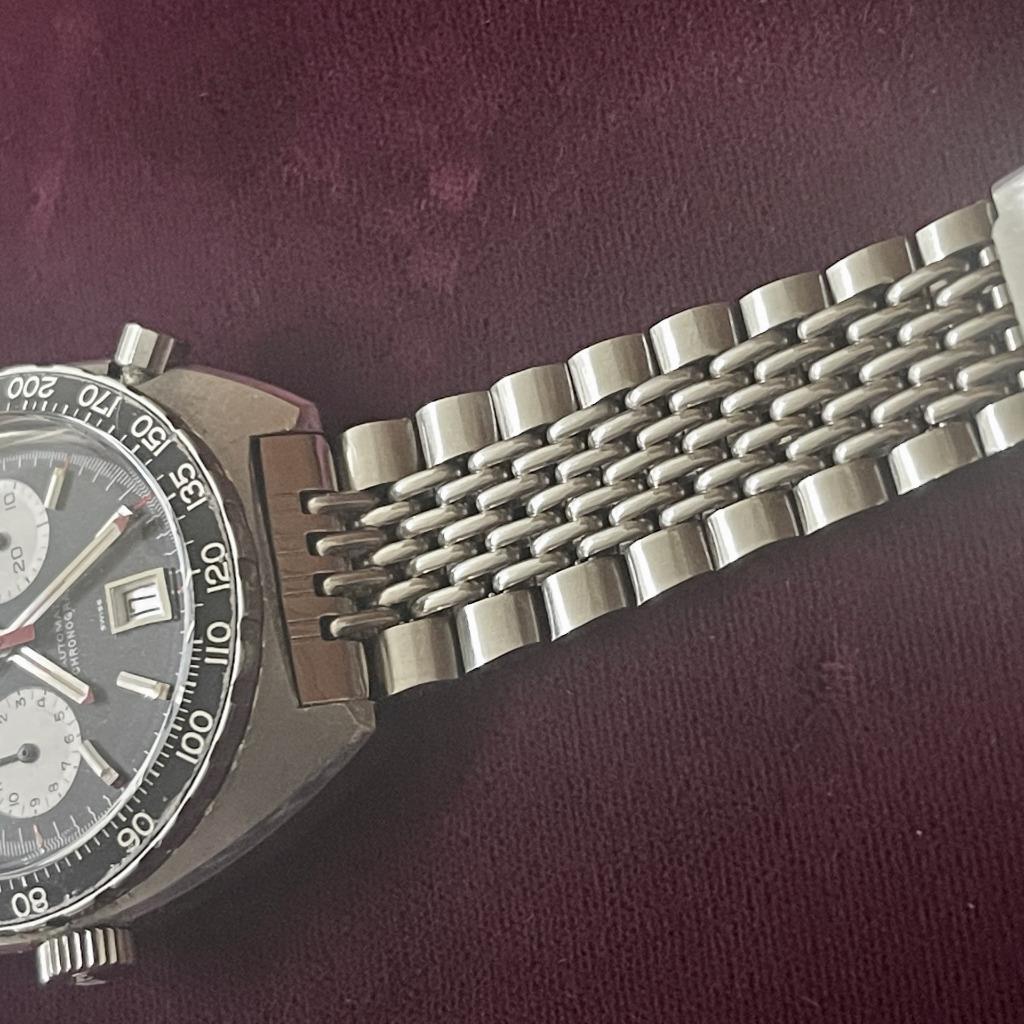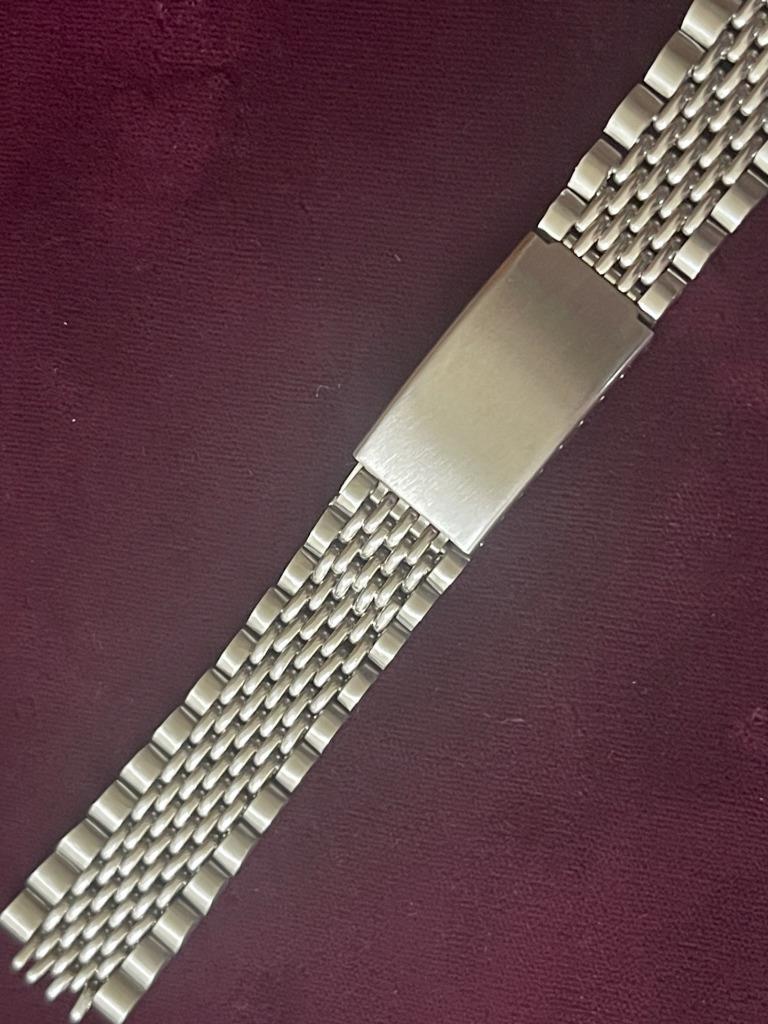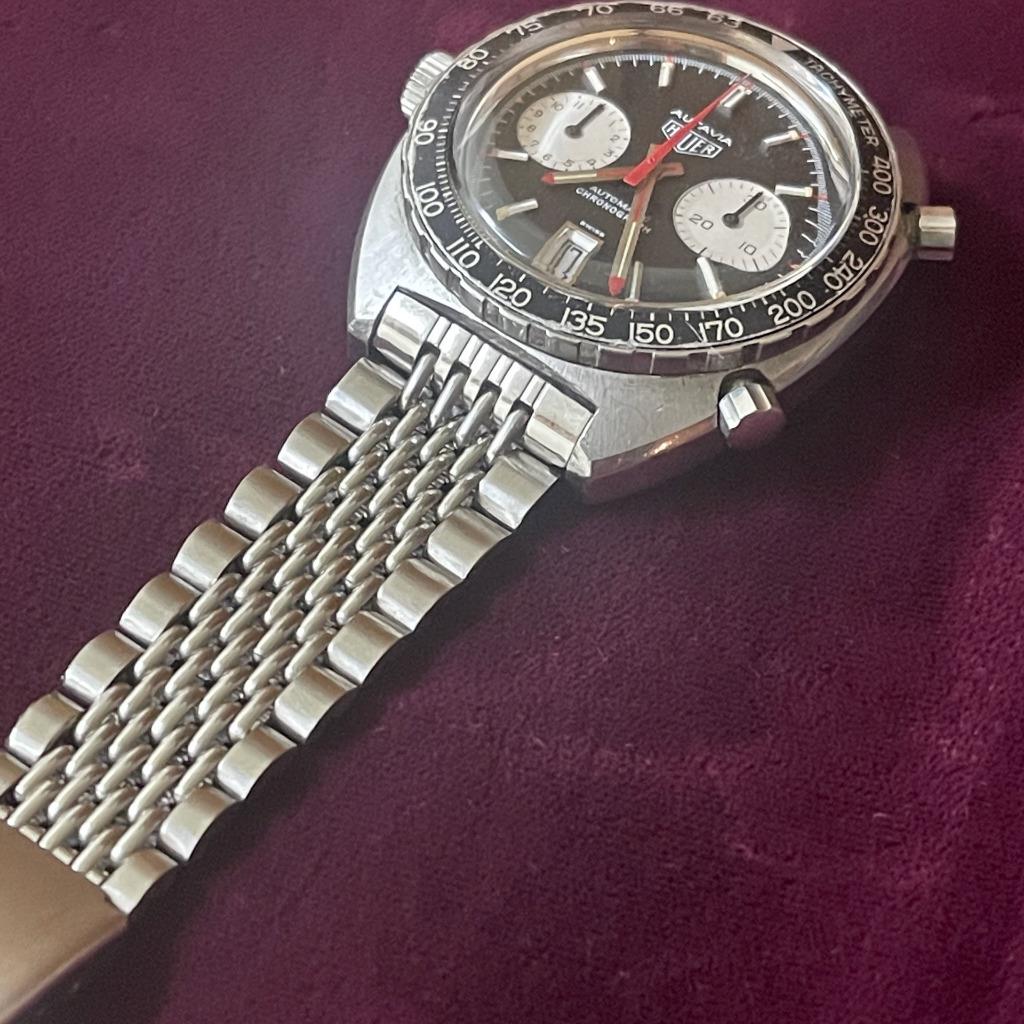 Vintage Heuer HLF BoR end pieces like these alone cost more than the complete package we're offering here! Never mind the comparison to the GF marked Swiss Made Beads of Rice bands by Gay Freres, if you can even find one. They cost about $2,000. Most BoR bands are 3x2 links, but this one is in the more scarce 4x3 links pattern true to the Heuer originals. The amount you spend here will go right into the total value of your watch. The money you save can go for your next watch purchase.
Before shipping, we test this band's fit properly on an 1163 watch. Your final fitting will require some skills to adjust the end pieces to sit flush to the case, but that is how the installation of any vintage BoR bracelet works. Message before buying if you're not sure if it will fit your watch or if you have questions. Make sure your Autavia's case strap opening measures 20mm (some are 21mm).
The length is 6 1/4 inches (16cm) fully extended and it sizes down to 5 3/4 inches (14cm) with the adjustments in the clasp. As shown, this band will fit a wrist up to about 7 3/4 inches (19.7cm). You can remove more links to shorten it and we can sell/install extra original links for you to make it longer. Clasp is 17.4mm wide. Slim links are 2.7mm thick. Band weighs 32 grams. Please note that the installation of all Beads of Rice bands involves making adjustments with the tabs on the back of the end pieces to adjust for case clearance and to make final adjustments to those tabs to tighten down the ends.
Very versatile piece for a growing Heuer vintage watch collection. If you buy Heuer HLC ends, you can switch this bracelet between a Heuer Carrera 1153 or 1553. You can also use this for a deeper lugs case Heuer Autavia 11630 using original HLD Heuer ends.
Email or Paypal to billmahoney@aol.com to place your order.
Thank you for looking - Bill Mahoney (Squinky)
Squinky.com
Squinky sells signed BoR bands by Seiko, Titus, Wittnauer, Technos, Wyler and other brands. We have all sizes of Beads of Rice bands in stock, including spare end link parts, spare links and 17mm, 18mm, 19mm and 20mm complete bracelets at Squinky.com