Swiss Watch Prices Up, Sales Down in 2000
2000.12.01
Exports of Swiss watches for the first 10 months of 2000 show retail values of exports are up, but unit sales to Europe and North America are down.
Of the largest Swiss watch consuming regions, the USA led the decline with 10.3% less units than in 1999, though the average value of watches rose by 10%. Europe received 6.8% less Swiss watches, but with a notable 20.4% increase in average value. Increased units exported to the Middle East and Asia have helped ofset reduced shipments to these other regions, leaving total Swiss exports for these 10 months down by only 0.8% from 1999. Overall average value of all Swiss exported watches rose 16.9%.
For the remaining two months of 2000, the economic uncertanties and volitile financial markets in the USA will likely have a negative influence on sales of luxury watches during the critical December holiday season.
Source: The Federation of the Swiss Watch Industry
---
Seamaster Professional--The Video Game
2000.12.01
The latest Omega Seamaster on the market is a virtual one and costs under US $50! The recently released video game "The World Is Not Enough" features a full Q-Branch equipped Omega Seamaster Professional as one of the major implements in the game. Based on the movie of the same name, the game carries on the James Bond tradition of the wristwatch loaded with everything from lasers to explosive detonators.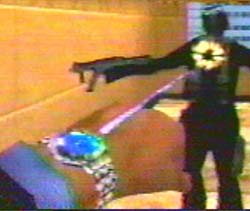 from television advertisement for The World Is Not Enough video game [Electronic Arts]
This is not Omega's first foray into being featured in video games. The mid-1990's auto racing game The Need For Speed II--also by Electronic Arts--featured Omega as the "Official Timekeeper" for the game and the racetracks that appeared in the game. Video games based on the earlier James Bond movies Goldeneye and Tomorrow Never Dies also featured the Omega Seamaster in the game.
Sources: Electronic Arts, Electronic Arts 007 Games Site
---
Omega continues to be the second largest maker of C.O.S.C. certified watches
2000.10.12
The Federation of the Swiss Watch Industry has released the figures for C.O.S.C. certification of watches in 1999. No surprise that Rolex continues to produce more than half the C.O.S.C. certified chronometers each year. In 1999, Rolex accounted for 584,607 (62%) of the 946,536 passing certified movements.
Omega continues in second place with 137,750 (14.6%), followed very closely by Breitling at 127,659 (13.5%). The remaining brands each account for less than 3% of the total chronometers for the year. They are Bulgari 22,601, TAG Heuer 13,342, Panerai 12,826, Vacheron Constantin 5,152, Tissot 4,838, Montega 4,186, Concord 3,319, Ikepod 3,287, Zenith 2,481, Ebel 2,456, Swatch 1,957, Mühle Glashütte 1,468, Ventura Design on Time 1,384 and Ulysse Nardin 1,280.
Some additional noteworthy statistics:
The number of mechanical movement certifications was up 9% over 1998.
1999 saw over four and a half times as many quartz certifications as 1998.
96.6% of the 905,499 mechanical movements submitted passed certification.
93.7% of the 76,442 quartz movements submitted passed certification.
Source: The Federation of the Swiss Watch Industry
---
Update on the New Seamaster Bracelet
2000.04.05
In news that should delight many zOwie readers, Omega has clarified that they will continue to offer the existing, highly popular Seamaster bracelet on all new and existing Seamaster models. The new Speedmaster-style bracelet shown on the new Seamaster models at Basel 2000 (see photo in the zOwie
New Models Gallery
) is being added to the line to help visually unify the look across Omega's two sports lines of watches. The new bracelet uses the link style like the latest Speedmaster bracelets, but also incorporates the well known Seamaster clasp with diver's extension.
Some regions, especially the Omega USA and Omega South America, have chosen the existing Seamaster bracelet as the one to deliver with all existing and new models. But no matter which bracelet is the primary choice of your regional distributor, the other bracelet choice should be easily available by request through your Omega dealer.
---
New models introduced at Basel 2000
2000.03.23
Omega is introducing many new models at Basel 2000. Latest information is on the official Omega site at
www.omega.ch
. Further information, summary, and analysis will be updated to the
New Models Gallery
.
Source: Omega
---
New Info on Specialties watches at www.omega.ch
2000.02.24
Omega is introducing a new section on their web site devoted to their 'Specialties' watches -- including the Central Tourbillon, Seamaster Skeleton, De Ville Co-Axial Skeleton, and their high end "Joaillerie" (jewelry) line of watches. Look for it under the COLLECTION section of the official Omega site at
www.omega.ch
.
Source: Omega
---
1999: A Good Year for Omega and The Swatch Group
2000.02.23
The Swatch Group, parent company of Omega, reported strong earnings and growth for 1999. Their finished watches sector had sales of CHF 2,729 million (USD $1,684) -- an increase in sales of +14.4% over 1998. The Omega and Longines divisions are being credited as major contributors to this growth.
The Swatch Group saw a continuing decline in the watch, watch movement and component sector (-4.6% in 1999). This was largely due to increased competition in the low-end movement market. Futher, Swatch Group owned brands reduced their order quantities for movements -- despite their growth -- in order to reduce held inventories.
The Swiss watch industry as a whole saw a +6.9% increase in value of exports. Strongest growth markets for 1999 were Singapore (+24.4), the United States (+13.7), Hong Kong (+14.7), and the Netherlands (+10.8).
Mechanical movements held steady at about 8% of Swiss-produced watch movements. White-metals are increasingly popular, with steel watches accounting for 35% of Swiss production in 1999. Reduced demand for yellow gold caused a 31.3% drop in production of gold watches -- only 492,000 units or slightly over 1.5% of total Swiss production.
Sources: The Swatch Group, Federation of the Swiss Watch Industry
---
Omega To Introduce New Models At Basel 2000
2000.02.08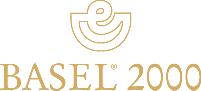 Basel 2000 -- the Cannes and Comdex of the watch industry -- is the showcase event for most of the major watch manufacturers to unveil their new models. This annual event is held March 23-30 this year in Basel, Switzerland. zOwie spies have learned that there will be a new Seamaster Professional "with black dial and the printing 'Seamaster Professional Chronometer 300m/1000ft'" as well as additional ladies Seamaster models and a significantly revamped Deville line.
Omega has also confirmed that within the Seamaster Professional line that "the actual bicolors and Seamaster Professional Diver with white dial will be discontinued." Presumably, many models in the current Deville line will also be retired to make way for the new Deville collection.
Stay tuned to zOwie for more information as Basel approaches!
For information on attending Basel 2000, visit their official site at http://www.messebasel.ch/basel/.
UPDATE: The new DeVille line has been delayed. Look for it to be announced later this year or at Basel 2001.
Sources: Omega, Basel 2000, zOwie spies
---
Deadline Extended on Omega's Win a James Bond Watch Contest!
2000.01.30
Omega has moved the deadline on their
The World Is Not Enough
contest to the end of February. The new James Bond film would not have been released in two countries before the original contest deadline. So the contest deadline was moved to allow fans in Japan and Bulgaria to have an opportunity to participate in the contest after seeing the film.
To enter the contest, go to the official Omega site at http://www.omega.ch, from their main page click on the 'Top Secret Contest' graphic.
Sources: Omega, www.omega.ch, www.jamesbond.com
---
Win an Omega James Bond watch!
1999.10.29
Omega has opened their
The World Is Not Enough
contest. As reported in zOwie's exclusive scoop on 10/11, the contest involves a trivia quiz. Grand prize is the actual Seamaster 2531.80 worn in the movie! Two second place winners are scheduled to receive a Seamaster 2531.80 like worn in the film. Six third place winners will receive a 'Personalized James Bond Kit.' And finally, the remaining 91 of the 100 winners will receive a 'surprise.'
To enter the contest, go to the official Omega site at http://www.omega.ch, from their main page click on the red flashing Omega & Bond link, then on the 'Top Secret Contest' graphic.
But be forewarned: some of the 18 trivia questions require a fair bit of James Bond trivia knowledge. If you are not up on your Bond trivia, the following sites may be of help: Kimberly Last's James Bond Site, The James Bond Diner, and The Internet Movie Database.
Sources: Omega, www.omega.ch
---
Omega announces new "America's Cup" limited edition Seamaster
1999.10.15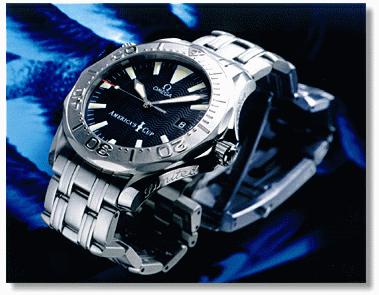 Bienne (SUI), October 15 1999 - OMEGA, Official Timekeeper of the America's Cup 2000, has decided to pay a tribute to the most prestigious and fascinating sailing competition of the world. For the first time, the Swiss watch company will launch a watch specially created for this event: the Seamaster Professional Diver "America's Cup". This prestigious product is born from the imagination of both technological and sports worlds. It has indeed been developed in close cooperation with one of the most outstanding sailors of the 20th Century: Sir Peter Blake, OMEGA testimonial and manager of the defenders "Team New Zealand". Officially named after this unique match race of excellence, this Seamaster model will be produced in limited edition of 9999 pieces, and will be available f rom January 2000. Its particularity stands in its white gold ring on a steel bezel, and a black dial with the logo "America's Cup". Available both with a steel bracelet or a black rubber strap, each case is engraved and numbered individually. The watch is presented in an exclusive blue gift box. OMEGA herewith materializes its commitment as Official Timekeeper of the sports' oldest trophy , and officially launches the countdown for the finals of the America's Cup 2000, which will start in Auckland (NZL) on February 19, 2000. "We are very proud to associate this exclusive watch with such an exceptional competition," said Stephen Urquhart, President of OMEGA. "We feel particularly close to this event, which shares the values we have defended for 150 years: quality, prestige and tradition. Timing is essential in this event, the pinnacle of match racing, and we are happy to share this experience."
Source: Omega
---
Omega Updates Site With James Bond Watch Info
1999.10.04
The
official Omega site
has added a new section featuring the Seamaster Professional Diver 2531.80 as used in the upcoming James Bond movie,
The World is Not Enough
. Highlights include detail photos and descriptions of the grappling hook built into the watch in the film. Also includes links to several other Internet features on James Bond.
http://www.omega.ch
Source: www.omega.ch
---
New James Bond The World is Not Enough Movie Trailer Shows Seamaster In Action
1999.09.20
The official James Bond site has posted the full movie trailer for
The World is Not Enough
. The new trailer shows the Omega Seamaster Professional 2531.80 in action shooting a grappling hook and wire to pull Bond out of danger. the trailer can be seen at your local theater, or by visiting the James Bond site at:
http://www.jamesbond.com/bond19/features/
Source: www.jamesbond.com
---
New Seamaster Professional 150th Anniversary Model Announced
1999.09.14
Omega has released preliminary information on a new black-dial titanium Seamaster 300M Diver model coming soon to the the 150th Anniversary Seamaster series. This new model (ref 2231.50 titanium on titanium, 2931.50 titanium on leather) will have a black dial with wave pattern and large Superlite indexes, brushed stainless steel bezel, and Superlite coated skeleton hands. Also includes a special gift box in black leather for jubilee watches.
Source: www.timezone.com
---
Omega Updates Official Web Site With New Introduction and Coaxial Info
1999.09.14
Omega updates their site at
www.omega.ch
with a new introduction and more information on the DeVille Co-Axial escapement -- the first really new innovation in watchmaking in years!
Source: www.omega.ch
---
Omega Announces Continued Affiliation With James Bond
1999.06.05
Omega
announces the Seamaster Professional Diver model 2531.80 will appear in the upcoming James Bond film
The World Is Not Enough
, scheduled to premiere November 1999.
As part of the announcement, Omega hosted an online interview with Pierce Brosnan. Details and link to replay
here
.
Sources: Omega and 007 News