Orbita Bellino Watch Winder
zOwie reviews a more economical winder from an established manufacturer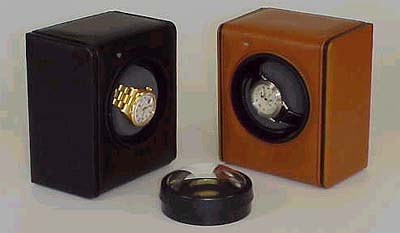 Orbita Bellino Deluxe models with leather exterior [Orbita]
Description
The Bellino is the new entry level watch winder from Orbita, adding to their existing line of winders that range from small tabletop watch units to full multi-watch winding and display cabinets.
This model is intentionally different from their other winders. The Bellino was designed to be a small, more affordable, display winder. The compromises here to achieve those objectives are in the somewhat more basic cabinet design. Orbita is known for their fancy hand-stitched leather, finished woods, suede interior linings, and felt covered bases. The Bellino continues that tradition with the Deluxe model with hand-stitched leather trim or a teak wood cabinet. The Standard model takes a more conservative and economical approach, using a molded plastic cabinet with synthetic leather-like trim on three sides.
Specifications for the product follow at the end of the review.
Overview
A good functional enclosed watch winder. Compared to other single-watch Orbita models, the Bellino is lighter on the cosmetic elegance, easier on the wallet, yet appears to have not sacrificed any performance and durability.
Orbita wisely chose to ensure that the electronics and mechanics are still of high quality even in this entry-level unit. They have succeeded. The control board and motor unit of the Bellino are well executed, compact, and efficient. Bonus points for Orbita's migration from a/c only to units that can run on either a/c or battery.
Motor and control unit: Excellent +++
Winding efficiency: Excellent
Watch holder: Excellent
Noise Level: Fair
Battery Life: Fair
Control Design: Adequate
Cabinet Design: Good
I only observed two weaknesses in the Bellino. One is that, unlike most of Orbita's other single-head winders, it cannot be adapted to handle two watches. The other is that the cabinet is somewhat awkwardly arranged and balanced.
Benefits
Whatever you may have read, been told, or deduced for yourself, the only really significant reason for a watch winder is--convenience.
Presumably, if you are considering a watch winder, you are one of the many owners or collectors who have bought more watches than you can wear at one time. That is perfectly normal, and you are in good company. It is not that hard--it only takes two watches to fall in this category. Many watch collectors have a dozen or more!
So, for convenience, you are considering a winder to keep one or more spare automatic watches ready for use. If your spare watches have calendars, perpetual calendars, or other special complications, then a winder is even more important for convenience. Such watches when run completely down take more than a few seconds to wind and set before they are ready to wear. A winder will eliminate the extra effort to get them going. While this may sound like a very trivial need, the difference can often keep a collector from wearing some of their watches. When you seldom have the time to bother getting certain watches set and running right when choosing which watch to wear, those will be the less most often bypassed for the ones that are already ready-to-go!
How It Works
The programmed winding process is very straightforward. In program mode, the winder will run for 1 minute at a slow and gentle speed of 18 rpm in the programmed direction. The unit will then pause for a fixed amount of time determined by how many turns per day the unit is set to accomplish. Depending on your selection, the pause may be from 29 to 52 minutes. If auto-reversing is selected, the unit changes direction each time it runs. At the default setting of 650 turns per day, the unit only has to run for 1 minute out of every 40.
In continuous mode, the winder turns clockwise (no counterclockwise or auto-reversing option) without stopping. Great for taking a completely run down watch and getting it back up to full power reserve. If running on batteries, continuous mode will stop after 30 minutes to prevent draining the batteries.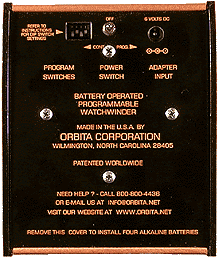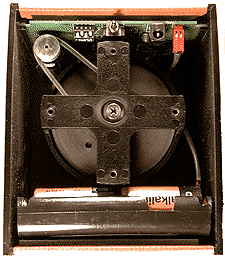 Back of the Orbita Bellino (Standard model) with cover on and off. [Derek Ziglar]
---
Motor and Control Unit: Excellent+++
Motor and control board design and configuration are excellent. The simple elegance of the control unit design and motor show the effort that went into designing this piece that can be the basis of many different small winder models.
Winding Efficiency: Excellent
The unit did a great job of winding the test watches I used on it. These were a 1996 Omega Deville Prestige and a 1982 Rolex Perpetual DateJust. It not only kept the watches running while on the unit, but when they were removed they both ran for the expected amount of time based on their rated 'power reserve.'
Watch Holder: Excellent
Nice, simple, easy to use. The holder is a soft spongy ball that easily slides in a closed watch strap or bracelet, then simply slides right into the cup in the winder unit. The separate lens/cover piece covers the opening to keep dust out.
The only negative, versus many of Orbita's other winders, is that the Bellino cannot be adapted to hold more than one watch at a time.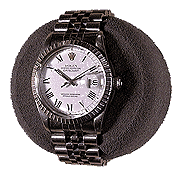 Orbita's sponge ball watch holder. [Derek Ziglar]
Noise Level: Fair
The sound output of the device was not a particular bother, but somewhat more than I expected.
Battery Life: Fair
The test unit ran for approximately 6 months at factory settings on a set of 4 size C alkaline batteries before the low battery warning came on, then continued to run satisfactorily for another 2-3 weeks. For using the unit in a remote location, such as a safety deposit box, a longer battery life would be desirable. But this is not much of an issue for many people, as most owners would likely use the supplied a/c adapter instead.
Control Design: Adequate
I found the on off switch to be convenient. Once I was used to which way to switch on and off, I easily reached over the top and operated the unit without having to think about it.
The DIP switches used to change the programmed settings are available for easy access through a hole in the backplate. This is sufficiently convenient since this is a setting you are seldom likely to need to change. The switch instructions are printed in the owner's manual, not on the unit itself. But you won't be lost if you cannot find your instruction manual--Orbita's 800 phone number, email and web site addresses are all printed on the back of the unit.
The low battery light is helpful, but could have been placed in a more cosmetically appealing location.
Cabinet Design: Good
This is one aspect that I found difficult to rate. The case is of an unusual design, which is particularly oriented to displaying the watch. Given that this model had intentionally different objectives in its design, it is does not easily compare to other winders by Orbita or any of the other winder manufacturers.
Pluses: Can be operated in either the upright position or on its side. Multiple Bellino units can be stacked or placed side-by-side. It works nicely on a bookshelf, in a drawer, or in a vault--especially since it can run on batteries and not need a power cord.
Minuses: The design is top heavy, requiring batteries to be installed for stability even if running off the a/c adapter. In its upright orientation, the placement of a/c plug at the top of the unit increases the risk of the unit falling over if the cord is bumped. No battery door--the entire rear panel must be unscrewed and removed to install or change batteries.
I preferred to use unit on its side. This eliminates the top-heaviness and awkwardness of having the a/c cord connect at the top. Orbita reports that the unit operates equally well in either position.
The Deluxe models are nicely finished on their exteriors. You have a choice of padded, stitched leather (on all sides except the back) or a mahogany stained teak wood case. The standard Bellino model foregoes the nicer cosmetics on the exterior. It uses black plastic casing with synthetic leather on three sides. The other two main faces are the textured plastic of the hard case.
Other
There is one interesting benefit of the Bellino's design that Orbita may have failed to notice or mention in their literature on this unit. As many watch collectors know, almost all mechanical watches perform slightly differently in different positions (crown up, crown down, on left side, on right side). That is why the C.O.S.C. testing for certified chronometers tests a watch in multiple positions.
By holding the watch perpendicular, rotating it, and stopping in a different position each time, the winder may actually even out the positional errors of the watch versus it just sitting in a static position.
---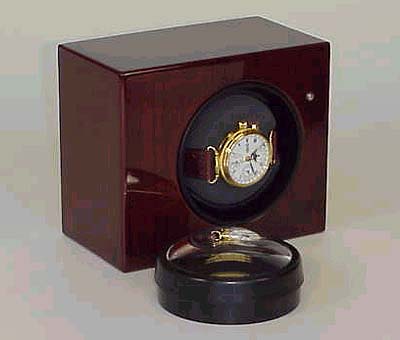 Orbita Bellino Deluxe with polished teak exterior [Orbita]
Recommendation
The Bellino is a good entry-level watch winder. Priced at about 1/3 less than Orbita's fancier main line models, it is a good starter winder to buy--particularly if you expect to need to wind only one watch or desire the unique display abilities of this model. As far as I know of, it is the least expensive totally enclosed watch winder on the market.
If you intend to have it out in the open, it is definitely worth the $100 difference to get the Deluxe model for its greatly improved exterior cosmetics. If you are likely to want a winder for more than one watch, you might consider spending the additional $150-250 and buying one of the step up models that can be adapted to accommodate a second watch in the future.
Size: 5.625 x 4.75 inches (14.5 x 12 cm). Unit is 3.25 inches (8.5 cm) deep without dome lens cover, 4.25 inches (11 cm) deep with cover.
Weight: 1.74 pounds (0.79 kg) including a set of standard alkaline batteries and cover.
Power: 4 C-cells or 6 volt external a/c adaptor (included)
Power switch: Three positions. Run in program mode (controlled by DIP switch settings), off, and run clockwise continuously for 30 minutes then stop.
Program modes: Auto-reversing, clockwise, counterclockwise--with your choice of 500, 650, 800, or 950 turns per day. The factory setting of auto-reversing at 650 turns per day is suitable for most modern watches.
Price: $395 for Standard model, $495 for DeLuxe models.
Availability: Direct from manufacturer and through many watch retailers.

Standard model Black textured plastic casing, covered with Tan or Black "Quinel" (a Swiss made leather-grained polyurethane) on front and sides.
DeLuxe models Black plastic casing with Brown or Black hand-stitched Italian leather covering on front and sides OR an all teak wood case.