Bracelets and Straps
Sizing bracelets, selecting straps, and details on the Seamaster rubber straps
---
How do I take out or add links to an OMEGA bracelet?
The simple answer is: don't try this at home! OMEGA bracelets--especially those on the current Seamaster, Speedmaster, and some Deville models-- are considered to be the more difficult bracelets to change links on. These bracelets are more complex than many, have several small parts that can easily be lost or damaged, and takes the right professional tools to do the job safely.


Seamaster Professional bracelet links [Derek Ziglar]
So you will be far better off to take it to a qualified jeweler that can do the job right (and be liable for any damage done during the process). There is little more depressing than wrecking your own watch--especially when you just got it--by attempting a home job of sizing the bracelet.
Should you end up losing the small bracelet parts, the bushings and pins (at least for the steel bracelets) cost about US $6 each to replace. Contact your closest OMEGA Service Center to order such replacement parts.
If you really want to do it yourself, get the right tools. One very good source is Frei & Borel, who sells professional bracelet sizing tools like the one shown below.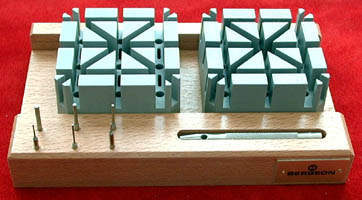 Bergeon Bracelet Tools Set [Derek Ziglar]
---
I've heard some Rolex bracelets 'stretch.' Do OMEGA bracelets do this?
Bracelets with narrow open loop links can 'stretch' over time. A few older OMEGA watches used bracelets that might be susceptible to this problem. But all recent and current model OMEGA bracelets are made of solid or wide loop links that avoid this problem.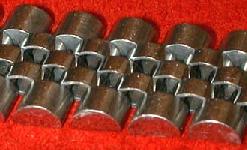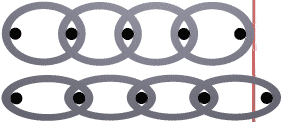 Rolex 'Jubilee' bracelet (left); How a loop bracelet 'stretches' (right) [Derek Ziglar]

The most infamous watch bracelet for stretching is the Rolex 'Jubilee' bracelet. The 'stretch' is actually an elongation/flattening of the three open oval links in the center of the bracelet. This is seen more on the all gold or two-tone Jubilee bracelets, where these critical center links are 14 to 18 karat gold--which is easier to bend than platinum or stainless steel. The net effect is the flattening makes the bracelet somewhat longer, so people say the bracelet has 'stretched.'

The metal does not stretch in the sense of a rubber band. Instead, the metal loops actually bend from their original loop shape to a slightly more oval shape. This occurs because the three center loop links are not sufficiently thick or wide to have the structural integrity to completely resist bending under the stresses a watch bracelet can go through in normal wear. Bracelets with wide loop links, solid links, or harder metal will have the structural integrity to avoid this bending.
---
What size strap do I need for my OMEGA watch?
To be certain, you should measure the space between the lugs on your watch before purchasing a strap. If you do not have a metric ruler handy, OMEGA Customer Service can tell you based on the model number.
In general, most OMEGA men's dress-style watches take the standard 18mm or 19mm strap or bracelet. Certain sport and oversized models, such as the 'full size' Seamaster Professional, take the larger 20mm strap. Ladies watches vary more, so you should measure to be certain.
Here details on a few specific current models:
An 18mm strap fits models like the mid-size Seamaster Pro Diver and the Seamaster 120.
A 19mm strap fits models such as the DeVille Prestige and Dynamic (non-chronograph).
A 20mm strap fits the full-size Seamaster Pro Diver, Seamaster GMT, Seamaster Chronograph and Dynamic Chronograph.
---
What deployant clasps does OMEGA offer?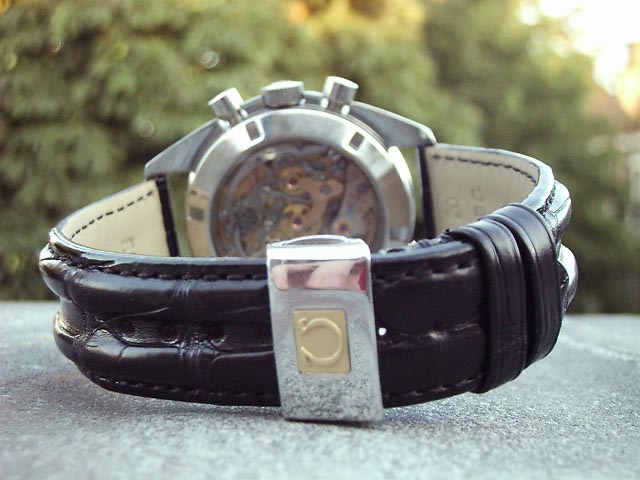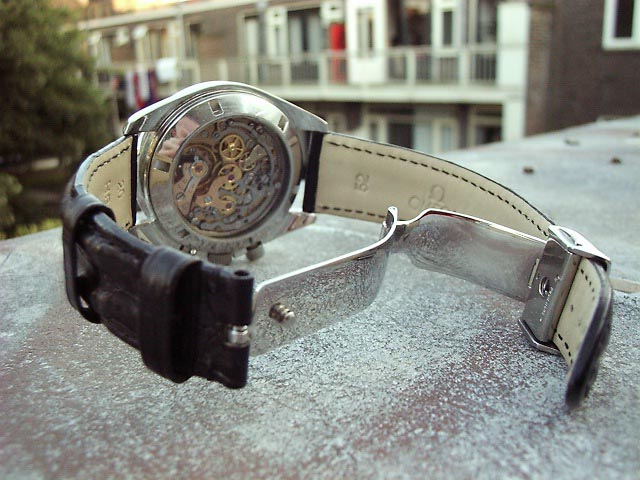 OMEGA deployant clasp for standard watch straps
Note that the watch is facing the opposite direction in the second photo.
[Robert Jan / omega-addict.com]

OMEGA offers the 94531603025 (16mm only) steel deployant clasp for use on normal tang-buckle type straps. It is similar in function to the generic deployant clasps sold by various Internet dealers in that the strap tail goes on the outside. Essentially it replaces the tang-buckle with a more elaborate mechanism, but without changing the way the strap goes around your wrist.

While it works with normal straps, it is important to note that this design has limitations. People with smaller wrists--those who would normally wear their strap buckled into the innermost two holes--may find this deployant akward. When adjusted to the smaller end of its range, the inner metal piece tends to go up the side of your wrist. The alternative style below does not have this limitation, because on it, the clasp folds the opposite direction, allowing the inner metal piece to point the other way and stay across the flat underside of your wrist.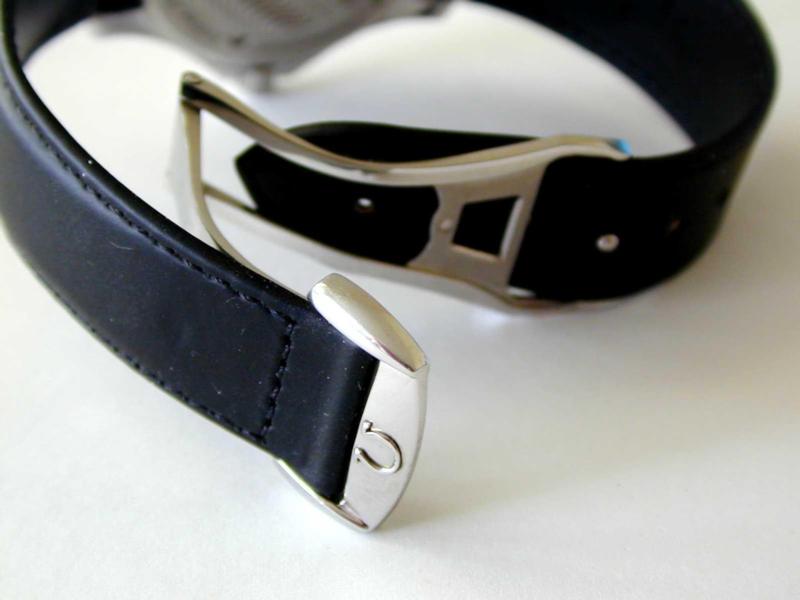 OMEGA deployant clasp for deployant-specific watch straps [Keith Downing]

For an even more elegant effect, you can get the 94521603025 (16mm) or 94521803025 (18mm) special foldover clasps like on the Seamaster Pro America's Cup and other Seamasters with the 'domed' rubber straps plus the DeVille Coaxial. Those part numbers are for the all-steel versions, but identical versions with yellow gold head (visible part) or solid yellow, white or rose gold are also available.

This foldover clasp is intended for a special version strap which does not have the keeper loops or the slot for the tongue of the tang buckle. It works adequately with regular straps if you cut off the loops and don't mind that small tang slot showing by the clasp. Notice how this configuration is different--the tail of the clasp goes on the *inside* of the band for a more elegant look. The posts for this clasp are 16mm apart and need a strap with holes 8mm apart--so may require you to punch one additional hole in a conventional strap to work with it. Most straps have the holes only 6 or 7mm apart.

These clasps are available direct from OMEGA Customer Service. Steel versions are $80 each. And remember: the size of the *clasp* you need is based on the width of the normally narrower buckle-end of your strap. This is usually smaller than the size of the watch-end of the strap--so a strap which is 18mm at the watch-end usually takes a 16mm buckle. Some 20mm watch-end straps take a 18mm buckle, but many others take a 16mm buckle--so always measure to be sure.
---
Can I get an OMEGA signed tang buckle without having to buy an OMEGA strap?
OMEGA will sell you any of their deployant, foldover, and rubber strap diver's clasps directly. But they do not sell tang buckles separately to the consumer. If you contact OMEGA Customer Service directly or go through the retail end of an authorized OMEGA dealer, the answer will be "no, you must buy a genuine OMEGA strap to receive the OMEGA signed tang buckle."


OMEGA-signed buckles: [left] from modern OMEGA dress strap, [center] vintage, [right] from modern OMEGA sport strap

Fortunately, there are three main alternative sources. The first is that you may already have what you need! Many people fail to realize that strap buckles need not be thrown away when the strap wears out. Buckles are attached to the strap using spring pins just like how the strap attaches to the watch. So the signed logo buckles on your genuine brand-name strap are easily detached when the strap is no longer needed and moved to most any other strap of the same buckle width.

Second, dealers in used watches occasionally have preowned and vintage buckles left over from watches traded in with worn or surplus straps. Try checking with local used watch dealers and watch repair shops. If you have an ongoing relationship with one of these shops, let them know what you are looking for.

And finally, there is an indirect way to order them from OMEGA. The secret is that OMEGA does sell tang buckles separately--but only as a replacement part through their commerical parts channels. So to obtain one, you need to have a watch repair facility or dealer's repair department order it for you. However be forewarned that ordering such parts is often difficult. Not only are part numbers difficult to track down, but few businesses have the time and patience to go through the effort necessary to find and order such unusual, seldom ordered and low cost/profit parts. Usually it is worth the difference to buy at least one genuine OMEGA strap, then keep the signed buckle and move it to other straps after the original strap wears out.

A complete part number list is not available anywhere outside OMEGA themselves. To give you a starting point in your search, OMEGA part reference 94511602 (16mm) and 94511802 (18mm) identify the steel versions of the rightmost buckle in the photo above. Similar versions exist in brushed finish steel (for the modern Dynamic series) and plated yellow gold. Note that this particular buckle design is specifically for a sport strap, requiring a 2mm tongue slot in the strap. A 1mm wide tongue as seen on the left and center buckles is more typical. So cross-check your intended strap and all part numbers and descriptions thoroughly before ordering to avoid disappointment.
---
How can I get a genuine OMEGA bracelet affordably?
Many owners of OMEGA watches are shocked when they inquire about ordering OMEGA replacement bracelets and are quoted prices of US $350-450 for just the steel bracelets. Sadly, not enough people realize at the time of purchase that buying the watch on the bracelet is a dramatically better deal than buying it on a strap and ordering a bracelet later. This is nothing specific to OMEGA--ordering replacement parts for most products is more expensive due to the profit, distribution and discount structures of modern businesses.
OMEGA will sell you a replacement bracelet. But if you go through OMEGA Customer Service or the retail end of an OMEGA authorized dealer, you will likely pay at or near retail price for the bracelet.
Fortunately, there are two main alternatives. First, look for used or like-new OMEGA bracelets on various Internet used watch sales sites (such at TimeZone.com's Sales Corner) and online used watch dealers (particularly watchseller.com and bernardwatch.com). Some owners buy the watch on the bracelet and later decide not to use it and sell it off. Also, some used watch dealers occasionally find a deal on bracelets through their part suppliers.
The other is to go not through the retail dealers and parts counters, but to order indirectly through a watch repair shop or watch parts seller who has access to the OMEGA wholesale parts network. Such businesses may be able to obtain the bracelet at close to wholesale price, then offer it to you at a more reasonable price.
---
Anything to look out for when buying a used OMEGA bracelet?
Yes, three things:
Loose or wobbly links. This is a sign of missing locking collars -- small parts unique to the design of modern OMEGA bracelets. These tiny cylindrical pieces that fit inside the links and often get lost when links are removed to size the bracelet. Without them, link pins do not lock properly in place and the pin may work itself out.
Damaged finish. OMEGA uses very elaborate finishes on their bracelets. Many use a combination of brushed and polished finishes for an elegant look. But owners who try polishing scratches out of their bracelets are sometimes clueless to these details and will use a smooth polish on the brushed finish or an abrasive brush finish tool on a polished surface. The result is ugly, greatly devalues the bracelet and is expensive to have corrected.
French-made Seamaster bracelets. In the early 1990s, OMEGA had some of the Seamaster "Bond"-style bracelets made by a supplier in France. These bracelets turned out to be of inferior manufacture and had links that could come apart after a year or two of wear. They can be identified by "BRACELET MADE IN FRANCE" being stamped on theback side of the clasp.
---
Doesn't OMEGA sell the Seamaster Professional on a sharkskin strap?
Yes, at least they used to. During the late 1990s, the Seamaster Professional Diver and Chronograph were both available on sharkskin straps straight from the factory. The straps are very nice, padded and stitched, with the OMEGA symbol on the buckle, and come in blue or green. If you think you may want both the bracelet and the strap, you are usually better off buying the watch on the bracelet, and ordering the strap separately.
Oddly, most OMEGA dealers seldom received a Seamaster Professional on a strap, except when the watch was a special order for a customer.
OMEGA sells the straps separately. It will be easiest to order if you ask for it as a replacement part for the watch it originally came on.
Blue strap for a full-size Seamaster Pro Diver, order a replacement strap for a 2831.80.08.
Green strap for a full-size Seamaster Pro Diver, order a replacement strap for a 2832.20.09.
Blue strap for a mid-size Seamaster Pro Diver, order a replacement strap for a 2861.80.08.
Green strap for a mid-size Seamaster Pro Diver, order a replacement strap for a 2862.20.09.
Blue strap for a Seamaster Pro Chronograph, order a replacement strap for a 2899.80.08.
Green strap for a Seamaster Pro Chronograph, order a replacement strap for a 2898.20.09.
See the Seamaster Gallery for an image of how the blue strap looks. The blue on the sharkskin is nice, but is not an exact match for the blue on the bezel or dial of the Seamaster Professional. Price is about USD $80-90 from OMEGA Customer Service.

Alternatively, you can obtain sharkskin and other fine straps for your Seamaster made by any of a number of other strap makers. The sharkskin and leather straps by Hirsch and Breitling are excellent choices, too.

One thing important to note: while sharks are obviously waterproof, most sharkskin straps are not water-resistant. This is because straps normally use conventional leather on the inside and are not sealed to prevent water from getting between the layers into the padding. Hirsch is the only strap maker I know of that has a sharkskin strap that is water-resistant (100 meters).
---
Does OMEGA also have a rubber strap for the Seamaster?
Yes. Several models, such as the GMT, Seamaster Titanium, and Seamaster Skeleton can be purchased on a factory rubber strap. Other models, such as the Seamaster Pro Diver have an optional rubber strap that can be purchased separately. But any of these straps can be bought from OMEGA Customer Service as 'replacement parts' and used on similar Seamaster models.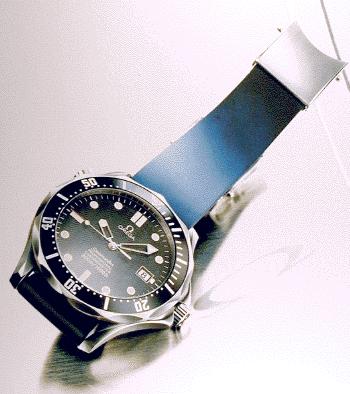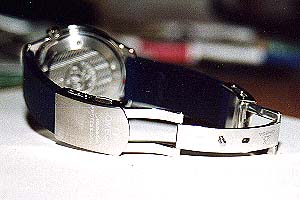 Seamaster Pro 'Bond' on the original optional flat blue rubber strap [left photo: OMEGA, right photo: Steve Biczak]
The flat blue rubber strap available for the Seamaster Pro Diver. It is a highly durable flat rubber strap in a blue that compliments the Seamaster Professional 'Bond.' It uses the Seamaster Professional diver's deployant clasp and should be available in both 18 and 20 mm widths. See below for prices and part numbers. This strap has been available since the mid-1990's.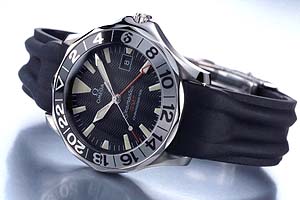 Seamaster GMT model 2834.50.00 on its standard black rubber strap [OMEGA]
The ridged black Seamaster GMT rubber strap with the Seamaster Professional diver's deployant clasp. May not be available in an 18mm size, since the Seamaster GMT it is made for does not come in a mid-size. This strap has been available since the 1998 introduction of the Seamaster GMT. See below for prices and part numbers.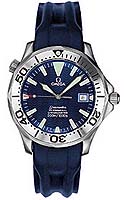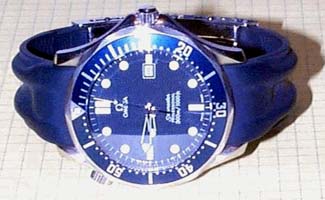 Left: Seamaster Titanium 2991.80.93 on its standard rubber strap [OMEGA]
Right: Seamaster Pro 'Bond' on the new blue rubber strap [Ron Z]
The ridged blue rubber strap comes on the Seamaster Pro Titanium model 2991.80.93. It is a highly durable, thick and ridged rubber strap in a blue -- apparently identical to the black GMT rubber strap except for the color. Uses the Seamaster Professional diver's deployant clasp.
This ridged blue rubber strap is VERY popular with Seamaster Pro 'Bond' owners, though many have had difficulty ordering it. May not be available in an 18mm version, because the Seamaster Titanium it is made for is not available in the mid-size model. See below for prices and part numbers. This strap has been available since the 1999 introduction of the Seamaster Titanium.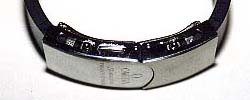 Seamaster Professional diver's deployant clasp for rubber straps [left photo: Steve Biczak, right photo: Ron Z]
The flat and ridged rubber straps use the Seamaster Professional diver's deployant clasp. The rubber straps that use this clasp are sized by cutting them at the point they connect to the clasp. OMEGA provides easy cut lines to simplify this process. But, of course, this means that the rubber strap piece itself can never be sized back up to fit a larger wrist. So a certain amount of caution is suggested in deciding how much to cut the strap to fit.


New for 2000: Seamasters with new style rubber strap [OMEGA]
The domed black and blue rubber straps were introduced in 1998 on the "America's Cup" Limited Edition and the Seamaster Skeleton. Starting in 2000, they are available standard on many of the new Seamaster models. It is a highly durable rubber strap, thick near the watch head but tapering to flat, with stitched edges, available in blue or black. Should be available in both 20 and 18 mm widths. Uses a "foldover" (also known as deployant) clasp which is not specific to the Seamaster Professional and is sold by OMEGA for use with many of their leather, sharkskin, or rubber straps.
Seamaster Rubber Straps and Clasps
Call OMEGA Customer Service or an authorized dealer for latest pricing.
color & type
customer service
part number
2000 catalog
part number
steel clasp required for
flat and ridged straps below
ST1506832117
9453.18.03
flat blue strap, 20mm
97998382021
---
flat blue strap, 18mm
?
---
ridged black strap, 20mm
97996082021
9799.60.82
ridged blue strap, 20mm
97988082021
9798.80.82
undetermined blue strap, 18mm
97998067021
---
"Foldover" deployant clasps and straps.
These clasps are for use with domed rubber or other suitable straps. Can work with many types of standard leather or sharkskin straps, too.
steel foldover clasp for 18mm clasp
94521803025
9452.18.03
steel foldover clasp for 16mm clasp
94521603025
9452.16.03
Foldover clasps are also available in yellow, pink and white gold, and a steel/gold combination (less expensive as only the visible portion is gold). Titanium models are normally fitted with the steel clasp.
domed black strap, 20mm lugs, 18mm clasp
98000037021
---
domed blue strap, 20mm lugs, 18mm clasp
98000003021
9800.00.03
domed black strap, 18mm lugs, 16mm clasp
---
---
domed blue strap, 18mm lugs, 16mm clasp
--
---