The 007 Connection
A deeper look at the connection between OMEGA and James Bond
---
OMEGA Seamaster Professional Diver -- the James Bond watch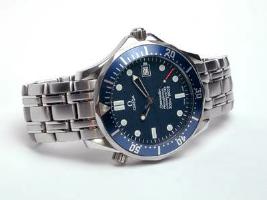 'James Bond' Seamaster Professional Diver 2531.80 [Neil Trotter]
The OMEGA Seamaster Professional Diver has been worn by Pierce Brosnan in all four of his James Bond movies, including the 2002 film Die Another Day. He chooses the stainless steel full size with blue face, blue bezel on a stainless steel bracelet -- models 2531.80 (automatic) or 2541.80 (quartz).
Sellers of OMEGA watches sometimes loosely apply the 'James Bond' nickname to any of the skeleton-hand OMEGA Seamaster models. But so far, only the 2531.80 and 2541.80 have ever appeared on Bond's wrist in a film, though it is reasonable to consider the mid-sized versions of both those watches (2551.80 and 2561.80) to also be 'James Bond' watches.
In the earlier James Bond films starring Sean Connery, George Lazenby, Roger Moore, and Timothy Dalton, Bond is often seen wearing a Rolex Submariner. Thunderball featured various watches by Rolex, Breitling, and Breitling's "Top Time" line. On Her Majesty's Secret Service (1969) featured George Lazenby as Bond wearing his personal Rolex Submariner (bought while auditioning for the role) and a Rolex Chronograph. Several of the later Roger Moore films such as The Spy Who Loved Me (1978) and Octopussy (1983) featured Seiko watches -- most notably ones with high-tech digital or video displays.
Other models of the Seamaster have been featured as movie tie-ins. The Edge (1997) features Alec Baldwin wearing an OMEGA Seamaster Professional Chronograph which becomes involved in an interesting plot complication.
---
Bond's Seamaster On Screen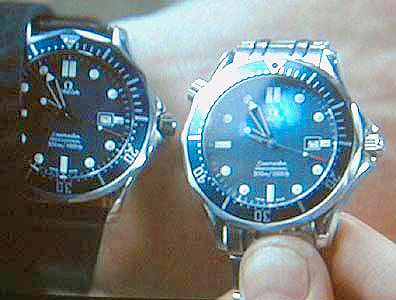 006 and 007's Seamaster watches from Goldeneye [MGM/EON]
Goldeneye (1995), had the first appearance of the Seamaster in a Bond film. In it, 007 wears the quartz model 2541.80. Former fellow agent 006 wears the same watch, but on a custom strap. Special Q-Branch features include a laser beam (comes out of the bezel marker) and a remote explosive detonator. Ironically, there is an error in the appearance of this watch in Goldeneye. You first see 2541.80 in the pre-credits sequence which occurs in 1987, seven years before the events in the rest of the movie. Yet this style Seamaster Professional was not introduced until 1993.
In Tomorrow Never Dies (1997), 007 switched to the automatic chronometer version, model 2531.80. This version (supplied in the film by the Chinese Secret Service -- not Q-Branch) also has a remote explosive detonator. But this time the watch also includes the explosive itself, in a small removable module behind the helium release valve. Interestingly, the opening credits for this film include an x-ray view of the interior of the watch!
In The World Is Not Enough (1999), he again is wearing the model 2531.80. Two special versions are used in the film. One provides emergency lighting, the other has a piton that fires and deploys a strong wire for Bond to swing to safety.
The model of choice continues with the 2531.80 in Die Another Day (2002), though with no new gadget features. The watch is used as a remote detonator (improved design though) and the standard crown mounted laser. Interestingly, a vintage OMEGA stopwatch has a momentary closeup in the film, too.
---
I've seen James Bond wearing a different OMEGA...
No. What you saw was Pierce Brosnan, the actor who plays James Bond, wearing or endorsing a different model OMEGA watch. Pierce Brosnan is one of several of OMEGA's celebrity ambassadors and promotes many models of OMEGA watches. It is important to remember that what Pierce Brosnan the celebrity personally wears and endorses is quite separate from what James Bond the fictional character wears and endorses.
A lot of completely incorrect and confusing reports of a different watch being the "new" James Bond watch have cropped up from time to time. These are all mistaken reports caused by some people's inability to mentally separate the actor from the role of a specific character. Mr. Brosnan has appeared in ads for almost all the major model lines of OMEGA watches. Some OMEGA marketing material has confusingly identified other Seamaster models as "James Bond's Choice." But these have nothing to do with which OMEGA watch may appear on the wrist of 007 in any future James Bond film.
The choice of the watch to appear in the movie is made by the film's costume director and any endorsement deals are between the movie producers and OMEGA. When appearing in the role of James Bond, Mr. Brosnan is bound by those agreements. What similar personal endorsement agreements Mr. Brosnan does as himself are quite separate agreements between he and OMEGA. They are in no way indicative of which models the producers of the Bond films may choose. When the official decision and agreement for the choice of wristwatch to appear in the next James Bond film is made, you will most certainly hear about it through well distributed press releases.
---
Did OMEGA ever make a special "James Bond" Edition watch?
Yes. The two models that have appeared on-screen in the Bond movies (2531.80 and 2541.80) are only available in the standard editions and packaging like all the other Seamaster Professional models. But OMEGA has also released two limited edition "James Bond" variations of these models.
In late 2002, for the 40th anniversary of James Bond movies and to tie in with the release of the latest Bond film Die Another Day, OMEGA released a special 007 edition of the Seamaster Professional. In addition to special packaging, the watch itself has the 007 gun logo as a pattern on the dial and a special inscription on the back. Limited (if you can really call it that) to 10,007 pieces worldwide.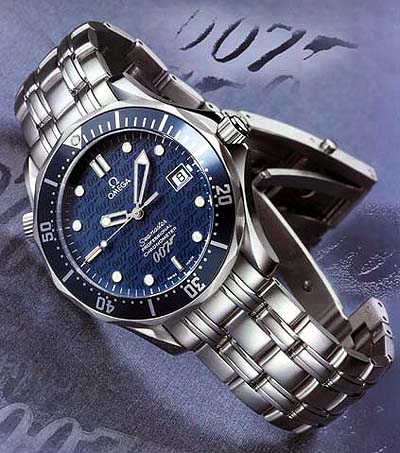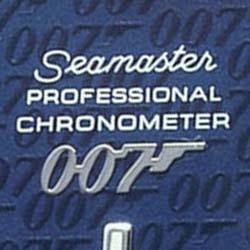 James Bond 2002 Limited Edition [OMEGA]
Prior to that, in 1998 OMEGA's distributor in India commissioned a numbered set of 50 customized "James Bond Choice" watches for sale exclusively in that country. This extremely limited edition is essentially a standard 2531.80, but on the steel and gold bracelet from the two-tone Seamaster Professional. In addition, the back of the watch has been engraved with "JAMES BOND CHOICE" [sic] and limited edition numbering.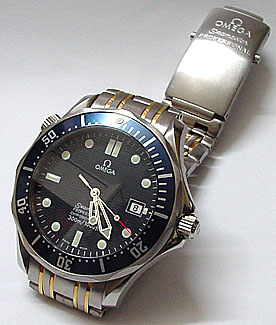 Limited Edition "James Bond Choice" [Farhad K. DadyBurjor]
Additional information on this watch is available in the Seamaster Rare and Limited Models Gallery.
---
What about Bond's Rolex?
In the Ian Fleming novels, Bond is referred to a few times as wearing a Rolex watch. It is briefly described as a "Rolex Oyster Perpetual on an expanding metal bracelet" and as having "big phosphorus numerals." While most of the Bond movies in the 1960's through 1980's featured 007 wearing a Rolex Submariner, there really is nothing in the original novels that indicates that the Submariner was the watch the author had in mind. The big phosphorus numerals actually indicates the watch was likely a military-style Rolex that predated the Submariner.
While Fleming could get away with not specifying a particular Rolex model in the novels, one did need to be chosen when filming began on the first Bond film. The choice of the Submariner for the movies appears to have been more a matter of expediency than anything else. When filming began on Dr. No in 1961, Rolex was unwilling to donate a watch for Sean Connery to wear. To avoid delaying the filming, producer Albert Broccoli handed over his personal Rolex, a Submariner, to fill the role. You can see in both Dr. No and Goldfinger that Sean Connery sometimes wears the watch on a black and gray striped NATO-style cloth strap that is clearly narrower than the wider-than-common lugs on the Submariner.
---
So why the change to an OMEGA?
The change from Bond wearing a Rolex appears to have been for two reasons--one stylistic, the other financial.
Foremost, for introducing Pierce Brosnan as the "new" James Bond in the 1995 film GoldenEye, the producers wanted to update the image of Bond to a more distinctly sophisticated "Euro" look. Lindy Hemming, the costume designer for the first three of the Pierce Brosnan appearances as Bond was quoted in The European Magazine ["The Names Bond, Euro Bond", July 7-13 1995] as explaining: "Sean Connery wore a Rolex, but we thought they'd become a bit ordinary now. OMEGA are more minimal--even though this one does shoot off a bomb."
She is not alone in thinking this. Rolex as a brand has changed a lot since the late 1950's when Fleming chose one for Bond to wear. At that time, Rolex was known as a uniquely well made, durable and "waterproof" watch that cost somewhat more than other watches. Now, decades later, many inexpensive watches meet the functional needs of durability, accuracy, and water-resistance that people used to turn to Rolex for. In this time, Rolex has shifted from being a technically superior, but only modestly well known watch make to being the publicly perceived "leader of the pack" in the luxury watch market.
Because of this, many Bond afficionados believe that the OMEGA Seamaster is closer in spirit to what Fleming would choose for Bond today. The literary Bond would not have chosen a watch based on luxury and flashy name recognition, but on performance. To him, any watch, car, or other implement's primary function is as a tool. Any tool is expendable. The Seamaster offers the comparable performance, style, and weight Bond would have wanted, but without attracting extra attention or making the statement a Rolex does today. With OMEGA's much heavier bracelet on the Seamaster, it would probably make an even better "knuckle duster" as the literary Bond once used his Rolex in a fight.
The other reason is that with all the product marketing deals that surrounded such modern high-profile films, the filmmakers wanted to work with a company that was interested in high-profile co-promotions--something that Rolex conservatively avoids. Reports are that the film producers chose OMEGA as their leading candidate as a replacement for the classic Bond watch, then contacted OMEGA to ask their participation in providing products and being involved in co-marketing arrangements.
---
Where can I read more about Bond movies and the watches in them?
Official sources:
Fan sites and other unofficial sources: