Anatomy of a Watch Strap
All the details and options you never knew existed
---
What's the difference between Band, Strap and Bracelet?
The terms for the various types of watch bands are frequently confused and misused--often leading to miscommunication, misordering and missatisfaction. To set you on the right path for asking correctly for what you want, here are the definitions of each:
Band and Watchband are vague, generic terms used to refer to the band that holds a watch on your wrist. The preferred terms are Bracelet or Strap, which clearly describe the two major types.
A Bracelet is a metal link watch band. Similar to a jewelry bracelet, may have a clasp to open it.
A Strap is a watch band made of cloth, rubber, leather or other non-metal material.
---
Which is more dressy, a strap or a bracelet?

In general, a shiny black strap of a material like crocodile, alligator or lizard is considered the single dressiest strap option for a man. Elegant metal bracelets are usually the second best choice for men, while either a bracelet of strap are usually equally appropriate for ladies dress watches.
---
My watch is on a metal bracelet now, can I change it to a strap?
| | | |
| --- | --- | --- |
| | | |
| Bracelet watches usually have traditional strap fittings hidden under the bracelet end pieces. Those that do can be easily swapped to any standard type strap. | Some watches have completely integrated bracelets, which cannot be replaced with a strap. Integrated bracelets are more common on ladies watches, but do occur on some mens models. | A very small number of watches require a unique, custom fit strap which can only be bought from the original watch manufacturer or certain strap makers who have specifically licensed the rights to make compatible straps. |
That depends on the specific model you have. The majority of modern and vintage watches have detachable bracelets which can be replaced with a standard watch strap of the correct width.
Examples of watches that CAN be easily switched to a strap.
Simple bracelet.
Custom fit bracelet, but on standard lug connections.
Examples of watches that may require special or custom straps.
Non-standard, brand or model-specific strap/bracelet connection. Requires the manufacturer to provide a custom strap that fits this case. If not, some specialty strap makers may be able to create a custom strap for the watch.
Fixed pin or peg connection. These connections can be accomodated--but require 'open-ended' straps. Once attached, this type of strap is not easily removed without damaging the strap. Such straps are commonly made and only require you to purchase the correct width. Though they may not be an in-stock item in average watch retailers.
Examples of watches that can NOT be switched to a strap.
Integrated bracelet--the bracelet and the watch case are either a single piece or an integrated design that does not include a standard strap connection. Sometimes a matching model with an adapted case design was offered for those who wanted a version of the same watch, but on a strap.
Loop end watch cases are common with the extremely dainty style of some vintage ladies watches. These were designed to connect to loop bracelets. There are alternative bracelets to fit such watches, but not leather straps.
---
Do I have to buy a strap of the same brand as my watch?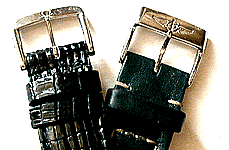 In most cases, no. If your watch can take a standard strap, then you can buy a strap of any decent brand. As long as it is of the correct width and sufficiently sturdy, you should be fine.
Only a limited number of uniquely styled watches require specialized, non-standard straps only available from the manufacturer of that specific watch.
But there are two particular advantage of buying a strap of the same brand. One is that the buckle on the strap will likely have the logo of the watch company on it. The other is that is keeps your watch more authentic, having the strap of the same brand. Both of these advantages are nice small touches that some people enjoy, while others see no need to go to additional effort or expense for them.
Buying straps from the watch manufacturer can be difficult. Only a few of the fine watchmakers encourage their authorized dealers to stock a range of the manufacturer's straps in their stores. Other watchmakers require you to order them--often sight unseen--from a customer service center, or through an authorized dealer that may not even have samples or catalog photos to show you.
---
What kinds of straps are available?
Straps can be made of any of a variety of materials. The most common are:
Leather, other animal hides and simulated hides
Cloth, fabric, and nylon
Rubber or plastic
And they come in many different configurations:
Hide-faced, padded. A favorite for larger men's watches.
Hide-faced, flat. Typically used on slim dress watches.
Flat fabric. A simple but practical style. Favored by the military.
Moulded. Shaped straps of rubber or plastic.
---
What kinds of buckles and clasps are available?
Tang-type buckle: By far the most common. Operates just like most men's belts, except does not have to be 'let out' near as often.
Deployant clasp, inside style: On this style, the 'tail' of the watch strap goes on the inside of the clasp. While this style has a more elegant look, it does not always work with just any standard strap. Often, a custom strap is needed to prevent the tang-slot and keeper loop features of the strap from showing.
Deployant clasp, outside style: With this second type, the tail of the strap goes on the outside--the same way it does with a standard tang-type buckle. This is the more common type and several versions are available that can fit on to most existing leather watch straps.
---
What do I need to know to buy a strap?
If your watch does take a standard strap, then all you really need to know is the width between the 'lugs' of the watch where the strap attaches.
The Clasp or Buckle:
Standard tang-buckle strap: much like a traditional belt.
Deployant Clasp: a folding, locking metal clasp that operates similarly to the clasps on metal watch bracelets.
The Buckle-End of the Strap:
Standard tang-buckle strap. Much like a traditional belt.
Deployant-specific. Special straps designed for particular types of deployant clasps. These are noticably longer on one side and lack the 'keeper' loop and the hole for the 'tongue' of a tang-type buckle. Note that not all deployant clasps require special straps--many are made to work with standard tang-buckle type straps.
The width of the strap at the buckle end is seldom of concern to the strap buyer unless you are looking to use a different clasp than the one that comes with the strap. Most straps taper so that they are somewhat narrower at the buckle-end. Mens watch straps of 20 or 18mm at the watch-end are commonly 16mm at the buckle end. Some 20mm straps and most 22mm straps are 18mm at the buckle end. Ladies straps tend to taper 4-6mm less than the watch-end.

The Watch-End of the Strap:
Standard:

Contour fit end straps offer greater elegance. Their contoured ends that fit flush against the contours of the watch case. Because the exact distance from the spring pins to the watch case and the specific curve of the case vary across watch designs, such straps are often fairly unique to a specific watch model.

Non-Standard:


Have an integrated bracelet and lack the connections for a conventional strap. Note that some watches that look like the bracelet is integrated actually can have it removed and a standard strap attached.
Use a specially designed strap that is unique to the brand or model. While these look very elegant and stylish, they have the extreme disadvantage of forcing you to buy all your replacement straps at premium prices from the watch manufacturer.
Vintage watches that do not use standard removable spring pins.
Width at the end that attaches to the watch is typically 18mm for standard men's dress watches. Mens sports-style watches may be 20mm or in a few rarer cases 22mm. Ladies watches typically range from 9mm to 14mm. Even sizes are most common, but you may encounter odd sizes on ladies or vintage mens watches.

The Watch:
The parts of the watch that stick out to hold the detachable strap or bracelet are called the 'lugs.'
The watch itself may add around 1.5 inches (4 mm) to the circumference when attached to the strap. So when measuring for a strap, always add the length of your watch (measured from the top spring pin to the bottom one) when comparing the strap size to the circumference of your wrist.
The Length of the Strap:
Length often listed merely as Regular, Short or Long. A mens Regular length strap usually accomodates wearers with 6.5 to 8" wrists.
Don't forget to add the size of the watch to the size of the strap when comparing to the circumference of your wrist.