Where Can I Get...
Chronocentric's guide to the best sources for watches, accessories and service
Special note: Any dealers, products or vendors recommended here are endorsed based on Chronocentric's unbiased, independent evaluation of their merit from direct business dealings, product examinations and cumulative input from Chronocentric readers and the online watch enthusiasts community. Some accessory vendors may have submitted product samples for evaluation. But none have paid for or otherwise compensated Chronocentric for their mention here.

---
The lowest authorized dealer price on a new Omega, Rolex or other fine watch?
Chronocentric does not recommend any specific seller of new watches. We do suggest you find an authorized dealer for the brand you are interested in and give them a chance to win your business before you consider going to an unauthorized (gray market) dealer.

For superb recommendations of new watch dealers--including some authorized dealers with surprisingly good discounts--ask for recommendations from the readers of the zOwie Discussion Forum on this site.

And before you go off focusing too much on lowest price alone, consider this:

Itís unwise to pay too much, but it is worse to pay too little.

When you pay too much, you lose a little money -- that is all.

When you pay too little, you sometimes lose everything, because the thing you bought was incapable of doing the thing it was bought to do.

The common law of business balance prohibits paying a little and getting a lot -- it canít be done.

If you deal with the lowest bidder, it is well to add something for the risk you run. And if you do that, you will have enough to pay for something better.

- English economist John Ruskin, 1819-1900

While the watch you buy may be the same from a cut-rate seller, the quality of service and support is where you may do yourself a severe disservice going with the cheapest one. In the luxury wristwatch industry, there is no guarantee that the most expensive seller will serve you best. But there are clear marks of delineation at the points where you sacrifice service and increase risk when accepting the compromised level of service from the clearly cheaper dealers.

In particular, watch out for:
Dealers playing wording games to obscure the fact that you are getting a store warranty only good at their store or chain instead of the manufacturer's international factory warranty on the watch.
Dealers selling watches that have been altered by having their serial numbers removed. No matter what soothing explanation they try to give you, this is a totally unacceptable business practice and does nothing to benefit you, the buyer.
Dealers who promise excellent prices, but have trouble delivering the right product in a timely manner.
Dealers operating under multiple names. Particularly when the warranty card is validated under a different business name than shown on the sales receipt. This can interfere with warranty service claims.
See the Chronocentric Consumer Zone for more details on these areas.
---
Good used watches by Omega, Rolex, Breitling or other fine brands?
Chronocentric suggests these online used watch dealers, based on positive personal experience or substantial positive reader feedback about them. Listed in alphabetical order.
Remember that, when buying used and vintage watches, each watch and each deal can be quite different. Compared to buying new watches--where they are all factory fresh and bought at a fixed dealer cost--buying used watches involves many additional variables. The condition of each piece, the dealer's level of examination and ability to perceive existing and potential problems, and the flexibility to negotiate a price versus their cost, are all much more variable and subject to interpretation.
---
The best service on an Omega watch?
For service on an Omega watch, the Swatch Group Service Center in Switzerland is an excellent place to send your watch. Not only for minor checks or repairs on recent models, but also for repairs and restoration of older models.
Next best choice is to find a local watch repair center that is experienced with Omega.
The Omega Service Center in Lancaster Pennsylvania is the official service center for US customers, but has a recent history of not always getting a repair right the first time, taking much longer than expected. They have also failed to repair some vintage models claiming 'unavailable parts,' even though the same watch sent to the Switzerland service center or a local watchmaker was repaired without any problem.
---
The best service on a Rolex watch?
Unless you need a full restoration, find a local watch repair expert that is Rolex certified. Rolex are very common and popular watches, so there is a huge cottage industry in maintaining them.
Sending a Rolex watch back to Rolex for out-of-warranty repair is surprisingly NOT a good idea in most cases. Rolex makes over 1,000,000 watches each year. Their service centers are flooded with more business than they can handle. So the Rolex factory service centers--especially in the USA--tend to not take on small repair jobs. Most repairs sent to them are handled as full restorations. While they do a superb job and your watch comes back looking in mint condition, this often prices up the repair significantly as they are fixing more than you may have wanted them to.
---
Genuine replacement or alternative metal bracelets?
For many brands, watches can be bought on either a metal bracelet or a leather strap. Sometimes after you have had the watch a while, you may desire to change from the strap back to the original factory bracelet. Your bracelet may be damaged and need replacement. Or you may desire a different style bracelet from the original manufacturer. So when you want an original bracelet, where do you go to get it?
Normally an authorized dealer for the brand or the brand's customer service center can supply you with the original bracelet--but it will likely be very expensive as a replacement part. Because of the normally much higher discount on watches than on replacement parts, a bracelet bought separately may cost a quarter to a third of what you paid for the entire watch!
Usually, it is financially much better to buy the watch on the bracelet and obtain a strap as an extra accessory. But when that is not possible, try going through independent watch repair and part suppliers. Often they can obtain the bracelet at wholesale price from the manufacturer and sell it to you at a modest mark-up. Much better than paying full or near retail price when ordering direct through the manufacturer or their dealers.
Suggested sources:
Contact the brand's customer service center for your country and try to obtain the original part number and retail price for the bracelet. Use this information when contacting and negotiating with the other sources described below. Having the specific model number or serial number of the watch in question is a substantial help. Trying to identify a bracelet by describing what you see when you look at the watch is a waste of time--novice descriptions of watches are usually too vague and ambigious to correctly identify which bracelet is correct for your watch.
Contact your local watch repair shops and see if they can order the bracelet as a part from the manufacturer and offer it to you at a modest mark-up.
Contact an authorized dealer for the brand and see if their service department can order the bracelet as a part from the manufacturer and offer it to you at a modest mark-up.
Additional options:
Bernard Watch - bernardwatch.com (Austin, Texas, USA)
Check their 'miscellaneous' items page, which frequently contains original Breitling, Rolex and other bracelets.

Ed Loebl, The Watchseller - watchseller.com (Little Rock, Arkansas, USA)
Check their 'Watch Bracelets' page which often has Omega Speedmaster and other original watch bracelets.
---
Watch straps inexpensively?
Unless your watch is a unique design, it will most likely take any standard watch strap of the correct end-width. Even most watches that come on metal bracelets can be switched to a strap. If you are unsure whether your watch can take a standard strap, any jeweler should be able to tell you simply by glancing at your watch.
Most major watch brands sell matching straps for their watches. But these can be very expensive (over $100) and sometimes complicated to buy--often requiring you to order them unseen from their service centers. Breitling is the most notable exception, most Breitling dealers carry their straps and they can even be seen in Breilting's consumer brochures.
But there is no particular reason why you must use the strap of the same brand. Straps are expected to be replaced and do not devalue the watch if the strap is of a different brand.
Suggested vendors:
Howard Marx - westcoastime.com, info@westcoastime.com (California, USA)
Howard carries a range of watch straps, military watches and deployant clasps for straps. Specialties include the authentic NATO specification straps and the rare "James Bond" NATO-style strap as worn by Sean Connery in several James Bond films including Dr. No and Goldfinger.
Ron Zalk ("RonZ") - rz@technologist.com (Israel)
Ron carries a range of straps, including several specially selected for the hard-to-match Omega Seamaster "Bond."
---
Straps buckles with my watch's brand logo on them?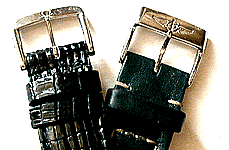 Straps bought from your watch's manufacturer will come with the brand logo--such as Omega, Rolex or Breitling--on the buckle. But these straps can be rather expensive, ranging from US $75-200. Certainly unless a watch requires a custom fit strap only available from the manufacturer, many strap buyers will forego these good but costly name-brand straps. There are a wide variety of servicable to superb watch straps generally available in the $20-80. But these straps of other brands will usually have either no logo on their buckle or clasp--or will have the logo of the strap manufacturer. For legal and licensing reasons, no other brand can sell an item with a different watch company's logo on it.
So what do you do if you want to keep that authentic look, without having to pay the premium price for the watch manufacturer's original straps every time? Here are some tips:
Buckles can sometimes be ordered separately, but most watch manufacturers will not sell the buckles separately to the consumer. It may be possible that your watch dealer or a watch repair shop can order one through the manufacturer's parts center as a replacement part. Also, some brands like Rolex will sell precious metal buckles (yellow or white gold, platinum) direct to the consumer, but not steel versions. Generally, buying just an official buckle to go on a generic strap ends up costing almost as much as simply buying an official strap.
Strap buckles are removable and can be moved to another strap. Buckles are held on using the same type of spring pins used to hold the strap to the watch. So consider buying one logoed strap from your watch manufacturer. When it wears out, find a suitable replacement that is the same width at the buckle end of the strap, and have the person who installs the strap for you swap the buckles.
Used buckles are frequently available, since the metal buckles will long outlast the straps they come on. So inquire at your local watch dealer of watch repair shop. Also, vintage buckles are frequently available on watch-related for sale boards and auctions.
Suggested vendors:
Breitling [ Breitling USA: 800-; Breitling Website: breitling.com ]
Breitling is the one major brand that really has it together on selling straps and accessories. Many of their dealers carry a range of Breitling straps in-store. A broad range of straps are shown on their website and in their current consumer catalogs. Also available are Breitling's own deployant clasps and matching straps.
Omega [ Omega USA: 800-456-5354 or sgcs@desupernet.net; click for list for other countries]
Omega sells their own line of replacement and accessory watch straps. Excellent quality, but difficult to order. Can be ordered direct from their regional Customer Service Centers or through the authorized Omega dealer of your choice. No catalogs to browse, no online displays of choices, no online ordering, no discounts if ordered direct, and dealers are often reluctant to bother with or discount accessory orders.
Rolex [ Rolex USA: 800-; Rolex Website: rolex.com ]
Rolex sells replacement and accessory straps for their watches. Also sells pecious metal (yellow, white and rose gold or platinum) buckles to fit tang-type straps.
For other major watch brands, contact the manufacturer, their customer service center or one of their authorized dealers for assistance with their custom lines of straps and accessories.
Suggested sources for new, used and 'new old stock' bracelets and brand-logo buckles:
---
The hard to find deployant clasps for watch straps?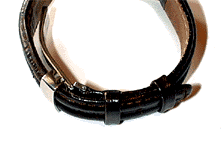 ....
The deployant or foldover clasps (but not 'deployment' as people often mistakenly call them) are an excellent alternative to the common tang-type buckle. The deployant clasp works like the foldover clasps on many metal watch bracelets--but it fits on to standard leather and similar style watch straps.
Suggested vendors:
Howard Marx - westcoastime.com, info@westcoastime.com (California, USA)
Howard has deployant clasps to fit many common straps. Also carries a range of watch straps and military watches.
---
Watch batteries inexpensively?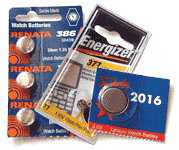 If you are adventurous enough to replace your own watch batteries, you will discover an astounding range of prices for identical brands and sizes.
Certainly the price variations in these relatively inexpensive items are no big issue if you only need a battery occasionally. But for those with many watches and other devices like calculators, garage door openers, car alarm remotes and some small toys, paying a premium price per battery can add up quickly.
In general, the most common button-sized watch batteries should sell in stores in the range of US $0.99 to $2.99. The larger coin-sized lithium batteries usually run $1.99 to $3.99. Mail order prices can be as low as $0.50 for button, $0.75 for lithium.
Overall, your main sources of watch batteries are:
Watch part and tool suppliers
Comprehensive selection, unusual sizes, also carry watch opening tools. Many types of batteries under $1--some as low as $0.25 or $0.50! Though mail ordering may entail minimum unit quantities, minimum dollar orders and minimum shipping charges.

Jewelry Supply - www.jewelrysupply.com
Full online ordering of all batteries. Many of the smaller batteries are sold in sets of 5. Carries the Swiss made 'Renata' batteries and many watch tools.
Frei & Borel - www.ofrei.com
Excellent range of watch handling tools. Only show limited range of batteries in online ordering form, may need to call to order most batteries.
S LaRose - www.slarose.com
Batteries not currently shown in their online ordering site. Call to place battery orders.

Battery specialty websites
Moderate to comprehensive selection. But be careful, some of these sell batteries at much higher than normal prices. One site even claims 'list' prices of $4.99 per battery to make their high $3.99 price (before shipping) seem reasonable--yet these are the exact same batteries that should be able to find locally for as low as $0.99. And again, mail ordering may entail minimum unit quantities, minimum dollar orders and minimum shipping charges.
Discount grocery, drug, hardware and sundries stores
Moderate selection, though sometimes not reliably stocked. Watch out for resealed packages where someone may have returned a used battery. Many types of batteries $1-3. Prices may vary dramatically among these types of stores... for example, the same brand and size battery which sold for $2.99 at Target was only $0.99 at Kroger.
Watch specialty stores
Usually a wide selection, though may sell batteries at a very high price with 'free' installation included. Often not sufficiently qualified to change batteries in the better diving/sport/pilot watches which require extra tools or care to ensure the seals maintain their water resistance after the case is reclosed.
Jewelry stores
Normally provide only a battery replacement service. Usually qualified to change batteries in the better diving/sport/pilot watches and any brand they sell. May not do the battery change on site, but instead send to their local watch service expert or central service facility. Cost can be $15 to $35.