Hints and rumors of new Omega models to be announced at Basel 2002
2002.02.23
Omega will be releasing new models at the Basel 2002 watch exhibition starting April 4th. Advance word, hints and rumors of what may be introduced are:
DeVille Coaxial models in chronograph, mid-size and ladies models.
Seamaster 120 series replaced by Seamaster 150 series with improved depth rating and possibly Coaxial movements.
Seamaster Professional Chronograph series replaced with a new version based on the same movement in the recently introduced Speedmaster 'Broad Arrow.' Likely a new dial design, too, but no details yet.
An overall increase in more expensive models and more unique watch movements as part of Omega's strategic maneuvers toward competing in ever higher-end markets.
Stay tuned for more details as they become available. For information on attending
Basel 2002
, visit their official site at
http://www.messebasel.ch/basel/
.
Sources: Chronocentric spies
---
James Bond teams up with Omega and Swatch for latest film
2002.01.20
The producers of the James Bond films have enlisted the American marketing firm The Beanstalk Group to manage a huge merchandising initiative surrounding the upcoming 20th film and 40 year anniversary of the movie franchise. This deal includes merchandising and co-branding deals with The Swatch Group, owner of numerous well known watch brands including Swatch and Omega.
The Swatch Group's popular mass market consumer brand Swatch--known for their affordable and fashionable plastic cased Swiss watches--will be releasing a series of 20 Swatch watches based on each of the 20 official James Bond movies to date. This includes all but the two independently produced films, Casino Royale (1967) and Never Say Never (1983).
Omega, the Swatch Groups leading luxury brand, has already been associated with the past three James Bond films. Their Omega Seamaster Professional watch has been prominently featured on screen in Goldeneye (1995), Tomorrow Never Dies (1997) and The World Is Not Enough (1999). This watch will again be featured in the as yet untitled 'Bond 20,' slated for release in November 2002. To tie in with the film and James Bond 40th Anniversary, Omega will be producing a version of the Seamaster watch with 007 branding. No details as yet whether this will be the current Seamaster model presented in 007 packaging, a new model variation or limited edition with Bond-related markings on the timepiece itself.
Sources: The Sunday Times (London), The Beanstalk Group
---
20th James Bond film begins production
2002.01.11
Officially announced at a press conference in London, and an appearance by stars Pierce Brosnan and Halle Berry, the 20th James Bond film begins production today with filming to begin at the end of the month. The film, still known only by its working title of "Bond 20" is expected to be released at the end of 2002.
Today's announcement, in addition to officially declaring the start of production, provided little other news not previously announced. In particular, it gave no word on either the final title of the film or whether the association with Omega watches will continue.
In the press conference, Mr. Brosnan was wearing an unidentified watch on a brown strap--but clearly not an Omega Seamaster. The choice of a different watch for the conference is likely intentional, to avoid a premature endorsement or implication that an agreement has been reached before an official announcement is made. The decision on whether Omega will continue as the wristwatch brand featured in the film series may not even be finalized until when filming starts the end of January. A joint announcement by EON Productions and the watch company may not occur for several weeks or months.
One surprise though was Director Lee Tamahori specifically telling fans that suggestions for the title of the film would be "gratefully received."
Keep watching Chronocentric, the James Bond and news sections of the Official Omega Website and the Official James Bond Website for further details as they are announced.
Source: EON productions, Good Morning America, ABC News
---
Official James Bond website indicates that Omega Seamaster will be in Bond 20
2002.01.05
While there has been no official announcement from Omega or Eon Productions, in answer to a question on the official James Bond website posted on January 5th, staff member Yarborough stated
"Bond will be using the Seamaster again but of course, Q Branch will be adding one or two refinements of their own."
Source: jamesbond.com
---
Omega introduces dramatically revised official website
2002.01.03
For 2002, Omega has significantly revamped their official website, which is accessible from either
www.omega.ch
or
www.omegawatches.com
.
Highlights of the updated site include:
A wholly new site design and better navigation.
Now contains a complete catalog of their current model watches.
Customer Service area includes "Value A Watch" forms for requesting Omega's official 'birth' records for your watch.
and An online directory of local authorized dealers.
Source: Omega
---
Another James Bond Omega Watch Sold at Christies Auction
2001.02.12
An authenticated James Bond Omega Seamaster watch sold for 8,225 British Pounds (approximately US$ 12,000) as part of another auction of James Bond memorabilia conducted by Christies on December 12. This piece was one of the watches worn by actor Pierce Brosnan during the filming of the 1997 feature film
Tommorrow Never Dies
.
The watch was accompanied by a certificate of authenticity from Omega validating that it was used during the filming. But otherwise, this piece is a perfectly normal, off the shelf, Seamaster Professional model 2531.80 and does not bear any inscriptions or contain any gadget modifications for use in the film.
Overall, sales of this latest auction of James Bond memorabilia were lower than expected. This is likely due to the somewhat slower economy and financial conservatism since the terrorist attacks on the United States three months earlier on September 11.
Source: Christies
---
New records and upsets in 2000 COSC certifications
2001.09.31
The Federation of the Swiss Watch Industry has released the figures for C.O.S.C. certification of watches in 2000. While Rolex continues to produce more than half the C.O.S.C. certified chronometers each year, the surprise in the latest numbers was that Breitling has--by a small margin--usurped Omega's long standing position as the second largest.
Of the 1,032,258 chronometer certifications in 2000, Rolex accounted for 635,209 (62%). Breitling and Omega are in a close race for second place, with Breitling's 148,380 (14.4%) nudging ahead of Omega's 146,144 (14.2%). Breitling's surge this year is likely due to their recent move to using only COSC certified movements in their mechanical watches. Omega continues to use some mechanical movements that are not C.O.S.C. certified, mainly in their popular Speedmaster chronograph series. These top three brands account for 90% of chronometers certifications for 2000.
The remaining brands individually account for no more than 2% of the total chronometers for the year. New on the list this year are Chopard, Kreiger, Montega, Hermès, Bertolucci, Concord and Edox & Vista. Missing are Swatch, Tissot, Ventura Design on Time.
The detailed remaining numbers are: Bulgari 21,345, Panerai 19,231 TAG Heuer 13,270, Chopard 5,430, Vacheron Constantin 5,046, Zenith 4,902, Ebel 3,476, Krieger 2,468, Patek Philippe 1,803, Ikepod 1,662, Ulysse Nardin 1,588, Montega 1,559, Mühle-Glashütte 1,385, Hermès 1,379, Bertolucci 1,292, Concord 1,253 and Edox & Vista 1,000.
Some additional noteworthy statistics:
The number of annual certifications exceeded the 1,000,000 mark for the first time.
Quartz movement certifications accounted for only 3.5% of the total.
Source: The Federation of the Swiss Watch Industry
---
Omega To Introduce New De Ville Line At Basel 2001
2000.03.15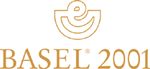 Basel 2001 -- the Cannes and Comdex of the watch industry -- is the showcase event for most of the major watch manufacturers to unveil their new models. This annual event is held March 22-29 this year in Basel, Switzerland.
Even before the event starts, Omega has posted elaborate details of their substantially revised De Ville lineup on their official web site at www.omega.ch. This new lineup was rumored over a year ago, but missed being released at Basel 2000.
The entire new series of De Ville models use Omega's revolutionary coaxial excapement. These include regular time and date models plus ones with GMT and power reserve indicator complications. Versions include not only gold, but also steel, making the coaxial escapement models much more affordable. This series also introduces a new bracelet style--though all models are also available on leather straps like the original coaxial limited edition released last year. Sadly, Omega only appears to be releasing this new style in mens versions.
The existing De Ville Classic and De Ville Prestige styles will continue to be available. Though Omega has dropped all mention of the De Ville Symbol from their web site and recent literature, indicating that it may be retired from their International Collection by the end of this year.
For information on attending Basel 2001, visit their official site at http://www.messebasel.ch/basel/.
Sources: Omega, Basel 2001
---
James Bond Omega Watch Sold at Christies Auction
2001.02.14
An authenticated James Bond Omega Seamaster watch sold for 7,050 British Pounds (approximately US$ 10,200) as part of a large auction of James Bond memorabilia conducted by Christies on February 14. The watch, one of the engraved series given to cast and crew of the film
The World Is Not Enough
became an impromptu birthday gift from Pierce Brosnan to a photographer at a June 5, 1999 Omega press conference promoting the appearance of the Omega Seamaster in this latest James Bond film.
The watch has engraved on the back "The World is Not Enough, June 5, 1999." In addition, the black leather Omega presentation box has been signed on the inside in blue felt pen with "Hey! Ian its yer Birthday!!!...Pierce Brosnan 007."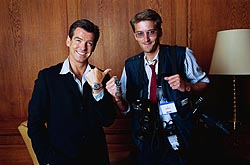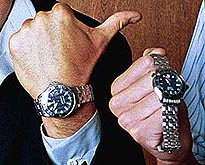 Pierce Brosnan (left) wearing a Seamaster GMT, presenting the James Bond Seamaster
as an impromptu birthday present to photographer at Omega press conference June 5, 1999 [Omega]
Other notable items from the auction included one of the two restored 1965 Aston Martin DB5 automobiles used in the opening mountainside race scene in Goldeneye which went for 157,750 GBP (US$ 229,000) and Ursula Andress' bikini from Dr. No which went for 41,000 GBP (US$ 59,500).
Source: Christies, Omega