OMEGA Watch Troubleshooter
Quick answers to real problems and common misconceptions
This section only covers issues that are entirely unique to specific OMEGA movements or watch features. For general troubleshooting tips that apply to all OMEGA as well as most other brands of watches, see: General Wristwatch Troubleshooter
---
My Seamaster, Constellation or DeVille has the older 1109 movement. Is that bad?
Earlier versions of the Seamaster Pro used the OMEGA 1109 automatic movement. This movement was also used in a number of other OMEGA models, including the Seamaster 120, Constellation, and De Ville. A small portion of these watches may have trouble with a winding gear that prevents the watch from reaching its stated 44 hour power reserve. Around 1996, OMEGA revised the movement slightly to fix this potential winding problem and to add rhodium finishing on some parts for extra durability. The revised version is called the OMEGA 1120.
There is no cause for alarm simply because your watch has the 1109 movement. Most of them are perfectly fine. If you are experiencing winding problems on a 1109-based OMEGA watch, an OMEGA service center may be able to resolve the issue.
---
The logo on the back or crown of my OMEGA is at an odd angle, can this be fixed?
While some OMEGA watches have snap-on backs that can easily be popped off and reseated at the correct angle, many others use screw-in back for higher water resistance. It is the nature of the highly water resistant screw-in backs and crowns that they cannot be forced to a specific angle to make the logo face a desired direction without severely compromising the water resistance of the watch.
The highly water resistant case design used on the Seamaster Pro and a number of other OMEGA watches use a screw-in back and screw-down crown for a tight water seal. Since the case parts screw into place and must be adjusted to the right level of tightness against the seals, it is not possible to guarantee the exact position when the watch is properly closed. This can also change over time based on wear, conditions of seals and the thermal expansion and contraction of the case metal.
The quick way to tell if your OMEGA has a screw-in back is if you can see a series of six or eight holes or notches evenly placed around the back. These are the indentations for the screw-back case opener tool to grip the back piece open and close it. In addition, any OMEGA watch that comes with a factory water-resistance rating of 50 meters or greater is likely to use a screw-in back.
Similarly, many water-resistant watches employ a screw-down crown to ensure water tightness at that opening, too. A screw-down crown should be extremely obvious--the crown has to be unscrewed before you can wind the watch or set the time.
A perfect line up of the logo on the back is simple with the typical lower water-resistant snap-on backs used on many watches. Even on many watches with screw-in backs--such as many Rolex models--this still is not noticable because there is no logo or direction-specific writing on the backs. Likewise for the crown, this is not an issue on watches where the crown does not screw-in to maintain a tight water seal.
But to give maximum protection against water entry, OMEGA rightly put ensuring that the water seal integrity of the watch far above the trivial cosmetic issue of which way those seldom noticed logos face.
---
Why is the bezel on my Seamaster Pro hard to turn?
Some Seamaster Pro bezels were difficult to turn except when the watch was recently immersed in water. OMEGA appears to have started adding more lubrication to the bezel around late 1998 or early 1999 to solve this issue.
---
There's a bump on the back of my Seamaster Pro bracelet that is annoying.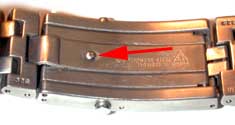 This is easily solvable. If you can even feel that tiny bump on the back of the clasp when wearing your watch, you have your Seamaster Pro bracelet adjusted too tight! Simply add at least one half-link back into your bracelet. Metal bracelets should not be overly snug--wearing one too tight overstresses the link joints when you flex your wrist. While most OMEGA bracelets are durable enough to take this abuse, it is unnecessarily hard on your wrist.
---
Why am I having trouble with the clasp staying closed?
The Seamaster Pro bracelet clasp may not stay closed tightly. There are two causes of this problem.

By far the most common cause is if the diver's extension is not closed properly. There is a small flange at the hinge of the extension that must be tucked under the metal crossbar when the extension is closed. If not, the extension does not close flush, preventing the main clasp mechanism from closing fully. If your clasp keeps popping open unexpectedly on you, this is likely the cause.
A very small number of Seamaster clasps have had slightly weak springs that prevented the clasp from locking as securely as it should. This is easily corrected by an OMEGA service center. OMEGA has already updated the design of the clasp to eliminate this rare but annoying issue.
---
The bracelet on my Seamaster or other OMEGA came apart!
Certain early 1990s Seamaster bracelets have been known to have links come apart after a year or more of use. To identify the problem-prone bracelets, look for "BRACELET MADE IN FRANCE" stamped on the back side of the clasp. Once the problem was identified, OMEGA quickly changed to a superior Swiss made version of the same bracelet (may say "Swiss made" or have no mark of origin).

But a more common problem with OMEGA bracelets is when they are mishandled when links are added or removed. OMEGA bracelets are more complex than many others and contain tiny internal parts than inexperienced jewelers, the average watch store salesperson, or someone attempting to alter the bracelet at home may miss, lose, or otherwise not put back when sizing the bracelet. These tiny parts are needed for the pins to lock in place properly. Without them, the pins may work their way out, causing the bracelet to come apart and your watch to fall to the ground.
These tiny parts are available as replacements from OMEGA. So you can have your dealer order them or you can contact OMEGA Customer Service yourself and purchase them directly. See the Chronocentric section on OMEGA Bracelets for additional detail.
---
Why does 24 hour hand on my GMT occasionally lose one hour?
OMEGA reports that some of the first production series of the 1998-present Seamaster GMT watches can experience an occasional occurence where the GMT hand would mysteriously lose one hour. This has been identified as an irregularity within the gear-train of the hand setting mechanism. If you experience this problem, you should send your watch in to OMEGA for in-warranty service to have it corrected.